There are a ton of chainsaw brands out there, but only a handful that are truly special.
Stihl and Husqvarna obviously take the cake. They are well known as the best chainsaw brands. The problem is that they are so much more expensive compared to most of the others out there!
The truth is that not everyone needs a Stihl or Husky. The cheap chainsaw brands are perfectly fine for backyard work or processing a little bit of firewood each year.
While this isn't really a chainsaw brand review, we'll share some of the pros and cons of each. The best saw for you depends on the type of work you have planned for it!
Best Chainsaw Brands
Stihl Chainsaws

Stihl's top chainsaws for homeowners and pros
Entry level saws through to the most powerful chainsaws
Durable, realiable, and comfortable to use

View On Acme ToolsView On eBay

Husqvarna Chainsaws

Homeowner, Rancher, and Professional chainsaws
Powerful, durable, hard working machines
Gas and battery powered chainsaws

View On AmazonView On Tractor Supply

ECHO Chainsaws

CS-7310 is suitable for heavy applications
Many light weight top handle saws
Great for home use, arborists, and other tree workers

View On AmazonView On Acme Tools

Makita Gas Chainsaws

Powerful chainsaws that work well in the field
Options up to 80cc
Can be run with shorter or longer bars

View On AmazonView On Home Depot

DEWALT Chainsaws

Good for construction sites and farms
A small lightweight saw for pruning
Can be kept in the car for emergencies

View On AmazonView On Home Depot
The best chainsaw brands are well known and we list them at the top of this list.
The top 5 brands in my mind would be:
Stihl – the best chainsaw brand in the world
Husqvarna – a very close runner up
Echo – excellent lightweight chainsaws
Holzfforma – best for powerful but cheap saws
DEWALT – best for small construction saws
However, many would argue with that list!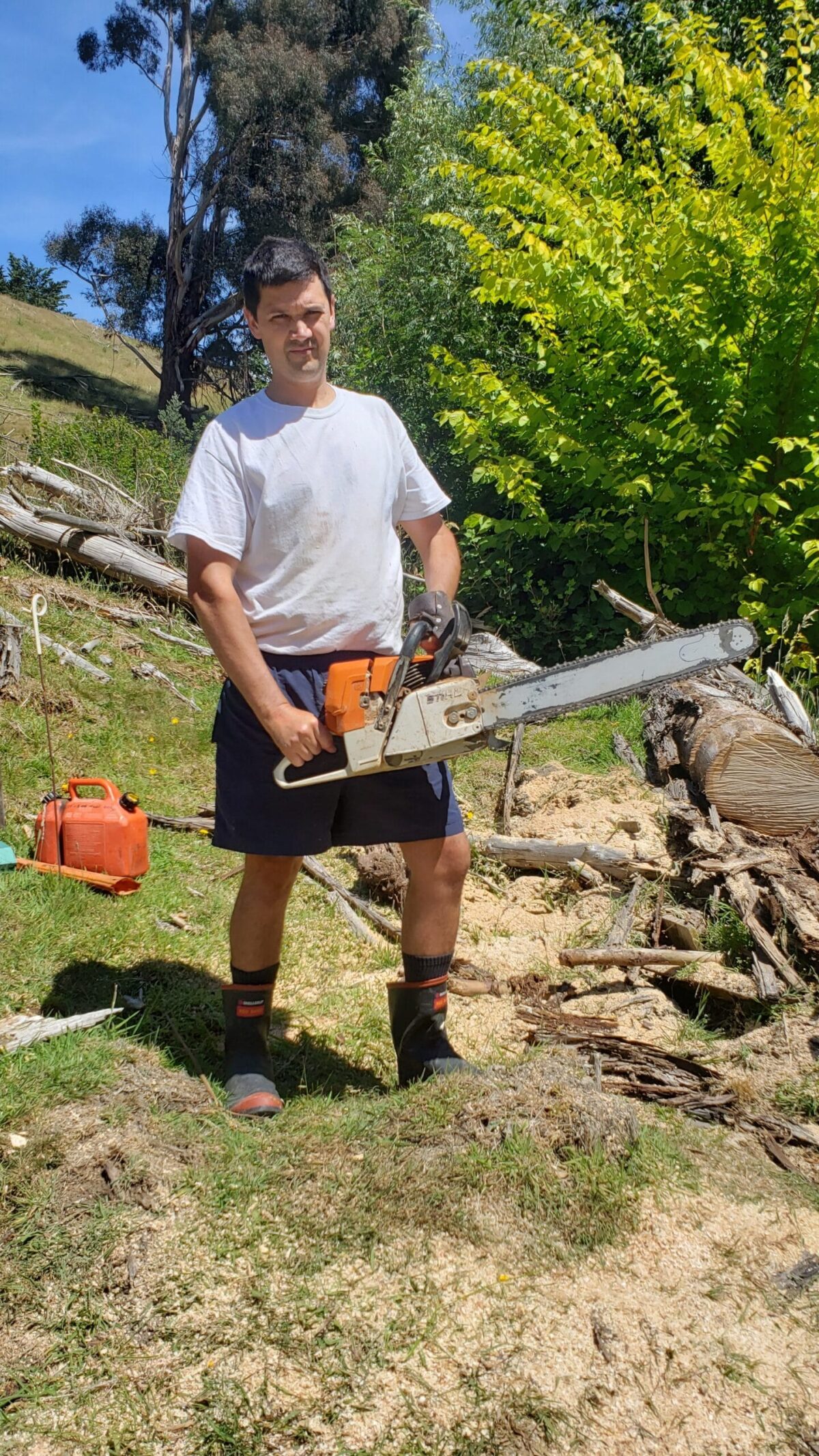 We've got 29 different chainsaw manufacturers listed here. These are the saws most commonly found in the US, and many of them are found on the Amazon best-selling chainsaw list.
Whatever brand you're looking into, just read real reviews from buyers, find out what problems people have had with them, and go from there. There's nothing wrong with buying a cheap chainsaw if that's all you need or all your budget allows for.
A cheap saw is fine for light yard work, pruning and trimming branches, and that sort of thing. If you are going to be cutting firewood year in and year out, we recommend investing in a good chainsaw brand.
You might also be interested in checking out which brands made our best chainsaw list.
---
1. Stihl Chainsaws
Stihl is the number 1 chainsaw brand – unless you're talking to a Husqvarna user!
It's a German company, though the units sold in the US are mostly made in the US. Stihl saws are generally the most expensive, but again, the price is comparable with Husqvarna.
There is a large range of Stihl chainsaws from battery models, like the MSA 161, and gas-powered home use saws for pruning and trimming, to the most professional saws for full-time use.
These saws tend to be the most powerful, long-lasting, and durable on the market. Check out all their saws along with their production years made here.
Stihl Pros:
Large range of saws
Best features and specs
Many accessories
Most powerful
Large supportive community
Stihl Cons:
Most expensive
Some would say 'not Husqvarna'
---
2. Husqvarna Chainsaws
The Husqvarna logo and brand are well known and considered by most to be on the same level as Stihl.
There are, of course, many out there who would say Husqvarna is better than Stihl. However, the general consensus is that Stihl is the better saw brand. It really depends on which two chainsaw models you are comparing though.
Husqvarna is a Swedish company, but their saws are manufactured around the world, including in the USA. Most Husky saws sold in the US have been manufactured or assembled in the country.
There are many Husqvarna models from home-use saws to professional saws for arborists and loggers. They have a great range of small chainsaws for pruning to large saws for dropping the biggest trees.
I personally have the Husqvarna 450 Rancher which is great for processing firewood.
Husqvarna Pros:
Powerful saws
Reliable and durable
Top features and specs
Parts easy to come by
Large community
Easy to use
Husqvarna Cons:
More expensive
Some would say 'not Stihl'
---
3. Jonsered Chainsaws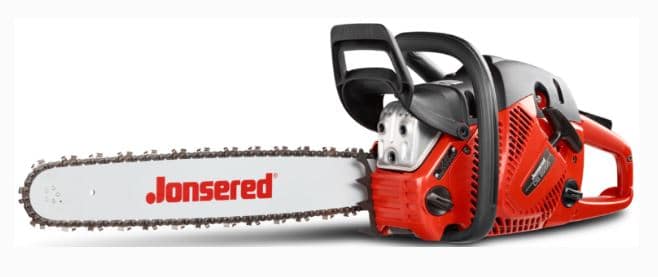 Jonsered is a much-loved chainsaw manufacturer.
They have been in the industry since the 1950s and many generations have now appreciated the saws. Jonsered is now part of the Husqvarna group and so you can rest assured these saws have a lot going for them.
Their new machines are fitted with the latest features, including clean power engine technology. This reduces exhaust emissions up to 75% and increases fuel efficiency up to 20%.
Jonsered Pros:
High powered engines
Workhorses
Top chainsaw brand
Owned by Husqvarna
Jonsered Cons:
Not as big a community as Stihl or Husky
---
4. Poulan Chainsaws
Poulan Chainsaws can also be bought in a large range of models and sizes.
These machines are sold everywhere good chainsaws are sold, and are popular among home and pro users alike. They are very affordable with even the Poulan Pro 20″ 50cc Gas Chainsaw going for only a little over $200.
There is a community of dedicated Poulan chainsaw users, including a couple that can be joined on Facebook for advice or just to share what you're doing. Some saws, like the Poulan 306 are highly collectible. One cool feature of some of the saws is the combi-tool integrated with the rear handle! You don't need to remember to take it with you.
Poulan Pros:
Large range of saws
Known as reliable saws
Find parts easily
Fewer emissions than comparable brands
Poulan Cons:
No large models
Not for heavy-duty use
---
5. ECHO Chainsaws
Echo saws have been around for many decades now and have some great options.
They have the next most powerful chainsaws available after Stihl and Husqvarna. The Echo CS-1201, for example, has a 116cc engine and can take up to a 32-inch bar. While the ECHO CS-2511T is one of the lightest chainsaws in the world.
ECHO is a US-made chainsaw and comes with the latest features and innovations like anti-vibration systems and ergonomic design.
Echo Pros:
Well known and respected brand
Sold by all good chainsaw stockists
Long-lasting saws
Good range of features
Powerful saw options
Echo Cons:
You need to pay a bit more for quality
---
6. Dolmar Chainsaws
Dolmar Chainsaws are reliable saws that were once one of the top chainsaw brands.
The company was bought out by Makita in 1991 which is when the name went from Sachs Dolmar to Dolmar.
Makita has now stopped making Dolmar brand chainsaws but rebranded them as Makita gas chainsaws. Makita has now stopped making gas chainsaws altogether and is focused on their battery lines (which are good saws for women).
Besides all that, there are still plenty of Dolmar or Sachs Dolmar chainsaws out there for sale on online marketplaces. We've done reviews on the Dolmar 100 and Dolmar 115 – they're well-built saws!
Dolmar Pros:
Reliable saws that last for decades
A range of power levels – big and small chainsaws
Built tough – the old saws are all magnesium casings
Plenty of Dolmar fans out there for advice and community
Dolmar Cons:
Parts are getting harder to find
Most used saws have indeed been well used
---
7. Shindaiwa Chainsaws
Shindaiwa Chainsaws are another well-respected chainsaw brand.
We have a local guy who runs a firewood business and he only uses Shindaiwa chainsaws – he absolutely loves them.
Not only do they have small pruning chainsaws, but they also have a number of reasonably powerful pro-level saws as well. And, of course, they have plenty in between.
Shindaiwa first started making chainsaws in 1955 so they're one of the early chainsaw companies. It's a Japanese company and the chainsaws are made in Japan.
Shindaiwa Pros:
Trusted chainsaw brand
They make pro-level saws that are good for commercial activities
Make cheaper than the premium chainsaw brands
Shindaiwa Cons:
Not as good as the premium chainsaws
---
8. Holzfforma Chainsaws
Farmertec Holzfforma Chainsaws are Chinese knock-offs of Stihl and Husqvarna chainsaws.
While your gut reaction may be to avoid this type of product at all costs, they are actually not all that bad. Not everyone can afford an MS880 or one of Stihl's most powerful chainsaws so these knock-offs are a way to get your hands on the next best thing.
Reviews of these saws are actually very good as well. No, they're not as good as genuine Stihl or Husqvarna chainsaws, but for the most part, they're of decent quality and they can be worked hard.
There are even many Stihl purists who would tell you they're OK – especially for the price. Holzfforma saws can be as much as 75% cheaper than the saw they are replicating.
See our Holzfforma Chainsaw review for more details.
Holzfforma Pros:
Very powerful saws
Interchangeable parts with other saws
Much cheaper than the real deal
Holzfforma Cons:
Not as good as the real deal
---
9. JohnCutter Chainsaws
VIEW ON AMAZON →
John Cutter is the other Farmertec chainsaw brand.
These saws are not direct clones as the Famertec models are, though people have suspicions as to what they might be modeled on (see our Jon Cutter chainsaw review for more details).
They have chainsaws from 25cc up to 75cc, and they are even cheaper than the Holzzforma chainsaws.
For the most part, reviews are positive. As with all these saws, you generally get what you're paying for so if you go with a cheap chainsaw brand just don't expect it to be a workhorse.
JonCutter Pros:
Cheap
Lightweight
Range of power options
JonCutter Cons:
---
10. Greenworks Chainsaws
VIEW ON AMAZON →
Greenworks Tools manufacture a range of battery-powered saws.
The Greenworks brand was formed in 2007, and Stihl became an investor in the company in 2016. The products are sold all around the world but they are notably one of the best-selling electric chainsaws on Amazon.
The G-MAX 40V Li-Ion range is a best-seller in both Europe and the US.
Their range of electric chainsaws includes models with 12, 14, 16, 18-inch bars, alongside 10-inch pole saws.
Greenworks chainsaws are well-reviewed by those who have purchased and used the machines extensively. The company is dedicated to creating innovative and sustainable products that are less of a drag on the environment.
Greenworks Pros:
No fumes
Less noise
Well reviewed
Innovative company
Quality electric chainsaws
Greenworks Cons:
Charging batteries takes time
Not as powerful as gas
---
11. Black + Decker Chainsaws
Black + Decker is another familiar name in garden and yard equipment.
They have a range of electric-powered chainsaws, some of which are corded and some which are not. They do not have any gas-powered models.
The chainsaws are available with 12 to 18-inch bar and chain combos. They feature tool-less chain tensioning, wrap-around handles, decent power, and good run times.
The company is well established and produces quality products in their range. Their saws are good for pruning trees and other work around the home.
Black + Decker Pros:
Well established company
Solid QC procedures
High powered electric saws
Good battery run times
Black + Decker Cons:
Only electric in the range
Not for professional use
---
12. BlueMax Chainsaws
BlueMax is a less known chainsaw brand in North America but can be found in various chainsaw stockists.
They have both gas and electric chainsaws for sale. Their largest and most powerful saw is a 45cc model with a 2-stroke engine and an 18-inch bar.
While the machines are well-reviewed and seem to run faithfully, it can be difficult to find parts for models when they are fewer of them out there. Also, sometimes just getting them serviced can be harder.
Check out these BlueMax Chainsaw Reviews for more info.
BlueMax Pros:
Trusted chainsaw brand
Powerful saws
Available with large bars
Reliable and durable
BlueMax Cons:
Less known and fewer parts for sale
Not stocked at many retailers
---
13. Dewalt Chainsaws
Dewalt is another chainsaw brand that does especially well on Amazon, being at the top of the best-sellers.
Like many of the top-selling saw brands on the marketplace, they only manufacture electric chainsaws. However, while most E-saw companies only have options up to 40 volts, Dewalt has a couple in the 60-volt range.
We have a DEWALT Electric chainsaw review here.
These higher-powered electric chainsaws are advertised as being able to make up to 70 cuts on a single charge. Single batteries can be run on different voltages for different applications.
They have other good features like no pull cords, chain breaks, and auto-oiling.
DEWALT chainsaws are made in China, but they have manufacturing plants in the USA where they make some of their other tools.
Dewalt Pros:
A well-known name in tools
Powerful electric saws
Long-lasting battery life
Easy to start
Dewalt Cons:
Cannot go all day as a gas saw
Some negative reviews about reliability
---
14. Craftsman Chainsaws
The Craftsman chainsaw brand is another popular choice for homeowners wanting a cheap and easy chainsaw. It has an interesting history and you can find out who makes Craftsman chainsaws here.
As with BlueMax and Husqvarna, they have both gas and battery-powered chainsaws, but they also have a range of corded electric. You can see some of the most popular Craftsman chainsaws here.
The gas saws are among their bestsellers and are known as reliable runners that are good for light yard work and processing limited amounts of wood.
The largest saw in the Craftsman range comes with a 20-inch bar and can be used for felling small trees. Although it has a longer bar, the engine is not so powerful.
Craftsman Pros:
Both gas and electric options
Affordable price
Reliable and well-reviewed
Batteries can be used on other tools
Craftsman Cons:
Not made to be run like a Stihl or Husky
---
15. Oleo-Mac Chainsaws
Oleo-Mac is an Italian chainsaw brand that produces chainsaws in Italy and China.
They are not that easy to find in the US but are more common in other parts of the world. You will find them at big-box retailers in the UK, Australia, New Zealand, France, Germany, and so on.
They manufacture gas, battery, and electric chainsaws and pruners that are suitable for around the home and hobby farm.
I tried out this Oleo-Mac Chainsaw a while back and found it to be great for light work.
Oleo-Mac Pros:
Well built
Affordable
Good features
Powerful options (72cc, etc.)
Ole0-Mac Cons:
Can be harder to find parts for
Not pro saws
---
16. Remington Chainsaws
Remington Chainsaws are a US brand founded in the 1920s.
Their saws are available on Amazon and other big box stores. Their largest model is the Remington Outlaw which is available with an 18 or 20-inch bar.
These are popular saws that have been found reliable. They are not the cheapest you can buy, but they are certainly much more so than a Husky or Stihl.
Remington Pros:
Very affordable
Available with larger bars
Gas powered
Reliable and durable
Remington Cons:
Not US-made
No real Remington saw community
---
17. Ozito Chainsaws
Ozito Chainsaws are another cheap brand that isn't all that bad. They are sold through Bunning's big box stores in Australia and New Zealand.
They sell gas/petrol, battery, and electric chainsaws. I personally have a 41 cc petrol Ozito saw that got quite a lot of use a few years ago and performed far better than I expected it to. I paid about US$75 for it, so I did not expect much, but it still runs well years later.
Ozito saws are the cheapest of the cheap, but the brand has been around since 1993. They are not one of those brands that are here today and gone tomorrow, there has a bit more longevity than that, and I think that's because the brand is OK!
Ozito Pros:
Very cheap/affordable chainsaws
You don't have to worry about thrashing it
Ozito Cons:
Parts and service are harder to find than with more commonly found brands
It's not going to last or perform as well as better brands
---
18. WORX Chainsaws
Worx chainsaws are only available in battery or electric. They don't have a gas-powered range.
They are small light saws that are perfect for pruning small branches and bushes around the home, but not for logs or firewood. The marketing material does show people cutting thick branches, but it would unlikely be able to perform at this level for long.
Worx saws are among the cheapest available, though keep in mind that many, such as the best selling WORX WG305.1, must be used with a power cord.
Worx Pros:
Very cheap
Effective on small branches
Good for a spring clean in the garden
Several helpful features
Worx Cons:
Not high-performance machines
Only for light use
---
19. Makita Chainsaws
Makita is another Japanese chainsaw manufacturer supplying electric and battery-powered machines.
They also have some decent-sized gas-powered saws as well. For example, there is a 20″ 61 cc chainsaw that has a full suite of pro features like optimized engine management, lower emissions, improved fuel efficiency, and extended air filter life.
Makita is a large chainsaw manufacturer and is able to invest in their saws to make them as good as they can be.
Read our Makita chainsaw reviews here.
Makita Pros:
Gas or electric options
Well constructed saws
Trusted and reliable brand
Range of features
Makita Cons:
---
20. Milwaukee Chainsaws
The Milwaukee brand is another staple in American tools.
Their chainsaws are all battery-powered and the largest model comes with an 16 inch Oregon bar and chain. These are reasonably powerful saws that are great around the home and to have on hand for pruning.
Users have been happy with both the cutting power and the durability of these saws, even those who usually prefer gas models.
Check out our Milwaukee Chainsaw review here.
Milwaukee Pros:
Quality battery powered saws
Long lasting battery
Decent sized bar
Small and large options
Milwaukee Cons:
---
21. Efco Chainsaws
Efco chainsaws are sold around the world.
They have a range of about 13 gas-powered saws which range in size from a 25 cc model with a 12-inch bar to 50+cc models with 20-inch bars.
Their saws are described as being suitable for both home and farm use and come with a range of features. The Efco MTH 5600 is a mid-range saw that has been reviewed positively.
Efco Pros:
Sold at many retailers
Good size and power selection
Full range of features
Good Efco brand accessories
Efco Cons:
Not very well known
More difficult to find parts
---
22. Ryobi Chainsaws
Ryobi is a well-known brand in the outdoors and yard equipment category.
There is a great range of both gas and battery-powered Ryobi chainsaws for a range of applications and tasks. Both types of chainsaws are very well-reviewed.
For those who are already in the Ryobi ecosystem, it's a good choice.
Ryobi Pros:
Quality brand in yard equipment
Top part and components
Variety of size and power options
Durable and reliable saws
Affordable
Ryobi Cons:
They don't specialize in saws
Not known to be exceptional
---
23. Ego Power+ Chainsaws
EGO Power+ chainsaws is a company manufacturing cordless power tools and yard equipment.
Their focus is on innovative battery-powered devices. Their saws are all either electric or battery-powered.
EGO's new machines have an ARC Lithium 56V battery that is said to deliver a new level of performance. It gives a longer run time before needing to be charged.
Ego Power+ Pros:
Quieter to use
Low/no emissions
Quick to pick up and use
Durable casing
Very well reviewed
Ego Power+ Cons:
---
24. Oregon Chainsaws
VIEW ON AMAZON →
Oregon is best known for its bars and chains, but they also have a range of electric and battery-powered chainsaws.
The saws are very affordable and come with a self-sharpening feature. The largest model comes with an 18-inch guide bar.
As with all non-gas saws, Oregon chainsaws are low emission, very quiet, and comparably light to handle. It's been a popular range and is very well-reviewed.
Oregon Pros:
Quiet to run
Low emissions
Usual features (chain break, etc.)
Self-sharpening
Bar oil window
Oregon Cons:
---
25. Homelite Chainsaws
Homelight chainsaws come in two sizes.
There is a 14″ and a 16″ electric chainsaw – both of them need to be used with an extension cord.
Homelite saws aren't designed for heavy intensive work but are perfectly suitable for pruning and climbing. They're good to have on hand for infrequent work. We have a post on Homelite chainsaw oil here that has more info about the brand.
Homelite Pros:
Cheap saws
Good for light work
Easy to use
Homelite Cons:
---
26. Troy-Bilt Chainsaws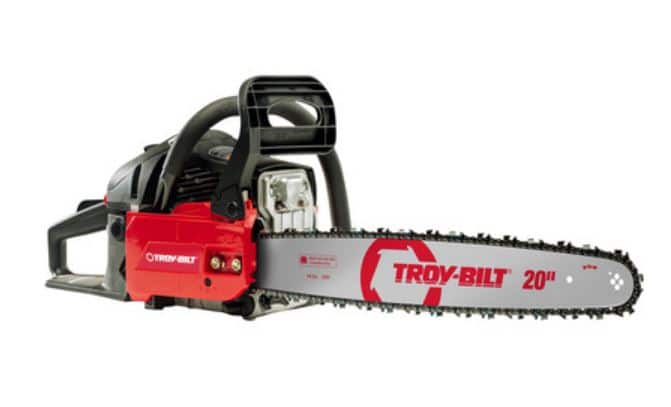 Troy Bilt is another chainsaw brand made by the same company that sells McCulloch Chainsaws.
They aren't designed for tough all-day work, but the price point makes them suitable for light domestic use. Use them for pruning trees, doing the odd bit of firewood, or dropping the odd small tree.
This isn't a super popular chainsaw brand as they don't have the same quality saws as other options out there. They are made in Taiwan.
Troy Bilt Pros:
Cheaper option
Ok for light use
Troy Bilt Cons:
Don't expect it to have a long life
Not for demanding work
---
27. SALEM MASTER Chainsaws
Salem Master chainsaws are sold on Amazon.
They are stylish-looking gas-powered saws that are available in a range of sizes and power levels.
Their most popular model is a 58cc saw that comes with a 16-inch bar. These saws may not always be the most reliable, but they are good to have as a backup or just as a saw for infrequent use.
Salem Master Pros:
Affordable
Gas-powered
20-inch bar models available
Salem Master Cons:
Won't last forever
Can't be run as hard
---
28. WEMARS Chainsaws
Wemars are another Amazon chainsaw.
They have two different chainsaws for sale:
58cc with 18″ bar
58cc with 20″ bar
As with many of these cheaper Chinese-made chainsaws, they aren't always the best build quality (how can they be at this price?). However, they are fine for many applications around the home.
As long as you're not expecting the world of these machines, you'll be able to process firewood and tidy up around the yard, no problem.
Pros:
Cheap
Gets the job done
good for around home
Cons:
Won't last a long time
Components not as good
---
29. Sun Joe Chainsaws
The Sun Joe chainsaw company is the same again – another cheaper saw that'll go alright for a while!
Sun Joe saws are one of the best-selling chainsaw brands on Amazon because they are cheap and able to get small jobs done. It's not for those processing a lot of wood or needing a very reliable and dependable saw.
Sun Joe Pros:
Very affordable
Decent track record
Small electric models
Sun Joe Cons:
Not the top chainsaw brand
---
30. PROYAMA Chainsaws
Proyama chainsaw brand is another Amazon seller.
They have two models available, and they actually look quite a bit like Husqvarna!
There is a 48cc saw with a 20-inch bar, and a 51cc saw with a 22-inch bar. Most of the cheaper models don't come with quite as much power or bar length!
PROYAMA Pros:
Large bar sizes
Comes with case
Comes with accessories
Very affodable
PROYAMA Cons:
Isn't the best quality chainsaw brand
---
31. COOCHEER Chainsaws
COOCHER chainsaws are only sold on Amazon and Walmart and are cheap chainsaws for home use.
Their saw with a 20-inch bar is one of the cheapest in that size range that you'll find.
This is not the chainsaw brand for professional work, but it's perfectly fine for use around the hobby farm. It shouldn't be expected to last forever and isn't going to perform as well as more premium brands.
COOCHER Pros:
Very cheap
Buy replacement parts online
High powered options
Long bars
COOCHER Cons:
Not the best construction
Cheaper parts and components
---
Chainsaw Manufacturers
That's a list of most of the common chainsaw brands in the US.
There are many more brands out there, especially in other countries.
Europe, the UK, Asia, Australia, and many other regions have a wide range of other chainsaw brands. Especially when it comes to cheap Chinese and Japanese saws, there's no end to the different brands.
If you know of other chainsaw manufacturers and brands that should be included in this list, let us know down below. Get into these chainsaw sales for Black Friday for some great deals.