Thinking about picking up the Milwaukee Chainsaw?
When it comes to chainsaws, you need a reliable tool that can see you through tough jobs for years to come. Milwaukee is known for making high-performance chainsaws of excellent quality and can stand the test of time.
The brand's most notable and popular chainsaw is the M18, a hardy and powerful battery chainsaw that is about the equivalent of a 40cc gas chainsaw. However, at a pretty high price point, is the Milwaukee M18 chainsaw worth it?
This particular model number (2727-21HD) has many great selling points and a few drawbacks that you should be aware of before purchasing.
And if you decide the M18 isn't for you, we've got some good alternatives, alongside the Milwaukee mini saw, or pole saw, which might be a better fit.
The Milwaukee M18 Chainsaw
The Milwaukee M18 Chainsaw has been an extremely popular chainsaw for homeowners, builders, and those doing light farm work.
Because it is part of the M18 series, the batteries can be used across this entire line of tools. The saw can be purchased with or without batteries and is much cheaper if you already have them.
It comes with a 16-inch bar, which is pretty small by chainsaw standards.
It makes it good for:
Limbing
Pruning
Construction work
Other light tasks
For lovers of Milwaukee power tools, the wait was long for a true full-size battery chainsaw.
However, when the brand finally put out this tool several years ago, it made a huge splash.
M18 Chainsaw Specs and Features
This chainsaw has a bar length of 16 inches and runs on an 18-volt battery platform with a 12.0 battery, the same one that powers all of the M18 range of tools from Milwaukee.
It's rare to find a bar length of that size on an 18-volt platform, but Milwaukee's proprietary RedLithium battery packs amp up the power by 50% more for longer run time, better performance, and less overheating.
The tool has variable speed with trigger, and its brushless motor gets up to 6600 RPM.
Altogether, the performance of this Milwaukee battery chainsaw is comparable to that of a gas-powered one with a 40cc engine, which is a lot of power for a battery-operated tool.
Milwaukee rates the M18 to be able to take on up to 150 cuts through 6×6 lumber, and it stands up to the test. Even repeatedly cutting through 10-inch logs doesn't seem to phase the battery power.
It also comes standard with safety features and a second handle for a more ergonomic grip. But unlike many other battery-powered chainsaws in its class, it doesn't feature tool-less tension or chain maintenance features.
Overall, the machine weighs around 14.5 pounds with the onboard battery, making this an easy-to-use and efficient tool that makes the most of every bit of power to help you take on tough jobs.
Things To Consider Before Buying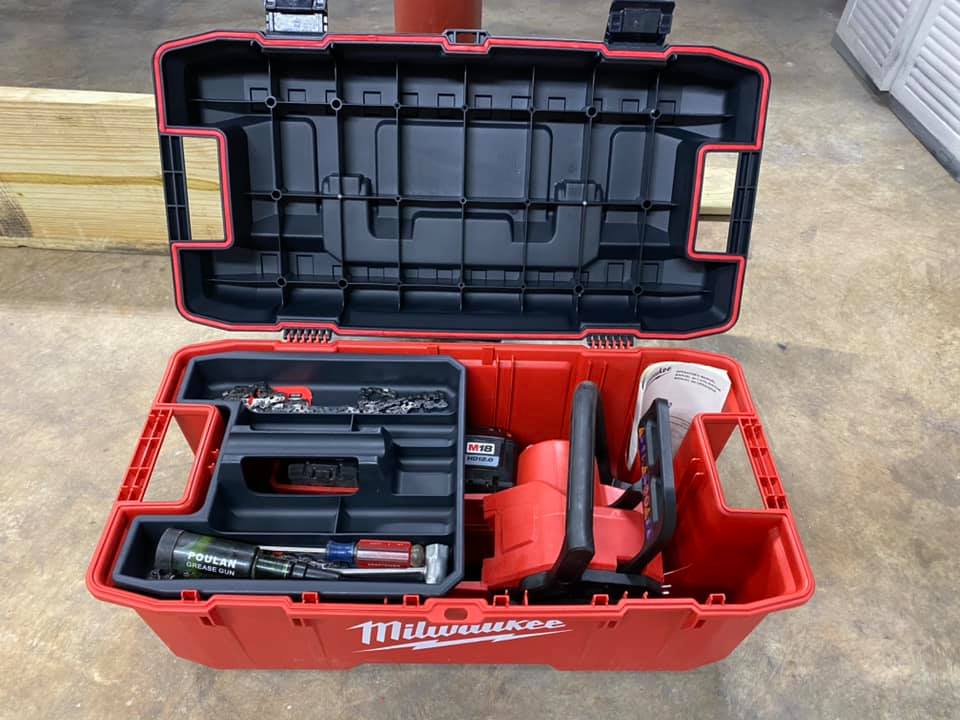 When you go in with this Milwaukee cordless chainsaw, you're not getting your typical electric chainsaw. This one will provide real cutting and staying power that won't fizzle out.
Despite the lack of toolless maintenance features, the M18 chainsaw is dependably self-reliant and won't need tension adjusting or chain replacing often. However, it will still need regular upkeep like any other tool.
The major aspect to consider before buying this Milwaukee electric chainsaw is the price point.
When you consider the convenience of a battery-operated saw paired with the staying power, grit, and high quality of this one, you would expect the product not to be cheap.
This tool is sold in a kit with the chainsaw itself, the 16-inch Oregon bar and chain, the 12.0 RedLithium battery pack, a charger that will fit the M18 and M12 tool range, and a bar sheath.
Altogether, this kit will run you in the range of $450 to $499, depending on the vendor.
However, if you can purchase the chainsaw separately from the kit, battery, and charger, the price is closer to $250.
If you already own tools from the M18 line and have the 12.0 battery and charger, then you only need to purchase the chainsaw, making it a pretty cost-efficient option.
Milwaukee Chainsaw Review
The Milwaukee M18 is the best and only Milwaukee chainsaw.
Because it fits seamlessly right into the battery-powered M18 line getting this one will be a no-brainer for tool aficionados who are fans of the brand.
However, let's recap this Milwaukee chainsaw review with the pros and cons you should keep in mind.
M18 Pros
You're not likely going to find another chainsaw at this size running on an 18-volt battery platform.
At the very least, you won't find one that performs as well as this one does. Most other 18-volt-powered chainsaws are much smaller and put out less power.
True to the brand's reputation, the M18 is sturdy, dependable, and of high quality.

If appropriately maintained, it will last you for years.
It isn't likely to suffer from brand or model-specific maladies that plague a lot of other chainsaws, such as leaky oil, battery flaws, or chain weaknesses.
The chain is dependable, and the tension is consistent, it's ergonomic to handle, and not too heavy for its size.
It'll last through 150 cuts on a single charge thanks to its strong motor.
M18 Cons
The biggest con here is the price.
At nearly $500 for the entire kit, it's not cost-efficient for people who haven't already committed to the M18 line. Taking brand loyalty out of the equation, plenty of other saw kits are available that can provide similar benefits at a fraction of the cost.
The M18 fuel chainsaw also requires tools to adjust the tension and swap the chain.
Slower-than-normal charging times have also been reported for the battery.

This can be a drag for lengthy jobs and nearly cancel out the benefit of the chainsaw's immense power for the 12-volt battery size.
When it comes down to it, the M18 cordless chainsaw is the best fit for someone who already owns and enjoys other Milwaukee M18 tools. It's for those who want a long-haul, dependable chainsaw with lots of power that they don't mind investing in.
Milwaukee M18 FUEL Alternatives
However, for people who like the idea of enhanced power but aren't impressed by the M18'S pricing, you may want to consider other options.
1. DEWALT 20V MAX XR Chainsaw
VIEW ON AMAZON →
For people who need a smaller alternative, this 12-inch bar chainsaw from DeWalt is a great option.
This cordless chainsaw preserves the intentions of the M18 through its high-efficiency 20-volt battery.
Paired with a brushless motor, the battery life ensures up to 90 cuts per charge and comes in at around 9 pounds, offering a lightweight, maneuverable alternative to the M18.
It also has toolless tensioning and is much more affordable in comparison.
See our full Dewalt chainsaw review here.
---
2. Husqvarna 435e Gas Chainsaw
VIEW ON AMAZON →
This gas-powered alternative from Husqvarna offers all the size and ferocity of the M18, with a 40.9 cc engine and 2.2 horsepower.
Its 16-inch bar and 9-pound weight converge to make this saw a workhorse; it also features anti-vibration technology to keep you working at full potential for longer.
This chainsaw does require tools for adjustments but features automatic self-oiling and other features that make maintenance easy and fast.
If you need a powerful, full-sized chainsaw but don't want to have to worry about charging up, then the 435e is a good, gas-powered alternative.
Check out our complete Husqvarna 435 review here or learn about the Husqvarna T435 – a top-handle version.
---
3. Greenworks Corded Chainsaw
VIEW ON WALMART →
This 18-inch corded saw from Greenworks is a good corded electric option.
It will run for unlimited cuts with a powerful performance, toolless maintenance, and automatic oiling.
At 12 pounds, this corded saw is a good fit for people who want to do jobs around a small yard with access to an outlet.
This chainsaw offers just the right power and capabilities for less intensive jobs at a very sensible price.
Alternatively, Oregon electric chainsaws are similarly priced or there is a good range of Greenworks cordless chainsaws.
---
Milwaukee M12 Mini Chainsaw
VIEW ON AMAZON →
Consider the 6″ Milwaukee Mini Chainsaw to be the M18's little cousin.
A part of the M12 line, this saw will still run on the same battery platform but is better suited to small jobs.
It's a perfect fit for pruning, with 120 cuts per charge, a brushless motor, and the same RedLithium technology that backs the M18's performance. Plus, the kit comes in at a much lower price than that of the M18.
The M12 was our top pick for best mini chainsaw as well.
Milwaukee M18 Pole Saw
VIEW ON AMAZON →
For over-your-head jobs, this 10-inch expandable pole saw is a great and safe alternative.
It will allow you to cut high-up limbs without straining your arms or wasting power or leverage.
Operating on the same M18 battery platform, it's compatible with multiple attachments that can make this tool double as a hedge trimmer, string trimmer, and more.
Like the M18 chainsaw, it will run for up to 150 cuts per charge with a brushless motor and the same power-saving RedLithium technology.
The kit is about as pricey as the M18 16 inch, and the expansion set, which extends the reach up to 106 inches, is sold separately.
See our round-up of the best pole saws here for more options.
Milwaukee Chainsaw FAQs
Where are Milwaukee chainsaws made?
The company is foreign-owned but headquartered in Milwaukee.
All of its production plants are in either Mississippi or Wisconsin.
Who makes Milwaukee chainsaws?
The company is American but is owned by Techtronic Industries, based out of Hong Kong.
The same name owns brands like Oreck, Dirt Devil, and Hoover.
How many cuts can you get with a Milwaukee chainsaw?
With the M18 16-inch chainsaw, you'll get up to 150 cuts on a full charge with the 12.0, 18-volt RedLithium battery.
Does the Milwaukee chainsaw need oil?
Yes, your Milwaukee M18 will need oil, but only for lubricating the bar and chain.
It does not require engine oil.
What battery does the Milwaukee chainsaw use?
The M18 runs on the standard battery for the whole M18 platform: its proprietary RedLithium 12.0, 18-volt battery packs.
How long does the battery last?
With the 12.0 battery, you can expect to get 1.5 amp-hours of runtime.
With the high output battery that comes standard in the M18 chainsaw set, you'll get double this runtime.
The lifespan of the battery will depend on how frequently you use it and how you store it. Check your particular warranty for more detail.
What batteries work with Milwaukee chainsaws?
The M18 chainsaw is compatible with any of the M18-series batteries.
However, it will run best and longer on the high-output batteries it comes with that feature 21700 Lithium-Ion cells.
Milwaukee Battery Chainsaw
When it comes down to it, your preferences and needs will be the most telling factors in your choice of a chainsaw.
Everyone needs a high-quality, dependable chainsaw that will offer grit and staying power.
If your budget allows for it, the Milwaukee M18 is the perfect intersection of size and skill, and with proper maintenance, it will be dependable for years to come.
However, if it's outside of your price range or needs, then consider some of the other reviewed alternatives that will make less of a dent in your budget while also meeting your specific needs.
As a final alternative, the Makita range of chainsaws is also a premium product – they sell both gas and battery saws.