The Poulan 306 chainsaw has garnered a reputation for being incredibly durable and powerful for its weight. Boasting a long lifespan, many users have reported their 306s running strong for over two decades, emphasizing its reliability and enduring quality.
Its performance is so commendable that it has been observed to outperform other contemporaneous models like the Homelite Super XL and the Stihl 041 Farm Boss. Known for its reliability and robustness, this chainsaw has become a go-to for those who demand a tool that can withstand years of hard work and still deliver excellent results. Even after the wear and tear of rigorous usage, many users find that simple maintenance like replacing the muffler can bring the machine back to life, affirming its status as a durable and dependable workhorse.
Perhaps it is most well known as being the chainsaw used by Leatherface in the first Texas Chainsaw Massacre film. For this reason, it's a highly sought-after model by fans of this film franchise, and it can sell for big bucks on eBay. One user shared on FB "Believe it or not, every year around Halloween I have people wanting to rent my 306As out for their haunted house." There aren't many saws you can do this with!
*The images in this article come from this thread on the Chainsaw Collectors Forum.
Poulan 306 Versions
There are multiple versions of the Poulan 306:
Poulan 306 – base model with manual bar oiler
Poulan 306A (or 'automatic') – with an automatic oiler
Poulan 306SA – with an automatic oiler and Powersharp system
The Poulan Powersharp feature was a chain-sharpening device inside the clutch cover. Today's Oregon chainsaws have a similar "self-sharpening" feature. The 306SA also has a decompression button, which the other versions do not have.
Other helpful notes about the different 306 versions…
From Chain Saw Collectors Corner:
Saws below serial number 541551 were equipped with automatic compression release valves that activated with the throttle lock while saws above serial number 553210 were equipped with a manual compression release valve.

Model 306SA saws were equipped with a .325 pitch Powersharp style chain and a 9 tooth sprocket and chain sharpened built into the clutch cover.

After 1978 the saws had electronic ignition and a quieter stamped metal muffler.
This is the Poulan 306A with an automatic oiler.
Next, this is an early 306 with a yellow casing rather than lime green. User Modifiedmark said, "Here is a very early model 306A. Notice how the cover decal reads "thirty O six" and how the paint is the lighter yellowish green."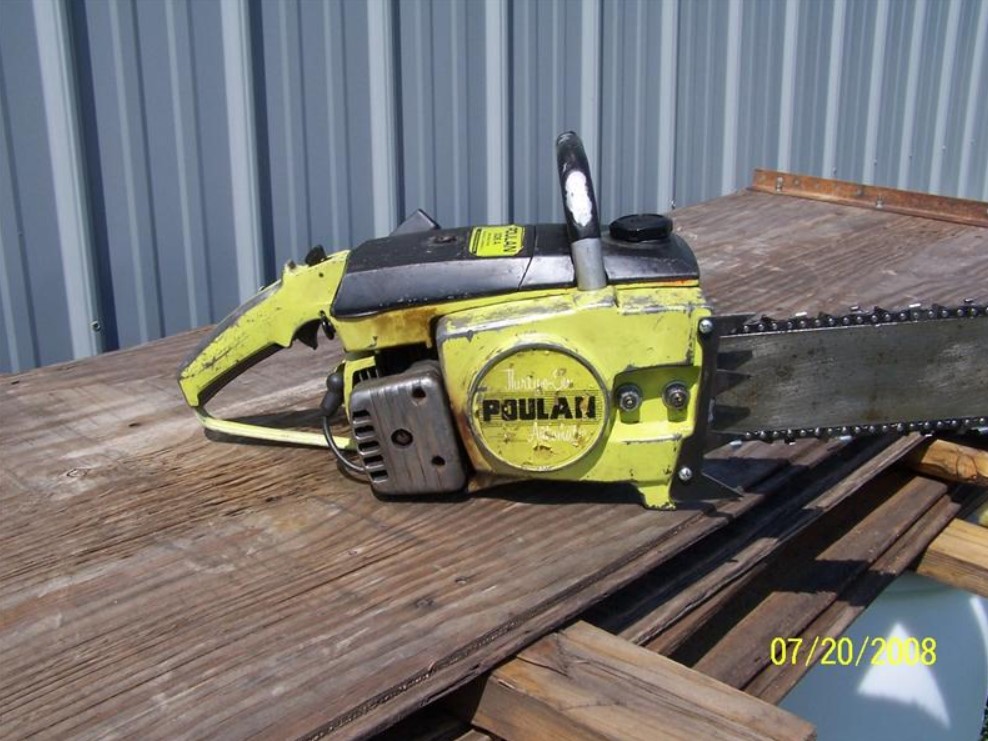 Modifiedmark also shared this version, stating "Here is a very late model 306A. It came with a electronic ignition and what I refer to as the "one screw" tin muffler. This saw is all original, not restored."
And Modifiedmark, a true Poulan 306 collector, also shared his 306SA version.
And this is the Poulan 306A with a bow saw.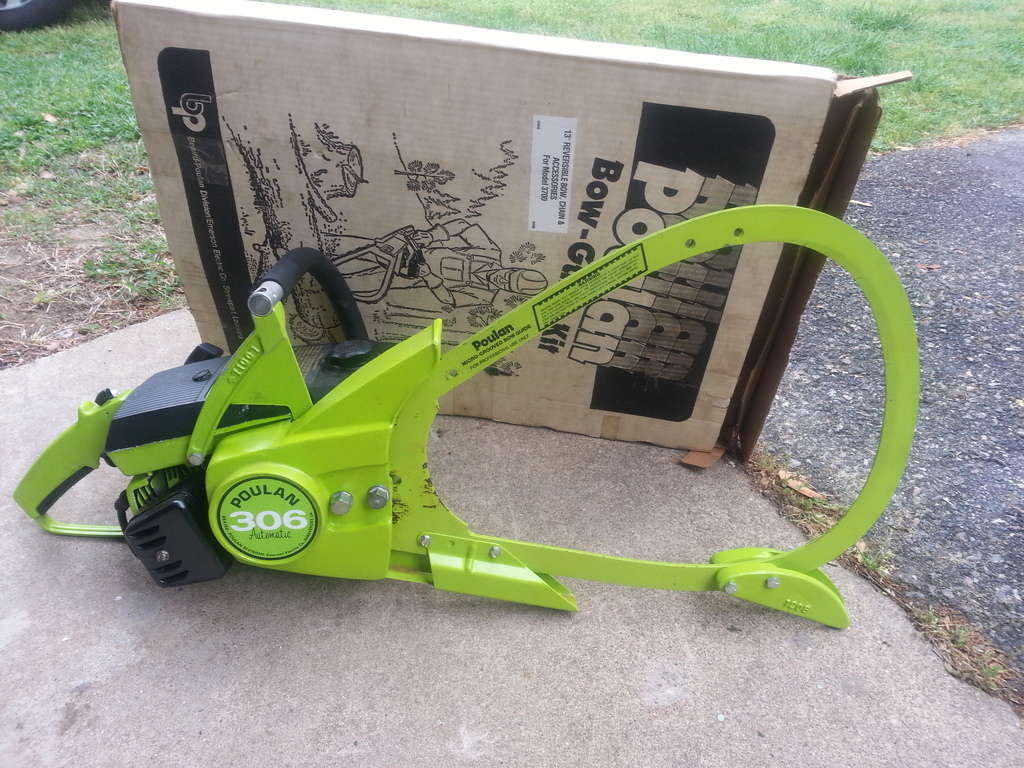 A 306 with a bow saw is particularly rare and can fetch a high price on eBay and other online marketplaces. User trx680 acquired this NIB/NOS Poulan 306A!
Comments on the thread include this one from Modifiedmark:
Very nice to see that time capsule. She's a beauty and legend.

For your own information, that saw is one of the very last 306A's produced. You can tell by the fact that it is a electronic ign and the type of muffler thats on it. The lower bow guard is mostly seen in the later years also.

The starter handle is a sight to see, as its not usually seen on that model saw as that is the type that first came out on the 3400 and some other countervibe saws.

That proves that the handle was standard on at least a few of those.
And the same user later shares:
Looked up a bunch of serial numbers. That number [705291] is the highest that I have seen so far. I have what I know to be a very late 306A and yours is higher then it by a bit.

I also found that the numbers appear to be started in the 1968 200 series saws and that there also intertwined with the 245A saws as well.

So unless you would have a serial number list that is broken by years, (that Poulan may or maynot have/had) I don't see how it is possible to use the serial numbers to pinpoint a year of production.
Poulan 306 Reviews
All versions of the Poulan 306 are decent chainsaws for their time, and they're still popular for use and collectors today.
Compared to modern chainsaws, their power-to-weight ration is poor, and things like the non-existant anti-vibration system can't compare to modern saws, but for a piece of memorabilia or a weekend firewood saw, it's good.
Here are user reviews from the Poulan Chainsaws FB group…
Tony said:
They are great saws, tough as nails. Also thats the saw used in the original Texas Chainsaw Massacre (there's some debate whether it's a 306 with a 245 tank or it was actually a 245) but fans of that movie pay good money for them sometimes.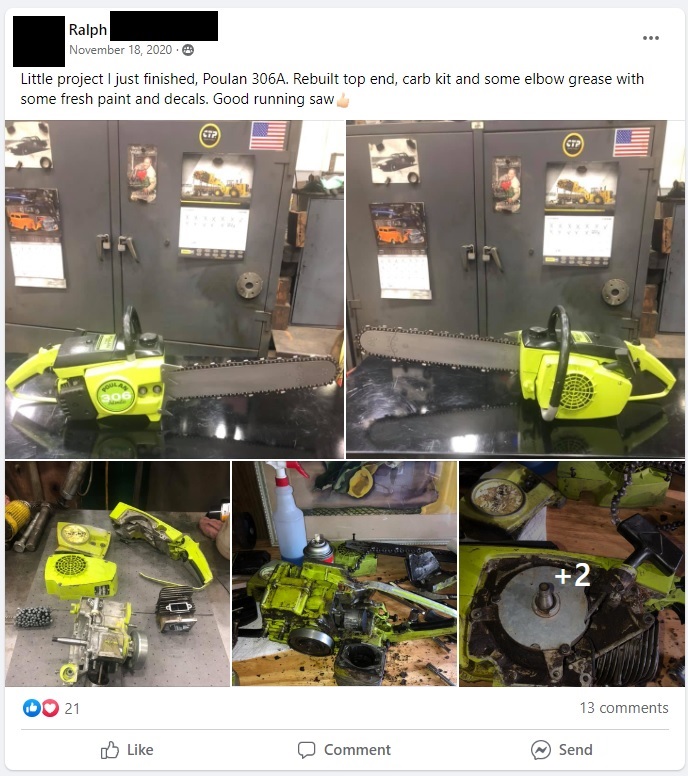 It's a saw that is worth fixing up, as Ralph posted:
Little project I just finished, Poulan 306A. Rebuilt top end, carb kit and some elbow grease with some fresh paint and decals. Good running saw.
In the comments, Ralph shared these restoration tips:
Sugar Creek Supply for decals.
I also used this clear coat that has a Hardener in it so it will make the finish gas and oil resistant. This clear coat can be bought right on Amazon but I got it at the auto body place.
I had the paint matched to the side cover, most auto body supply stores can make what you want in a spray can. This is the paint code you want.

Image: Poulan Chainsaws FB group user Ralph
Other 306 reviews:
Just good strong old reed valve power saws, not particularly the speed-cutting type but they pull strong and don't tend to bog in gnarly thick wood. And a 306/245 frankensaw was the original Leatherface saw.
And aside from the movie, they're a darned good saw.
The 306A and 261 are from the early 1970s and have horizontal cylinders, no anti-vibe, and loud mufflers.
Specs And Features
| | |
| --- | --- |
| Manufactured By | POULAN (BEAIRD POULAN), SHREVEPORT, LA U.S.A. |
| Year Introduced | 1971 |
| Year Discontinued | 1980 |
| Engine Displacement | 3.6 cu. in. (59cc) |
| Number of Cylinders | 1 |
| Cylinder Bore | 1.788 in. (45.41mm) |
| Piston Stroke | 1.437 in. (36.5mm) |
| Cylinder Type | Chrome plated aluminum |
| Intake Method | Reed valve |
| Weight | 12-3/4 lbs. |
| Operator Configuration | One Man operation |
| Handlebar System | Rigid |
| Chain Brake | none |
| Clutch | Centrifugal |
| Drive Type | Direct |
| Construction | Die cast magnesium |
| Magneto Type | Phelon |
| Carburetor | Tillotson HS-59A, B |
| Major Repair Kit | RK-23HS |
| Minor Repair Kit | DG-5HS/T |
| Air Filter System | Flocked screen |
| Starter Type | Poulan automatic rewind |
| Oil Pump | Automatic |
| Maximum Engine RPM | Approximately 6,500 |
| Ignition Timing | fixed |
| Breaker Point Setting | 0.015 in. (0.38 mm) |
| Flywheel/Coil Air Gap | 0.012 in. (0.30 mm) |
| Spark Plug Type | Champion CJ8 |
| Spark Plug Gap | 0.025 in. (0.51 mm) |
| Crankshaft Main Bearings | Ball and caged needle roller |
| Fuel Tank Capacity | 18 fl. oz. |
| Fuel Oil Ratio | 32:1 |
| Recommended Fuel Octane | Regular |
| Mix Oil Specification | Poulan two-cycle mix oil |
| Chain Pitch | 3/8 in. |
| Chain Type | Poulan P-72 |
| Bar Mount Pattern | 10 link |
| Shortest Guide Bar Supplied | 16 in. (40 cm) |
| Longest Guide Bar Supplied | 24 in. (61 cm) |
| Color Scheme | Poulan Lime Green with Black top covers |
Price And Parts
At the time of writing, there are no complete Poulan 306 Chainsaws for sale on eBay, but Halloween is just around the corner. However, there are plenty of parts available, though they are pricey.
Some guys build 306s completely from parts. Josh said:
i built mine. Both the 306a and the 245a. I took the time to get the right parts, the stuff needed to paint it, and everything else, and I'm just now trying to start the 245a. It costs more for the "collector value" but parts are all over eBay.
As for price, it depends on location and condition. It's not unusual for a really tidy 306 to sell for more than $300.
Tony, discussing pricing on FB, said:
A completely locked-up 306 will still sell for $150 all day long on eBay to the movie nuts. That's the saw they used in Texas chainsaw massacre so those guys buy 'em up like candy.
If you want to make money selling second-hand chainsaws, seeking out 306s and then selling them to "movie nuts" could be quite profitable, especially around Halloween!
Parts for the Poulan 306 (all versions):
Poulan 306 A Chainsaw
The Poulan 306 has a lot of merit as a chainsaw, even outside of its use in the movie. While there is a lot of demand from those who want to "play Leatherface", there are just as many guys who have never seen the movie and just like the chainsaw for what it is outside of that.
If you have used the Poulan 306 or have any other experiences with it, let us know your thoughts in the comment section below. How does it compare to other saws from the 70s like as the STIHL 031 or McCulloch 610?