Are Makita chainsaws any good?
Need to cut down an old tree or get firewood ready for the winter? You can use an ax, but don't expect to finish the job anytime soon. Whether it's an electric or gas-powered chainsaw, it will make your chores easier.
There's no shortage of chainsaws on the market, but some perform better than others. One brand is Makita, and you'll find a chainsaw designed for almost any job you have in mind. As with all their other tools, they're powerful, reliable, and durable.
The #1 best-selling and most popular Makita chainsaw for homeowners is the 36v battery-powered Makita XCU03PT1 – here on Amazon.
Best Makita Chainsaws
Makita Electric Chainsaw Reviews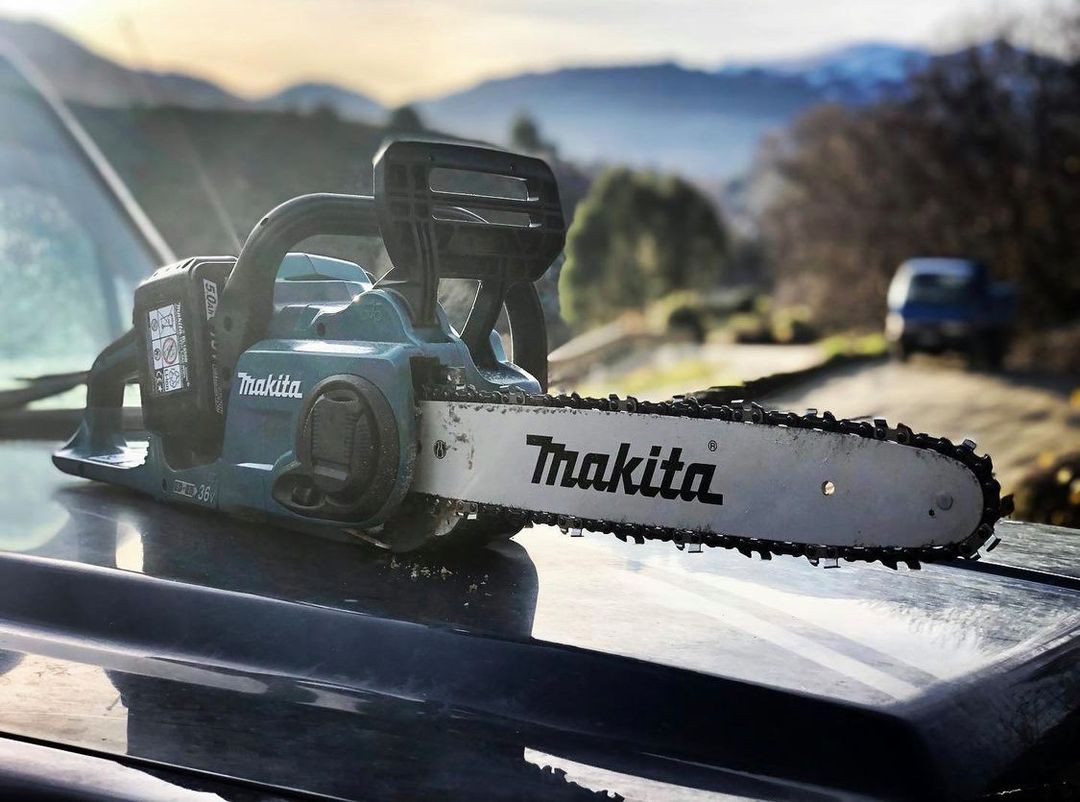 Lightweight, compact, and easy to carry, Makita electric chainsaws are ideal for smaller jobs like trimming trees or cutting fence posts. They are great for use on both construction sites and in the backyard.
Electric and battery chainsaws are much quieter than gas-powered models, something your neighbors will appreciate. Plus they don't have fumes either.
Makita batteries are 18V and compatible with most of the brand's electric chainsaws and some of their other tools as well.
1. Makita Cordless 14" Chainsaw – Best Makita Battery Chainsaw
With the power of a 32cc gas-powered model, there's very little you can't do with this Makita cordless chainsaw (model XCU03PT1).
You get four 18V LXT lithium-ion batteries, so you won't run out of power in the middle of a project. Just switch the battery pack out and keep cutting.
A variable speed trigger gives you more control and improved performance. It also comes with a built-in lock. The chainsaw won't accidentally turn on, helping to prevent injuries.
Pros:
Brushless motor
Tool-less chain adjustment
Dust and water-resistant
Cons:
The automatic shut-off switch powers the chainsaw down after 4 seconds of non-activity, interrupting your workflow
---
2. Makita LXT 10" Chainsaw – Best Makita Top Handle Chainsaw
Weighing only 7.2lbs and producing the same power as a 22cc gas-powered chainsaw, you can easily tackle large and small projects. With a fully charged 18V battery, you can make up to 175 cuts on harder woods before needing to recharge.
Its compact size and convenient top handle are great for pruning and trimming. You have plenty of control over the chainsaw's movements. When it comes to maintenance, the bar nut and lateral chain design make it a breeze.
Pros:
Lightweight and compact design
Brushless motor
Easy to maintain
Cons:
The rechargeable 18V battery is not included with your purchase
---
3. Makita X2 14" Chainsaw – Best Alternative Option
The X2 is a little heavier than some other electric chainsaws, but the extra weight is from the two 18V battery packs. With power from both packs, you get 36V of power. Imagine what you can cut with the chainsaw.
The brushless motor optimizes power output to the equivalent of a 32cc gas-powered chainsaw. Add in the variable speed trigger, and you can cut everything from tree limbs to fencing and firewood.
Pros:
Variable speeds
Delivers 36V of power
Convenient top handle
Cons:
The rechargeable batteries are an extra purchase; they are not included with the X2
---
4. Makita 16" Electric Chainsaw – Best Makita Corded Electric Chainsaw
Corded chainsaws have their advantages. They are quieter than gas models and you will never run out of power. With a 16' bar, you can cut through limbs and back branches with ease. Rubber-wrapped handles are comfortable to grip, and ergonomically designed to give you improved control.
When it comes to maintenance, don't worry. There's a window on the oil reserve, along with a bar to check the level. You also won't need tools to adjust the chain and blade.
Pros:
Corded design
Oversized trigger switch
Ergonomic handle
Cons:
The electric cord limits how far you can go with the chainsaw
---
Makita Gas Chainsaw Review
Makita gas-powered chainsaws are what you need for larger, longer projects.
These powerful chainsaws are designed to cut down large stands of trees with ease. Large property and ranch owners will get more done with a gas chainsaw.
As long as you have a good supply of fuel and bar oil, you'll be able to go all day without worrying about running out of batteries.
1. Makita 20" Ridgeline Chainsaw – Best Overall Gas Chainsaw
You won't have any problems starting the chainsaw. It comes with a spring-assisted starter. You get a fast, smooth start that won't jostle you off of your feet. Durability isn't a problem. The heavy-duty air filter takes care of blocking dirt and debris from getting into the 4.1 HP engine.
Comfortable handles improve your control, and it weighs less than 13lbs.
Pros:
Compact design
Fuel efficient
Powerful Stratified Air Scavenging engine
Cons:
The metal push pin in the starter can loosen, preventing the chainsaw from starting
---
2. Makita 20" 61cc Chainsaw – Best Makita 61cc Chainsaw
Like most Makita gas chainsaws, it comes with a spring starter. It won't take days, and a few inventive curse words to get the chainsaw running. With a 4.6 HP motor capable of 13,8000 RPMs, you can quickly cut through large piles of logs or tree stands.
Don't worry about durability. The chainsaw can handle almost anything. It comes with a heavy-duty air filter and magnesium casing.
Pros:
Lightweight at 13.2lbs
Easy operation
Fast acceleration rate
Cons:
The spring starter is prone to breakage after repeated use
---
3. Makita 79cc Chainsaw – Best Makita 79cc Chainsaw
Need a chainsaw for extreme weather conditions?
The Makita 79cc comes with a 5.7 HP engine capable of up to 12,800 RPMs. When the temperatures drop, the baffle slides out and can be reconfigured for efficient operation.
Electronic ignition makes starting the chainsaw a breeze. You won't have to worry about starting cords breaking.
Pros:
Vibration dampening system
Powerful 5.7 HP engine
Easy-to-clean chain
Cons:
The chainsaw does not come with a bar and chain, only the powerhead
---
4. Makita 18" 50cc Chainsaw – Best Makita 50cc Chainsaw
This 18" Makita chainsaw has a 50cc engine delivering 3.9 HP every time you turn it on. Have a thick log or a mature dead tree? It isn't a problem for the 50cc chainsaw.
The spring-assist starter eliminates any hassles. It also comes with a neat safety feature. A Touch & Stop lever immediately powers off the chainsaw when you're not pressing down on the trigger. It also helps save on fuel usage.
Pros:
Compact and lightweight design
High power to weight ratio
Vibration dampening system
Cons:
The spark plug can loosen, making the chainsaw hard to start on the first few pulls
---
5. Makita 14" 32cc Chainsaw – Best Makita 32cc Chainsaw
It comes with a 1.8 HP motor capable of delivering up to 12,800 RPMs. You can tackle medium-sized trees, 2 x 2 cedar logs, and firewood with ease.
The lightweight and compact chainsaw is easy to start. It comes with the manufacturer's trademark spring-assist starter. Need to use the chainsaw in the winter? No problem, it comes with a cold-weather engineered primer.
Pros:
Cold-weather hardy
Powerful 32cc engine
Easy to clean and maintain
Cons:
Even with the spring-assist starter, the chainsaw does not always power up on the first try
---
6. Makita 16" 35cc Chainsaw – Best Makita 35cc Chainsaw
Weighing only 9.2lbs, you can easily carry this compact chainsaw across your property.
A 2.3 HP engine gives you the power you need to cut through tree stands, brush, and fencing. The addition of a large metal spike bar increases productivity, so you can finish faster.
The Touch & Stop lever makes operation a breeze, and it also cuts back on fuel usage.
Pros:
Lightweight
Powerful 2.3 HP motor
Two-point chain brake
Cons:
The housing can be prone to dents, cracks, and other signs of damage
---
Gas vs Electric Chainsaws
Gas and electric chainsaws each have their advantages.
Electric ones are quieter, vibrate less, and leave a smaller carbon footprint than gas-powered chainsaws.
Gas chainsaws are louder. There's also the problem with fumes, but if you have a large job, you want to use a gas chainsaw. Electric models are great for smaller projects like trimming young trees and pruning bushes. You can even cut 2×2 boards with an electric chainsaw. Anything larger, you want to use a gas chainsaw.
Construction
You want a chainsaw with durable construction.
Look for a metal casing, like magnesium instead of cheaper plastic ones (many Husqvarna chainsaws have magnesium casings). You also want the saw blade to have the teeth you need, along with the right spacing. It will determine how well the chainsaw performs on specific projects.
Power
How much power the chainsaw puts out determines what you can use it for. Electric models are currently not capable of producing the power you get from a gas chainsaw.
With an electric chainsaw, you can go as high as 32cc of power with current Makita models. It's more than enough for small projects around the yard. You need around 50cc of power for mid-sized trees. It's time to start looking at gas chainsaws.
Have a ranch or a large tree stand; look for a 60cc and above gas-powered chainsaw.
Ease of Use
Several features can make a chainsaw easier to use. Look for quick start ignitions on gas models. Spring-assisted cords are another option. Touch and Stop ignitions are a breeze to use. It's also a great safety feature.
Don't forget about size and weight. Think about where you are planning on using the chainsaw. If you're using it to make log furniture, for one obscure example, you'll need to consider which is the most maneuverable.
Decibels
Decibels aren't a problem with electric chainsaws. Your neighbors will love you for using one.
The noise only becomes a potential problem with gas models. Decibel levels can reach 120dB, and this will annoy your neighbors – though only if you're using it all the time.
One of our neighbors has a firewood business so we've often got the drone of a chainsaw or log splitter in the background – however, we're out in the country so the neighbor is far enough away to not be too bad!
Makita Chainsaw FAQs
Still have questions about Makita chainsaws? Here are the answers to some of the most frequently asked ones.
Who makes the Makita chainsaw?
Makita chainsaws are manufactured by Makita Engineering Germany. Headquartered in Hamburg, Germany, the company is one of the oldest manufacturers of portable chainsaws.
Are Makita tools made in China?
The Makita Corporation is based in Anjo, Japan, with factories in several countries that include Germany, England, the United States, and China.
The power tools are also manufactured in Brazil, Romania, Dubai, and Mexico.
Are Dolmar and Makita chainsaws the same?
Dolmar is known for manufacturing gas tools that include chainsaws, while Makita focuses on electric ones.
The two brands decided to merge their outdoor power tools under the Makita brand in 1991.
Check out the interesting history of Dolmar and Makita here.
Is Makita better than DeWalt?
Both companies manufacture quality power tools. Dewalt's prices are lower and produce better quality batteries.
Makita is at a slightly higher price point, but their chainsaws are lighter, more compact, and easier to control.
What is unique to the Makita chainsaw?
Makita chainsaws come with automatic power-off functions.
It saves fuel or battery power and is a great safety option. Extreme protection technology is another unique feature. It increases the life of the chainsaw by preventing dirt and debris from getting into the engine.
What is the largest Makita chainsaw?
The largest Makita chainsaw is the 79cc gas-powered chainsaw. It is still easy to use and lighter than you may expect. It's what you need to tackle professional projects.
Makita Chain Saw Reviews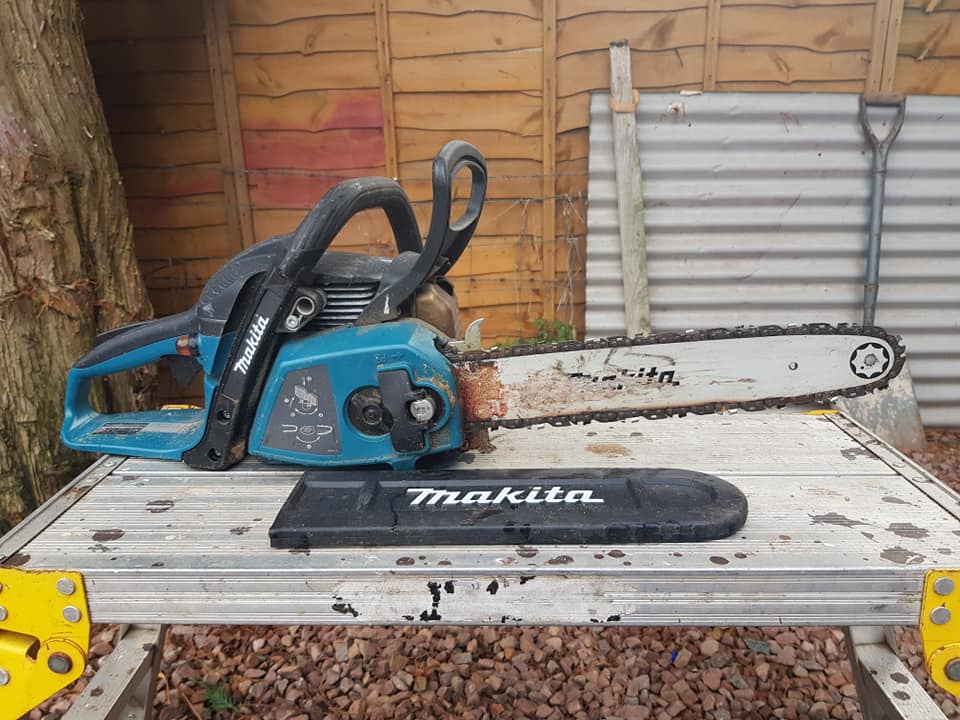 Hopefully, this information is helping you decide which chainsaw is right for your project. If you still aren't sure, here's a quick recap of the information.
Makita manufactures good electric and gas chainsaws. Working on a small project, go with an electric one. Have acreage? Get a gas-powered chainsaw.
When it comes to electric chainsaws, think about if you want a cord or rechargeable batteries. There are ups and downs to either option. If you don't need to go far, choose a corded model. You will save money on rechargeable batteries.
Picking the right gas chainsaw depends on the project and where you live. Break out a 79cc chainsaw in your neighborhood, and you will be the least popular home on the street.
Choose the engine size to match your project. It will save you time and money in the long run and help ensure your safety.
Hopefully, this has made it easier for you to decide which Makita chainsaw you need. If you're just looking for a cheap chainsaw for infrequent work, consider the Oregon chainsaw range.