What are the Farmertec Jon Cutter Chainsaws like?
They're made by the same company as the better known Holzfforma Chainsaws. They make affordable but powerful chainsaws that aren't all that bad!
Farmertec saws are made in China and their clone saws are not on the same level as Stihl or Husqvarna, but, for the most part, they are good for the price.
Jon Cutter Chainsaw Range
*Not sold with bar and chain
Those are the top 5 Farmertec Jon Cutter Chainsaws and there are a few others out there that also have the name.
It can be a bit confusing sometimes because on Amazon you'll also see some saws listed as 'Farmertec JonCutter Holzforma' – with both of the Farmertec brands.

This chainsaw is one example of a 'Jon Cutter Holzfforma' – view it on Amazon.
However, if you check out the official Farmertec website, they only list the 5 saws in the table above, from the G7500 to the G2500, as Jon Cutter Chainsaws.
Jon Cutter Clone Saws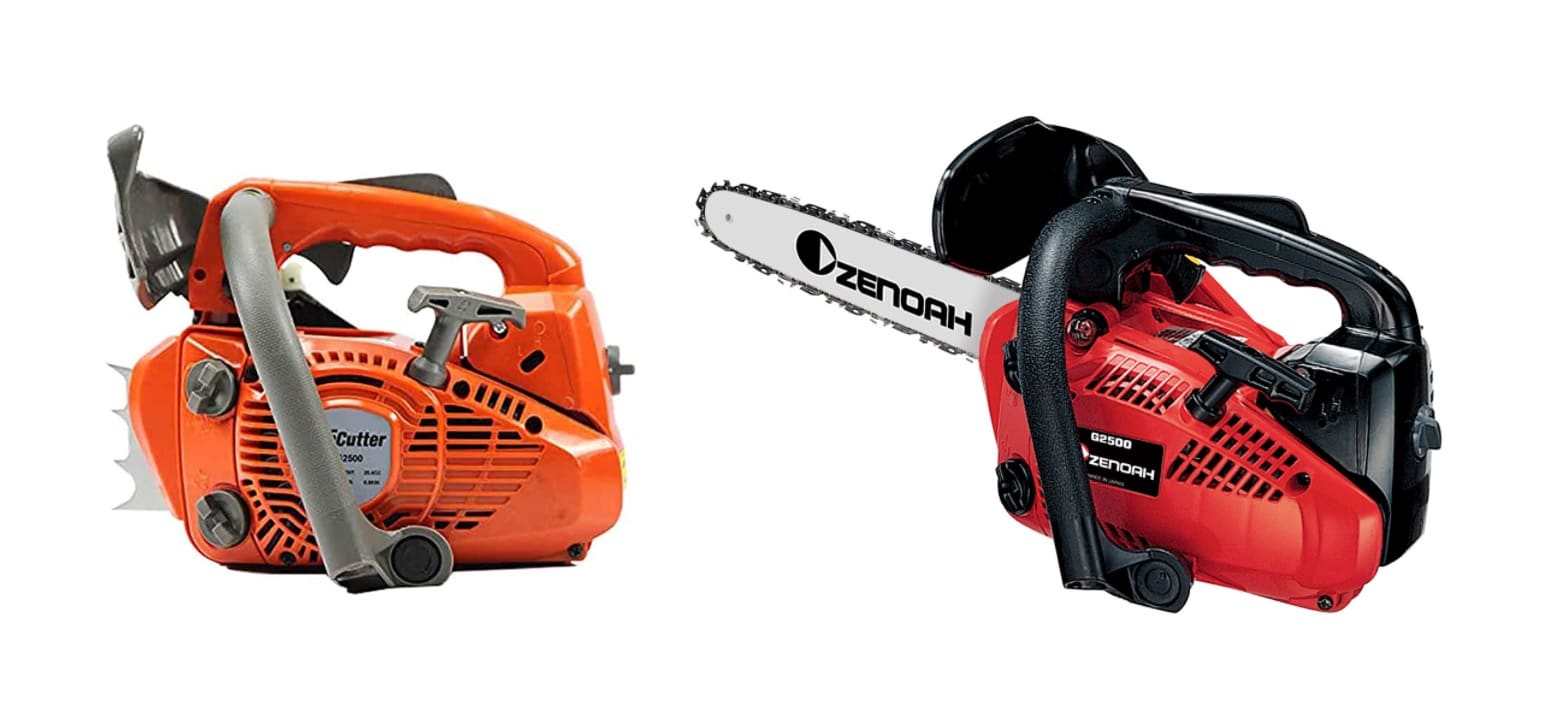 JonCutter 25cc vs Zenoah 25ccHolzfforma chainsaws are Husqvarna and Stihl clone saws, and so it begs the question, are Farmertec's Jon Cutter chainsaws also clones?
While they aren't openly touted as being clones in the way the Holzfforma saws are, they do have many similarities to other brands.
Some JonCutter saws look a lot like many Echo chainsaws, and they have the colors of Husqvarna chainsaws.
However, Jon Cutter saws are most like another brand – Zenoah Chainsaws.
While they're not identical in design, there are a lot of similarities. The likeness is not only for this single saw but for a range of Jon Cutter and Zenoah saws.
Jon Cutter Chainsaw Review
This is a video review of the Jon Cutter G5800.
Helpful comments include:
Pretty impressive saw for the price
Stihl or Husky alternatives are more than twice the price
Buying a bar and chain can cost almost as much as the powerhead
The Husqvarna chain is better than the Jon Cutter chain
Handles big jobs without bogging down
Overall, this guy is really happy with his 58cc Jon Cutter saw, and it does seem to perform well out of the box.
It's most interesting to see how the fare over the long term, as that's one of the benefits of the premium chainsaw brands – they do just seem to last a lot longer.
This next video is an unboxing of the JonCutter G2500 Prowler Puppy.
Helpful comments from the video:
In this case it did come with bar, chain, and tool kit
Very small and light which is what you want in a top handle saw
The chain brake can be difficult to unengage
It has an on/off switch near the handle, a priming bulb, and an easy-to-access air filter.
The G2500 has a side tensioner, side oiler, and chain brake. This size saw is best used with a 12 or 14″ bar and chain.
Top handle saws are good for climbing trees with, limbing and pruning, or cutting up thinner branches.
The G2500 is no Stihl MS200T, nor is it the Holzffomer G111 (a Stihl MS200T clone), but for the price, it's a good little saw.
JonCutter Chainsaw
Jon Cutter chainsaws are very cheap saws, so as long as you buy them knowing you're not getting a premium saw, you shouldn't be disappointed.
Overall, they've been very well-reviewed and seem to perform well when used appropriately.
You don't want to be using these saws all day every day, but for occasional use, they're just fine.
They aren't the most reliable or durable chainsaws, but if you don't have a lot to spend or you're not going to be using it often, there's no point spending tons of money on a better saw.
Stihl chainsaws are certainly better, but you're paying 4 or 5 times the price for the same powered saw.
If you've watched these videos and think a Jon Cutter might be right for you, don't be afraid to give them a go. Wear your chaps and keep safe!