What's the Sachs Dolmar 100 like?
It's a small 33cc saw that first came out in 1984. It's usually run with a 12 or 16-inch bar and only weighs 4.3 kgs/9.5 lbs, so it's a light and maneuverable little saw for small jobs.
These saws are known for being "absolutely reliable" having been built in West Germany (more on where Dolmar saws are made). Someone else stated, "It's a pro-built saw… way better than a lot of today's clamshell saws."
Here's a bit more about this great old saw!
*Current Dolmar 100 prices on eBay here.
The Dolmar 100
Compared to the Sachs Dolmar 115, a 52 cc saw, the 100 is much smaller.
However, these are the kinds of reviews it gets:
"For its size this thing was an absolute screamer."
"I like the balance of the saw, lightweight, and the power."
"I love this series and always looking for parts to keep mine running."
It's a popular saw, but as that last comment alludes to, it can be tricky finding parts these days.
Sachs Dolmar 100 Specs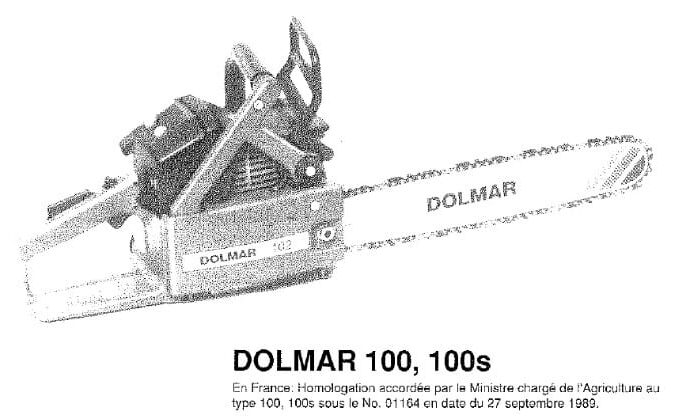 Specs for the model 100:
33 ccm/2.0 cu. in.
1.2 kW/2.6 HP
4.3 kg with 30 cm bar & chain
9.5 lbs. with 12 in. bar & chain
37 mm (1.46 in.) bore
31 mm (1.22 in.) stroke
Aluminum with chrome plated bore cylinder
Piston ported intake
Anti-vibration system
Centrifugal clutch with 2 metal shoes
Electronic magneto
Nylon mesh element air filter
Dolmar automatic rewind starter
Max engine rpm of 11,500 maximum free speed with bar & chain
Idle rpm of 2,600
Fixed ignition timing
0.2 mm (0.008 in.) flywheel coil gap
Champion RDJ7Y, NGK BPMR6F spark plug
400 ml fuel tank capacity
40:1 mix with Dolmar two-stroke oil
3/8 in. low profile chain pitch
Oregon 91SG chain
The saw features a chain brake and automatic oil pump, and it's of magnesium construction. It was recommended for use with a 12 or 14″ chainsaw bar.
*Specs and features have been retreived from Chain Saw Collectors Corner.
Sachs Dolmar 100 Review
View this post on Instagram

The Dolmar 100 is universally loved, judging by all the comments I've read from owners and users.
It's now basically a vintage saw and it holds a place of pride in many people's collections. The brand is trusted and respected, especially when it comes to these models from the 80s.
When it's been looked after, the saw runs really well and seems to punch above its weight.
View this post on Instagram
We've shared some comments about the model 100 above, and they are very typical.
You'll see many owners sharing things like, "I love this saw," "One of my favorites," and "I'll never sell mine," because it's just a good reliable saw.
While they aren't super valuable for resale, a really nice and tidy example can sell for a decent price.
Sachs Dolmar 100 Price
See the latest prices for an old Dolmar 100 on eBay here.
You can see the screenshot of one that's for sale on eBay in the US at the time of writing. It has only attracted a bid of $20 so far, but the saw does need some work.
The description states:
The saw starts and runs as it should. Vibrates a lot because it needs new rubber insulators, which I added a photo of. Very clean saw !! Comes with a blade, chain and chains guard.
A saw that's in perfect condition (doesn't require work) can be expected to fetch between US$100 – $150. In some parts of the world, they can go for a bit more.
They're not highly valuable saws, but they're not worthless either!
Dolmar Chainsaws
The 100 is a small Dolmar chainsaw, but it's worth having for small jobs.
Many people prefer them to newer or current small-powered saws like the Husqvarna 440 (known as one of the worst Husqvarna chainsaws) or the Stihl 170 (known as one of the worst Stihl chainsaws).
You can do a lot worse than a Sachs Dolmar 100!