What is the Greenworks Chainsaw range like?
The entire Greenworks Electric chainsaw series are cordless battery-powered tools – they don't sell any gas or corded electric chainsaws. The big difference between them all, which we'll explain more fully below, is that they come with different length bars and the battery can be different voltages and amp-hours.
The other main difference is that they can be bought with or without batteries. The batteries are compatible with other Greenworks Tools like leaf blowers, trimmers, and cultivators, so some people may already have some and only require the bare tool.
*The most popular Greenworks Chainsaw is the 40v model with 16-inch bar (here on Amazon). It is fairly priced for what you get and is good for pruning and trimming branches around the home.
Greenworks Battery Chainsaw Range
Greenworks 24V Chainsaw

The smallest & lowest powered Greenworks chainsaw
Can be purchased with either a 10 or 12-inch bar
Good for light pruning tasks

View On AmazonView On Home Depot

Greenworks 40V Chainsaw

The popular mid-range Greenworks chainsaw
Can be bought with a 14 or 16-inch bar
Good for pruning and light firewood processing

View On AmazonView On Home Depot

Greenworks 60V Chainsaw

The least popular model with more limited buying options
Choose between a 16 or 18-inch bar
Good for pruning and cutting lumber

View On AmazonView On Home Depot

Greenworks 80V Chainsaw

The largest & more powerful Greenworks chainsaw
Comes with either a 16 or 18-inch bar
Good for cutting larger width branches and logs

View On AmazonView On Home Depot

Greenworks Batteries

Buy additional Greenworks batteries in all voltages
They come in 2.5, 4, 5, and 6 Ah
Double check the compatibility with your chainsaw

View On AmazonView On Home Depot
For the record, I personally prefer good gas chainsaws to electric models, but I know that the battery-powered options have their place (it's just not in my garage)!
Greenworks chainsaws and other brands like EGO chainsaws are well known in the space, but at the end of the day, they aren't going to get the run time or give the flexibility of a Stihl or Husqvarna chainsaw. Nor are they going to last for decades of use.
Battery powered chainsaws are best for those who won't be using their chainsaw often, but just need something to quickly prune some branches or clean up debris. They aren't really designed to be used as full-time bucking chainsaws.
They are popular among trades-people and farmers because they can be helpful for cutting lumber, fenceposts, and that sort of thing. My advice is not to expect too much from these chainsaws and you won't be disappointed. They're good for a limited range of applications, but not for everything.
Greenworks Batteries Overview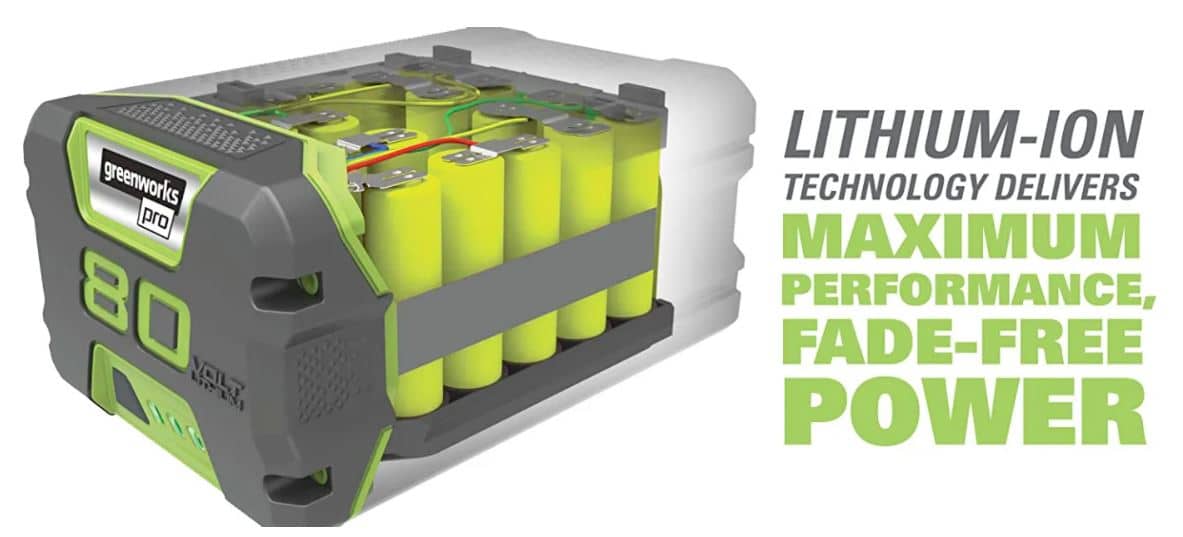 There is a variety of different Greenworks batteries with a range of features.
There are 4 voltage levels you can choose from:
When buying additional batteries for your chainsaw you will need to get one with the correct voltage. You can't use a 40V battery on the 80V tool, for example.
Most of the batteries are said to be good for up to 2000 charges, so they do last quite a long time.
Other features of the Greenworks batteries include:
They take about 60 minutes to charge fully from dead
Work at the same power level until it runs out – it doesn't weaken as battery power is drained
They have a battery power level indicator light
Lithium-ion technology
Easy to click on and off the tools
Features vary from battery to battery, so double-check the precise features that you are interested in are included in your product of choice.
If you buy a Greenworks chainsaw with battery and charger included it will likely come with either a 2 Ah or 4 Ah battery.
A higher Ah basically just means the battery will run for longer than one with a lower Ah. The Greenworks chainsaw kits that include higher Ah batteries will cost more than those with a lower Ah.
When buying new batteries separately, you can choose:
2 Ah
2.5 Ah
4 Ah
5 Ah
6 Ah
Most of the different voltage batteries are available in any of these amp-hour options.
Greenworks Electric Chainsaw Review
You can see the 60V Greenworks chainsaw in action in the video above from ToolBoxBuzz.
The reviewer is very positive about his experiences with these chainsaws and has found them helpful for a range of tasks.
You can see that they can be used for cutting thicker logs and felling trees, however, I'd argue that they're not ideal for this type of work – especially if you're planning on working out in the woods for longer than a few hours as I regularly do.
These saws are good for limited use, but if you were wanting something with a bit more guts, check out the Husqvarna 460 Rancher. Or, for a gas chainsaw alternative with a power similar to these electrics, consider the Husqvarna 130.
Here's a bit more about each of the Greenworks battery-electric chainsaws.
Greenworks 24v Chainsaw – 10″ Bar
10-inch bar
2 Ah battery
Weighs 7.85 lbs
This is Greenwork's smallest chainsaw
and is designed for light pruning tasks.
It's not their best small chainsaw, in my opinion, as it does not have a brushless motor which would make it more efficient and better running. However, it's a reasonably cheap mini chainsaw that will be suitable for some.
The battery can be used on 70+ other Greenworks tools in the 24V or 48V series.
It is an electric start chainsaw that has an auto chain tensioner and automatic oiler. It's said to be able to make up to 35 cuts per charge.
Pros:
Small and easy to handle
Affordable
Easy to store
Cons:
Only suitable for light tasks
Less efficient motor
---
Greenworks 24v Chainsaw – 12″ Bar
12-inch bar
4 Ah battery
Weighs 10.8 lbs
This chainsaw is also in the 24V range, but it comes with a larger 12-inch bar.
It's also a different tool than the previous model, and this one does have a brushless motor that provides more power, longer run times, a more quiet operation, and extended motor life.
As with all their saws, its electric start makes it easy to get going, the chain brake makes it safer to use, and you won't get any fumes as you would with a gas chainsaw.
Pros:
lightweight
Simple to operate
Longer bar for more cutting potential
Cons:
Plastic construction
Won't last like a gas
---
Greenworks 40V Chainsaw – 14 or 16″ Bar
Either a 14 or 16-inch bar
4 Ah battery
Weighs 10.36 lbs
The 40V Greenworks Chainsaw can be purchased with a 14-inch bar here, or a 16 inch bar here. An older version of the is also available with a 12-inch bar, but it's probably best to stick with the updated models.
These saws have brushless motors that extend the life of the tools when compared with brushless motors, and offer a better experience all around.
Besides this, the features are all very similar to the previous model, including auto chain and bar lubrication, chain brake for safety, and easy chain tensioning.
You can expect to get about 140 cuts per charge (tested on a 4×4 piece of lumber), so that's significantly more than the 24 volt saw.
Pros:
Longer run time
Greater power
Longer bar
Cons:
User complaints about leaking bar oil
Plastic parts can be problematic
---
Greenworks 60V Chainsaw – 16 or 18″ Bar
16 or 18″ bar
4 Ah battery
Weighs 12.67 lbs
The 60V Greenworks chainsaw is another step up in the range for those needing a longer bar and more power.
As with most electric chainsaws, it's very light and easy to maneuver. This makes them good for working among other trees and bushes. Sometimes you just want to prune away the odd branch here and there, and these saws do make that sort of thing a lot easier. It's more difficult wrestling a heavy gas chainsaw in among other branches and foliage.
Features include side-mounted chainsaw tensioning, auto oiler, oil window, chain brake, and brushless motor.
Pros:
More power
Longer bar
Better torque
Cons:
---
Greenworks Pro 80V Chainsaw – 18″ Bar
16 or 18-inch bar
2 Ah battery
10.8 lbs
Lastly, we have the Greenworks Pro 80V chainsaw, which is one of their best-sellers.
It's by far their most powerful electric battery chainsaw and it's suitable for those larger tasks. It's fine for felling small trees, cleaning up after a storm, and pruning and limbing branches.
However, don't think that you'll be dropping a forest with it!
Here is the promo-video for the 80V Pro.
Some further info from the video includes:
Zero emissions
Metal handle
Steel bucking spikes
Chain brake
Brushless motor
Interchangeable 80V battery
They also state that the power is equivalent to a 45cc chainsaw, which is a little bit impressive. You could compare it with the Husqvarna 345 or the Stihl MS230 Chainsaw, which are both 45cc gas chainsaws.
Pros:
More power and longer run times
More effiecient motor
Longer bar and more features
Cons:
Priciest Greenworks chainsaw
---
Best Greenworks Chainsaw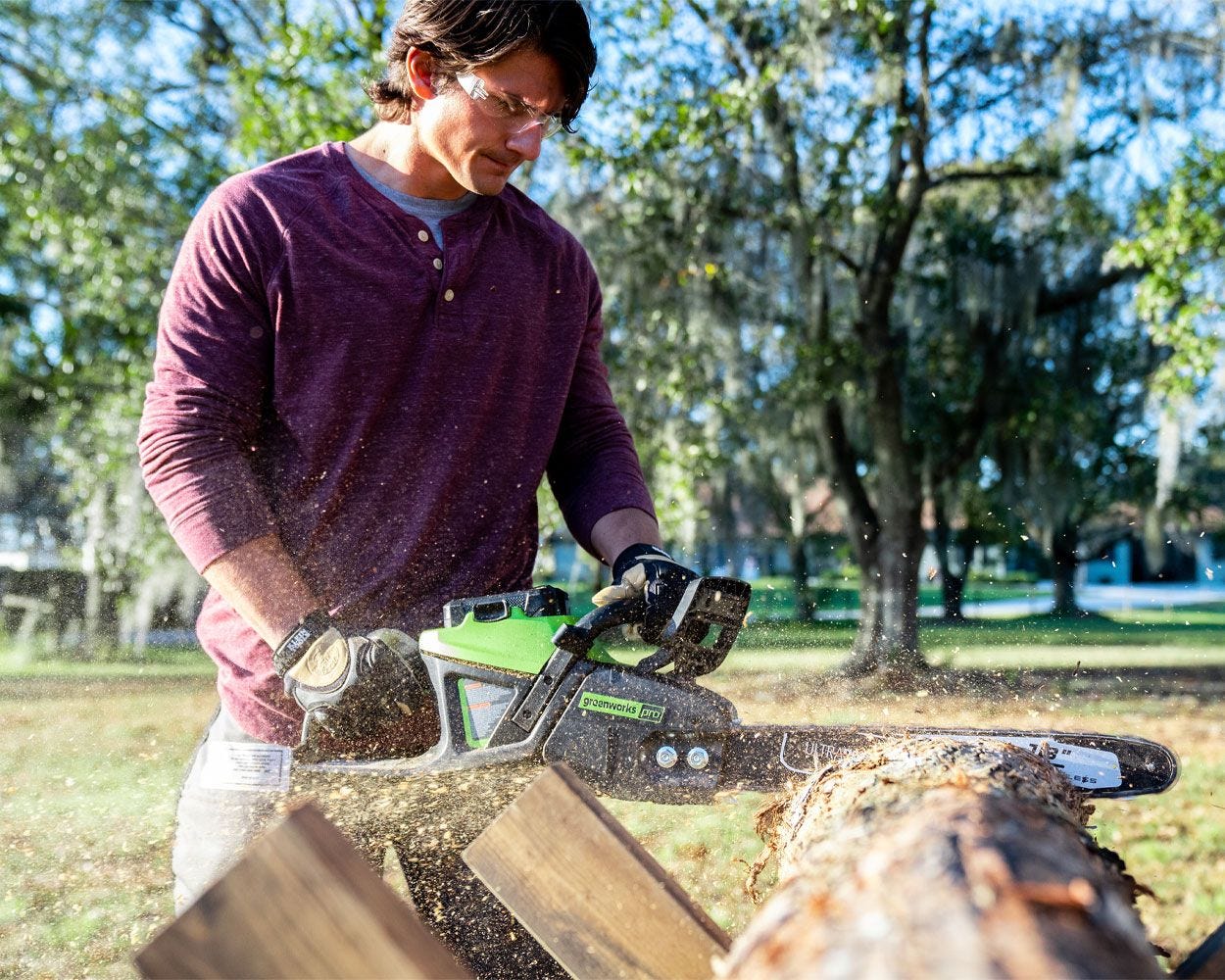 What is the best Greenworks battery-powered chainsaw?
There's no right answer for everybody!
The best one for power and functionality is definitely the 80V Pro. But the best one for someone who only wants to prune the odd small branch would be the small 24V chainsaw!
The Greenworks 40V option is a good choice for those wanting something mid-ranged that's been very well reviewed after testing.
The Greenworks brand is well-liked and trusted, and they've been innovating in this space for a long time now. Their products are generally reliable and durable, but always remember they are really only designed for light homeowner use (despite what some of the advertisements and promos state).
For those who are unconvinced as to whether or not Greenworks is the right brand for you, check out the Milwaukee chainsaw as another good alternative. It's another battery chainsaw that is worth considering.
Also, find out the differences between Greenworks and EGO. They're similar but certainly different!
Let us know in the comment section below if you would like more info or the answer to a question, and please drop any notes about how you've found using these chainsaws.