Is the Husqvarna 450 Rancher a good chainsaw?
I think it is. I bought this saw over 5 years ago and have used it a lot for many different tasks on our hobby farm. This includes felling small trees and pruning or cutting up branches, but I've mostly used it for bucking firewood.
I run the 450 with a 20-inch bar and am mostly sectioning up hardwoods rather than softwoods. While it sometimes bogs down in the thicker logs, I've been overall very impressed by how this non-pro 50 cc chainsaw has performed.
The Husqvarna 450 is, in my opinion, a good homeowner firewood chainsaw, but is it right for you? Let's take a look and find out.
Husqvarna 450 Versions
There are many different versions of the Husqvarna 450 Chainsaw, which is the case for basically every chainsaw from Husqvarna and Stihl. While this can be confusing, all the versions of the 450 are very similar. Often, the differences are mostly cosmetic. The 450 first came out in 2007 (replacing the 50 Rancher), almost 20 years ago, so you've got to expect some changes!
If you are looking at buying a brand new Husqvarna 450 Rancher, there is a NEW version out in 2023. This won't be available everywhere, as many retailers will still have the old stock, but it will slowly start coming out and replacing the previous 450 Rancher.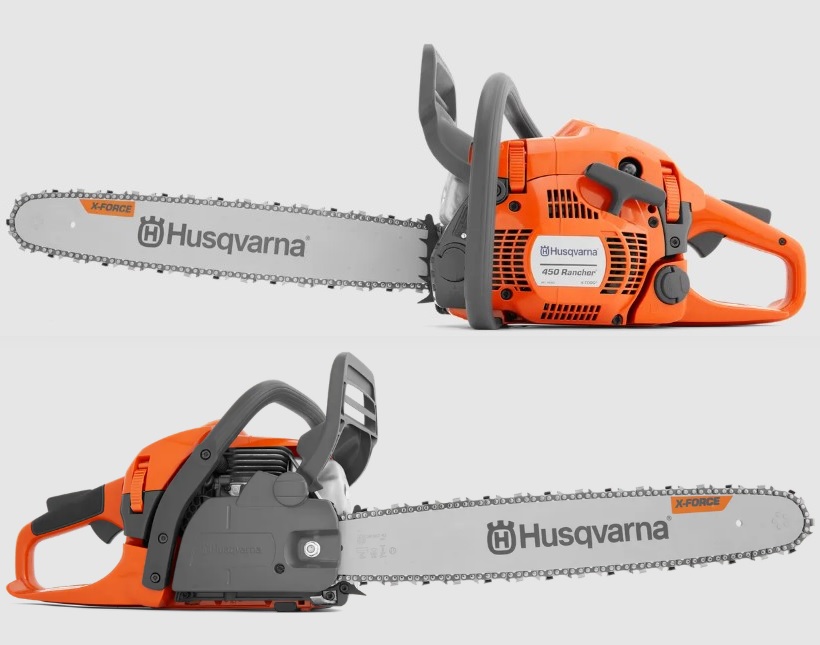 This 2023 Rancher design is the same for the 455 and 460 Rancher chainsaws as well. There is a lot more grey compared to the previous versions. The clutch cover, for example, is completely grey now. One comment I saw said, "2023 450/455/460 Ranchers are turning grey, they must be getting old."
Differences with the 2023 Rancher models include:
Flip caps on fuel and oil tanks
Bar nuts are now pretension nuts
Single bar nut instead of two
Transparent fuel indicator
If you look at my 2017 Husqvarna 450e II you'll see it also has a single bar nut. However, Rancher versions between then and now have had two, so going back to one is a change.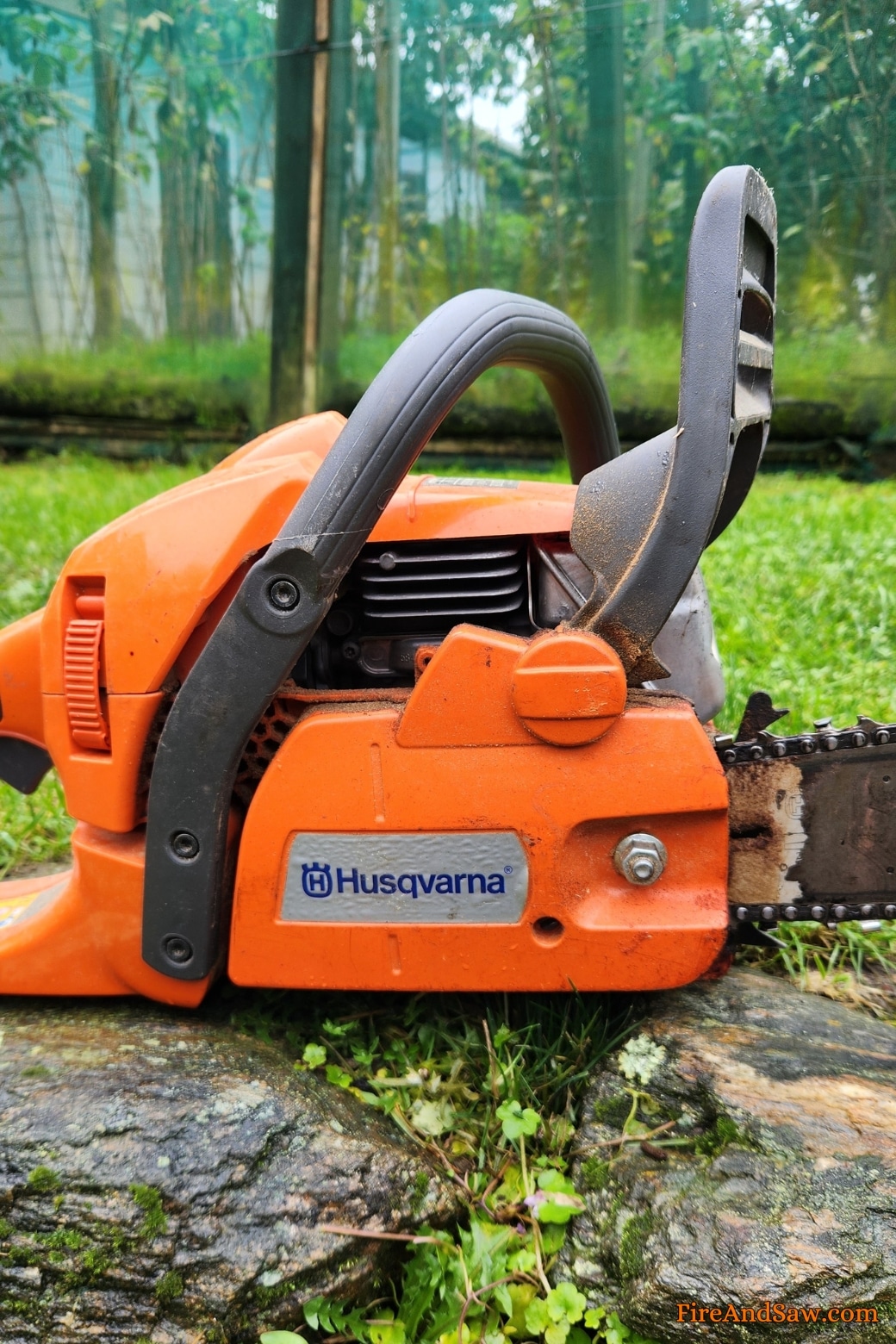 At the time of writing, the 450 Rancher listing on Amazon is still showing the previous version. The same goes for Tractor Supply. But it looks like Northern Tool is selling the newest version of the 450 Rancher. If I was buying a new one, I'd probably go for the latest version, but they're all much the same.
Other versions of the Husqvarna 450 include:
Husqvarna 450 – the original version without the Rancher label
Husqvarna 450e
Husqvarna 450e II
Husqvarna 450 Rancher
Husqvarna 450e Rancher
All of the 450 saws are very similar and there are only minor differences between them.
The E or e stands for e-series which used to mean it had a tool-less chain tensioning system, but it became a marketing term, as is the case with my 2017 450. Some suggest it means the saw has a fuel indicator or an adjustable oil pump, but as you see, my e-series has neither, so I don't think that's it.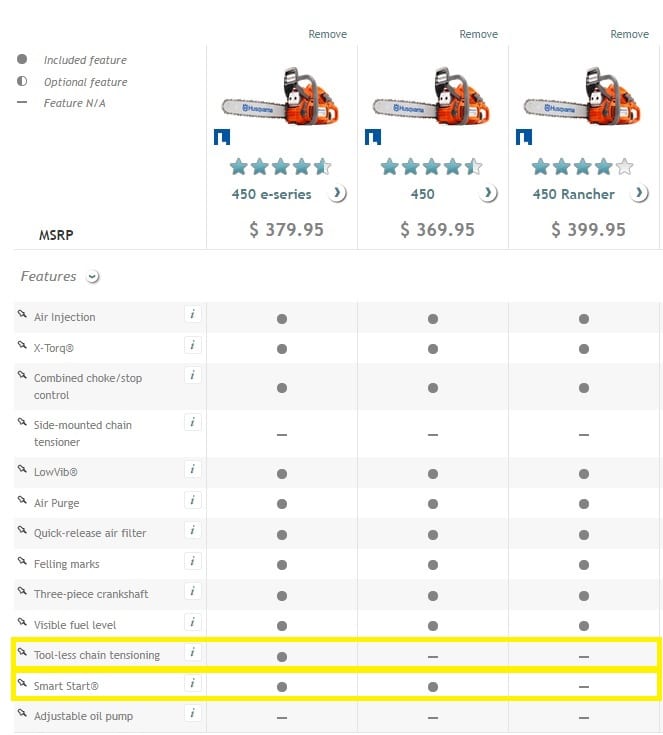 As with the Husqvarna 350 and 55 Rancher which I've recently covered, trying to find meaning in the different model names can be tricky sometimes. If you are buying a used 450 Rancher, I wouldn't worry too much about what version it is or what year it was made, I'd just focus on the overall condition of the saw.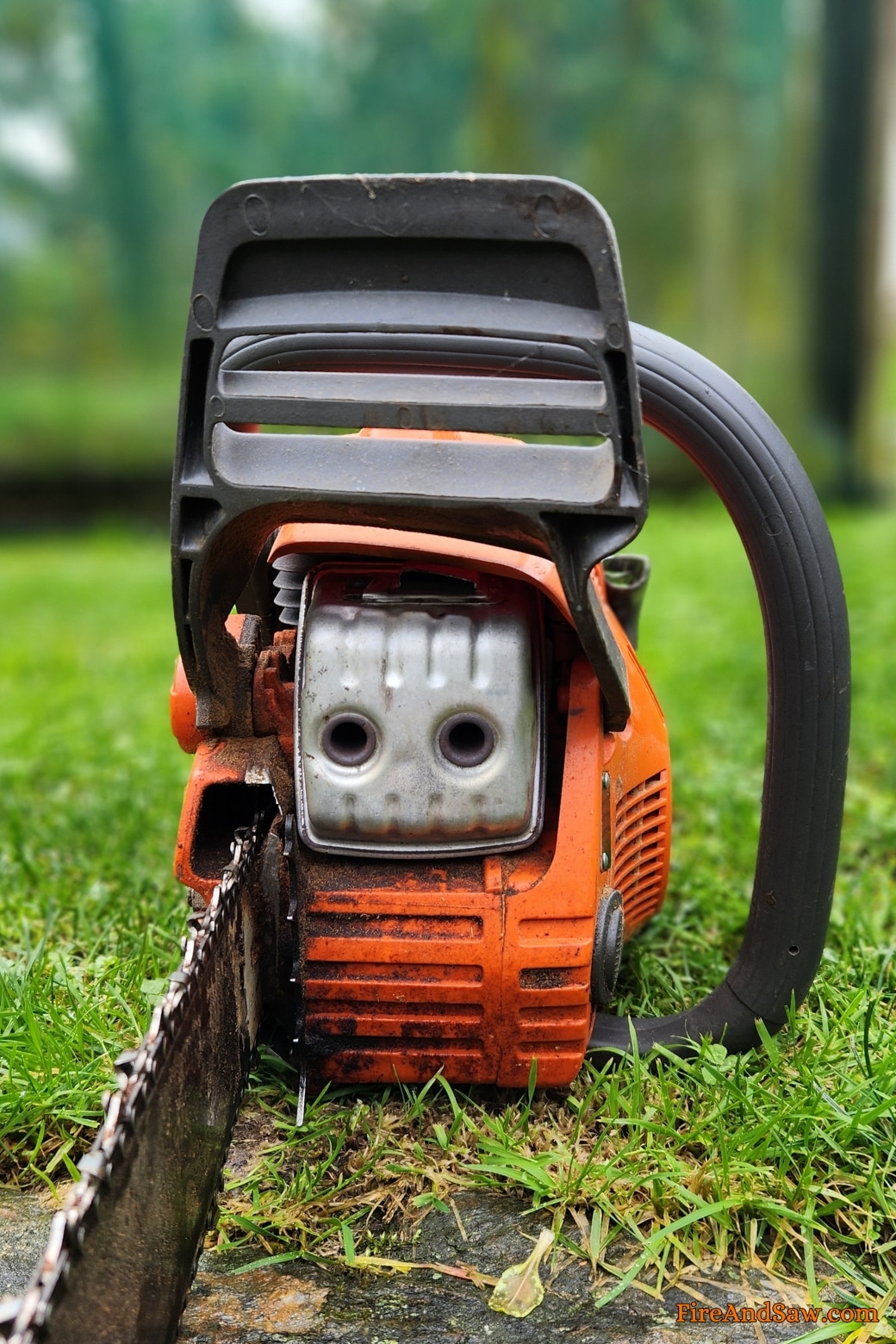 I bought my 450 from Facebook Marketplace in near-new condition. It had barely been used. The chain had never been sharpened, it had great compression, and everything else was good. I've put a lot of hours onto it and haven't had any problems. So long as it has got a sharp chain it performs really well.
You might also see the 450 listed or mentioned as:
Husqvarna 450 X Torq
Husqvarna 450 XP
As I already mentioned, the X-Torq engines are improved for efficiency and lower emissions. The e-series saws have these engines.
There is no Husqvarna 450XP despite it being mentioned here and there. XP stands for extra power or performance. Saws with this designation are professional chainsaws – the 357XP, for example.
There is also a Husqvarna 450 50th Anniversary Edition that was sold for a short time in 2009/2010. This version had an Auto return stop switch and a visible fuel level window as special features.
Otherwise, the different Husqvarna 450 models all have the same chassis, engine, etc., but will look slightly different, sometimes have more or less features, and have alternative marketing names or model designations.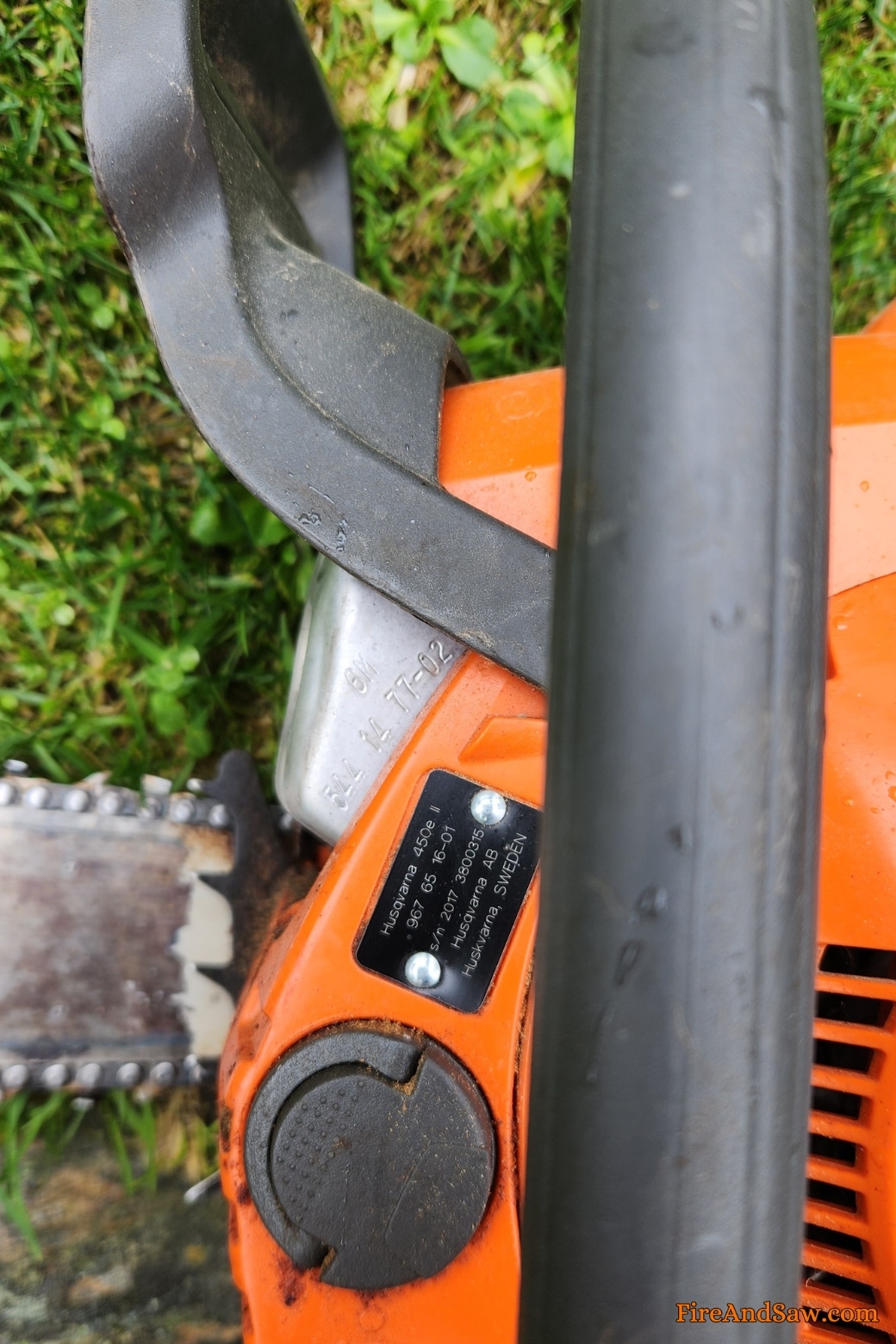 If you want to know when and where your Husqvarna 450 was made you only need to check the serial tag.
We have a whole guide on how to read Husqvarna serial tags which give all this information. You can see that my saw is a Husqvarna 450e II that was made in Sweden (according to the Northern Tool listing, the 450 chainsaws sold in the US are made in the US).
The serial number is s/n 2017 3800315. The first numbers show the saw was made in 2017 in the 38th week of the year. The final digits are the sequential production/production number. In the case of my saw, it was the 315th off the line that week.
450 Rancher Uses
Husqvarna states in their 2017 chainsaw applications chart that the 450 is good for anything from 'light clean up,' all the way through 'heavy clean up.'
This was before the 450 was a "Farm and Ranch" chainsaw, and the '465 Rancher' is not produced anymore. It's only the 450, 455, and 460 in the series now. Nevertheless, I think the applications stand. The 450 is good for clean-up to mid-level firewood tasks.
It's not the best limbing saw as it's a bit bulky and heavy, and nor is it any good for professional or commercial work, other than as a backup chainsaw perhaps. The 550 XP is a better 50cc chainsaw for that sort of work.
I've used the 450 on many different types of hard and softwoods such as:
Gum – trees that have been down on my land for 5 years and are very hard
Black Walnut – after having a large walnut felled, I processed it with the 450
Macrocarpa – another dense hardwood that's great for burning
Pine – both on newly felled trees and those which have been down a while
The 450 gets through the big logs but can bog down a bit. I think it would run better with an 18″ bar rather than the 20″ I have on it, but I've just kept the bar it came with on.
If I were regularly bucking thick hardwoods, I would upgrade to a better and more powerful chainsaw rather than the 450. It's a good saw, but to get through things quicker would be nice. Even the 455 or 460 would help.
Specs And Features
| Engine | |
| --- | --- |
| Cylinder displacement | 50.2 cc / 3.06 cu in |
| Power Output @ 9000 rpm | 2.4 kW / 3.2 hp |
| Cylinder bore | 44 mm / 1.7 3 inch |
| Stroke | 33 mm / 1.29 inch |
| Idle speed | 2500 – 2700 rpm |
| Weight | 5.1 kg / 11.2 lbs |
| Spark plug | Champion RCJ 7Y/ NGK BPMR 7A |
| Electrode gap | 0.5 mm / 0.02 inch |
| Fuel and lubrication system | |
| Fuel tank capacity | 0.45 liter |
| Oil tank capacity | 0.26 liter |
| Type of oil pump | Automatic |
| Chain/bar | |
| Standard bar length | 18″ / 45 cm |
| Recommended bar lengths | 13-20″/ 33-51 cm |
| Pitch | 0.325″ / 8.25 mm |
| Thickness of drive links | 0.050″ / 1.3 mm |
| Type of drive sprocket/number of teeth | Spur / 7 |
| Chain speed at max. power | 75.5 ft/ sec / 23.1 m/sec |
These specs are for the 2023 Husqvarna 450 Rancher X-Torq (download manual). Keep in mind that exact specs will vary depending on the chainsaw version and where and when it was made.
As I've already shared, the Husqvarna 450 Rancher is not a pro chainsaw. This means it's not built with as good materials and nor can it be run as hard. For example, pro saws are made of metal (usually magnesium). The Husky 450 is made from engineered plastic.
Plastic sounds bad because it is tough, but it's not as durable as the pro-level chainsaw casings.
The 450 Rancher is recommended for use with a 13 – 20″ bar. I personally wouldn't go larger than a 20 and those who have tried said it doesn't oil as well beyond that. Plus you're just going to lose power. I think the sweet spot is an 18″ bar for this saw, and it rips with a 16″.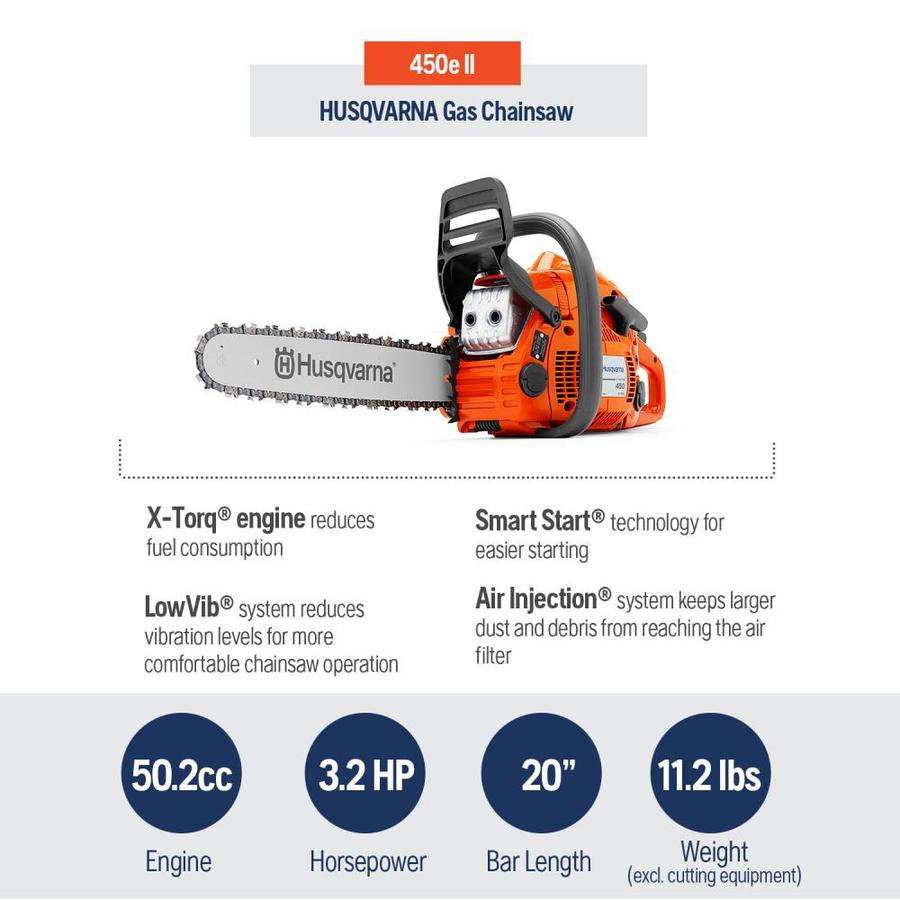 The Husqvarna 450R comes with all the features you would expect on a modern saw. This includes the all-important safety features as well, like the inertia-activated chain-break which reduces the chance of injury from chainsaw kickback.
Other 450R features include:
Smart Start – helps the chainsaw to start quickly with little effort
Automatic oiler delivers a steady supply of chain lubrication for safe and effective use
Side-mounted tensioning system – allows for quick adjustments while working
LowVib anti-vibration system – reduces vibration levels for the operator
3.2-HP X-Torq engine – reduces fuel consumption and gas emissions
Quick-release air filter – easy to clean and replace
Tractor Supply Co. has a great rundown of all the features and what they mean.
As they state, it's a 'Rugged chainsaw that is durable and maneuverable with excellent ergonomic comfort features.' I can agree! Features may vary depending on the year and country in which your chainsaw was manufactured, and we shared the new features of the 2023 version above.
450 Rancher Review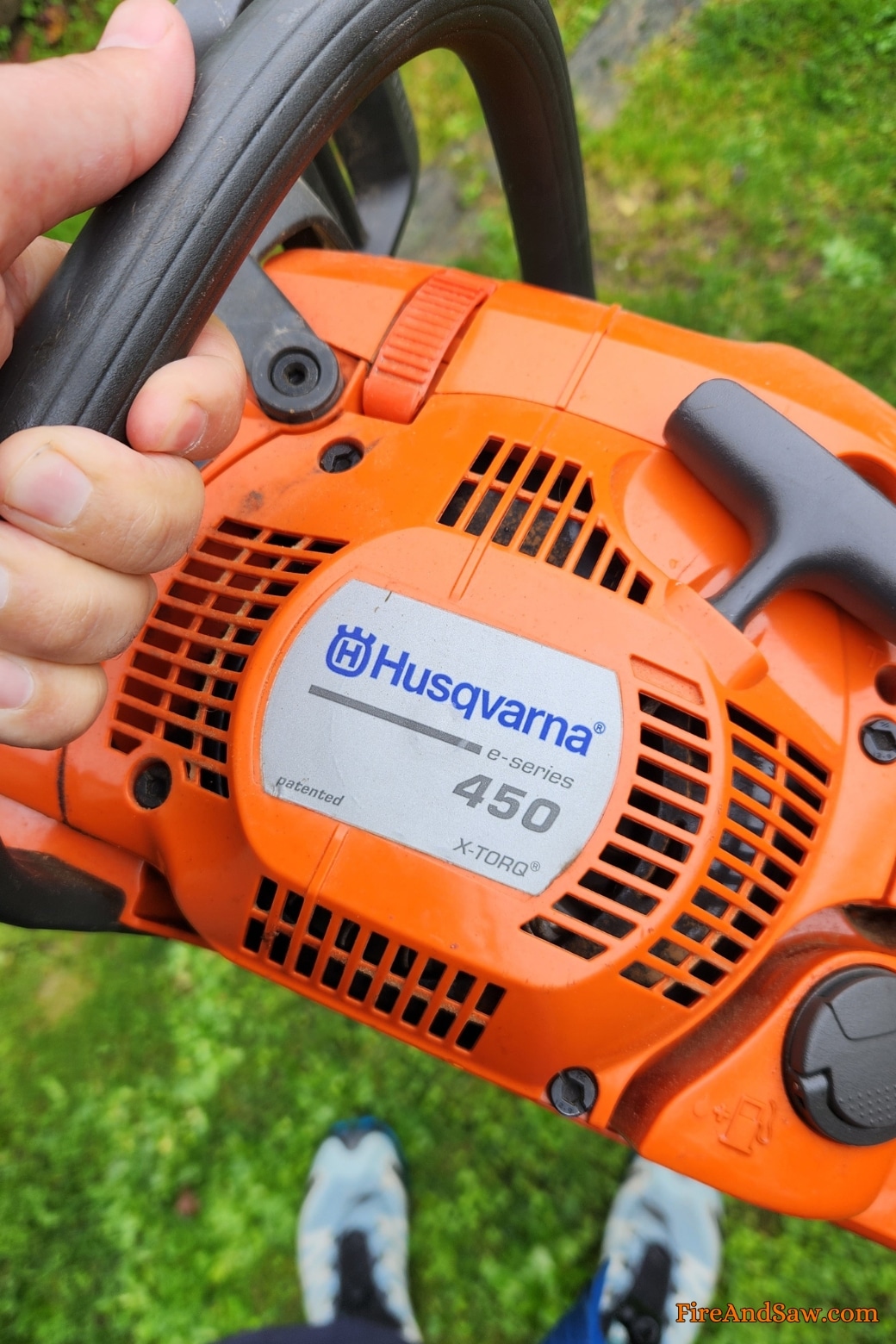 This whole post has been a review of the Husqvarna 450 Rancher (and other 450 versions) and I think you can see that I like this saw. It's served me well for many years doing firewood, pruning, and clean-up. For the price, I think it's a good chainsaw for occasional use.
It's not an excellent saw for those who want something truly powerful. At the end of the day, it's a 50cc homeowner chainsaw and you've got to keep that in mind. It's not going to be a torque monster.
If you plan on using your new chainsaw a lot it would be better to get an XP chainsaw, or, at least, the 455 Rancher or 460 Rancher. The 450 is good, but it's not that good if you know what I mean. Time is money and a bigger saw will cut the work hours in half. A better saw ends up paying for itself!
Here are some other short reviews from guys who own and use the 450:
"Mine cuts 5-7 cord a year."
"Decent firewood saw. Not gonna win any races though."
"I have a 450 good saw but I did replace the 20″ bar with an 18″ bar and like it lot better."
"450 is a fun little saw. Big ol' hole in the muffler and it almost makes power!"
"As far as the cheap Huskys go, the 450 is excellent."
"I love my 450, perfect size/weight/power"
"I have a 450 Rancher and it has been a great little saw, no complaints!"
And some longer comments, both positive and negative…
Dalton said:
I love the 450 and 455 we have, but the professional series Huskys are for real. They are a sweet saw. Hold out is my advice. But hey you do you man. if it's a 'I need it now thing' get the 455 but I would highly recommend the 550 XP instead.
In response to someone asking whether the 450R or 455R is better, Justin said:
455 Rancher all day any day, man.

To be honest they are both great saws but I work for Husqvarna as a tech and there's better quality stuff in the 455 rancher. Ie. Walbro carburetor, 3/8 pitch chain, more readily available and compatible parts, better air filtration, and it's a step up from consumer saws as well.

Adjustable oil pump, better bars, primer bulb, and decompression are still present for easy starting. The 455 makes more power for obvious reasons but I have seen many come in and most of them go back out running with less cost in service.

The cheaper saws run cheaper carburetors which are prone to failure more frequently and can be more expensive in repairs. It seems like as long as you don't straight gas the saw and keep your filter clean and chain sharp you'll be good to go.

The 450 performs ok and does what it needs to but price point I'd go for the 455.
Chris said:
My 450 Rancher hasn't let me down in over a decade and has been used hard. I admit I don't take care of my Rancher as much as my other saws but it keeps going.
And Cord said:
For what it's worth, my 450 has been a heck of a saw.

That being said, the MSRP in the US being $450, if I was buying a new saw I'd go with the Echo 590 Timberwolf.
To sum up, there are better saws than the 450 Rancher, but if your budget only allows for the 450, it's not a bad saw. You can confidently grab one knowing it's a popular saw that's been tried, tested, and loved by thousands.
Price And Parts
I paid about US$400 for my Husqvarna 450e which was said to have 'only done one season of firewood.' While I didn't believe the claim initially, I now think the seller might have been telling the truth.
The saw was incredibly tidy, the chain and bar were as new, and he even chucked in a free pair of chainsaw chaps as well. I paid a higher price because I live in an area where there are fewer good, used chainsaws available, and they cost a lot more to start off with. You can probably expect to pay a bit less than what I did.
Usually, the 450 Rancher is sold for around $450.00 brand new but it can be found quite cheap on online marketplaces.
Right now on eBay (at the time of writing) there is:
An auction running on a near-new 450e – it's currently at $200
A heavily used older model 450 with possible carburetor issues – asking $150
A brand new unused 450e – going for $388.45
As for 450 Rancher parts, HL Supply. is a good supplier to check for both OEM and aftermarket parts. They have one of the best ranges of parts for Husqvarna saws out there. You will likely always find what you need there, whatever it is.
Alternatively, head to eBay. It's another great spot to go for Husqvarna 450 parts. You will find entire chainsaws available for sale for parts, or individual parts depending on what you need.
Lastly (or firstly, if you like), ask in the Husqvarna Chainsaw Facebook groups. There is maybe someone who has what you need nearby!
Husqvarna 450 Chainsaw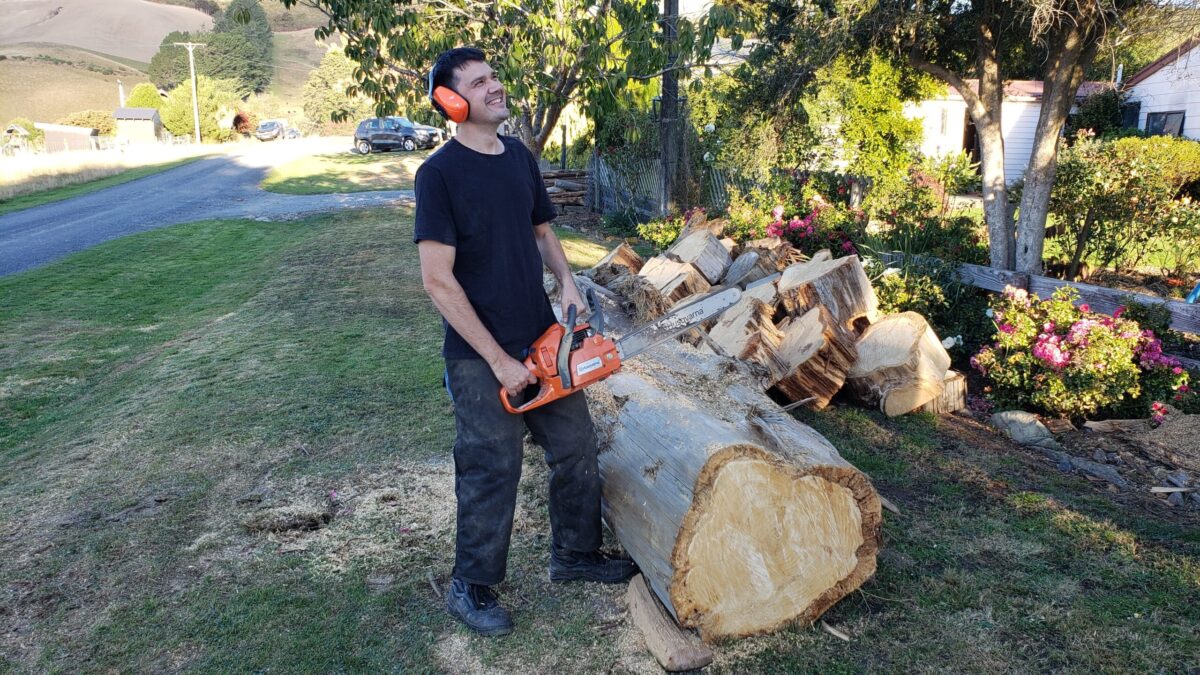 So that's the Husqvarna model 450. If you want to know anything else about it, please drop a comment below and I'll get back to you asap.
As I've mentioned, I don't think this is the perfect saw for a professional operation. Pros need more power. But, it's an excellent chainsaw for home, farm, and agricultural use.
I probably cut up to 10 cords of wood with my saw per year, and it's going strong in great condition. It knows how to create sawdust! I also have small Stihl chainsaws (MS 180 C and 011), a 60cc McColloch, and a small battery-powered DEWALT, but I mostly end up using the 450 (until my 261 C arrives, at least).
The Rancher series chainsaws are good chainsaws for non-professional users. They are reliable and powerful enough for most tasks you'll encounter around the home. The biggest problem is that they're not powerful enough for everything, but they weren't designed and priced to be, were they…