I've owned the Husqvarna 450 Chainsaw for about a year now and have given it plenty of use.
I've used this saw for many different tasks on our hobby farm, from clearing trees and branches, to sectioning up large hardwood logs.
You will really like this saw – I run it with a 20-inch bar and it rips through anything.
Yes, it's a bit slower than more powerful chainsaws, but it has a lot of guts for what it is!
Husqvarna 450 Rancher Review
The Husky 450 is available for sale new, and you can also find good used models on Amazon and other online marketplaces.
I picked mine up from Facebook Marketplace, for example.
Husqvarna states in their chainsaw applications chart that the 450 is good for anything from 'light clean up,' all the way through 'heavy clean up.'
It's also included in the 'Firewood Landowner' series.
I've used it on many different types of wood, soft and hard, such as:
Gum – trees that have been down on my land for 5 years and are very hard
Macrocarpa – another dense hardwood
Pine – both on newly felled trees and those which have been down a while
As long as the chain is sharp, it has no problem getting through anything.
The 450 Rancher took apart the 4 -5 foot logs that are pictured very quickly and without any trouble.
I've been very happy with this chainsaw. At the right price, I can recommend it to anyone for home and farm use.
However, it's not the best loggers' chainsaw for running all day every day.
But, for those who need an excellent chainsaw for firewood and tidying up around your property, it's great.
You will see the 450 listed with different names, such as:
The Husqvarna 450 Rancher
Husqvarna 450e
Husqvarna 450 X Torq
or the Husqvarna 450XP
There is no Husqvarna 450XP despite it being mentioned here and there.
XP stands for extra power and these saws are considered professional chainsaws – the 357XP, for example.
Otherwise, the different 450 models all have the same chassis, engine, etc., but different years have different marketing model names.
There are a few minor differences like the e-series chainsaw has an X-Torq engine for lower fuel consumption and reduced emission levels.
Husqvarna 450 Price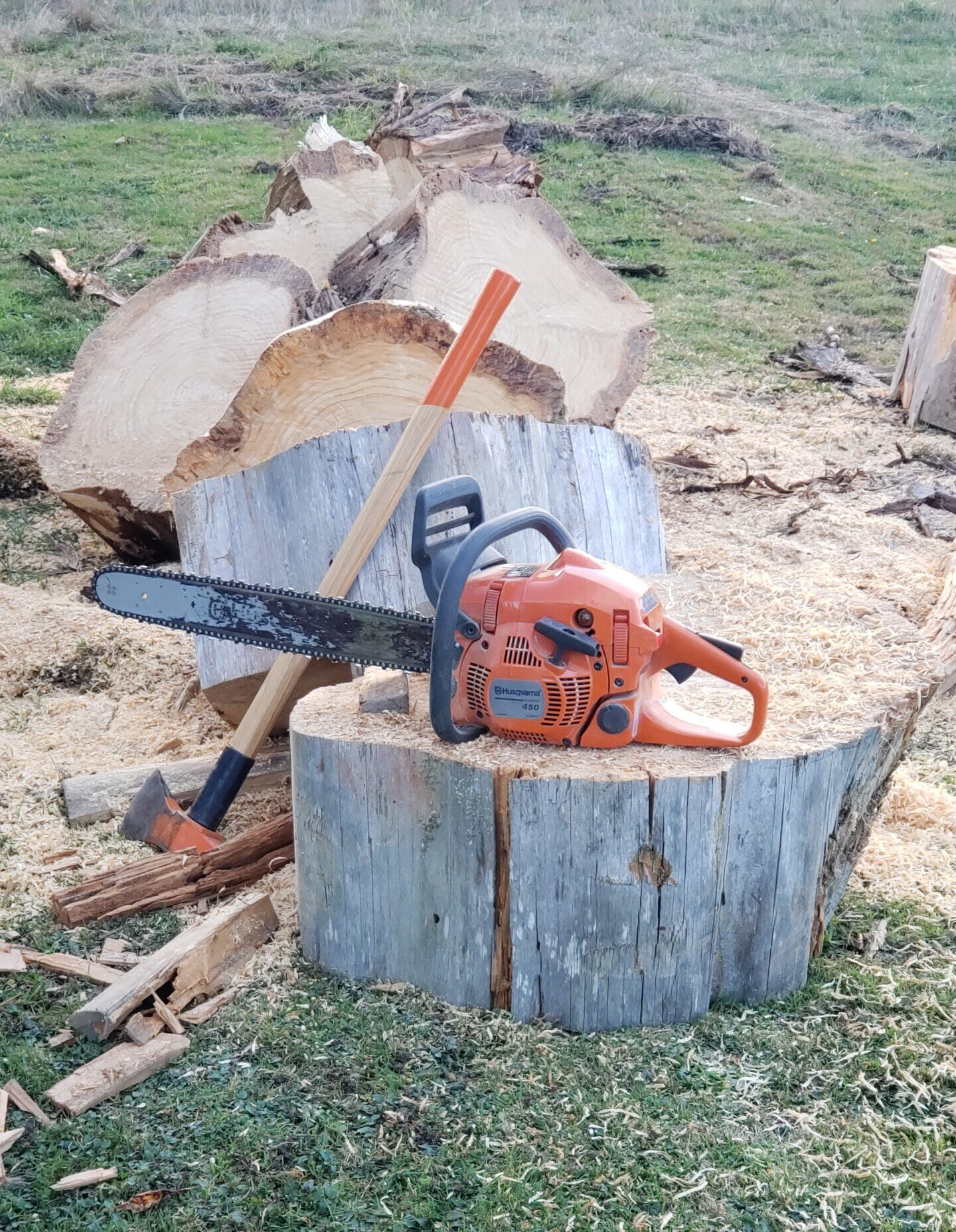 I paid about US$400 for my Husqvarna 450e which was said to have 'only done one season of firewood.'
While I didn't believe the claim initially, I actually think the seller might have been telling the truth.
The saw was incredibly tidy, the chain and bar were as new, and he even chucked in a free pair of chainsaw chaps when I got there!
I paid a higher price because I live in an area where there are fewer Husky chainsaws available, and they cost a lot more to start off with.
You can expect to pay a bit less than what I did.
Usually, the 450 Rancher is sold for around $429.00 brand new, and you can find it on sites like Tractor Supply Co here.
Right now on eBay at the time of writing there is:
An auction running on a near new 450e – it's currently at $200
A well used older model 450 with possible carburetor issues – asking $150
A brand new 450e for $388.45
See the current eBay listings here.
A second-hand model on Amazon right now is going for about what I paid, but if you can get your hands on a new one, that would be better.
Husqvarna 450 Specs
These are the specs for my Husky 450e:
50.2 cc
Power 2.4 kW
Weight 5.1 kgs
Air Injection
Flip-up tank
X-torq
Mine came with a 20-inch bar but can be run with anything from a 16 – 24 inch.
I personally wouldn't go larger than a 20 – some who have tried have said it doesn't oil as well beyond that.
Where's the best place to find parts for the 450?
First of all, I recommend you check out HL Supply.
They have one of the best ranges of parts for Husqvarna saws out there.
You will more than likely always find what you need, whatever it is.
Alternatively, go to eBay. It's another great spot to go for Husqvarna 450 parts.
You will find entire chainsaws available for sale for parts, or individual parts depending on what you need.
450 Rancher Features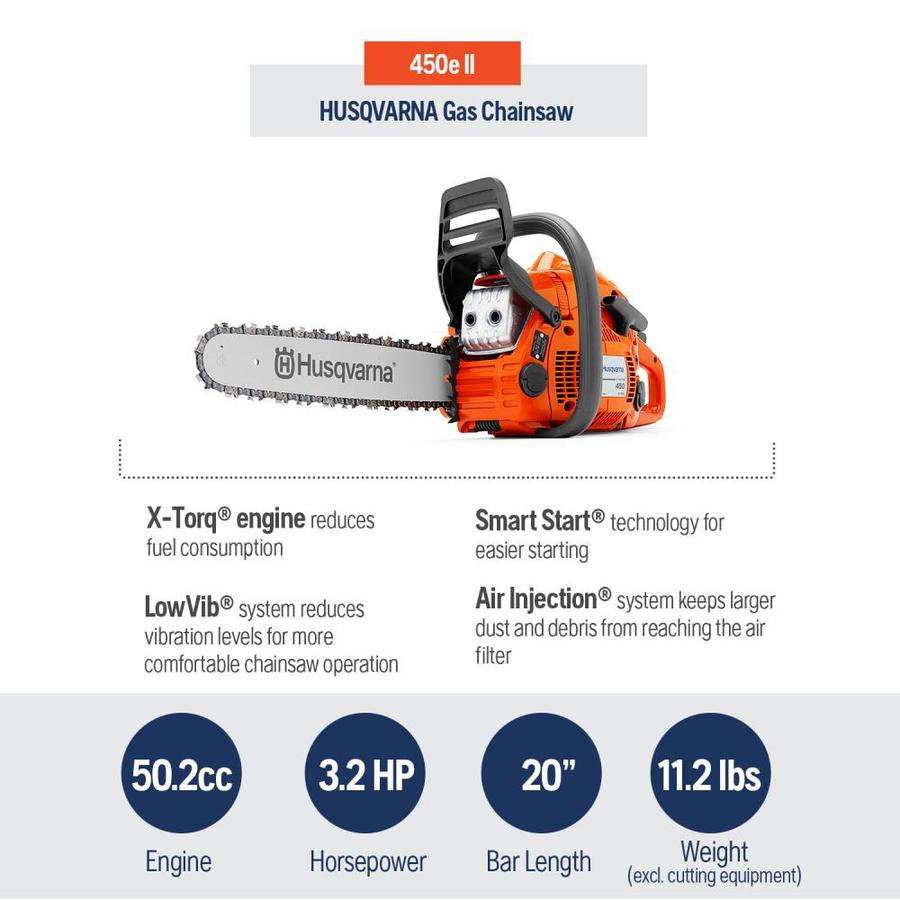 The Husqvarna 450 Rancher comes with all the features you would expect on a quality chainsaw.
This includes the all-important safety features as well, like the inertia-activated chain-break which reduces the chance of injury from chainsaw kickback.
Other 450 Rancher features include:
Smart Start – helps the chainsaw to start quickly with little effort
Automatic oiler delivers a steady supply of chain lubrication for safe and effective use
Side-mounted tensioning system – allows for quick adjustments while working
LowVib anti-vibration system – reduces vibration levels for the operator
3.2-HP X-Torq engine – reduces fuel consumption and gas emissions
Quick-release air filter – easy to clean and replace
Tractor Supply Co. has a great rundown of all the features and what they mean.
As they state, it's a 'Rugged chainsaw that is durable and maneuverable with excellent ergonomic comfort features.' I can agree!
Features may vary depending on the year and country in which your chainsaw was manufactured.
Husqvarna 450 Chainsaw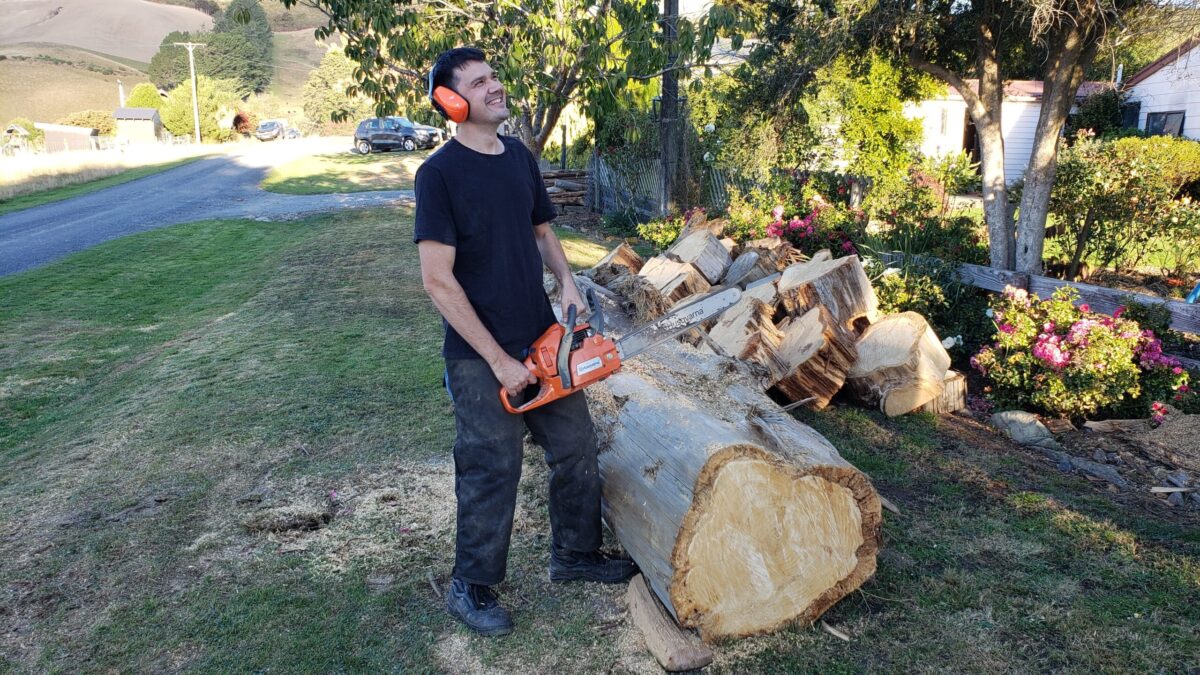 If you want to know anything else about the 450 chainsaw, please drop a comment down below.
As I mentioned, I don't think this is the perfect saw for a logger or an arborist who is going to be using it all day every day.
They would need something with a bit more power. But, it's an excellent chainsaw for homeowners and farmers.
I probably cut up to 10 cords of wood with my saw per year, and it's going strong in great condition. It knows how to create sawdust!
I also have a small Stihl chainsaw (ms181), but I would always rather use my Husky, even for the small stuff! For whatever reason, I just prefer it.
Other Husqvarna Rancher chainsaws that you should also investigate:
The Rancher series chainsaws are excellent chainsaws for non-professional users.
They are reliable and powerful enough for most tasks you'll ever need them for.