I recently had a friend over with his Oleo Mac Chainsaw – the 941 CX to be precise.
It's his small chainsaw that he uses alongside the Husqvarna 357 XP chainsaw.
While the 941 CX pictured throughout this post is now out of production, Oleo-Mac still manufactures and sells a range of new gas and battery-powered chainsaws.
Oleo Mac Chainsaws
The Olee Mac chainsaw brand is not well-known in the US, but it is much more popular in other parts of the world.
You will commonly find Oleo-Mac Chainsaws for sale in countries like:
India
Australia
New Zealand
Italy and other parts of Europe
Ireland and other parts of the UK
They are often sold in big box stores or through online retailers.
In New Zealand, for example, they are sold by a company called Mitre 10, the NZ equivalent of The Home Depot.
However, if you are looking for an Oleo-Mac Chainsaw in the US, there are some available on Ebay here. You will find new Oleo-Mac chainsaws, and also second-hand, used, or vintage saws – as well as OEM and aftermarket parts.
Oleo Mac Chainsaw Models
Oleo Mac sell a range of both gas and battery powered chainsaws.
Current gas models:
GS 451 50y – 2.9 hp, 43 cc, 16 – 18″ bar
GSH 40 / GSH 400 – 2.3 hp, 39 cc, 14 – 16″ bar
GS 35 C / GS 350 C – 2 hp, 39cc, 14 – 16″ bar
GS 37 / GS 371 – 2.4 hp, 35 cc, 14 – 16″ bar
GS 41 / GS 411 – 2.6 hp, 39 cc, 16″ bar
GST 250 – 1.3 hp, 25 cc, 10″ bar (top handle)
GS 45 / GS 451 – 2.9 hp, 42 cc, 16 – 18″ bar
GST 360 – 2 hp, 35 cc, 12 – 14″ bar (top handle)
952 / GS 520 – 3.4 hp, 51 cc, 16 – 18″ bar
GSH 51 / GSH 510 – 3 hp, 50 cc, 16 – 20″ bar
GSH 56 / GSH 560 – 3.5 hp, 54 cc, 16 – 20″ bar
GS 651 – 4.7 hp, 63 cc, 18 – 20″ bar (pro)
GS 650 – 4.7 hp, 63 cc, 18 – 20″ bar (pro)
GS 630 – 4.7 hp, 63 cc, 18 – 20″ bar (pro)
You'll see they have saws ranging from 25 cc to 63 cc – those final three on the list are considered professional or semi-professional chainsaws.
Current battery models:
GSi 30 – 40v brushless motor, 12″ bar
And we can expect more tools in their battery powered range in the future.
But are Oleo-Mac chainsaws good?
Oleo Mac Chainsaw Review
It's not possible to review every Oleo-Mac Chainsaws here, but I'll share the common consensus.
Everyone I've met that uses these saws is very happy with them.
They perform well and have all of the necessary features to make them safe and effective.
They are not really premium or pro brand chainsaws, but neither are they ultra cheap and poorly made chainsaws – they're somewhere in the middle, or toward the top.
Lets just say that I would rather have an Oleo Mac over many other chainsaw brands.
I probably wouldn't choose a Oleo Mac over a Stihl or Husqvarna as I think those brands do perform better overall. And they're much easier to find parts and service for compared to Oleo Mac.
In the video above, you'll see that the Oleo Mac GST 250 has been tried and tested and approved in a commercial setting. It's a nice top handle saw.
And the 941 CX is another chainsaw that runs well and get's the job done.
Overall, I think Oleo Mac Chainsaws are good and worthwhile picking up for the right price.
Pros:
Cheaper than many alternatives
They have a good reputation and history
Different powered saws for a range of tasks
Decent support in the countries they're sold in
They tend to last for many years with the right care
Cons:
Not ideal for commerical use
Sometimes difficult to find parts for
Where Are Oleo Mac Chainsaws Made?
Where are Oleo-Mac chainsaws manufactured?
Oleo Mac has 4 manufacturing plants where they make and/or finish their outdoor power equipement range, including Oleo Mac Chainsaws.
They have two plants in Italy and two plants in China.
Parts and componentry may come from other countries.
The brand has been making chainsaws for over 50 which makes them one of those companies with a history like Husqvarna of innovation and experimentation.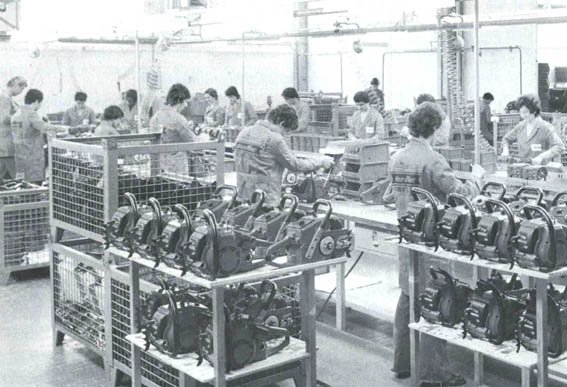 Who makes Oleo Mak Chainsaws?
The overaching company that owns Oleo Mac is called EMAK, who also own another chainsaw brand: Efco.
EMAK was formed as an amalgamation of Oleo Mac and Efco back in 1992.
They have since picked up or formed two more outdoor power equipment brands, Bertolini and Nibbi, which make tractors, tillers, mowers, and those types of products.
Oleo Mac FAQs
Is Oleo-Mac a good brand?
Oleo-Mac is a trusted brand.
They are well known for their chainsaws but also make pruners, brushcutters, shredders, lawnmowers, and many other products. They also supply PPE like helmets, chainsaw chaps and trousers, and ear-muffs.
Is Oleo-Mac a good chainsaw?
Oleo Mac chainsaws are considered good.
The models I've tested have been very good and comparable to their Stihl or Husky counterparts.
Who makes Oleo-Mac?
Oleo Mac products are made by the Italian company Emak.
They make their products in production plants in both Italy and China.
Emak also has other outdoor power equipment brands including Efco (who also produce chainsaws), Bertolini, and Nibbi.
Are EMAK engines reliable?
EMAK make engines for many different products from chainsaws to ride on lawn mowers.
On the whole, EMAK engines are realiable and can be depended on to last for years with the right maintenance and care.
Where are EMAK engines made?
EMAK engines are made in one of the four plants in either Italy or China.
Oleo Mac vs Stihl?
Generally speaking, Stihl chainsaws are considered better than Oleo Mac chainsaws.
You've really got to be comparing apples to apples though with engine power etc. There may be one or two Oleo Mac models that could go head-to-head with a Stihl, but for the most part, Stihl is better.
Oleo Mac vs Husqvarna?
Similarly to the previous answer, when Oleo Mac is compared to Husqvarna, it's Husky that comes out on top.
Ultimately, there's a reason everyone in the world has heard of Stihls and Huskys – it's because they're the best chainsaws – on the whole they tend to perform better and last longer.
However, Oleo Mac does have many models that are comparable to the cheaper Husqvarna chainsaws like Husqvarna 136 and the Husky 445. They won't be a huge difference between a 45 cc Husky and 45 cc Oleo Mac.
The big differences are between the pro model saws.
Oleo Mac
For the price, Oleo Mac chainsaws are decent saws for home use.
If you need a chainsaw for:
Firewood processing
Pruning and limbing
Light commercial work
Then an Oleo Mac saw could be the perfect solution.
Their two top handle saws are also very good for arborists and other tree workers.
If you want something that's a little more powerful without the price tag of a Stihl or Husqvarna, check out the range of Holzfforma Chainsaws. They have saws up to 122 ccs.
Drop any comments or questions in the comments below, and thanks for visiting!