What is the best chainsaw for women?
Most women prefer lighter, quieter, and less smelly chainsaws that don't require a lot of mechanical know-how. There are plenty of exceptions, of course, with many women working in the arboreal or forestry industries, but for light work around the home, one doesn't need a big chainsaw.
The chainsaws I am sharing are ones that the women in my life are happy to use. These recommendations are mostly battery-powered saws, but with a few gas options for good measure. They are reliable saws that don't require a lot of maintenance or technical know-how. Anyone can use them, even if you've never done so before!
Chainsaws That Are Good For Women
EGO Power+

Best battery powered chainsaw for women
Great for yard work, pruning, clean up, light firewood duties
Similar to other battery brands like Dewalt, Makita, Greenworks

View On AmazonView On Acme Tools

Husqvarna 130

Best gas powered chainsaw for women
Small lightweight gas saw for homeowners
Entry level Stihl saws are also very easy to use

View On AmazonView On Northern Tool

Milwaukee M12

Best mini chainsaw for women
One of the safest mini handheld saws for pruning
Many other cheaper versions for lower budgets

View On AmazonView On Ace Hardware
Those are our top three picks for "best chainsaw for women," but we have 7 other good ideas below.
There isn't really a BEST best chainsaw because everyone is different. The right chainsaw for you will depend on the types of work you want to do, how often you'll be using it, and what your budget is, among other things.
But these ideas and the advice I've shared along with them should help you to know what to think about, what to look for, and which brands are worth investing in.
1. EGO Power+ CS1613
56v battery-powered saw
Weighs 20.9 lbs w/ 4 Ah battery
Best with a 16″ bar (what it comes with)
EGO chainsaws are among the most popular affordable and reliable battery-powered chainsaws.
There are a number of different chainsaw sizes and power options that they offer (you can see them all in our EGO review), but the one we've selected is a really good mid-range saw.
It comes with a 4 amp hour battery that will give 30 minutes to an hour of use time – that's running constantly, though with real-life use you're starting and stopping a lot.
It's not the lightest saw, weighing just over 20 lbs, but it's more than manageable for short periods. Much of the weight is in the battery, so purchasing the saw with a 2.5 Ah battery will lighten the load if needed.
This saw has a 16-inch bar which is great for pruning and yard clean-up. It's considered a small or short chainsaw bar, with the size of most small chainsaws running a bar sized 12 – 18 inches.
EGO saws are also good because the batteries will work with other non-chainsaw EGO products. This is the case with most battery-powered tool lines. It's usually a good idea to stick with what you've already got because the batteries can be very expensive.
Therefore, if you already have EGO batteries, definitely get an EGO saw (while on sale, preferably). If you have DEWALT, Makita, Stihl, Husqvarna, or another brand's batteries, consider simply getting the chainsaw that is compatible with them.
Pros:
Good brand and reliable product
Plenty of EGO online communities for support
Compares well performance-wise with other battery saws
A good range to choose from (if this size isn't right)
Cons:
Not for all-day use, best for shorter jobs
Not ideal for firewood use
---
2. Husqvarna 130
Gas-powered 38 cc engine
Weighing 10.3 lbs
Best with an 14 or 16″ bar
The 130 is an entry-level Husqvarna saw that is especially good for anyone that was gas but is a bit nervous about having too much power.
Husqvarna is a good brand and the saw should last a long time. You'll get plenty of use out of it and shouldn't have to worry about mechanical problems, especially if you take care of it and follow the use instructions.
Other entry-level or light-duty Husqvarna saws include the 435, 440, and 445. They're all good saws to have on hand for pruning branches, cutting up small trees, or cutting lumber.
While gas saws like this one aren't quite as easy to just pick up, pull a trigger and it's away, starting it shouldn't be a problem once you get the hang of it. Overall, it's very light – in fact, quite a bit lighter than the EGO saw above!
There are large Husqvarna communities online that make finding support or help easy enough, please dealers and small engine mechanics knowledgeable with Husky saws are also everywhere.
Pros:
A respected brand that makes good chainsaws
More oomph than a battery or electric chainsaw
Easy to find service and support for Husky saws
Cons:
As it's only an entry-level saw, it's not for the big stuff
Nor is a top-of-the-line saw quality wise, it's more cheaply made than the pro saws (though still excellent as a homeowner-level chainsaw)
---
3. Milwaukee M12
Powered by a 12 v battery
Weighing 4.1 lbs
Best with an 14 or 16″ bar
There are a lot of good mini chainsaws out there but the Milwaukee is one of the safest.
Check out my mini chainsaw reviews here – I own quite a few and really enjoy using them. They come in so handy all the time!
I use mini chainsaws like the M12 Hatchet for pruning small branches, cutting up lumber, removing suckers from trees, and breaking up stuff for the rubbish. For example, I used a mini saw the other day to cut up an old table I wanted to put in our garbage!
Because they are all battery-powered, they're so easy just to pick up and use. There's no fueling it up or starting it up, you just pick it up and pull the trigger. They're also really quiet.
I do recommend using some really good chainsaw gloves though, as I found out the hard way that these saws can hurt you! Some mini saws can only be held with one hand, but Milwaukee's M12 is one of the better two-handed varieties.
Pros:
So easy to pick up and use
Really good battery life
A very versatile tool that has a lot of applications
The M12, along with Stihl's GTA 26, is the safest and best
Cons:
Only for light pruning
More difficult to sharpen chains
Can be quite costly if you need a couple of batteries (which I recommend)
---
4. Oregon CS1500
15 amp corded electric chainsaw
Weighing 12.6 lbs
Comes with an 18″ bar
This Oregon electric chainsaw is the only corded model on the list because I personally don't really like them.
Some people do prefer them, but I think they really limit you in a number of ways. Obviously, you're stuck to working somewhere near a power outlet, but also you have to keep an eye on the cord and be more careful when turning, cutting, etc. The last thing you want to do is cut through a cord!
However, the Oregon electric chainsaws are good because they have the self-sharpening chain feature. Chain sharpening can be one of the big hurdles to overcome in regularly using a saw.
A sharp chain is so important but it can be intimidating and difficult (for both men and women!) to learn how to sharpen a chain correctly. So this feature makes it a good electric chainsaw compared to some of the other options out there.
This saw can be used for light firewood duties – it has a decent-sized bar – but I wouldn't try to use it for hardwoods very often. Cutting softwoods is a better idea with this saw.
Pros:
You don't have to worry about batteries or gas
Self-sharpening chain removes the hassle of sharpening
Very cheap compared to battery-powered chainsaws
Cons:
You can only work near a power point
You will need a good sized extension cord
Not ideal for garden pruning and limbing
---
5. Dewalt MAX XR
20 volt battery-powered chainsaw
Weighs less than 9 lbs (including battery)
Use with a 12-inch bar
I have the Dewalt 20v MAX XR chainsaw and use it regularly.
It's great for those small jobs that are too big for my mini chainsaws but too small to bother starting up one of the gas chainsaws. The battery life is amazing (I have a 5 Ah battery) and I'm always surprised by what I can get done with it.
Check out my full Dewalt chainsaw review to see it in action.
For the price, it's well worth it in my opinion. And Delwalt has a range of other tools that use the same MAX XR batteries. I have their hedge trimmer as well, which I also really like. It's good when you already have a brand's batteries because the bare tools are so much cheaper than buying the tool and battery/s.
The Dewalt chainsaw comes with a 12-inch bar, so it's also not for large tasks. This keeps the weight down and makes it very maneuverable when cutting branches, especially if you've climbed a tree to do so.
It is not a firewood chainsaw as it's lacking the bar length and power to do too much there, but it wouldn't have a problem being used for cutting up thinner branches for the fire.
Pros:
Really light compared to alternatives
Super easy to use with good safety features
A good line of tools to be in with their batteries
Excellent battery life
Cons:
Bar is too small for bigger jobs
Leaks bar and chain oil really badly (at least mine does!)
---
6. Stihl MS180
31.8 cc gas engine
Weighs 10.3 lbs
Best with a 14 – 16″ bar
The Stihl MS 180 is one of Stihl's entry-level chainsaws for beginners. The MS170 is similar but slightly less powerful.
These saws are very good for light use. Stihl is an exceptional brand (many would say the best) and their saws are reliable, durable, and high-performance. You have to pay more compared to "lessor" brands, but it really is worth it if you want something good. A Stihl sale can be a good time to pick one up.
Stihl saws have some of the best features, both in terms of safety and user experience. For example, they have "Quick Chain Adjusters" that make tightening the chain quick and easy. They also include Stihl's EasyToStart system, which really does make the saw easier to start.
These Stihl saws are made in the USA – another bonus – you're supporting the Virginia economy!
Personally, I love Stihl saws (along with Husky, of course). It's just so much easier to get help when needed with these big brands, they're simply so much more reliable, and they're just way nicer to use. However, if you only plan to use the saw rarely, it might not be worth splashing out.
Pros:
One of the best brands for a reason – the saws are good
Easy to find service, support, and parts
Helpful online communities for further support
Top features for the price point
Cons:
Usually the most expensive chainsaws
---
7. Makita XCU04PT1
36 v (2 x 18v) battery powered saw
20 lbs
Comes with a 16″ bar
Makita Battery Saws are another fantastic battery-powered chainsaw option. In fact, my mom just bought one!
She's using it for light stuff around the yard. Pruning trees, cutting up thick-ish branches for firewood, and that kind of thing. She likes how light it is and how long the batteries last (these saws take two 18v).
It's really easy to use and "not scary". As she was someone who was a bit nervous about using a chainsaw for the first time. It's comfortable to hold and well-balanced with a battery on either side.
We have a full article on Makita chainsaws, both battery and gas-powered, but suffice it to say they're good. Makita is a solid brand producing powerful tools that are trusted by millions.
Pros:
Makita is a trusted brand selling good products
This saw has a good length bar suitable for a range of tasks
Really quiet operation
Well reviewed by users with a high star rating
Cons:
Quite heavy compared to other battery saw alternatives
Can bog down in thicker or harder woods
---
8. ECHO CS-271T
5.3 hp gas chainsaw
10.19 lb weight
Use with a 12″ bar
This is the ECHO CS-271T, one of the lightest chainsaws out there (the CS-2511T is the lightest).
It's known as a top-handle chainsaw. This means that rather than having the usual rear handle, it has a handle on top. You still use two hands to hold it, as another handle wraps around the side, but it can be used with a single hand if needed.
These types of saws are popular with those who climb trees and cut branches. They're super light for the power they put out, and easy to wield in difficult or uncomfortable places.
ECHO is another trusted and reliable brand whose chainsaws are made in Japan. The saws have all the features that you'd want and expect, including a good anti-vibration system, easy starting, and chain brake systems.
Pros:
Top handle makes it easy to use in cramped spaces
Extremely light
Quality product that can work for hours
Cons:
Top handle saws may not be as safe to use
Not a firewood saw, just for pruning
---
9. Husqvarna 460 Rancher
60 cc gas engine
Weighs 13.2 lbs
Use with an 18 – 24″ bar
The Husqvarna 460 Rancher is a more powerful gas saw that's good for firewood duties.
It can tackle hardwoods and thicker logs without a problem. I personally have the slightly less powerful 50cc Husky 450, but I wish I'd gone for the 460 instead. There is also the 55cc Husky 455.
The Rancher series are good for homeowners who want to do all their yearly firewood, farmers who need something to deal with downed trees, or anyone else wanting an affordable but powerful chainsaw.
All that being said, it's not a pro-level chainsaw – those are the Husqvarna XP saws like the 550 XP (a very good option for women as well).
The 460 R is sold with a 24″ bar, which I personally think is a bit big. They go better with a 20″ in my opinion.
Pros:
Powerful chainsaws that can be used heavily
Reliable starters that have never given me (at least) any problems
A good brand to get into
Cons:
Not a pro saw if you want the BEST
May be too heavy when fuel and oil are on board
---
10. Stihl MS261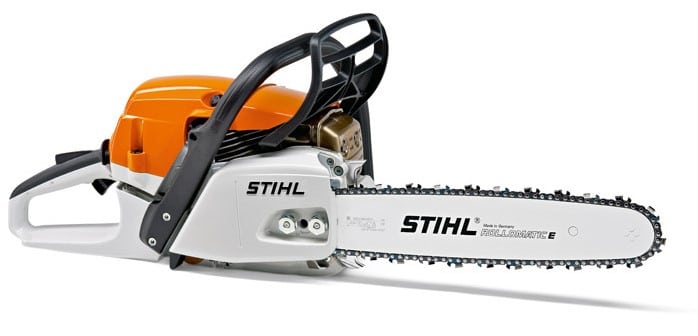 Gas-powered 50.2 cc engine
Weighing 10.8 lbs
Best with an 18 or 20″ bar
The Stihl MS261 is the only pro saw on our list (at the moment) and it's a good powerful chainsaw for women. In fact, if you check out our MS261 review, the images are of a woman logger using the saw.
It's only a 50 cc saw, but it's known as one of the best Stihl all-rounders. It's great for pruning and limbing around the garden, homestead, or farm, but it's also good for firewood and felling trees as well.
It's a very lightweight saw for its power output, weighing only 10.8 lbs. This makes it lighter than many of the battery saws we've compared here, but it really is a lot more powerful and better built.
The 261 is a reliable chainsaw that can be used all day. Unlike some of the other saws which are not really designed for heavy use, this one is (to an extent). Pro saws are made to perform.
Pros:
Very powerful saw for the weight
Great safety features (brakes and chain catchers)
Pro saw that is well-built and has higher performance
Stihl brand means easy-to-find service/maintenance and a big community
Cons:
Much higher price than a cheap battery or gas saw
Too powerful for very light pruning
---
Women's Chainsaw Advice
Throughout the chainsaw reviews and overviews above, I've shared a lot of things to keep in mind when buying a chainsaw.
This is how it breaks down (in a nutshell):
Gas, battery, or electric saws
Cheap chainsaws vs more expensive chainsaws
Low powered vs high powered chainsaws
I'll share a bit more on each of these breakdowns now!
Gas Vs Battery Vs Electric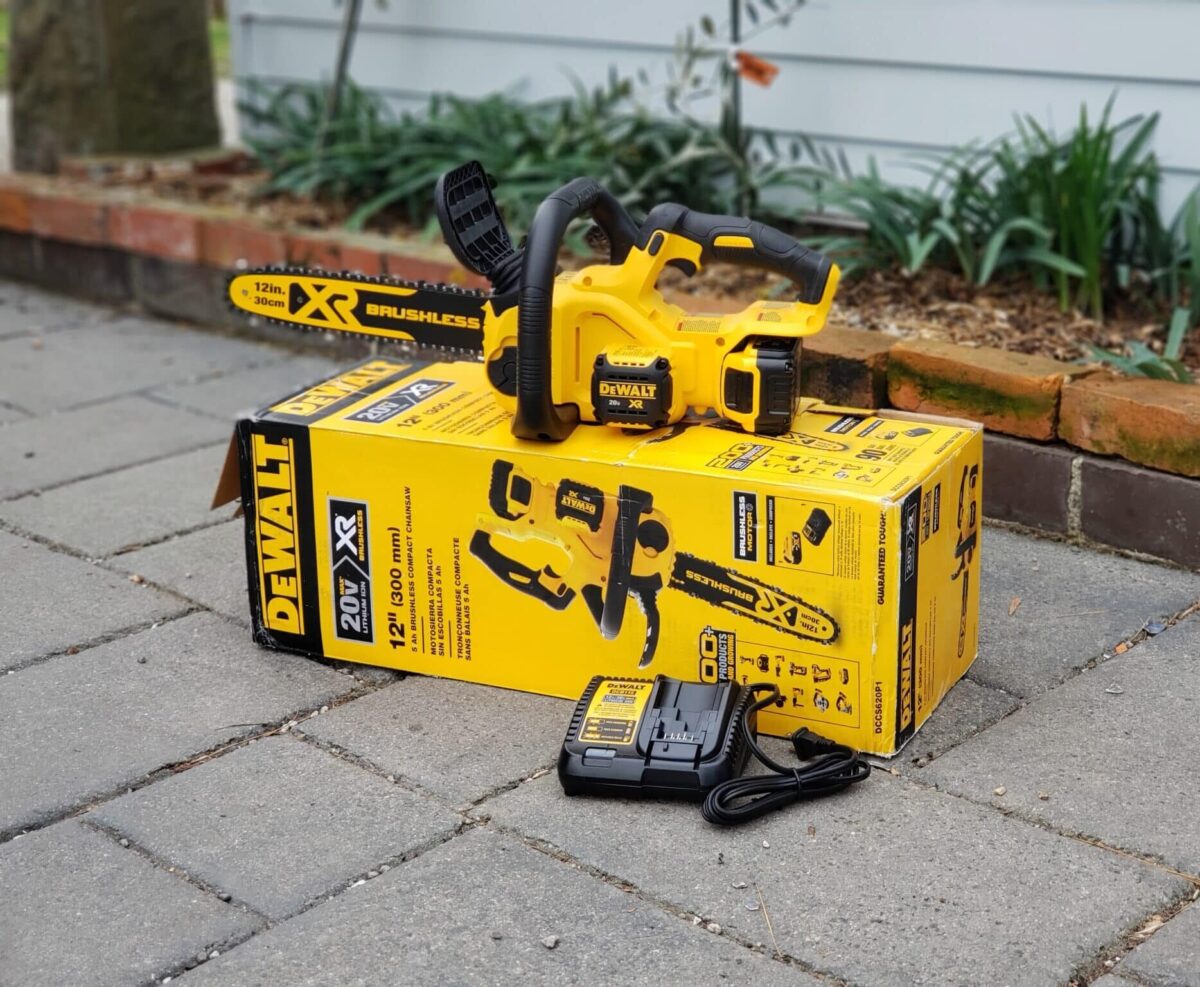 Personally, I totally disregard electric saws. I just don't like them. Even the Stihl electric saws are nothing to write home about.
The only time they're good is if you KNOW you'll only be using them in a particular area – like the garage – and you are anti-batteries and anti-gas. Otherwise, don't do it, they're lame!
On the flip side, I think both gas and battery saws are great when used as designed. You don't want to use a small battery saw to fell an oak tree, nor do you want to use an MS880 (Stihl's biggest saw) to prune a plum tree. When used in their proper way, they're good.
With gas saws, you have to think about mixing fuel and oil and topping that up every so often, but gas saws give you the freedom to work in the middle of nowhere. you don't have to worry about charging batteries.
Gas saws are a bit smelly/fumey, but that's not something most people think about or notice when they're actually using them. Gas saws are also good because they are easier to work on/have serviced/have fixed if something goes wrong. Battery saws are more of a mystery.
View this post on Instagram

Battery saws are great for when you need to just pick something up and use it. There's no fuss and no hassle. They just start when you pull the trigger.
The fact that they don't smell, don't require you to create a fuel mix, and are very quiet are lesser bonuses to the point that they are just really convenient.
Battery saws are best for light work, while gas saws are best for tougher stuff.
Brand And Budget
As with anything, the more you spend the better the chainsaw will be (generally speaking).
The best chainsaw brands are Stihl, Husqvarna, and ECHO – in the gas field – while Stihl, EGO, DEWALT, and Makita battery saws are good in the battery range.
There are really cheap chainsaw brands out there, and they have their place too.
Battery-powered Greenworks chainsaws are usually a bit cheaper and are fine if you don't need to use them often. While Jon Cutter saws are good cheap gas saws, they just shouldn't be relied upon as heavily.
View this post on Instagram

If you are only planning on using your saw infrequently, it doesn't make sense to spend a bunch – just get something at the lower end. A cheap Husqvarna or Stihl is realible but affordable.
If you will be using the chainsaw more often, spend a bit more for something that will be more enjoyable to use and more reliable long term. Pro saws are best, but a recommended homeowner-level saw is fine too.
Size And Power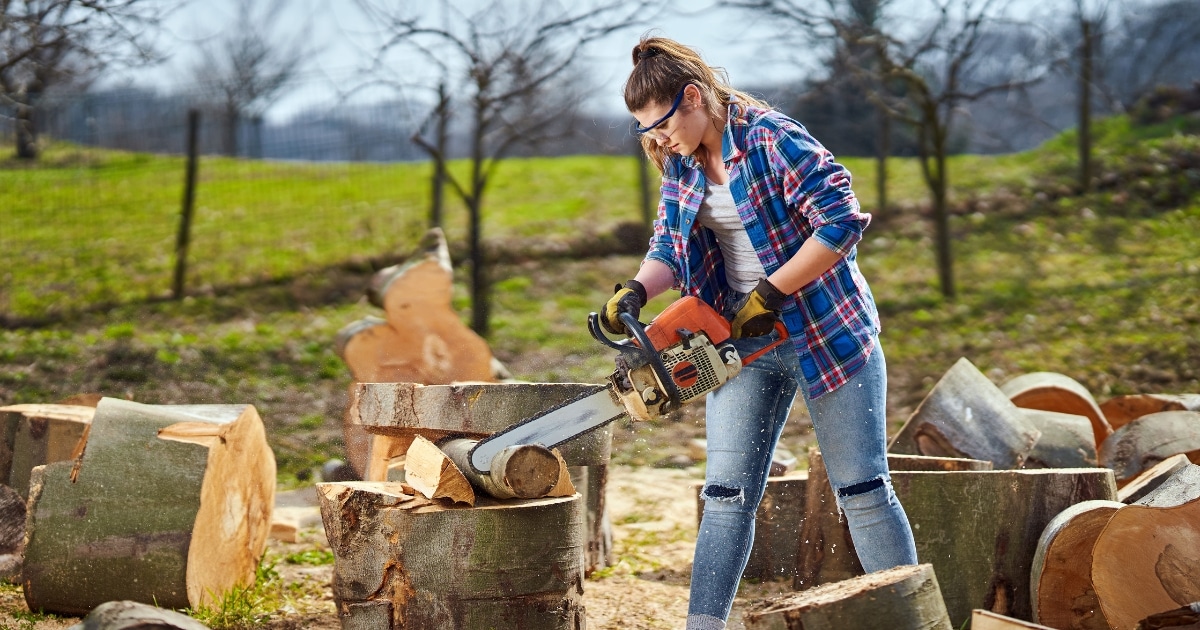 This last differentiator between chainsaws all comes down to what you'll be using it for – light pruning, firewood, or felling?
Pruning doesn't require a lot of power, so a battery saw or low-cc saw is perfect. Cutting wood for the wood stove, fireplace, or fire pit, does take more power, and I recommend a gas chainsaw 50 ccs or over for this type of work.
Smaller chainsaws can do the bigger jobs, but they take a lot of time, the saws can bog down a lot, and it puts a lot of strain on it. Best to just get something that's designed for the task.
View this post on Instagram

All battery saws are around the equivalent of a 35 cc chainsaw or under – so they don't really compare to gas in that way.
Gas saws are simply better for the tougher stuff, there's no comparing them to battery-powered for torque and power. At the end of the day, gas chainsaws are faster and more enjoyable to use (I think)!
Chainsaws For Women
Obviously, these "chainsaws for women" are just as good for men. I use 2 or 3 of them on the list (and I'm a man)!
However, to put it another way, these are good beginners or entry-level chainsaws. They are good for those who don't have a lot of chainsaw confidence or experience.
The type of people who are searching for a woman's chainsaw are those who probably don't have a lot of background knowledge or experience with saws, hence the type of chainsaw I've recommended.
If you are looking for the next step up, I recommend checking out our Stihl Chainsaw production years article which lists all Stihl saws. You can jump around and find more powerful saws and read the reviews.
Alternatively, here are all the current Husqvarna chainsaw models along with the ccs. Go for something over 50cc if you have used a saw extensively and are wanting an upgrade.
If you have any questions or thoughts, leave them in the comment section below!
Lastly, if you're not of a queasy disposition, find out about how chainsaws were invented for childbirth!