Who makes ECHO chainsaws and where are ECHO chainsaws made?
Let's cut straight to the chase:
ECHO is a Japanese owned company and ECHO chainsaws are made in Japan, the US, and China.
I was recently speaking with an older guy who had been a professional logger all his life. He was an experienced forestry worker, wood miller, and chainsaw carver.
I asked him what he thought the best chainsaw brand was, and alongside Stihl and Husqvarna, he said 'those Japanese saws… ECHO.'
Who Makes ECHO Chainsaws?
The ECHO company is owned and run by the Yamabiko Corporation of Japan.
It's a well-established company that has been operating for more than 4 decades.
They mostly sell gas chainsaws, but there is one ECHO battery chainsaw as well (with more scheduled to be released in 2022, including a new ECHO battery-powered top handle chainsaw).
Not only does ECHO manufacture and sell chainsaws, but they also make a range of other outdoor power equipment.
They are well known for their:
Blowers
Brushcutters
Hedge trimmers
The company was originally called the Kioritz Corporation but changed to the ECHO brand name in 1978. This was not long after they first started manufacturing chainsaws.
Here is a great infographic from ECHO's history page.
You can see they have been involved in chainsaw manufacturing since the late 1970s. Their chainsaws have had that distinct orange color since the beginning.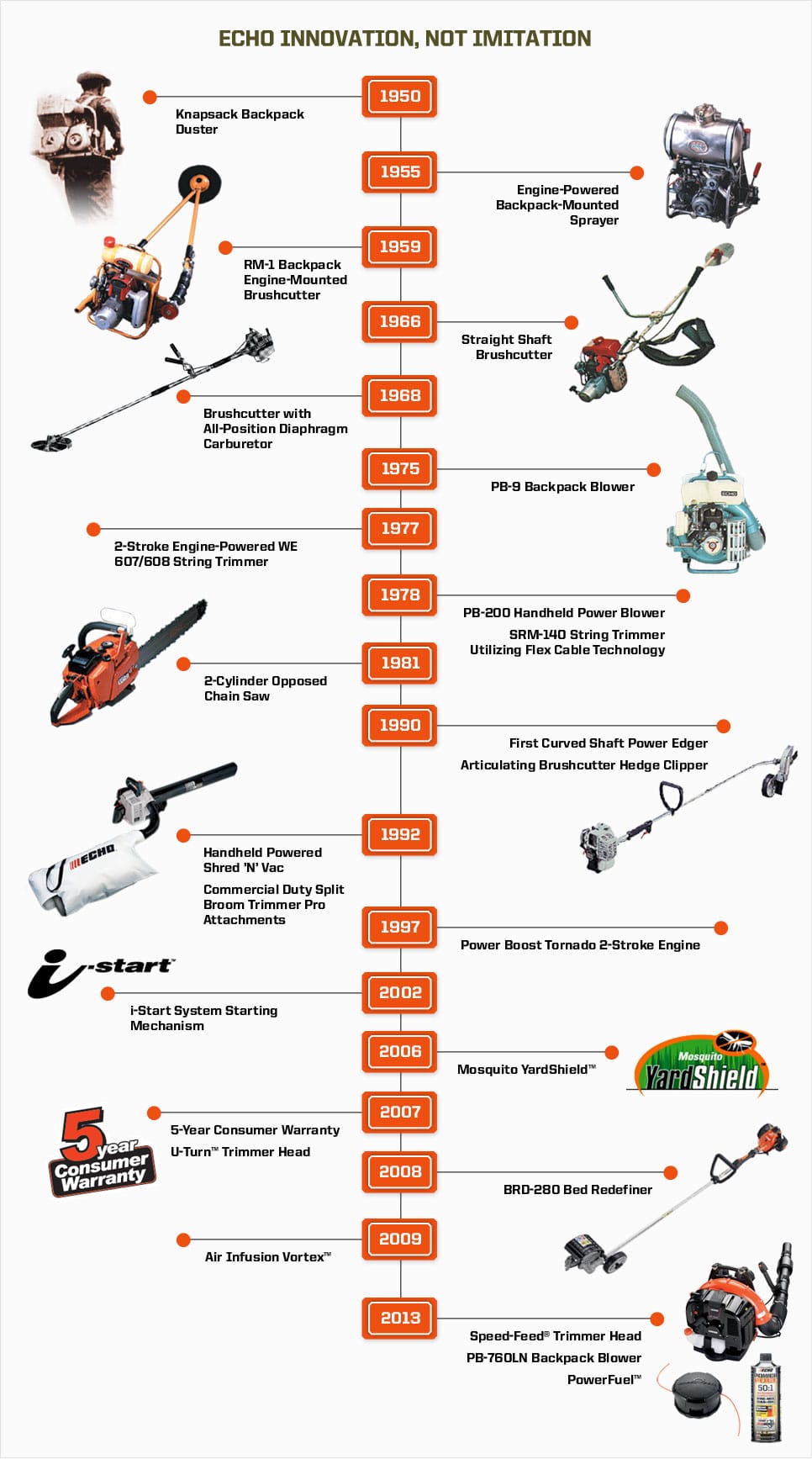 The ECHO company has a long history, which is what you want when buying a chainsaw.
While they can't claim to have invented the chainsaw, like Andreas Stihl (of Stihl Chainsaws), ECHO has certainly contributed to the chainsaw landscape.
Chainsaws can be dangerous pieces of equipment, responsible for many accidents and deaths each year. You want to know that your chainsaw is well-built by experienced manufacturers, rather than a company that is here today and gone tomorrow.
The ECHO brand is Yamabiko's largest subsidiary.
Other Yamabiko brands include:
Shindaiwa chainsaws
Kioritz outdoor power equipment
And they also have brands in the agricultural and industrial machinery markets.
Where Are ECHO Chainsaws Made?
ECHO chainsaws are manufactured and assembled in Japan, China, and the US.
These saws are built from foreign and domestic parts and components that have come from all over the planet – as with all outdoor power equipment.
Your location in the world will determine exactly where your saw has been made.
If you are buying an ECHO chainsaw in the USA, it was most likely made in America (or at least assembled there).

If you are buying an ECHO chainsaw in Australia or New Zealand, it was most likely made in Japan or China.
ECHO has manufacturing and assembly plants in Yokosuka and Morioka, Japan, with the head office in Tokyo. Their Chinese plant is in the manufacturing hub of Shenzhen.
Their US operations are at Lake Zurich in Illinois, where they employ well over 800 staff.
ECHO Products FAQs
Are Stihl and Echo the same company?
No, ECHO and Stihl are not the same company. They are owned by completely different corporations.
Find out who makes Stihl chainsaws here.
Is ECHO as good as Stihl?
Some ECHO saws certainly go head to head with Stihl.
For example, the ECHO CS-2511T is the lightest top-handle chainsaw in the world and would be comparable to Stihl's equivalent chainsaw.
However, overall Stihl would be considered the better chainsaw brand for performance, durability, and ease of use.
Are Husqvarna and ECHO made by the same company?
Again, No.
Husqvarna chainsaws are made in Germany and other manufacturing plants around the world that are completely separate from ECHO.
Is ECHO as good as Husqvarna?
Many ECHO saws would come out on top when compared to Husqvarna.
For example, the ECHO Timber Wolf would compete with Husqvarna's Rancher series for quality non-pro chainsaws.
Is ECHO a Home Depot Brand?
ECHO is not owned by Home Depot in any way, but Home Depot partnered with ECHO to distribute the chainsaws in their stores.
This relationship began in 1994 as a way for Home Depot to provide its homeowner customers with professional quality chainsaws.
See the full range of ECHO chainsaws on Home Depot here – they also stock other ECHO products as well (pole saws, chain bar oil, bars, chains, etc.).
Are ECHO chainsaws Made in USA?
Yes, some ECHO chainsaw models are manufactured and assembled in Illinois, USA.
What kind of gas does an Echo chainsaw use?
Most chainsaws use a gas oil mix of 40:1 – 50:1 – ethanol-free fuel is best.
Where Can I Buy ECHO Chainsaws?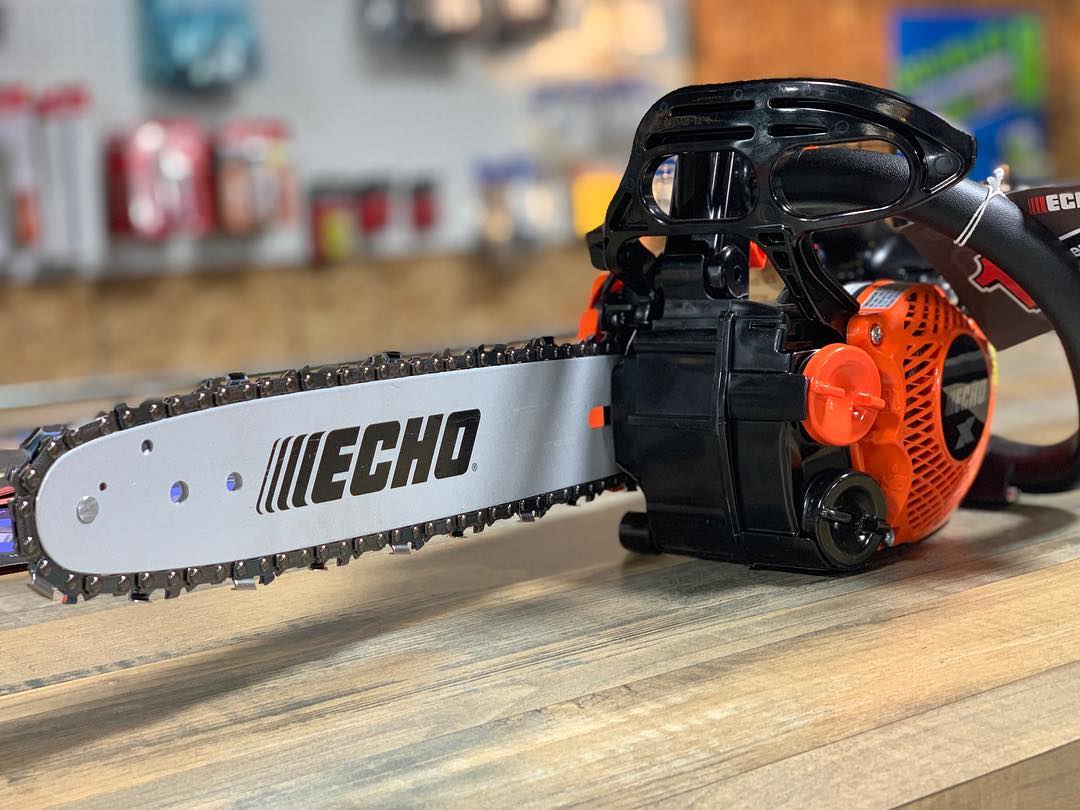 ECHO Chainsaws can be purchased through a lot of retailers today.
Here is a list:
Compare prices and get the best deal – most have free shipping.
Is ECHO A Good Brand?
Who makes ECHO Chainsaws?
ECHO does!
The saws are considered a very good professional chainsaw brand and there is a line of ECHO professional chainsaws.
They do not outsource manufacturing, like many chainsaws available for sale on Amazon and elsewhere. They are in control of the entire process from design to complete assembly.
The same goes for ECHO trimmers, leaf blowers, generators, and all the rest as well.
They manufacture trustworthy and reliable products that are well-priced and great for homeowners, homesteaders, and farmers alike.
Check out a couple of our ECHO chainsaw reviews here:
And let us know if you have any questions or comments down below.