How cool are black Stihl chainsaws?
While there is Stihl that was produced by the brand that was black, it was never for sale to the public. That was the STIHL Carbon Concept Chainsaw that was created to test out some new features.
When you see a black Stihl chainsaw, the color change is being done aftermarket. Stihl doesn't make them black, it's the chainsaw enthusiasts who do that!
Here's more about the Carbon Concept chainsaw and (more importantly), how you can turn your orange Stihl black.
Stihl Carbon Chainsaw
The Stihl Carbon Concept chainsaw is the result of a feasibility study.
The study was designed by Stihl to set a new record in terms of the power-to-weight ratio. This means it was (or is) it puts out more power per pound/kg of weight than any other chainsaw.
It also introduced electronically controlled fuel injection for chainsaws for the first time – a feature that's now well-known on the Stihl 500i.
The Carbon Concept saw was a concept study and it's not available for sale. However, it was a pretty good-looking chainsaw in black, and we can all agree that chainsaws have come a long way since they were first invented.
Here's how you can get your own black Stihl – though not a carbon one, unfortunately.
3 Ways To Turn Your Chainsaw Black
There are multiple ways to customize the color of your chainsaw.
Keep in mind that you may void the chainsaw warranty by customizing it in this way. If something were to go wrong with your chainsaw, you may not have any recourse for replacement or repair.
And, if you stuff up your color change job, you'll want to check these stores for Stihl chainsaw parts for a replacement casing (though, hopefully, it doesn't go that wrong)!
1. Vinyl Wrap Your Chainsaw
Adhesive vinyl can be used to wrap your chainsaw and turn it black (or any other color).
Vinyl is used for all sorts of applications – even for hard-wearing purposes. For example, adhesive vinyl is used for car decals and can be used for sign-writing entire vehicles. No doubt you've seen hundreds or thousands of cars, vans, and trucks with this type of vinyl on them.
This can be used for chainsaws as well, though as discussed in the video above, it's not always as easy to do well as you might think. It does take a bit of practice to get right. Oracal vinyl is one type that could be used for this application.
Keep in mind that if you use your chainsaw a lot, and you are a little rough with it, the vinyl will scratch and even perhaps peel pretty quickly. You might be better off dying your chainsaw.
You can also cut out words (like STIHL) and logos in vinyl for application. Cricut cutting machines are excellent for these jobs and the best Cricut fonts will help you to match brand fonts.
2. Dye Your Chainsaw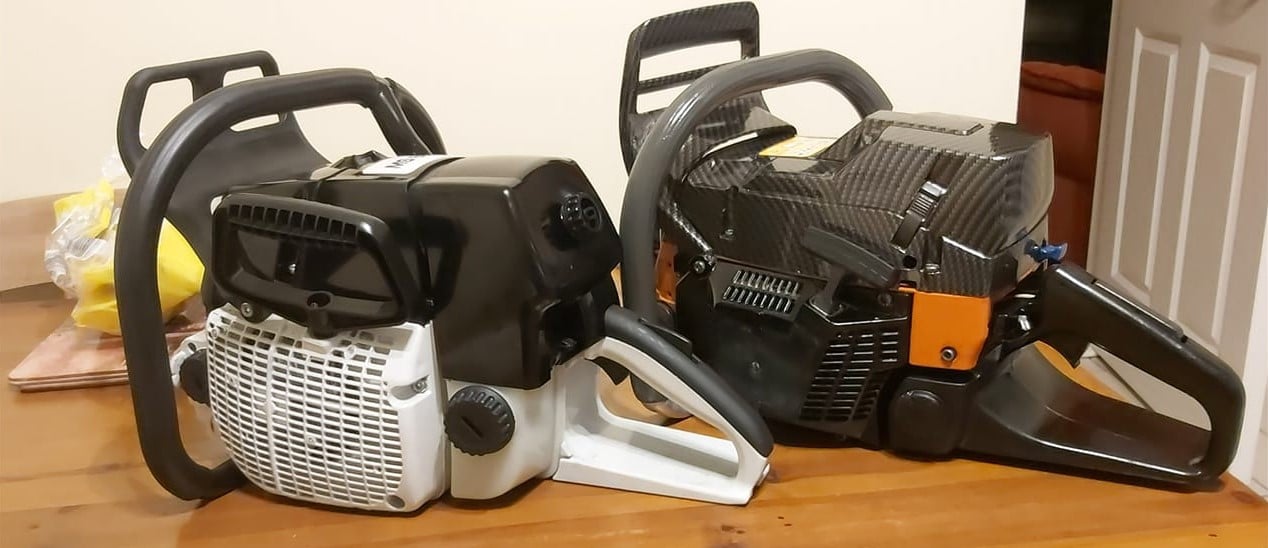 Dying your chainsaw is a better method for those who use their chainsaw regularly.
Black Rit Dye (here on Amazon) is the most recommended way of dying plastic and other materials that make up a Stihl chainsaw.
For complete instructions on how to do it, see this plastic dying tutorial using Rit Dye.
The steps go a little something like this:
Clean the chainsaw parts
Empty the dye into a pot of hot water
Put the parts to be dyed into the water
Soak for 5 – 15 minutes
Pull out and allow to dry
The dye completely penetrates the plastic parts and so cannot be scratched off as with vinyl or spray paint.
You can use this dye to dye a range of materials from plastic to various metals. Further research needs to be done on whether or not it will dye a magnesium chainsaw casing as on the Stihl 261.
3. Spray Painting A Chainsaw

The final method on how to change the color of your chainsaw that I have to share is with spray paint.
You can use a product like Rust-Oleum Spray Paint for Plastic for this type of job. However, spray-painting a chainsaw like this only covers the surface.
When your chainsaw gets scratched, as it invariably will, you will see the orange underneath. You can keep touching it up as need be, but it's not the ideal method.
Spray painting is probably the easiest and quickest way to turn your chainsaw black, but it won't last forever!
Black Stihl Chainsaw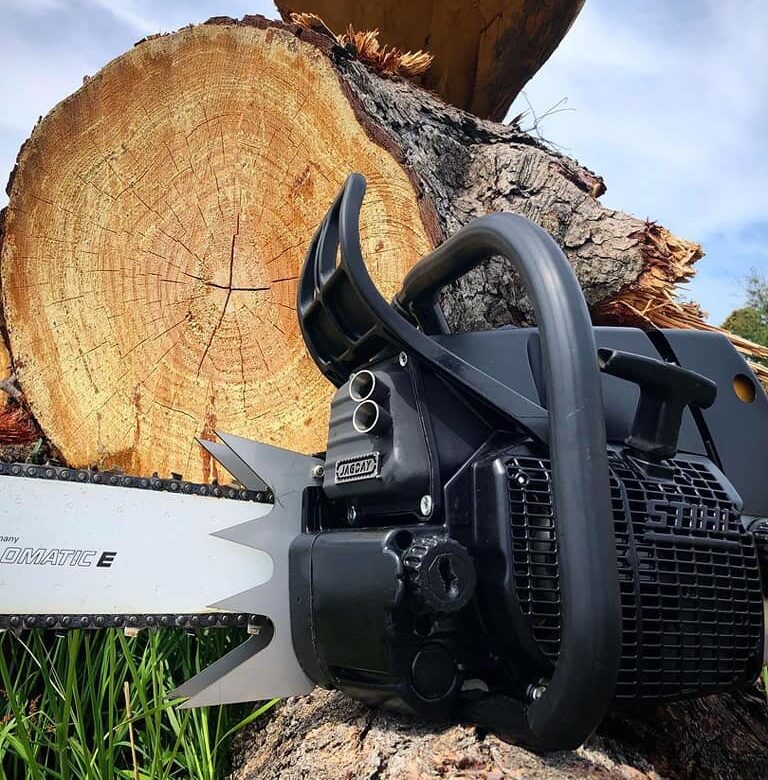 These chainsaws are super cool when black, so it's worth the effort of getting it done, in my opinion. Maybe it's just because they are different.
There are not many (or any?) black chainsaws for sale in any chainsaw brand, and there's probably a good reason for it too. Most are orange or other bright colors that stand out in nature. Nobody wants to lose their saw in the forest, and black is much harder to see!
There is a business out there that specializes in customizing Stihl chainsaws, and in particular, turning them black, but I haven't been able to find the website.
If anyone knows who offers this service, let me know in the comments below and I'll add a link to them in the post. Not everyone has the time or ability to do this themselves and they might just want to pay someone else to do it for them.
Check out these other interesting Stihl chainsaws: the Stihl 015, the Stihl 070, and the Stihl MS192 T.