What is the best Ryobi chainsaw?
If you know anything about chainsaws, you know that the key to them working is, well, actually working. This one time, I needed to chop up a bunch of wood because my in-laws were visiting, and the chainsaw didn't work!
That's all to say that chainsaws need to work. They need to cut wood, trim branches, cut back shrubs, all while looking good and feeling great.
That's why I've created this Ryobi chainsaw review so that you guys can get the best information on what Ryobi chainsaws work the best and which ones don't.
Best Ryobi Chainsaw
Best Ryobi Battery Chainsaw

A hugely popular battery saw for home use
Powerful, realible, long battery life, and effective
Great price for the quality

View On AmazonView On Home Depot

Best Ryobi Gas Chainsaw

Heavy duty gas chainsaws
37cc with a 16-inch bar
Great for firewood and clearing land

View On Home Depot

Best Ryobi Pole Saw

Upgraded pole saw for pruning branches
Can be bought with or without batteries
Batteries interchangable with other Ryobi tools

View On AmazonView On Home Depot
If you've spent some time in Home Depot before, chances are you've probably noticed that lime green brand Ryobi grab your eye from the shelves.
This Ryobi battery-powered chainsaw with a 10-inch bar is perfect for garden maintenance.
It's great for light work, has good battery life, and is much quieter than a gas chainsaw. Use it for pruning and trimming trees around your property, and processing 5 – 10 inch branches for firewood.
The Ryobi P546 is also their best-selling chainsaw with the most positive ratings overall.
Who Makes Ryobi Chainsaws?
A Japanese company, Ryobi, began creating power tools for home improvement projects as early as the 1940s.
Customers love Ryobi chainsaws because of their incredibly lightweight. Because they are built light, they are much easier to use than other chainsaws in the market.
Additionally, their prices fall in the same range as heftier saws. They typically have adequate power, have cut well, and are also very easy to use.
Most customers are pleased with the Ryobi company as a whole.
As one of the leading brands in chainsaw construction for over six decades, Ryobi knows how to conduct a successful business. And at the heart of every successful business are successful products.
That being said, we must mention that some are unhappy with Ryobi's customer service.
As with any brand or company, sometimes mistakes are made with their products, such as items being shipped or made wrong, wiring being incorrect, improper amount of leakage, and so forth.
While, of course, mistakes happen, some customers report having poor experiences with customer service representatives. So while they have well-built machines, Ryobi could improve on their poor customer service.
Ryobi Chainsaw Buyers Guide
If you're overwhelmed by all of the choices in chainsaws, you're not alone. It can be daunting to find the best chainsaw for your yard.
But if you're new to the world of power tools and chainsaws, the first element you need to decide on is whether or not you'd like to purchase a gas chainsaw or a battery chainsaw.
With more and more advances in power tool technology, more brands have begun unveiling their latest electric chainsaws.
And it's easy to see why: electric chainsaws have clean energy, little maintenance, and easier cleanup, electrical chainsaws have begun dominating the chainsaw market.
However, there are still some benefits to having a gas chainsaw. The main advantage is a longer runtime, but gas chainsaws also typically have more speed and power.
With that, though, gas chainsaws are also louder; they emit fumes, are messier, and are often more expensive. Not only that, but they also can be heavier, which means they're not as easy to move around as an electric chainsaw.
All in all, electric chainsaws are the way to go for around-the-home jobs unless you need to do frequent cutting.
Even then, some electric chainsaws can still stand up to the job (the Stihl MAS 161 T is one top quality example); it depends on what type of electric chainsaw you buy.
1. Ryobi P546 10 in. Cordless Chainsaw
The Ryobi P546 10 inch saw is a seriously charged, lithium-operated cordless chainsaw that packs a punch with its power.
It brings a lot of kick and strength to its charge, and as a result, should never be handled with one hand.
P546 Pros:
It has a push-button oiler for easy chain lubrication and longer chain life
10 in. bar and chain
Side access chain tensioning for easy adjustments
P546 Cons:
Risk of kickback
Excessive leakage
The Ryobi P546 10 also has a lot of vibration and kickback, so there are some safety concerns. Some customers complain that the chainsaw can even bounce back when it hits the branch and has a lot of bounceback on smaller branches.
Since this chainsaw was designed to cut small branches, the fact that it has a lot of kickback on smaller branches is a little concerning.
Even still, a powerful tool isn't a bad thing – especially for experienced workers.
Another downside to this chainsaw is there is excess leakage and spill. While Ryobi is fairly upfront about the leak, it can cause some customers to become frustrated with this tool.
As a result, we recommend after you have finished using this mighty tool for the day, place the chainsaw on a plastic surface or somewhere where you don't mind having an oil leak out of it.
This cordless chainsaw is excellent for light cuts and light work. Because it's smaller, it's easier to wield around in your yard, which means that it's ideal for light trims and light yard work. At only 7.48 pounds, this tool is also great for beginners as it's probably one of the easier chainsaws to handle.
Not only that, but it's also fast. It kicks on fast and trims branches with ease, speed, and agility.
---
2. Ryobi 18 inch 38cc Gas Chainsaw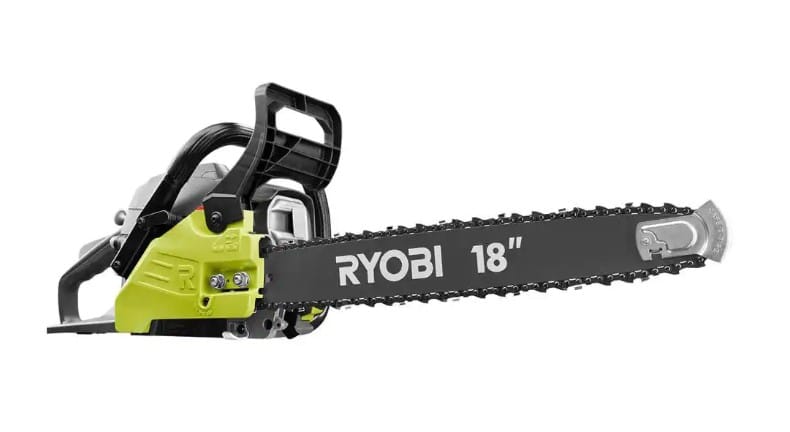 This Ryobi chainsaw is different in that it's a gas chainsaw. At 11 pounds, this hearty piece of machinery is durable, robust, and gets the job done.
Ryobi 18 Inch Pros:
Can handle heavy loads
Anti-vibration handle
Safe-tup bar
Ryobi 18 Inch Cons:
Reports of it breaking easily
It runs on a powerful 38cc engine to ensure that you can handle heavy loads.
It also has an anti-vibration handle, so you get the best grip and never have to worry about dropping or slipping the tool – especially when you're using it.
It also has other features to improve and enhance its performance. The safe-tip bar protects against rotational kickback. Additionally, it also has an adjustable automatic oiler and side-access chain tensioner, which includes a carrying case so that you can transport this machine with ease,
It's also fairly small, coming in at 36 x 18 x 7 inches.
However, some people complain that this machine doesn't hold up like it's supposed to and easily breaks or pieces fall apart.
Some customers complain that when there is an issue, Ryobi is slow to handle it.
In addition, many customers report having difficulty getting in touch with customer services at Ryobi, to begin with, and when they do, their interactions with them are less than satisfactory.
All in all, when this machine does work, it's powerful, durable, and can easily handle whatever tree trimming or yard work you have planned. If you're going to go with a gas chainsaw, this tool is one of the best: that's why it's included in our Ryobi gas chainsaw review.
---
3. Ryobi 14 Inch 40-Volt Brushless Chainsaw
The Ryobi 14 Inch 40-Volt Brushless Chainsaw is a battery-powered electric chainsaw.
It comes in at 27.56 x 11.81 x 8.66 inches and is so powerful it feels like you're working with gas.
However, unlike actual gas chainsaws, you don't have to put up with the headache of spills, messes, gas prices, and fumes.
Ryobi 14 Inch Pros:
A brushless Motor
Automatic Oiler
Wrap Around Handle
Lasting Power From Lithium Battery (not included)
Ryobi 14 Inch Cons:
Sometimes the battery dies too fast
Chain can fall off track – may require continuous tightening
The great thing about the brushless motor is that it generates higher torque and power. Paired with a faster chain speed, this tool can do some serious damage to your yard work.
The bar and chain itself are 14 inches and can stand up against all of those big jobs and significant cuts.
Yet even though it's a large machine that can do more, it is also built to be lightweight, so you don't get as tired as fast. The machine itself is only a little over 8 pounds.
Additionally, the RYOBI 40V Brushless Chainsaw features an automatic oiler for uninterrupted use and a wrap-around handle for convenient cutting and user control.
While it does not come with a case, the blade protector is very effective, and the machine is designed to have optimal balance, so it's safe when carrying.
All in all, this is a mighty tool that can handle powerful jobs despite its lightweight size and design. That's why this tool makes our Ryobi 14 inch chainsaw review.
---
4. Ryobi P547 10 in. Cordless Chainsaw Kit
This lightweight tool makes it easy to maneuver and makes it easy for you to use it longer since it won't tire your arms or body. It's built at an impressive 6.8 Pounds and is roughly 26 x 10 x 10 inches.
Despite its size, this machine packs a hard-hitting punch. That's because its engine is crafted for strength, durability, and speed.
However, even though it has great strength and speed, you may only want to use this chainsaw for smaller jobs.
Ryobi P547 Pros:
The chainsaw comes complete with tools, batteries, and chargers
The push-button oiler makes lubrication easy and convenient
It cuts fast (2x faster than older models), so you can speed through your trimming and cutting jobs
A large cutting diameter (10 in)
Comes with a convenient side-access chain tensioning
Ryobi P547 Cons:
Smaller jobs are excellent because of the convenience with this Ryobi P547 10 in. ONE+ 18-Volt Lithium Chainsaw is unbeatable.
Bigger jobs, however, do take a bit longer due to the slower RPM. The slower RPM is fine for small jobs and might be better if you're new to using a chainsaw.
---
5. Ryobi RY43160 6 Amp Pole Chainsaw
The Ryobi RY43160 6 Amp Pole Chainsaw is a powerful tool that can help you trim all of those hard-to-reach places.
Because of its long, extendable arm, this reachable chainsaw is an excellent tool for cutting or trimming those out-of-reach branches.
Not only that, but the chainsaw also adjusts up to 9 feet in length, which offers customers even more flexibility as you can reach higher without the use of a ladder.
RY43160 Pros:
The angled cutting head provides users excellent control for accurate, precise cuts
The chainsaw comes with an automatic oiler that enables a smooth operation
The chainsaw also comes with a three-year warranty
RY43160 Cons:
Struggles with jobs greater than 6 inches
The chainsaw itself weighs about 8.18 pounds, which is lightweight and easy to use and navigate.
This chainsaw also has an instant-starting, 6 amp electric motor.
In addition, it has a narrow kerf bar and chain that can cut branches up to 6 inches in diameter. Not only does it have all of those features, but the tool itself is easy to use and easy to assemble.
However, because it's so lightweight, this product has difficulty with more challenging, more arduous jobs. If you're trying to cut something more significant than 6 inches, then this might not be the chainsaw for you.
Basically, the Ryobi RY43160 6 Amp Pole Chainsaw is a terrific tool for hard-to-reach light pruning and light tree cutting. Therefore, if you have any tree cutting that requires serious muscle, you'd better get a chainsaw instead.
For more options, check out our round-up of the best pole saws here.
---
Ryobi Chainsaw Reviews
As you can see, the Ryobi chainsaw line has many different options and varieties for jobs of all shapes and sizes. Ryobi excels in making high-powered machines and tools for all of your home improvement projects, from gas to electric.
In particular, Ryobi excels at crafting lightweight tools that boast high power, as high power as their gas chainsaw counterparts.
A lighter chainsaw means a more wieldable tool and a tool that you can use for hours without tiring as quickly as you would with a heavier machine.
However, the Ryobi customer service is lacking a bit. So, if you are someone who depends on customer service a lot for questions or concerns, this may not be the brand for you.
Either way, Ryobi presents several hard-hitting, high-powered chainsaw machines.
If you are not sure about Ryobi brand chainsaws, have you considered the DEWALT chainsaw range? They manufacture and sell similar chainsaws at a similar price point and might be worth your consideration as a Ryobi chainsaw alternative.
The Milwaukee M18 Chainsaw is also very highly rated and recommended.