Few power tools are as versatile as a good battery-powered chainsaw.
Yard work becomes easier and safer with the addition of a well-balanced battery chainsaw that has decent power with portability and ease of use.
Besides which brand to go with, the big question is whether to go with 20V or 40V.
Best Battery Chainsaw Reviews
Those are seven of the best battery-powered chainsaws on the market, chosen for their wide variety of special features and selling points.
If you're looking for something light and easy to use, choose a 20V like the DeWalt Max XR Chainsaw rather than a heavier 40V battery saw.
I've been using the DEWALT saw for some time now and really like it – it is indeed light, maneuverable, and great for pruning and other light tasks.
It's not the cheapest, and replacement lithium-ion batteries can be costly, but it's really good if you're looking for a casual 12″ saw.
The focus in this post is only on battery chainsaws, but check out our round-up of best electric chainsaws if you'd like to also see some corded-electric options.
1. DEWALT 20V MAX XR Chainsaw – Best Overall
Chain bar length: 12"
Weight: 8.8 lbs
Battery: 20-volt
While some chainsaws can be heavy and awkward, this choice from DeWalt is lightweight, ergonomic, and easy to use even in hard-to-reach areas.
The 12-inch bar and chain prevent kickback and ease tension on your arms during use.
The battery capacity is 20 volts, but you can still expect to get a lot of fire out of this compact chainsaw. The brushless motor helps to maximize battery life to help see all your jobs through efficiently.
No tools are required for chain tightening or maintenance, and the blade is auto-oiling to help cut down on the amount of manual maintenance. The lithium chainsaw battery and charger come in the kit, making this a great one-stop-shop tool for jobs on the go.
For more info, you can check out our full review of the DEWALT chainsaws.
Pros
Lightweight
Two-point comfort grip
Low maintenance
Brushless motor
Cons
---
2. Greenworks 40V 12-Inch Cordless Chainsaw
Chain bar length: 12"
Weight: 6 lbs
Battery: 40-volt
The greater the voltage, the more running time and cutting efficiency is when it comes to battery power.
This chainsaw from Greenworks features a capable 40-volt battery that can run the quiet, brushless motor for up to 140 cuts through 4×4 lumber in a single charge.
The cutting head is auto-oiled, with metal bucking spikes to prevent kick-back and bouncing. The safety features on this one are also outstanding: it features an electronic chain break with an easy push-to-start button.
There's also a manual tensioning grip that makes tightening the chain and maintaining the bar much easier.
Plus, if you're already a fan of Greenworks tools, the battery and charger in the kit can power a multitude of the brand's other power tools as well.
See our complete Greenworks Chainsaw review for more details.
Pros
Longer battery life
Bucking spikes prevent kick-back
Push-to-start button
Charger is universal to other Greenworks tools
Cons
Only works with select lithium batteries.
---
3. BLACK+DECKER LCS1020 20V Max
Chain bar length: 10"
Weight: 7 lbs
Battery: 20-volt
There's a good chance you probably already own a Black and Decker power tool or two.
If you do, you're familiar with the great quality, durability, and dependability of these tools. This battery chainsaw is no different.
The 20-volt battery and charger come standard in the kit, which is highly customizable depending on your needs.
One of the smaller options, with a 10-inch blade head and weighing in at only 7 lbs, this chainsaw has an intuitive, comfortable grip with low kickback and is self-oiling.
With the battery upgrade to the 3.0 AH battery, the runtime can be greatly increased, ensuring that you get everything done that you need to.
Pros
Low kick-back
Automatic oiling
Customizable kit available for purchase
Lightweight
Cons
Not practical for large and thick trees
---
4. EGO Power+ Battery Chainsaws
Chain bar length: 16"
Weight: 18 lbs
Battery: 56-volt
Sometimes you need the power and performance of a gas-powered chainsaw to work through a big job, and that's where cordless chainsaws like the EGO Power+ come in handy.
The 16" chain and bar cut through larger limbs with even strokes and minimum kickback even for this heavy chainsaw.
A brushless motor improves the overall lifespan, while a larger 5.0 Ah 56V ARC lithium battery allows more cuts per charge.
Once the battery is depleted, you can recharge it in as little as 40 minutes, and the EGO+ battery that can be used throughout their product line removes the need to mix oil and gas.
Pros
Heavy duty
Long battery life
Diverse battery can be used for other EGO+ tools
Gas-powered like performance
Cons
Heavier than typical cordless chainsaws
---
5. ECHO 16″ Cordless Chainsaw
Chain bar length: 16"
Weight: 20 lbs
Battery: 58-volt
The Echo is capable of larger projects because it cuts aggressively, but it features an anti-vibration ergonomic handle to ease fatigue on the arms.
The heaviest chainsaw on the list but with the strongest and longest-lasting 58-Volt 4.0 Ah lithium-ion battery, it comes even closer to performing like a gas-powered chainsaw with a slightly higher price tag, unlike other ECHO cordless chainsaws.
Packaged with a battery and charger, the ECHO 16 inch also has an automatic oiler to save time on maintenance, an adjustable chisel-tooth chain, and one button push to start feature.
Check out our complete ECHO battery powered chainsaw review for a full rundown of this machine.
Pros
Heavy-duty gas-like performance
Long-lasting 58-volt battery
Automatic oiler
Anti-vibration ergonomic handle
Cons
Heavy-weight for a cordless chainsaw
---
6. Husqvarna 14 Inch 120i – Best Husqvarna Battery Chainsaw
Chain bar length: 14"
Weight: 11 lbs
Battery: 40-volt
A well-known brand for power tools, Husqvarna is offering a lightweight, affordable and durable chainsaw targeted at homeowners that are choosing to do their own light yard work like pruning and felling small trees.
The ergonomic design produces a low-level noise, a beneficial feature that will keep neighbors from complaining about your early Saturday trimming. A power-save mode on the chainsaw will keep it going all day until the job is finished.
The saw's 14" chain blade with an automatic chain oiler and inertia safety brake both help to ensure safe operation and are powered by a 40-volt lithium battery compatible with other Husqvarna tools and can be recharged with the included charger.
You can check out our complete Husqvarna 120i review to discover all the details!
Pros
Automatic chain oiler
Inertia safety chain brake
Lightweight
Low noise level
Cons
---
7. Stihl MSA 161 T – Best Stihl Battery Chainsaw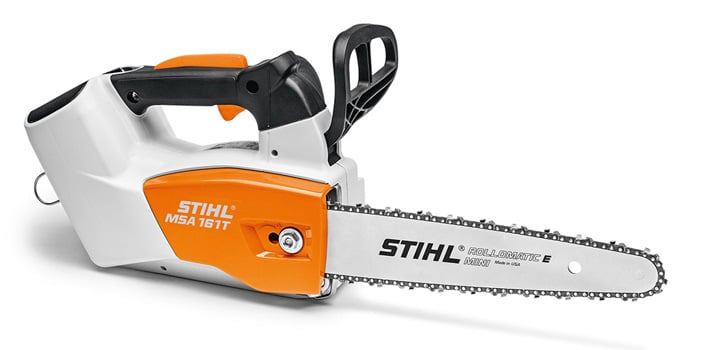 Chain bar length: 10" (12" max)
Weight: 4.6 lbs for powerhead (7.5 lbs total)
Battery: 36-volt
New chainsaw users will enjoy this offering from Stihl as a first chainsaw.
It possesses all the necessary features: lightweight, works quickly without added fuss, and does so very quietly.
While this chainsaw is running, you will still be able to talk over the noise and hear someone speaking back to you, so neighbors shouldn't complain if you're working in your yard during the day.
The safety features are numerous, too, including the Stihl Quickstop and Quickstop Plus, which means reduced kickback in a top-handled design and a chain brake that is activated when the handle is released.
It's also a top handle chainsaw that's great for using up trees.
Pros
Super quiet
Lightweight
Fast cutting
Great for beginners
Cons
---
Best Battery Powered Chainsaw Uses
With so many great options on the market, it's hard to narrow down and pick the best cordless chainsaw for you, even from a list of seven best battery chainsaw reviews, without first understanding the features and differences.
Whether you prefer to use a chainsaw while doing yard work or you're more into construction projects and home improvement, a battery-powered chainsaw is a smart investment to make because it can be used for just about anything.
New users often find themselves purchasing a chainsaw for:
Felling small trees
Cutting firewood
Pruning and basic yard work
Removal of tall branches
For very light work, check out these mini chainsaws that I've been using.
Gas Vs Battery Powered Chainsaws
When it comes to power tools, it's easy to fall into the trap of assuming that more power is always better.
While power is a great and obviously crucial feature for gas-powered chainsaws, if you don't analyze your priorities, you'll end up paying for more than you'll ever use or need, wasting money.
Twenty-volt batteries are usually the lowest power you'll see in cordless chainsaws. In practical terms, this amount of power is likely to last you around four hours running on the lowest setting or doing low-intensity work.
For most people, 20 volts is a decent and acceptable amount of power.
If you are doing less intense projects, such as trimming thin branches or other sorts of low-intensity yardwork, a 20-volt battery will serve your needs fine.
Throw in the difference between 2, 4, and 6 AH batteries, and you can vary the run time of your chainsaw even more. This is a measure of amp hours, so the higher you go, the longer your battery will be sustained to run smoothly.
Choosing a battery-powered chainsaw can also be safer for some users since it doesn't require storage or the handling of gasoline.
Batteries are powered by electricity and can be charged when not in use and remain ready until use.
Best Chain Bar Length For Battery Chain Saws
The chain bar, the bar of metal that guides the chain that allows you to cut, is the deciding factor for what you can and cannot cut.
Before you decide on the chain bar length to purchase, take a look at the average diameter of the limbs you need to cut and add two inches, that's the length of the bar you need to aim for.
The typical 10 or 12" chainsaw, like many on this list, such as the DeWalt or Greenworks, can handle simple pruning and yard work with ease but might stumble on heavier projects.
Saws like the Milwaukee M18 chainsaw have a 16″ bar, while the Stihl models are all best with a 12″ bar.
Maneuverability
For old pros and new chainsaw users alike, it's important to consider how the prospective tool handles before you buy it.
Handling can refer to the ergonomics and maneuverability of the chainsaw, but we also mean it in terms of your own level of fitness.
This view of handling, then, takes into account multiple factors about the saw itself: weight, length of the blade head, and even the power.
Weight of the Chainsaw
One advantage to using a battery-powered chainsaw over a gas-powered chainsaw is the lighter weight; it allows for better handling and longer use before your arms begin to fatigue.
However, not all battery-powered chainsaws are created equal, and some are much heavier than others making them less suitable for new operators.
If you're new to operating a powered chain saw, then you want to go for a lighter chainsaw that won't run away with you in terms of power or kickback.
Look for chainsaws that have two-point handles that can allow you to hold the tool in a variety of ways that will fit your comfort and fitness level.
Battery Powered Chainsaw Features
Although many people put power at the top of their wishlist for chainsaws, it's important, to be honest with yourself and prioritize your needs, abilities, and expectations when shopping for a battery chainsaw.
Consider the following physical and add-on features as you compare products:
Battery Size
Chainsaws are available with a single battery or dual battery system for a longer charge.
For most people, a 20-volt battery will supply enough power for what they want and still come in at a great price.
A 40-volt may be necessary if you own a lot of property to be trimmed or you prefer to do all your work in one weekend.
Oiling System
A manual system requires regular oiling or choose an automatic oiling system for a higher price point but less maintenance.
Engine Power
Available with either a standard motor, also called a brushed motor or a brushless motor, a brushless motor will have less friction and therefore have a more efficient system. Brushed motors will be slightly less efficient but often have a lower price tag.
Safety Features
Also, consider the safety features.
Whether you're used to handling a chainsaw or not, safety features are very important. Even the most well-built chainsaw can malfunction from time to time, whether simply by accident or because of a lack of maintenance.
In that case, you want to be protected by features like chain breaks, blade guards, and automatic off settings.
Maintenance is also key to protecting yourself. Many of the saws on our list feature several auto-maintenance options that can help cut down on the maintenance time you'll have to spend to keep your chainsaw at its best for longer.
However, don't forget that you'll still need to clean it after every use, as tree sap and resin can corrupt the surface of the blade and cause it to malfunction over time, causing safety issues and also shortening the life of the tool you've invested in.
Best Cordless Chainsaw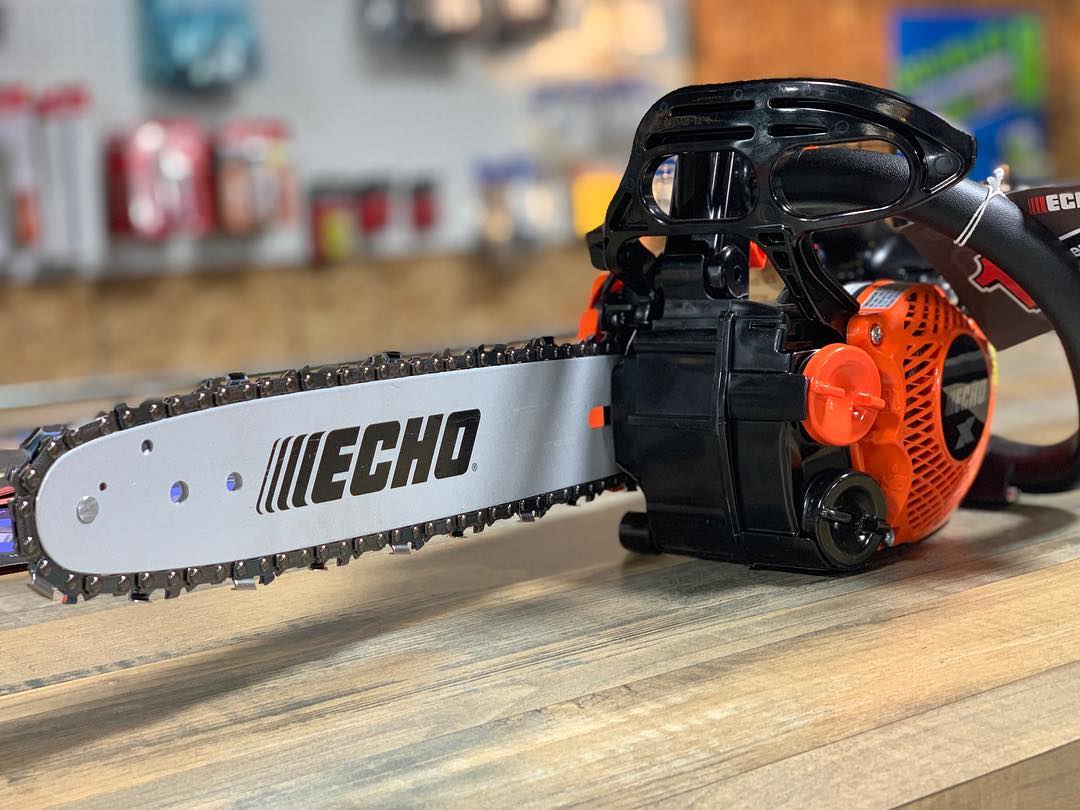 Now that we've gone over how to match your priorities with the features of our list, it should be easier to see which ones are the best fit for your specific needs and the jobs you have in mind.
But if not, then never fear. Here is our shortlist of cordless chainsaw reviews best suited to each type of user and job.
Our overall pick, as mentioned early on, is the DeWalt 20V Max XR Chainsaw. It makes maintenance easy and offers superior run time and power compared to other saws in its class.
Our best 40-volt pick is the Greenworks 20V Cordless Chainsaw. It's compact, lightweight, houses good power with an upgradeable battery, and has self-maintenance features.
Whatever power range, style, or selection of features you decide to go with, you'll be glad that you have a dependable and durable battery-powered chainsaw to see you through all your toughest jobs.
Check out these entry-level gas chainsaws for homeowners if you might be interested in going that route – when it comes to processing larger quantities of firewood, you can't beat them.