The Poulan Pro PP5020 has been discontinued and is no longer for sale by most retailers. However, it was a popular homeowner saw that was sold for around $200, which was very cheap for a 50cc chainsaw from a brand that isn't completely terrible.
Most people can guess how the PP5020 gets its name. It's a Poulan Pro brand saw (PP) with a 50 cc engine (50) and was sold with a 20-inch bar (20). Because the Poulan brand is now own by Husqvarna, the 5020 is often compared to the Husqvarna 450, Husky's 50cc Rancher saw.
Kevin Smith, a moderator of the Poulan Chainsaws FB group said:
I've owned both. Just think of the 5020 as a cheaper cousin to 450.

Piston, cylinder, and crank different.

Bought the 5020 new shipped to my door for $169. So if you had to have a 50cc on the cheap.

Plastic clamshell saws.
The PP5020 is still listed as in stock on Tractor Supply, and you can see the old Northern Tool listing as well. You can still read the many hundreds of P5020 user reviews.
Poulan Pro PP5020AV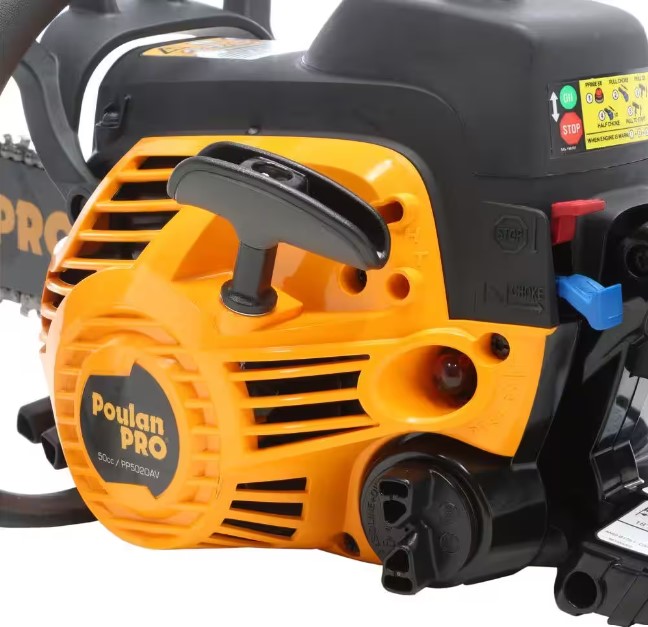 There is no shortage of chainsaws out there, so why should you consider the Poulan Pro PP5020AV?
Poulan Pro is a respected chainsaw brand, but it's not as reliable as the old Poulan who used to produce models like the 306. It's on par with the likes of Jonsered or Holzfforma. When comparing apples to apples (or ccs for ccs), Poulan Pro saws are priced about the same as well.
This 50cc Poulan Pro chainsaw is not quite on the same level as Stihl or Husqvarna, but it is significantly cheaper. The Husqvarna 450e is also a 50cc chainsaw, but it costs $450 new, as opposed to the PP5020AV's $200ish price range. So the 5020 is about half the price of a comparable Husqvarna chainsaw.
When considering what chainsaw to buy, you always need to think about how much you're going to use it, and how much power you really need. If you are using your chainsaw infrequently, do you really need a $500 saw? Probably not. However, if you expect to be using your chainsaw often, and you'd like it to last a lifetime, you should probably consider a premium brand.
But you came here to learn more about the PP5020AV, so let's focus on that now!
Poulan Pro 5020 Reviews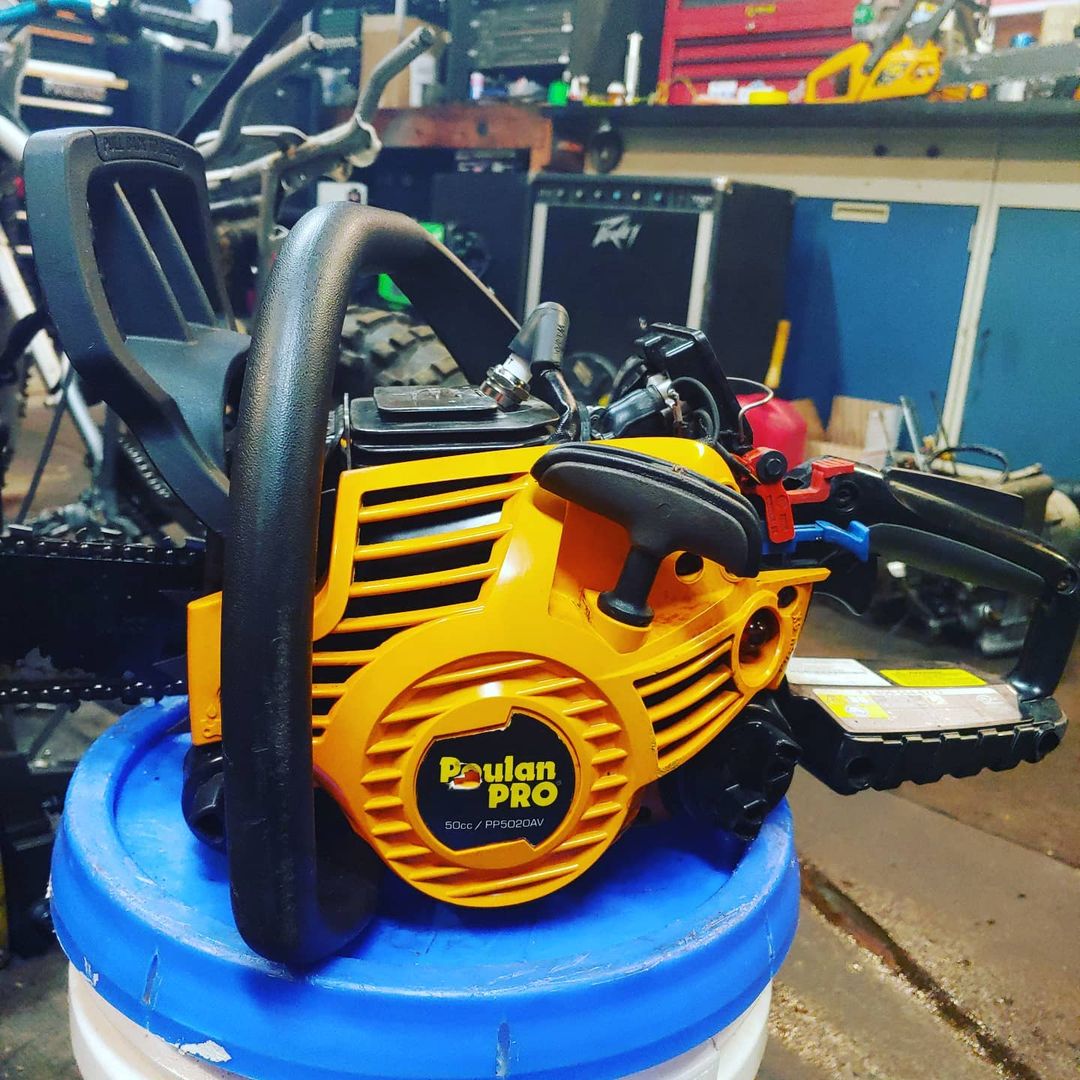 The Poulan Pro PP5020AV is a decent saw for infrequent use. If you look after it, there's no doubt it will be suitable for light work.
It's a good saw for processing firewood, felling small trees, and tidying up around the home, garden, or hobby farm, but not for frequent use.
Here are some comments from 5020 users, starting with the positive:
"I paid 155 but damn it runs like a Husky 55 Rancher."
"When you realize it is a plastic clamshell saw for 165 new shipped to ya. You dont expect it to run like a ported 50cc. IMO they were the best bang for the buck cheap 50cc."
"I have a Poulan Pro PR5020. My first chainsaw. No complaints, other than the chain easy fix though."
"Finally got to do some good cutting with the pr5020 and it ran incredibly up against 2 Stihl saws."
"5020 is a great saw! It's my back up saw."
And here are some negative views or cons of the 5020:
"The PP5020 is plastic junk."
"Power to weight ratio ain't the best, and 20" I personally think is overkill. 16"-18" with a full 3/8s seemed to be the best combination I found for what I do."
"Prettiest boat Anchor I ever seen."
Read the reviews on the listing shared above to see the range of both positive and negative reviews – there are always both. Keep in mind that sometimes the negative reviews are related to shipping and delivery problems rather than actual product issues.
Specs And Features
| Attribute | Specification |
| --- | --- |
| Brand | Poulan Pro |
| Manufacturer's Warranty | 24 months parts / 24 months labor |
| Bar Length | 20 in |
| Engine Displacement | 50 cc |
| Chain Pitch | 3/8 in. |
| Chain Gauge | 0.050 in. |
| Cordless | Yes |
| Fuel Capacity | 15 oz |
| Case Included | Yes |
| Oil Capacity | 10.4 oz |
| Oil Fuel Mix Ratio | 40:1 |
| Low Vibration Handle | Yes |
| Tool-Less Chain Tensioning | No |
| CA (CARB) Compliant | CARB Compliant |
| Chain Speed | 27.8 mps |
| Chainsaw Type | Hand Chainsaw |
| Engine Cycles | 2 Cycle |
| Drive Links | 70 |
| Filter Type | Mesh Filter |
| Handle Type | Rear Handle Chainsaw |
| Power Type | Gas |
| Product Weight | 15.4 lb. |
| Torque Maximum | 1.55 Nm |
| Country of Origin | Made in USA |
| Horsepower | 2.8 hp |
| Maximum Cut Diameter | 40 in. |
| Number of Nose Sprockets | 7 |
| Start Type | Recoil |
| Product Height | 11.06 in. |
| Product Length | 35.5 in. |
| Product Width | 10.07 in. |
| Manufacturer Part Number | 967061501 |
*The Tractor Supply listing states the saw was made in the USA. This may or may not be accurate.
The Poulan Pro PP5020AV is a 50cc chainsaw that is sold with a 20-inch bar.
50cc is a decent amount of power and this saw can be used to carve up reasonably sized logs. It's fine to use for dropping trees, even larger trees. A 20-inch bar is a really good length to have as it allows you to work on the bigger stuff. Don't think you're limited to working on 20-inch trees or less, because you're not.
The big difference between this saw and the more expensive saws is that you can't expect this one to go all day every day. It can be used for a bit, then it needs a rest. You also don't want to rely on it as an everyday saw either. It's fine for processing up to perhaps 10 cords of firewood per year, but not for use as a logging chainsaw.
It's a good homeowner chainsaw, and may possibly suit light farm use. You can also use it as a backup chainsaw to your main (better) chainsaw.
Here are some more of the features:
Has a DuraLife Engine
Clean air filter system
Has an easy pull-starting system
Reduced vibration handle
Automatic chain oiler
Comes with a carrying case (at least, on Amazon it does)
Many of these features are standard on all chainsaws now, so don't let them wow you on this alone! For example, I don't know of any modern chainsaw that doesn't have an 'automatic chain oiler'!
Regarding the bar size:
Poulan 5020, 50cc, 20-inch bar is max recommended for that saw, but you can run a 16 or 18″ if you want. Depends on what your cutting needs are.
Usually, on these cheap homeowner chainsaws, less is best.
Price And Parts
Where can you buy the Poulan Pro 5020AV?
Tractor Supply – chainsaws in stock
EBay – for used models and PP5020AV parts
Amazon – parts (air filters, chains, bars, etc.)
It's always listed at around the same price at each retailer, so go with the retailer you most prefer.
Here are some comments on what they're worth for resale:
"80 bucks around here if it's real clean and runs well."
"Sold one today for $120."
"$75-200 depending on new and how many times they were used and if everything is there."
Poulan 5020 Chainsaw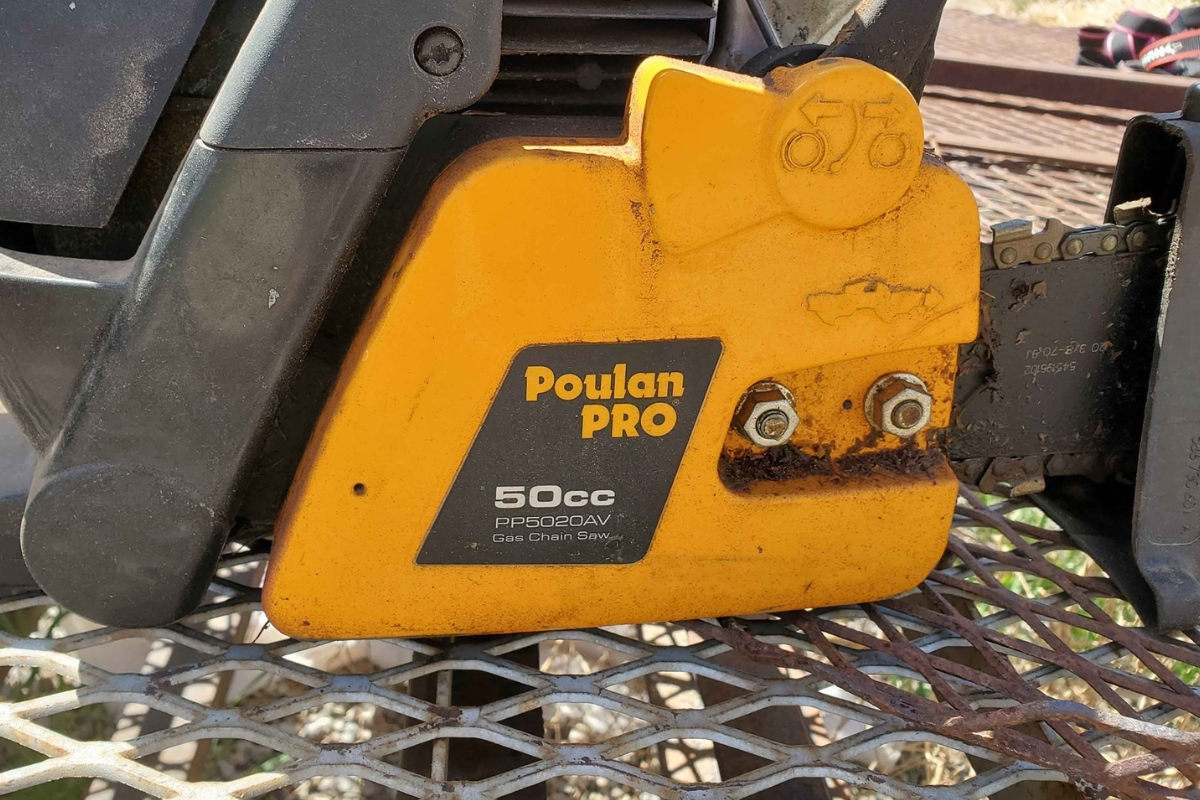 While the Poulan PRO PP5020AV chainsaw isn't perfect for everybody and every situation, it's a great saw for the right person. It's good for beginners, easy to use, and as easy to maintain as any other saw.
If it's at the top of your budget, we would say go for it. You will be running the same risks with any comparable model in the same price range. Bluemax chainsaws are similar, but probably not quite as good as Poulan.
The other option I often recommend is to try and find a second-hand Husky or Stihl chainsaw at the same price. If you know what to look for, you could pick one up in excellent condition for the same (or similar) price as one of these cheaper chainsaws.
You would want to know the history of the saw and be sure it has been looked after. While it's not nice to say, estate sales can be the best place to pick up quality used saws. Nevertheless, sometimes you just want a brand-new chainsaw. The Poulan brand is owned by Husqvarna, and they share a lot of similarities. If the Poulan 5020AV feels right to you, go on and grab it!