Can you convert a chainsaw into a guitar?
Yes – this Homelite Chainsaw knows all about it!
And while it's not the reason chainsaws were invented, it's pretty awesome nonetheless.
Chainsaw Guitar Conversion
This is a Homelite C-52 that has undergone a remarkable transformation!
Homelite is a popular chainsaw brand among vintage and antique chainsaw collectors – many of the models really are design pieces, such as this one that was converted into a working guitar.
One commenter stated:
I have that chainsaw; Homelite C-52 – 44cc, manual bar oiler, .505″ pitch chain, sounds like an unmuffled dirt bike and cuts through nearly anything. Also weighs like 25lbs, sucks to climb a ladder with I can't imagine it would make a comfortable guitar.
That is one heavy guitar!
Not one you'd want to be climbing trees with, and not designed for that anyway.
Someone else joked:
I bet Leather Face could really shred!
To which someone replied, 'Would need to be a Poulan Pro.'
What to know more?
Fing out what chainsaw leatherfaced used in the Texas Chainsaw Masscare!
There was also some debate on what headstock the creator of this chainsaw guitar used, with some suggesting it was Gibson and other suggesting Fender.
Let us know what heastock you think it is in the comments below.
There are also many comments relating to Ash Willaims:
'Made with Ash tonewood I see'
'Ashy Slashy wants this guitar'
'Ash's guitar…'
Ash Williams is a character from The Evil Dead who has a Homelite XL Chainsaw for an arm.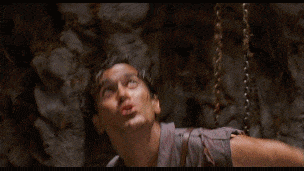 Lastly, if you know Jesse James Dupree from the band Jackyl, you won't be surprised at the many references to him.
He uses the guitar as an instrument alongside the guitar and is well known for sawing Tom Green's Desk.
His song 'Lumberjack' uses a chainsaw throughout the track.