I recently checked out my friend Ian's 52cc Sachs Dolmar 115 chainsaw.
His one, pictured throughout this post, is one of the earliest models from 1986 or 87. It was passed onto him from his grandfather and although it's not currently running, it has chewed its way through a fair amount of wood.
The 115 had a very long run and there are many versions. It entered production in 1986 and continued to be made until 2018 – more than 30 years later!
Overall, it's a popular saw, especially some of the older versions, and there are many collectors seeking them today.
Dolmar 115 Versions
The earliest model 115 chainsaws are marked Sachs Dolmar – these saws were made between 1986 and 1991.
In 1991, Makita bought Dolmar and the Sachs name was dropped. Check out our post on Dolmar's history to learn a whole lot more.
Because the 115 was made over 30 years, there are a lot of versions and the early models look very different from the late models. Really, they are very different saws despite having the same name.
Some 115 versions include:
Sachs Dolmar 115
Sachs Dolmar 115i
Sachs Dolar 115 Extra
Sachs Dolmar 115 SCExtraH
Dolmar 115
Dolmar 115i
Dolmar 115i Classic
And no doubt there were more.
The 'H' on Dolmar saws means it has an electric handle heating system.
The 'i' on Dolmar saws stands for injection. Some models had an injection carburetor.
In the Chainsaw Repair forum, user 660magnum described it like this:
It has the Tillotson carburetor with no choke but has an orifice valve that opens with what would be the choke lever.

This valve lets the carburetor pump squirt fuel directly into the venturi.

The chainsaw will normally start cold with the choke on. You can shut the choke off after the chainsaw starts.
And a user in the Outdoor Power Equipment forum shared the following image of the 115i which illustrates the parts of the saw.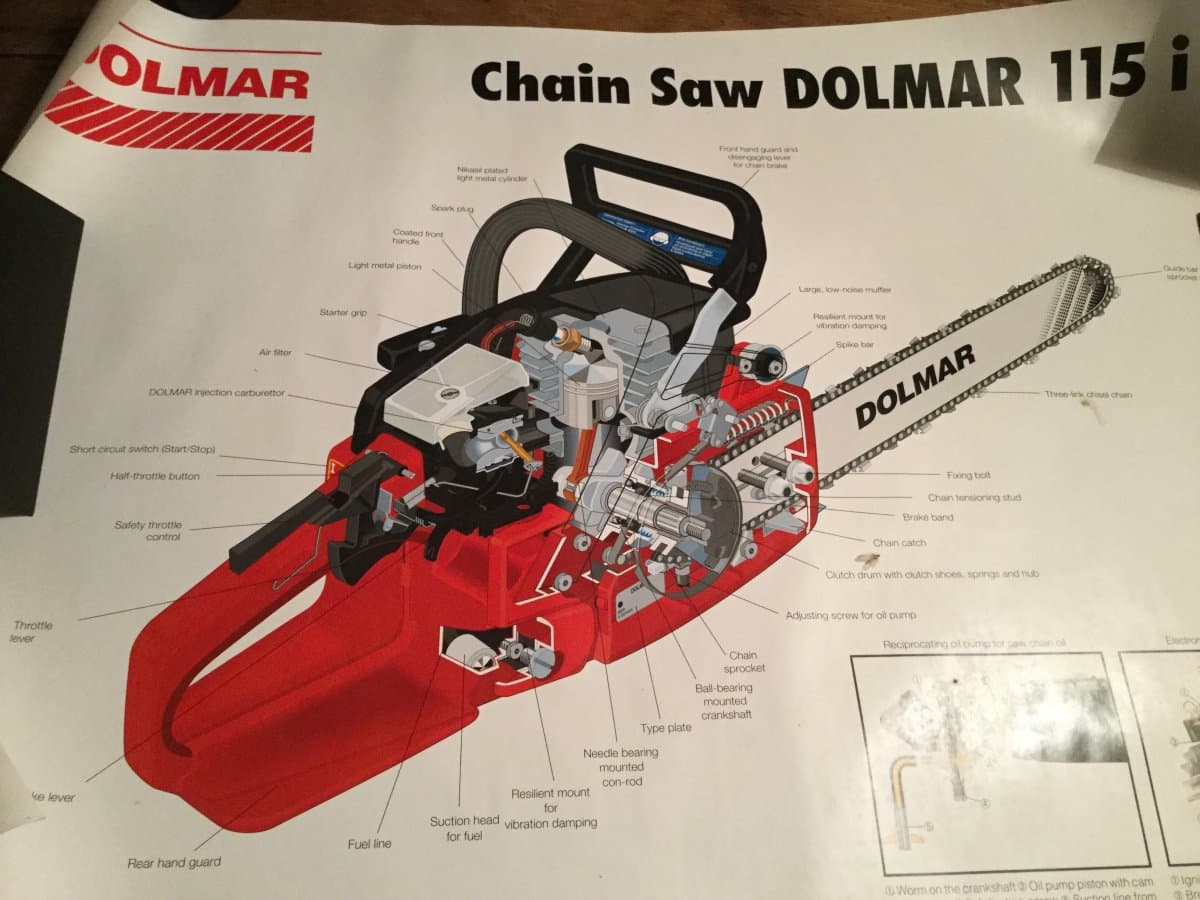 And another user on the Arborist Site forum said:
Ended up pulling the valve out of my carb to see what was going on with it as it would flood badly and not run at all.

It is cammed like you say and rotates counterclockwise in use but it appears it would work clockwise as well if orientated that way.

There is a rubber tipped needle on the end that closes off a hole in the carb body. The problem with mine was the valve was not seated fully into the carb body so the needle would not reach far enough to close the hole in the carb body.

By the IPL I have it appears there were 3 different versions of the Tillotson 236 carb, 236A, B and C. The difference is the injector valve and the way it mounts to the carb body.

Mine is a A carb and the valve is just press fit into the carb. The B carb valve shows a roll pin used somehow while the C carb used a valve with a tab that a screw went through to secure it to the carb body.

I can sure see why they wanted to change from the original A style valve.
What does the Extra mean on Dolmar saws?
I think, but am not certain, that this is the same as injection.
I've seen it stated that it means that the saws are "extra strong," "fitted with heavy-duty gearing," and "equipped with a strengthened engine for high performance." But how this differs from other 115s, I'm not sure.
Dolmar 115 Specs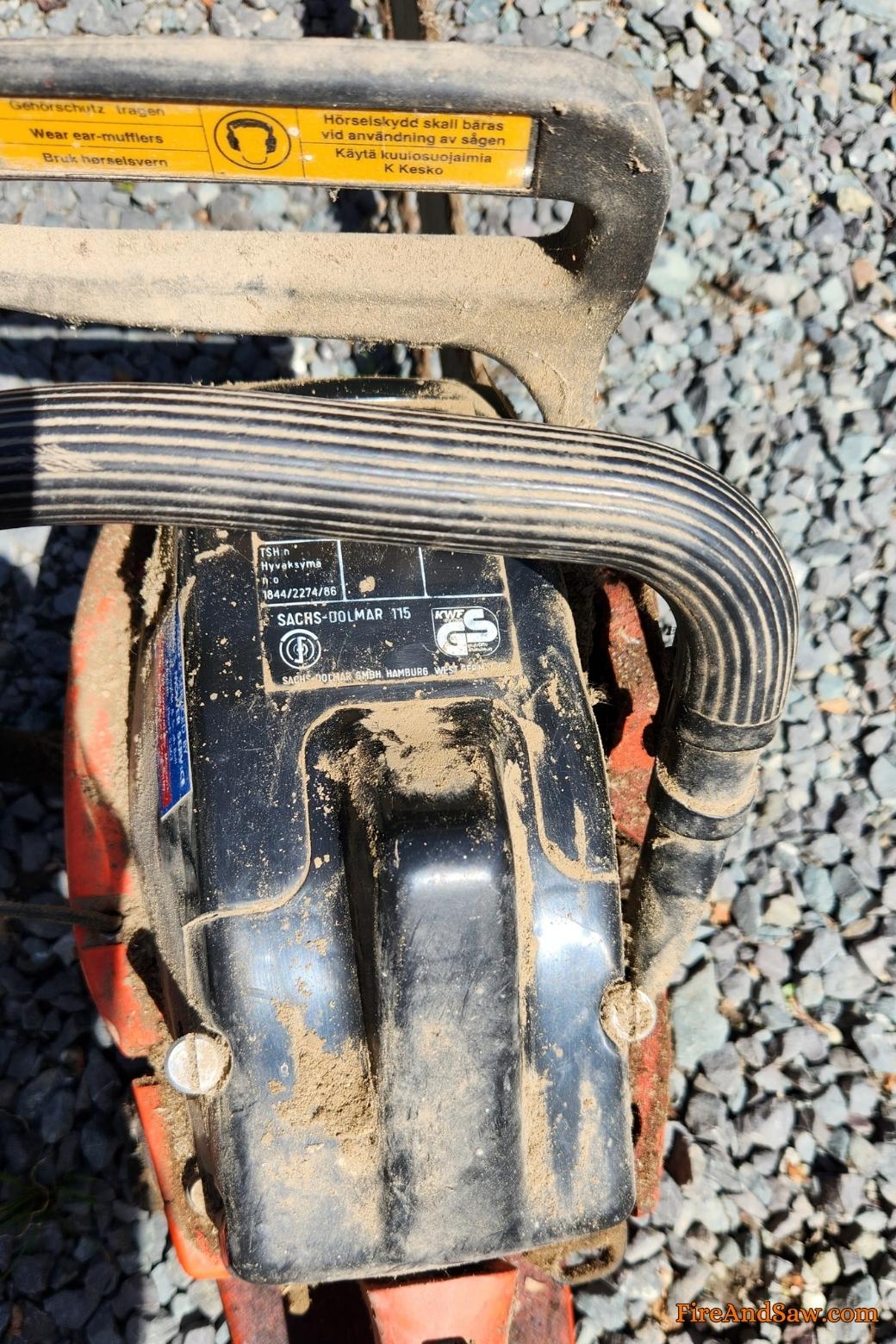 When I asked some Dolmar guys about this saw pictured here, I got a few comments.
Scott said:
1987-1988?

Sachs Dolmar 115 52cc closed port cylinder Walbro choke type carb should have a pretty open muffler. Single post brake handle.

Only problem with that vintage was the chain break would engage pretty easily. They had a bulletin for a redesigned weight holder for the inertia chain break.

Also redesigned the brace for the av mount top right added a limiter strap for pulling pinched saw from a cut and tearing the av mount.

Sold lots back in the day.
While another guy exclaimed, "That's the saw I've always wanted."
Technical specs include:
52cc, 3.2 cu in
5.8 hp, 2.7 kW
11.7 lbs, 5.3 kgs
13,000 max RPM, 2500 idle
Walbro WT-61-1, WT-76-1 (non-i) or Tillotson HU-83C carb (i designated)
Electronic ignition
18.6 oz fuel capacity, 9 oz bar oil capacity
Recommended for use with 15, 18, or 20″ bar
3/8″ pitch, 0.058 gauge chain
Automatic oil pump
The old versions were all metal magnesium casing, even the 33 cc Sachs Dolmar 100, but I'm not sure about the latest models.
Dolmar 115 Chainsaw Review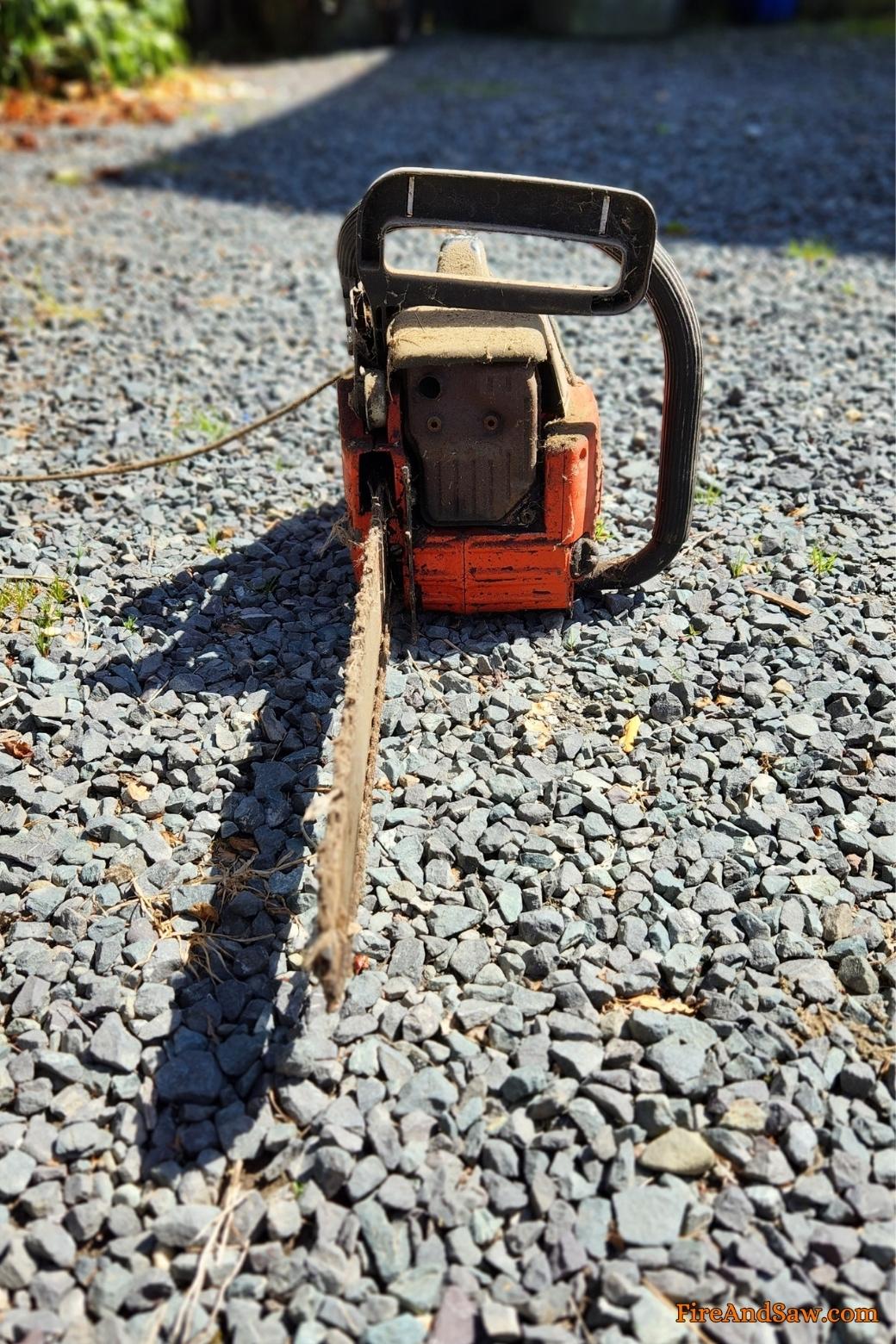 It's difficult to review the 115 because there are so many versions made over such a long period of time.
Perhaps a 1990 model 115 would get very different feedback compared to a 2009 model 115. However, for the most part, all versions made over all time do get pretty great reviews.
My friend who ran this early 115 absolutely loves it (or loved it, given it's not working right now). Perhaps it's just the sentimental value, as he also runs a Husqvarna 262 XP and a Stihl 181 (among other saws), but he does seem to respect the 115.
As I already mentioned, he said it was used and used and used. It provided a ton of firewood over many decades for multiple families.
Here are some other pros and cons, positive and negative comments, collected from forums, FB groups, and YouTube comments.
Pros:
Great little saws – they're bulletproof
They are a good saw and they can be worth much more in parts
Excellent dependable saw
They are quite a good saw – they have quite a bit of torque compared to similar spec saws today
The 115i is a Dolmar great
I've been using my 115 for over 25 years – look after it and it will look after you
My 115 is an absolute workhorse, it's never let me down
And it's really hard to find any negative comments on the saw, but there are a couple.
Cons:
115 parts are probably even harder to find than the 9000. I've had to just scavenge different websites for my 9000 and order a little from here and there.
Why bother with old saws like the 115? Buy a new saw and you'll have fewer headaches.
Admittedly, more modern saws are generally easier to work with and use, but that's not why people like old saws. Many of these saws need to be preserved for historical and nostalgic reasons.
Dolmar 115 Price And Parts
As you might have read above, parts can be difficult to find. It depends a lot on where you live and the version of your saw.
The best place to ask for parts is the 8000-member Dolmar FB group. There are people from all over the world there who are willing and able to sell parts for Dolmar chainsaws.
When it comes to buying and selling 115 chainsaws, it really depends on the condition of the saw. I've seen them listed for as little as £20 in the UK and as much as $300 in the US.
You will certainly find the saws are more popular in Europe, the UK, Australia, and NZ, compared to the UK, and parts are usually easier to come by in those parts.
All-in-all, a good working saw should be able to fetch $100 – $200. And if you are living near someone that has always wanted one, they might pay a little more.
Let us know if you have any questions or comments down below, and next, check out this old McCulloch 610 that I was given recently!