What is the best Farmertec Holzfforma Chainsaw?
It really depends on how much power you need – do you want or need the largest and most powerful chainsaw, the 122 cc Holzfforma G888, or are you after the lightweight top-handled Holzfforma G111?
They are all very cheap compared to their Stihl or Husqvarna counterparts. While you cannot expect Holzfforma chainsaws to be of the same quality and offer the same performance as the saws they're based on, they do seem to perform really well – something that surprises many.
Best Holzfforma Chainsaw
Holzfforma G888

Stihl MS880 clone
122 cc, 8.6 hp, 6.4 kW
36, 42, 48, 62" bar

View On AmazonView On EBAY

Holzfforma G070

Stihl 070 clone
105 cc, 8 hp, 4.8 kW
28, 36, 48" bar

View On AmazonView On Walmart

Holzfforma G660

Stihl MS660 clone
92 cc, 7 hp, 5.2 kW
20, 25, 28, 32, 36" bar

View On AmazonView On EBAY

Holzfforma G111

Stihl MS200T clone
35 cc, 2 hp, 1.7 kW
12, 14, 16" bar

View On AmazonView On Walmart

Holzfforma G372XP

Husqvarna 372XP clone
71 cc, 5.3 hp, 5.2 kW
20, 25, 28" bar

View On AmazonView On EBAY
*Holzfforma Chainsaws are generally sold without bars and chains. These must be purchased separately.
Holzfforma chainsaws are a range of saws that are manufactured and marketed by Farmertec, a Chinese company that produces various forestry and gardening tools. They offer a range of chainsaws that are often positioned as more budget-friendly alternatives to some of the well-known logging brands in the industry.
One user said:
These things actually go hard and to be honest it's just a tribute to the Stihl design that they can be made almost as good with not so good quality parts. My G660 has cut enough wood (I'm talking milling iron bark) to pay for a genuine 660 and is going strong!!
Since the Holzfforma chainsaws are produced at a lower price point, they do not always match the build quality, performance, or longevity of more premium brands. The opinions and experiences of users may vary, so it is recommended to carefully research and consider your specific needs, along with reading up on recent reviews and user feedback, before making a purchase decision.
1. Hozfforma G888 Chainsaw
122 cc, 8.6 hp
27.3 lbs
Stihl MS880 clone
At 122 cc with 8.6 hp, the Farmertec G888 is the most powerful chainsaw the company offers – and I think it would be one of the top 5 most powerful saws in production today.
It's a clone of the Stihl MS880 and is popular among those who don't feel like (or can't) pay the MS880 price (though the MS880 is now discontinued and the MS881 has taken its place).
The other thing is that many chainsaws like the MS881 can be very difficult to find in stock anywhere as well – Holzfforma chainsaws seem to be more available (as you'd expect, there being less demand for them). The G888 is designed for a 36-inch bar or above and can be used for felling trees, bucking firewood, or in a chainsaw mill.
User reviews:

I have the Farmertec and Stihl of every size. No real difference. Stuff breaks on both. Both get fixed. The Farmertec just costs a lot less.
The thing works for me. I bought it for a laugh and it seems to do alright. Sure I'd like the real thing but can't find one anywhere near the price as the new Holzfforma.
Really great saw! Hell of a beast! Would buy it again for sure. Worth every penny.
My Holzfforma G880 eats like there's no tomorrow. They make some pretty good clones.
2. Holzfforma G070 Chainsaw
105 cc, 8 hp
24.5 lbs
Stihl 070 clone
The Farmertec Holzfforma G070 is another very powerful model.
It's based on the Stihl 070 (which was slightly smaller than the Stihl 090). The Stihl models are still sold in some countries with more lax emissions standards, but you can't buy new Stihl 070 or 090 saws in most Western countries.
I would guess that the G070 meets these standards in order to be sold in the US, but I can't confirm the exact differences in these systems compared to the original 070. This is another saw that's popular for use for felling, bucking, and chainsaw milling.
User reviews:
It's heavy, loud, and a vibration monster. It gulps fuel like no tomorrow but I like it a lot. However, since I got the g888 it's been my backup if the 888 would fail me. And I still like to run it from time to time.
I use the G070 for a mill. Runs well. Don't want to kill my good saws.
I have one I mill with, it works fine but I would advise sticking with the modern saws. It's loud, heavy, and vibrates like mad, it also requires modification to adjust the chain tension while the milling attachment is installed. For milling its fine when felling trees I don't even consider it. Its fun and cool but not the correct tool for the job.
Most guys go for the G660 or 888 because the G070 is not legal for work in most areas anymore. No chain break or hand guard on it. So it's pretty much just for home-based guys who want a big old-style saw.
The 070 is extremely heavy, a torque saw, and won't be very comfortable in the hands if used for very long. Upgrade the clutch and coil if you get one.
3. Holzfforma G660 Chainsaw
92 cc, 7 hp
21.5 lbs
Stihl MS660 clone
The 92 cc Farmertec G660 is another big saw, and this one is more popular than the previous two.
It is rated for use with bars up to 36-inches, but there are many reports of people using them with cars up to 42 or 48″ – you're just going to lose a bit of power.
This is a great firewood saw for use with large logs, and one which will happily run all day. Reviews are really positive, and the main issue that may arise seems to be with the oiling system. It's possible to pick up Stihl parts to solve the issue.
User reviews:
I got the 660. I bought it from my buddy's dad. It definitely is not comparable to the flagship brands but I'm not made of money and for my weekend side jobs they definitely get the job done and I can't say I hate them. If I had the mindset I don't want to support China I would have nothing. Everything's made there.
The G660 is directly comparable to a Stihl 660 lol. May need a little lock tight, but if tuned properly perform very well.
I have a g660 that is awesome! Had to see for myself what they were all about.
I've got the G660, I mill with it. It's been very good. I would rather have bought a real Stihl 661, but that was not in my budget. I am looking at the G888 now. I need a big saw and just can't afford $2100. If you choose to buy a clone, get one from a reputable dealer who checks them over and tunes them before shipping out, they generally offer a warranty with them.
Great saw but they do have oiling problems. If you buy one I would recommend going today Stihl Dealer and by a worm gear and oil pump.
4. Holzfforma G466 Chainsaw
76 cc, 5.4 hp
17.42 lbs
Stihl MS460 clone
The Holzfforma G466 still has a lot of power, but it's much lighter and can be considered really cheap for what you're getting. As with the other saws, the parts are compatible with the model it's based on (the MS460 , MS461, and 046 in this case), and parts are reasonably easy to find.
It's another good firewood chainsaw that can also be used for a bit of tree felling as well. Many people grab this one as a backup to their main Stihl saw.
User reviews:
I was skeptical at first but did some research and digging around. Turns out they aren't as bad as one might think. My 466 is just as capable as any MS 460.
I've got a 660, 460, and 440. I'd never have bought the genuine Stihl equivalent, but for the price, the Holzfforma saws are fun to have around for the 4 times/yr when I actually have a use for a saw that size. I sold a ragged-out busted-up 044 Magnum and 066 Magnum, which paid for two new equivalent clone saws with a bar and extra chain. Worth it to me.
It's exactly what it's meant to be… a clone. And you get what you pay for. Considering they are up to 1/8 the price of an original but they are IMO up to around 3/4 the quality, they're a good deal.
5. Holzfforma G111 Chainsaw
35 cc, 2 hp
9.9 lbs
Stihl MS200T clone
The Holzfforma G111 is a clone of the exceptionally popular (and costly) Stihl MS200T. However, the MS200T (or the follow-up MS201T) can be very hard to find in many states and countries, so the G111 is a good alternative.
Now, of course, it's not as good as the Stihl, but it's a decent alternative if you can't afford it or can't find the real deal. The G111 is a top handle chainsaw that is good for working with up trees or for other branch and limb work.
It only weighs as much as a big newborn baby (which makes me think of why chainsaws were invented) and is easy to maneuver and work with for longer periods.
User reviews:
Well, I'm not terribly impressed with the G111. I wasn't expecting much from the Holzfforma but, I believe it will give the 201 a run for its money. Maybe I'm just partial to the 200T, the old dinosaur of the group.
I have one. It's great given the expectation of a knockoff saw.
The G111 was a terrible investment for me. Like, it's a serious joke to professional users and tree climbers.
I have one, it sucked until I spent another $400 on it putting a few OEM Stihl parts on it.
I have one and I'm pretty happy with it especially because it runs right unlike my other 200Ts. No matter what I do I can't get them to run right, been to the repair shop like 3 times with one till I gave up.
I built one and gave it to my arborist buddy and it lost power within 2 weeks of use. I have it back now as a weekend warrior and it does what I want it to.
6. Holzfforma G372XP Chainsaw
71 cc, 5.3 hp
17.5 lbs
Husqvarna G372XP clone
The G372XP is our first Husqvarna clone on the list. This saw is based on one of Husky's most popular XP chainsaws – the 372XP.
As with the Stihl saws, it's much cheaper and is reasonably well-reviewed. Some say it cuts just like the real thing and keeps up with other more premium saws, while others have had less positive experiences with it.
All of these saws should come with at least a 6-month home use or 3-month commercial use limited warranty – but this may vary depending on the retailer and location of purchase.
User reviews:
I bought a G372xp to tag along with my 372xpw. To be honest it isn't a bad saw at all. They have their little issues, but if you upgrade a few things to OEM as they need it then you will be ok. I've had it for about 2 1/2 yrs and it runs pretty dang good. Great saw to learn to build and gain experience with. Starter rope, plug, intake boot, and oil pump def need to be changed out for OEM tho. Ignition is a good thing to change as well. The piston and cylinder are fairly good. I like it because not everyone can afford to drop 1k on a saw to use a few times a year so they are perfect for the money. Haters gonna hate but you can't go wrong. They are not OEM quality but for the money they get the job done.
I have three 372xps clones and a 365xp clone. They are non-x-torq and outcut my 372xp x-torq. Cost about 300 dollars compared to $900 for a new name brand.
My experience with them has been pretty good actually. Got a G372xp OE style orange about 2 yrs ago and it's still running to this day, only thing I had to replace is the oil pump and drive gear.
I like my g372. I've not cut much with it yet but it goes well. Definitely not husky quality though.
7. Holzfforma G272XP Chainsaw
72 cc, 5.3 hp
15 lbs
Husqvarna 272XP clone
Another Husky clone, but this time the older version on the 372XP – for that reason, it may just be better to get the G372XP over the G272XP, though they are very similar.
This comes with a Walbro carb, an auto oil pump, and can be used with up to a 32″ bar. The saw looks good, performs well, and is only a fraction of the price of the real thing.
User reviews:
I have several of them. I learned to port with them. From mild to wild they are all still running with few issues. I put NOS on one and it is even still alive. Like someone already said it's Legos for loggers.
They are awesome and made well… Can't beat the price.
I definitely like them. If you can work on a chainsaw project then you have awesome access here to some great parts.
The pre-builts are a toss-up. Some might last a while some may last a little. The parts put together by someone who knows what they are doing are just fine. The cheapest way to get into a big cc-moded saw.
Holzforma Chainsaw Reviews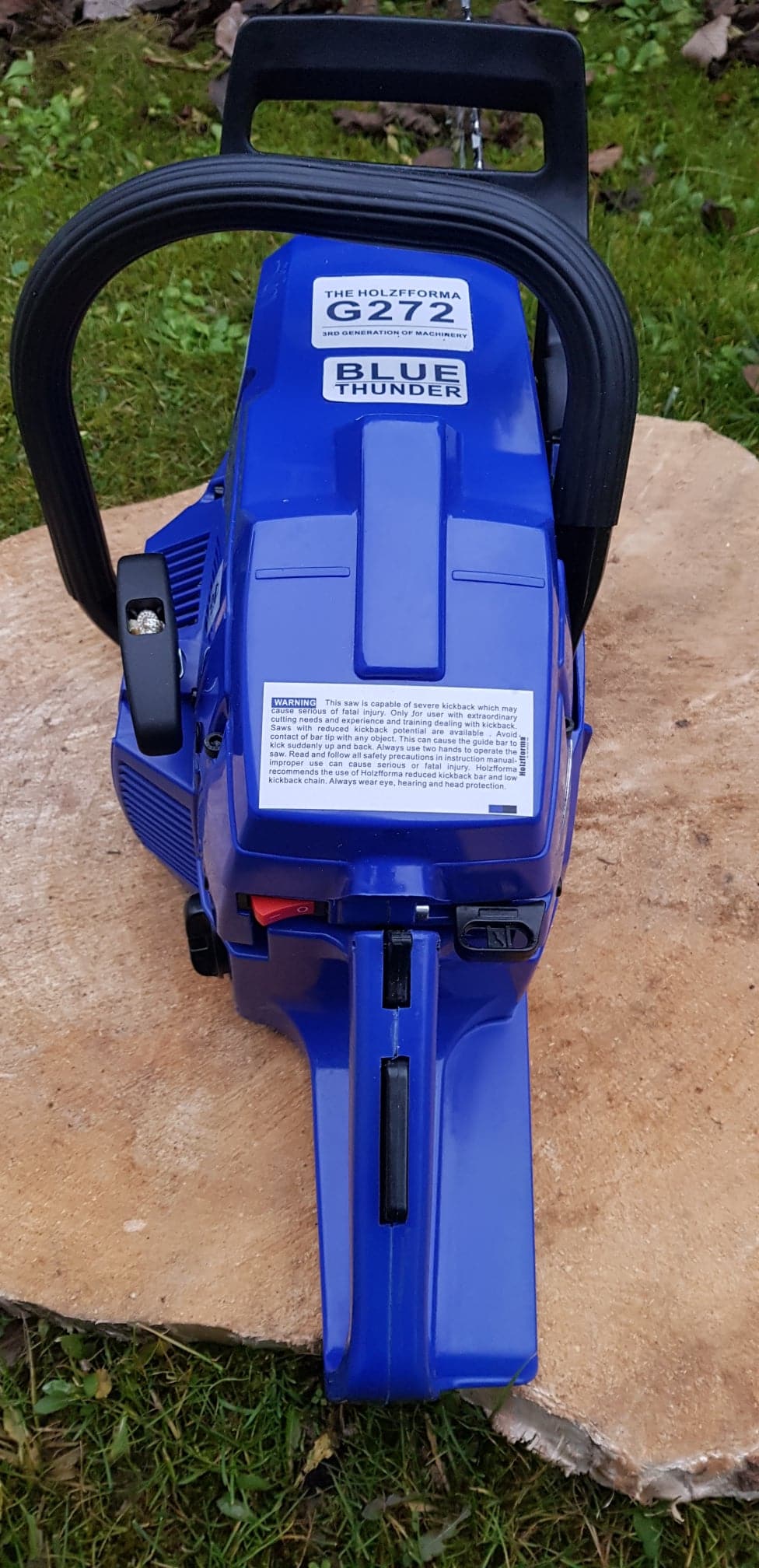 These are more general comments and reviews from Holzfforma Chainsaw users, both pros and cons:
"For those who think they need to be bought in bulk, you can buy them individually. Also, I do love my Stihls (I work for a dealer) but after seeing a few of these in person. For the price, they're not bad saws. The nice part being OEM parts are a direct bolt-on."
"They are nowhere near comparable to Stihl in quality or performance. You get what you pay for – the Chinese units are made from inferior materials with no quality control. If you like tinkering they are okay but if you want something that's going to work all day every day and last for years buy the Stihl."
"They really aren't bad and they don't claim to be OEM. They are built off a patent that ran out and they do all their own manufacturing. I have a few I mill with and do my arborist shot with."
"They run great, and they are manufactured to OEM spec using expired patents. Nice bang for the buck, best use is a mill for me."
"I have been using those parts for years to repair Stihl and Husqvarna. They make the closest copy parts I have found. Some of the others are real junk. But it's all in what you can afford."
"I have the G388 (038 magnum clone) so far I've had to do a muffler fix and a bar tensioner on it. For the price I paid factory direct, it's still a good buy. Uses OEM Stihl parts. I'm running a 25-inch on it now."
"If you're mechanically minded, understand what is good and bad for a saw, and take care of it, the Holzfforma saws will last. And with the money you'd put in a Stihl, you can make a Holzfforma scream."
"I've got a friend that bought that Chinese saw and he's used it for a couple of years now. It doesn't feel like a Stihl, but it gets the job done. It's heavy as crap though. If I was just cutting up firewood, I'd go with the 461 or 500i. Lighter and easier to handle. And you would have a quality saw. But if you're needing the power, I think the Chinese saw would get the job done for the money."
"QC and service after the sale aren't a thing with the clone saws. If you are not well versed in diagnosing and fixing sometimes complicated problems, I would not buy a clone saw."
"I've got their version of the Stihl 066. It's been a great saw, especially for the price. It's an exact clone of the original saw and for the price, it's hard to beat. Yes, you'll wanna look it over and do your own quality control, but they have a really good customer service department.
And no, it's not a pirate company, they started out making aftermarket parts and it grew into selling reproduction saws that are out of patent."
Farmertec Holzfforma Chainsaw FAQs
Are Holzfforma bars any good?
Holzfforma bars can be bought on Amazon reasonably cheaply (compared to other brands).
For the price, they are really good and seem to perform well. They can receive chips easier than more expensive bars, but for long bars they hold up well.
Is it worth buying bulk Holzfforma chainsaws?
Farmertec sells 10 unit packages of many of their Holzfforma chainsaws on their website.
If you think you can sell them for a bit of a mark-up, it might be worth buying them in bulk. Better yet, try and find 8 or 9 friends who would be willing to go in with you. It does make them even cheaper.
Can Holzfforma parts be used in Stihl and Husqvarna saws?
Yes, the right Holzfforma parts can be used in the right Stihl or Husky saws. In fact, Farmertec chainsaw parts are among some of the closest copies you will find for saws like the MS880 or Stihl MS200T.
Can you modify Farmertec Holzfforma chainsaws?
Yes, just like most saws there are certain things you can do to get them screaming. Check out this ported Farmertec G660 – plus it's had a lot of other work done to it as well!
Can Holzfforma saws be used in a chainsaw mill?
Yes, many people use the more powerful models in a mill.
In fact, because milling can be really hard on a saw, this might be one of the best uses for these saws. Rather than running your $2000 Stihl ragged, use a Holzfforma.
Is it better to buy a genuine used saw over a clone saw?
Some would say yes, others would say no.
If you can get a genuine saw for the same price as a clone, and you know enough about saws to really check its condition, it probably is the better option. It's more likely to perform better over the long term.
Are Holzfforma saws better than Jon Cutter?
Jon Cutter Chainsaws is another brand from Farmertec, and generally speaking, no, they are not as good as Holzfforma. They are a bit cheaper and not as well-reviewed.
Holzfforma Blue Thunder Review
The consensus seems to be that the Holzfforma Chainsaws are actually pretty good for the price. As we've stated, as long as you're not expecting them to perform as well as the real thing, you won't be upset.
The quality control processes are unlikely to be as stringent as at the Stihl factory so you are more likely to strike the odd lemon, but the warranty should hold for any immediate issues.
At the end of the day, these saws have many more positive reviews when compared to other Chinese-manufactured chainsaws such as modern Craftsman Chainsaws. Holzfforma chainsaws are worth testing out if you don't have too much to lose.