In this Ego Chainsaw review, we'll compare the range of Ego Chainsaws.
If you're part of the Ego ecosystem already, you've probably already decided that you want one of their 56v battery chainsaws. However, choosing the best Ego chainsaw for your situation takes a bit of research and thought.
Their Power+ line has 3 different chainsaws, plus there is also a pole saw. Just below, we'll start with a table outlining the differences between the Ego 56v Chainsaw range. That alone will go a long way in helping you to decide which one is best for you.
*The most popular and best-selling Ego Chainsaw is the Power+ CS1604 with 16″ bar. It is followed closely by the higher-powered CS1804 with 18″ bar. Both saws use the same 56v battery packs.
Ego Chainsaw Review
Ego CS1401 - Smallest

Comes with a 14" bar and 56v battery/charger
Weighs 11.4 lbs, max RPM 6800
The bare tool version is the CS1400

View On AmazonView On Acme Tools

Ego CS1604 - Mid-Range

Comes with a 16" bar and 56v battery/charger
Weighs 18 lbs, max RPM 6800
The bare tool version is the CS1600

View On AmazonView On Ace Hardware

Ego CS1804 - Largest

Comes with a 18" bar and 56v battery/charger
Weighs 21.8 lbs, max RPM 11,000
The bare tool version is the CS1800

View On AmazonView On Ace Hardware

Ego MPS1001 Pole Saw

Has a 10" bar and 56v battery/charger
Multi-function (string trimmer, bristle brush, etc.)
The bare tool version is the MPS1000

View On AmazonView On Ace Hardware

Ego 56v Batteries And Chargers

Fast charging lithium batteries
Compatible with all Ego Power+ outdoor tools and chargers
2.5 Ah, 5 Ah, 10 Ah, or backpacks, etc.

View On AmazonView On Ace Hardware
It's important to realize that many of the Ego Chainsaw listings are actually identical tools. The model number is different because one may be the bare tool while the other includes the battery and charger.
For example, the only difference between the CS1800 and CS1804 is that the latter includes the battery and charger while the former does not. The same goes with the CS1600 and CS1604.
In the table above, we list the model that includes the battery and charger and state the model number of the corresponding bare tool listing.
The Difference Between Ego Chainsaws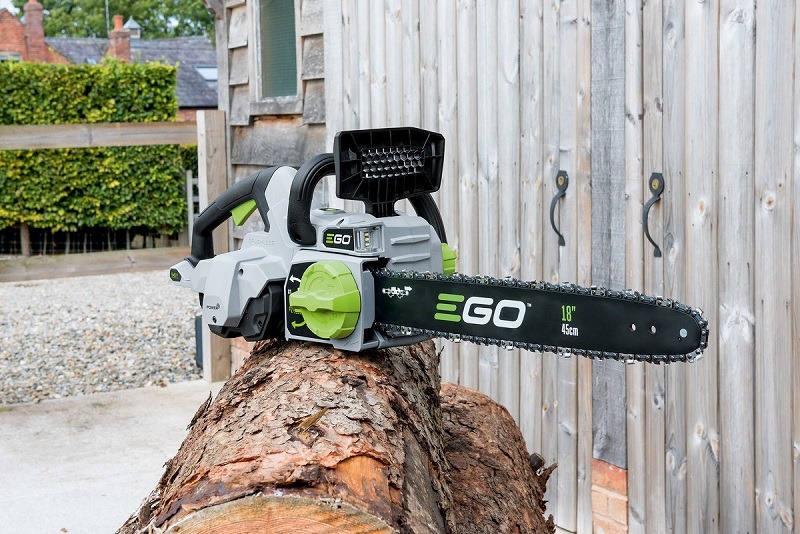 So you can see the main differences between the Ego Chainsaws are:
Length of the bar
Weight of the powerhead
Max RPMs
And, of course, the price varies as well – the larger and more powerful they get, the more expensive they are.
The CS1400 series comes with the shortest bar and is the lightest. The CS1800 series has the longest bar, weighs a bit more, and has the highest RPMs – meaning it will cut harder and faster. And the CS1600 series is in the middle of the two.
All of these chainsaws are suitable for pruning and limbing, as well as tidying up shorter sections or lengths of wood. They can be used for processing firewood.
However, keep in mind that the bars are not overly long so they're not ideal for working with thicker logs, nor are they great for felling trees and other serious applications.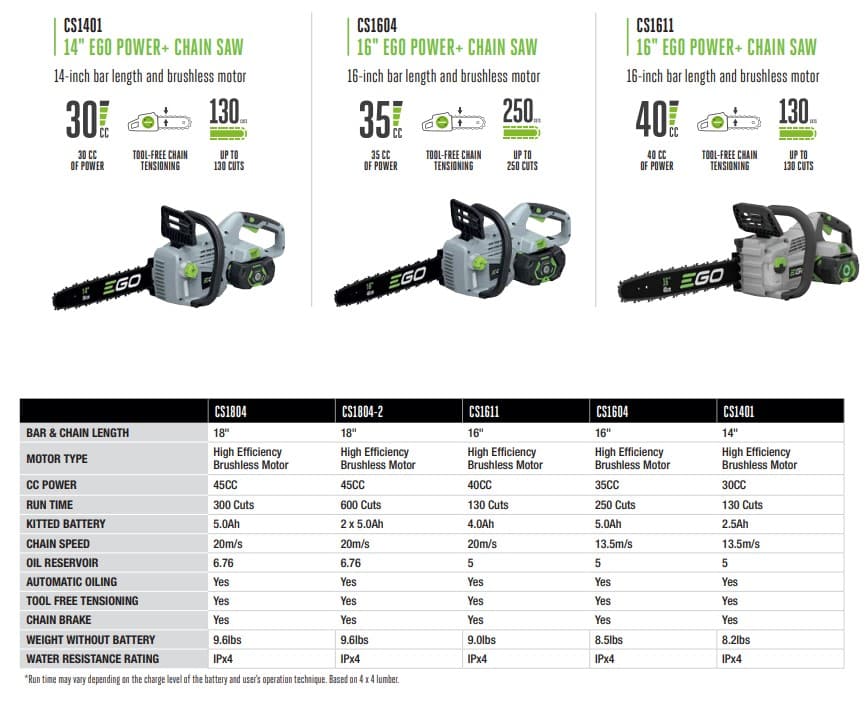 In general, cordless electric chainsaws aren't good for heavy-duty work. They are best for light clean-up tasks or breaking up thinner width logs. They can be good to keep in the car for those who regularly come across small downed trees or for those who are pruning in orchards.
In summary, they're good for:
Pruning trees, shrubs, and other small limbed bushes
Working with while up trees (they are about to release the Ego top handle saw which would be better for this)
Trimming up lengths of wood
Use on construction sites for cutting lumber
Use on farms for fence posts, etc
They are an extremely popular chainsaw for homeowners, and it's nice that you can use the batteries with the rest of the Ego toolset.
Here's a bit more about each of the Ego chainsaws.
1. Ego CS1400 Chainsaw Review
The Ego CS1401 is the smallest of the Ego chainsaw range, coming with a 14-inch bar and weighing 16 lbs.
Ego does actually sell a 10 and 12-inch bar separately that can also be used on this or one of their other saws. Sometimes all you need is a small chainsaw for light work!
The CS1401 comes with 2.5 Ah battery and charger, but you can alternatively get the CS1400 which is the bare tool only. The CS1403 is another option in the range, the main difference being a lower RPM of 6300.
CS1401 Specs:
Brushless motor – more efficient than brushed
Chain brake – helps prevent injury from kickback
Weather and water-resistant – unlike many gas chainsaws
Push-button start – so easy to use
Only 86 decibels – very quiet in comparison to other models
0.043 chain gauge
This is a reliable option for those needing a mini chainsaw and should serve you well for many years of light use.
---
2. Ego CS1604 Chainsaw Review
The Ego CS1604 is a step up in size and weight and is the mid-range Ego battery chainsaw.
It's essentially the same as the previous model, only larger. The CS1600 is the version you want if you already have Ego Power+ batteries.
It comes with a 16″ bar but uses the same 56v ARC Lithium Battery and Charger. It has a very good run time thanks to Ego's constant product development and improvements.
You can check the specs for the model above, but here are a few more features not already mentioned.
CS1604 Specs:
Tool-free chain tensioner – you don't have to carry a scrench around
Comes with a 56-link chain – you'll have to learn how to sharpen it
Reversible bar – so you can get even wear out of it
Power beyond belief – said to rival that of gas chainsaws (though I have my doubts)
Up to 300 cuts – depending on the size of the cuts, of course
If you aren't looking forward to sharpening your chain every once in a while, consider the Oregon self-sharpening chainsaw. It does it for you!
---
3. Ego CS1804 Chainsaw Review
VIEW ON AMAZON →
The Ego CS1804 Chainsaw is the final and larger chainsaw in the Power+ tool ecosystem.
Again, it's similar to the previous Ego electric chainsaws, but it's more powerful and has a couple of additional features. The CS1800 is the model to look up if you only want the bare tool.
It comes with an 18-inch bar for those expecting to make some larger cuts, and it has a much higher RPM (11,000). It has the same brushless motor that delivers excellent battery life and performance.
This can be used for felling small trees and other slightly heavier tasks compared with the CS1400 and CS1600.
CS1804 Specs:
Auto tensioning chain system – easy to keep right
LED lighting – helps you work in low light
Weighs 21.8 lbs – still comparably light to gas saws
Compatible with 16 and 14″ Ego bars – for when 18″ is too much
Besides these features, it has most (if not all) of the previously mentioned features of the other models.
---
Ego Power+ MPS1001 Pole Saw
VIEW ON AMAZON →
The Ego MPS1001 Pole Saw is another great tool for pruning trees around the home.
It's an interesting outdoor tool because it has a multi-head system that can transform it into one of 8 different tools.
With the Ego Powerhead System, you can use it as:
Pole saw
Hedge trimmer
String trimmer
Edge trimmer
Bristle brush
Cultivator
Rubber broom
Extension attachment
When purchasing it you can decide which attachments you want, as not everyone will want all of them. However, it can be worthwhile picking out your most needed 2 or 3 attachments to get the most use out of the powerhead.
---
Ego Power+ Chainsaw Batteries
There is a range of Ego batteries that you can buy additionally.
The Ego chainsaw kits tend to come with either the 2.5 or 5 Ah batteries, but there are also:
7.5 Ah batteries
10 Ah batteries
28 Ah battery backpacks
There are also multiple different chargers.
The batteries have many helpful features, including showing how much power is left, technology that keeps them cool during use, and a power management system that keeps them from over-discharging and helps to extend the battery life.
They are also shock-resistant, have long-lasting power, charge rapidly, and are good to use year-round in most climates.
Ego 56v Chainsaw Review
The EGO battery chainsaw range has been very well-reviewed on Amazon and elsewhere on the web.
It's a top seller on all of the online retailers, including Ace Hardware and Acme Tools. Ego sells a ton of units and they regularly receive 5-star ratings and reviews.
The EGO power tool FB group (over 7K members) is another good spot to look for people's real-time thoughts on chainsaws and other products. I've been part of the group for a long time now and have seen both praise and problems there. However, the overwhelming impression that I get from users is very positive.
Pros:
A premium electric chainsaw
Low noise and lightweight
No fumes and no gas are required
Easy to start and use
Part of a larger set of tools
Compact and easy to store
Cons:
Lacks the 'go all-day' of a gas chainsaw
Extra batteries are costly
Overall, these products are very good and are considered better than alternatives such as the Milwaukee M18 chainsaw, or the Dewalt MAX XR chainsaw.
If you are already in the EGO line of tools or are considering making the commitment, I wouldn't hesitate. As long as they are within your budget and are suitable for your requirements, of course.
Best Ego Chainsaw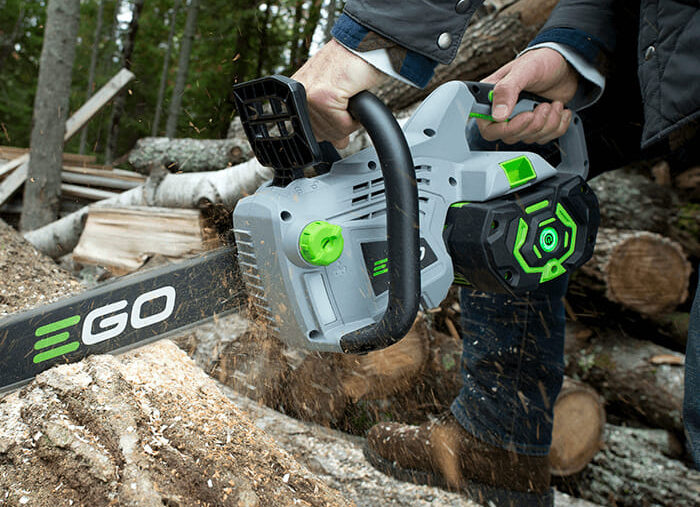 The best Ego chainsaw for you is going to be the one that best suits your need!
There isn't one 'best' for everyone, it's going to depend on your budget and chainsaw requirements.
Generally speaking, I always recommend getting a little more chainsaw than you think you need, and that way you won't be disappointed later. If you get a more powerful model you can always get a shorter bar for it instead and continue to use it like that.
Electric chainsaws have some limitations, but at least EGO isn't selling any that are corded. There's nothing worse, in my opinion!
Let us know if you have any questions in the comment section below, and feel free to share your experiences with the EGO chainsaw or their other outdoor power tools.