Is the Worx WG305.1 chainsaw any good?
It's an electric chainsaw that is one of the best-sellers on Amazon. Thousands of these saws have been sold, and it does have a good star rating, BUT it's not for everyone.
As an experienced chainsaw user, here are my thoughts on this WORX 14 inch electric chainsaw.
WORX 14 Inch Electric Chainsaw
You'll see in this table there are two Worx 305 chainsaws:
What's the difference between the WG305.1 and the WG305?
As far as I can tell, the only real difference is in the size and price. The 305.1 is slightly smaller and lighter than the 305. And, the 305.1 is slightly cheaper than the 305.
Other than that, they are both 120 volts, 8 Amps, corded electric chainsaws with 14-inch bars.
I can't find it confirmed anywhere, but I believe the 305 is simply the older model which may no longer be listed for sale once stock is sold out. The 305.1 is the upgraded version of the same chainsaw.
Let me know in the comments if I've got this wrong, but if so, you'd be better off buying the newer model (unless there was a significant price difference on the day you go to purchase).
WORX 305.1 Specs And Features
The WORX 305.1 is a corded chainsaw, as opposed to a battery chainsaw like the Stihl MSA 161 T. Therefore, you always need to work near a power socket. The cord that is attached to the chainsaw is very short, so it will always need to be used with an extension.
It's a very light chainsaw, weighing less than 7 pounds, so it's a lot lighter than something like the Husqvarna 359 that weighs more than 12 pounds (especially with full tanks of gas and oil). The lightweight makes it good for those who struggle to maneuver heavier items.
The WORX 305.1 has a patented, auto-tension chain system. It's an innovative feature that makes it easier to keep the chain at the best tension. This is said to extend the life of the bar and chain.
It has an 8-Amp motor that is suitable for light to medium trimming, limbing, pruning, and clean-up around the yard.
And something that not many chainsaws have, an oil level window so that you don't forget to top up. For those new to chainsaws, it doesn't require motor or engine oil, but bar and chain oil. This keeps the chain and bar lubricated while in use.
Voltage: 120 volts
Power Input: 8 amps
Bar Length: 14 inches
Chain Speed: 28ft per second
Chain Pitch: 3/8 inch
Oil Tank Capacity: 4.06 ounces
Machine Weight: 6.6 pounds
Warranty: 3 years
You can download the WORX WG305 manual here.
WORX 305.1 Review
See the WORX 305.1 electric chainsaw in action in this video from JohnVH Life.
In my opinion, corded electric chainsaws are not great. If you know that this is the type of chainsaw you are looking for, then this is as good a model as any in its price range. However, I recommend battery or gas chainsaws over corded.
While corded are better than battery-powered in that they won't run out of power, you can be limited as to where you can use them. You always need to be within reach of a power point. If you know you won't need to go far with this saw, then that's fine!
Another major concern I have with corded chainsaws is that the cord can get in the way. And, there is always the chance you accidentally cut the cord while using the saw! You always need to be aware of where it is to avoid chainsaw injuries.
Here are the WORX 305.1 pros and cons.
WORX 305.1 Pros
Very light
No smell of gas
Quieter to use than gas saws
Good for small jobs
Very affordable
WORX 305.1 Cons
You are attached to a cord
Not ultra-powerful
Won't last a lifetime
Not a saw to be proud of
As stated here, electric chainsaws are popular because they are much quieter to use, and they don't create a lot of smelly fumes, compared with a gas-powered chainsaw. However, they don't have the same power either.
A 14-inch bar on a chainsaw like the Stihl 261 can chew through anything, while the WORX 305.1 chainsaw would struggle to get through some ordinary oak hardwood.
As always, it depends on what you want to use your chainsaw for!
This 14-inch WORX chainsaw is fine for trimming small branches off trees, cutting up 2 or 3 inch thick branches for firewood, and general light pruning around the home. I wouldn't be expecting it to do large volumes of firewood or to drop even small trees.
This saw might be a good intro/beginners saw for those who are nervous to get started. Or, as the first chainsaw for teens who are well trained and supervised. Although, if I had my teen years back again, I'd prefer a Husky 450 or something similar!
If you joined a few of the chainsaw groups on Facebook and asked, they would tell you not to bother with the 305.1. They'd say it was a saw for old ladies. However, if after doing your research you find it meets all your requirements, then I would say go for it.
WORX WG305.1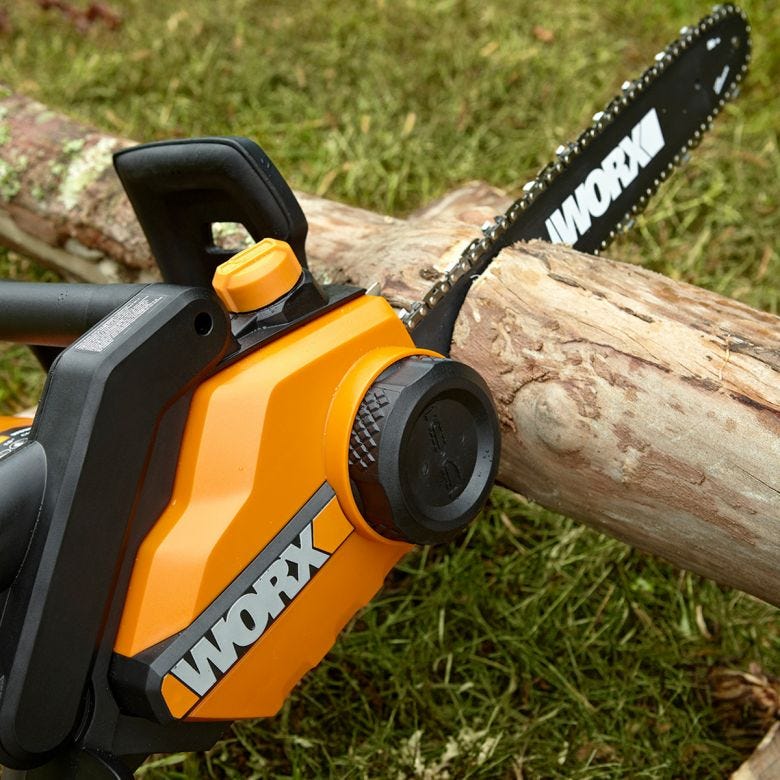 This image comes from the WORX website.
It looks like the saw that is pictured is different from the one that was used to make the cut. It's too clean, right? They must have switched the dirty one out.
So that's the WORX 305.1 – buy it now or find out more here on Amazon.
It comes with a good warranty, has been tried and tested by thousands, and there are plenty of reviews you can read from verified buyers.
If you think a battery chainsaw would be better, and you like the WORX brand, check out the WORX WG322. This model only has a 10-inch bar, but it is battery-powered so that you can move more freely around your section and not worry about a power cord.
For a more premium option, check out the Milwaukee chainsaw – it's a battery-powered tool with a ton of power.
DEWALT also has a mid-priced battery-powered option, while Ryobi has a range of battery, corded, and gas chainsaws.
If you have any questions about any of the chainsaws we've mentioned in this WORX 305 review, let us know in the comment section below. We're only too happy to answer them!