The Stihl MS440 Magnum is a professional 70.7 cc chainsaw.
The Magnum label is applied to all 440s – there's no non-Magnum 440 – they're all the same saw (however, Magnum means different things for other saws).
My friend Tim, who has owned and used his 440 for 15 years (and is pictured down below), told me the saw is primarily used in foresty as a thinning saw, rather than as a logging saw.
He also mentioned that after 15 years with plenty of use, mostly for ringing up logs for firewood, it's only just been broken in. It's a saw that he obviously likes a lot, along with basically everyone else who's got or had one.
Stihl MS440 Magnum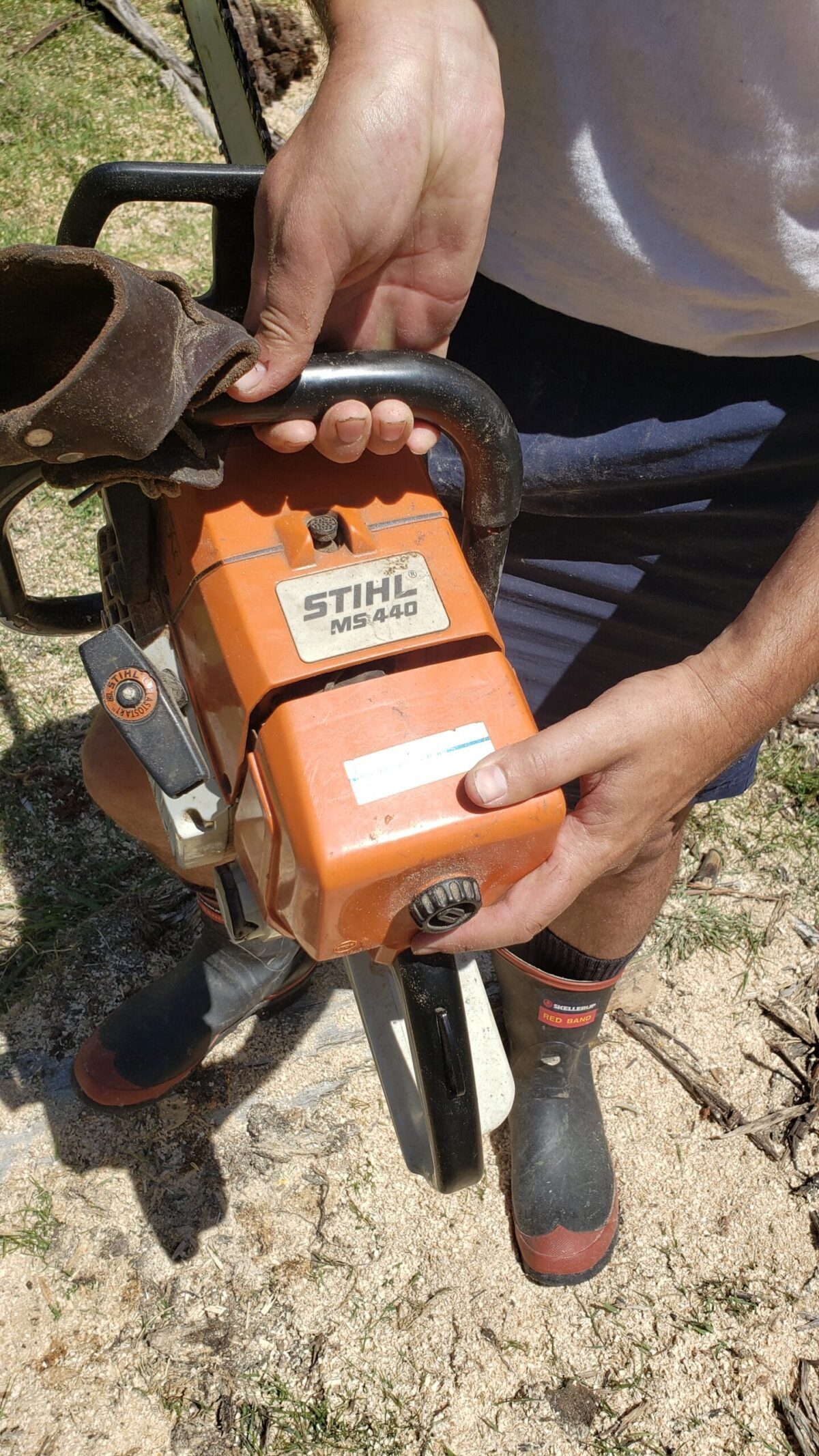 The MS440 is one of the popular Stihl chainsaws in the community.
It entered production in 2001, replacing the 044, and was discontinued in 2012 after being phased out with the introduction of the Stihl 441.
I've seen it described as 'a hog', 'a beast', 'a beauty', 'a bomb of a saw', and 'the best saw ever' – terms of endearment that are only reserved for the good saws.
This past weekend Tim (who owns the 440) and I were down in the gully cutting wood, and I must say, the saw rips!
We were working on an extremely dense variety of gum trees that was dropped over 8 years ago and was extra hard.
As you can imagine, it was nothing for the 440.
I didn't get any shots of the larger width logs we were ringing up, but they were twice as thick as what's shown above, and again, no problem for the saw.
As Tim told me, after 15 years of use she's just getting started, so there's no use thinking a saw like this is 'old' – so long as it's been looked after to a certain extent.
Stihl MS440 Specs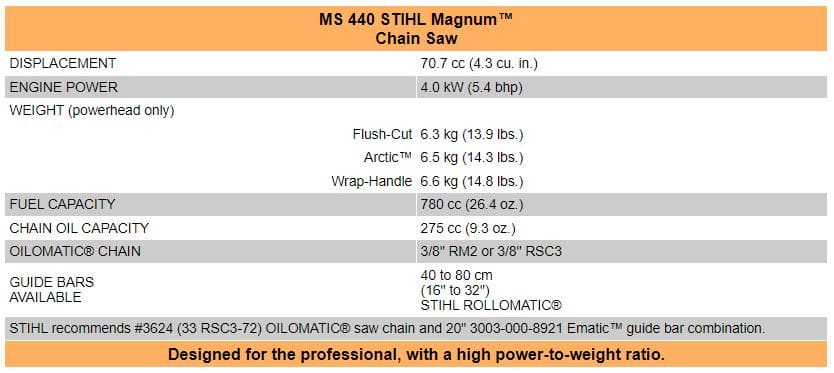 The MS440 was one of the world's best-selling professional saw.
It is a powerful all-around model for felling, bucking, and limbing. And, as mentioned above, it is (or was) great for thinning trees in forestry blocks.
Stihl MS440 Magnum specifications:
70.7 cc
5.4 hp
13.9 lbs
1.97″/50mm bore
1.42″/36mm stroke
It's recommended for use with 16″ to 32″ bars, but I've seen plenty of guys with ported 440s who go up to a 36″ – it's just not recommended by Stihl.
Stihl MS440 Features
Standard features of the MS440:
IntelliCarb compensating carburetor
Toolless fuel and oil caps with retainers
Magnesium casing
Decompression valve
ElastoStart starter handle
Automatic oiler (adjustable)
Side access chain tensioner
Heavy-duty air filter
And all the other usual features you'd expect to see on a saw produced at this time – anti-vibration system, chain catcher, bumper spikes, handguard, easy-access air filter, and so on.
The Stihl MS440 Artic version you might have noticed in the specs chart above (which weighs a bit more) is for use in much colder climates. This feature was designated with a VW.
The Artic designated saws are built with an automatic, electrically heated carburetor to help prevent icing in severe weather. They also feature electrically heated handles that you can turn on and off for comfort.
There was also a wrap handle version of the 440 with an extended chip deflector on the sprocket cover (designated with an R).
Price And Parts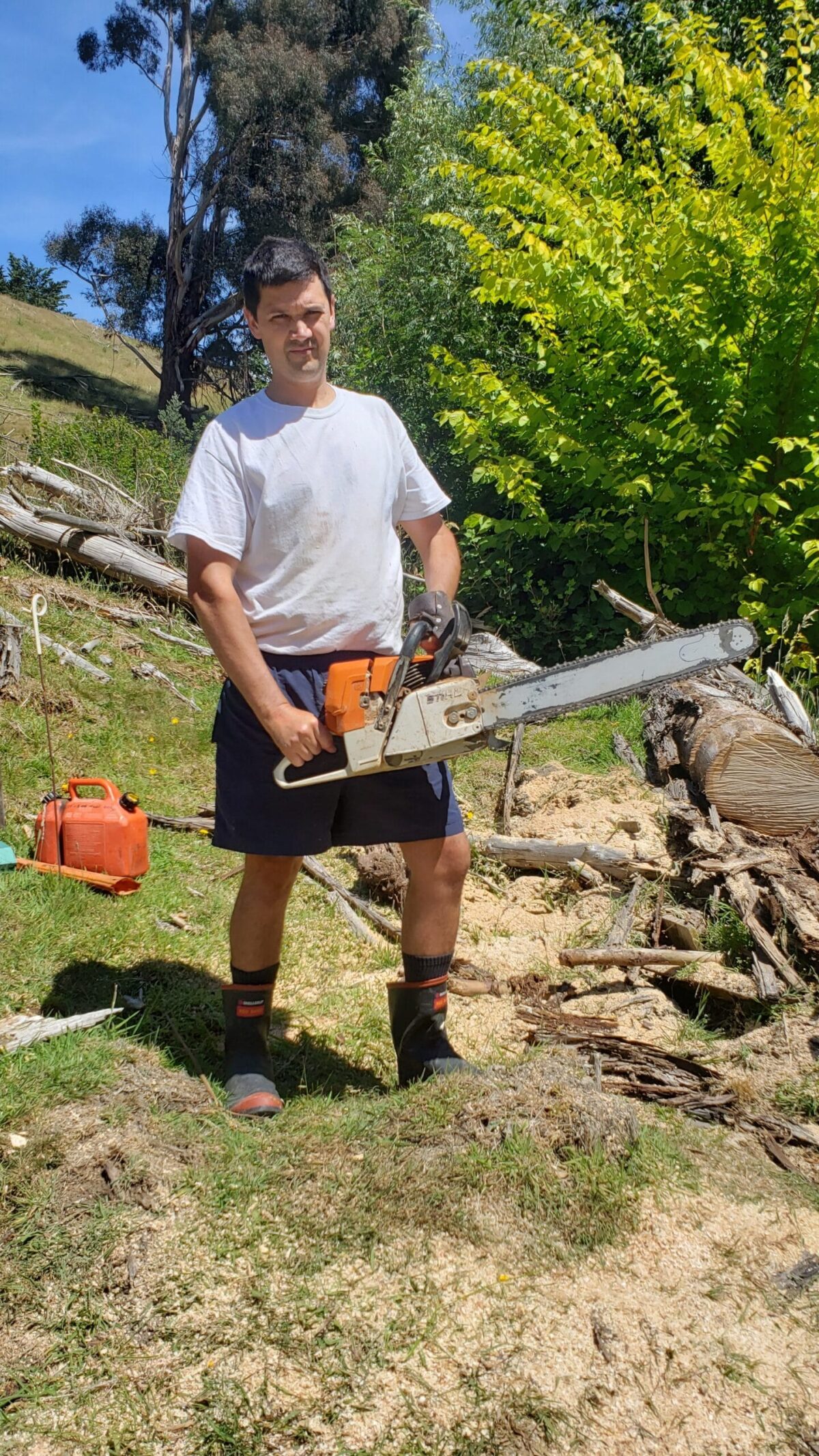 While you can no longer buy this saw new, if you've got your eye on one that's been listed on Facebook, eBay, or another online marketplace, it's worth picking up for the right price.
There are still plenty of used MS 440 chainsaws for sale out there.
As with all used goods, the price will depend on condition, location, and demand.
For example, on eBay at the time of writing, there's an entire 440 for parts listed for $147.50 or a 440 powerhead in good working condition going for $580.
Compare saws and parts prices:
Sometimes just asking in local chainsaw groups on Facebook can yield good results, whether you're after an entire working saw or a specific part.
Stihl MS440 Parts Diagram
This MS440 Magnum parts diagram comes from the manual which you can download here.
You will also find a lot of other information pertaining to maintenance and repairs, parts and controls, ordering spare parts, adjusting the carb, checking the spark plug, the air filter system, and all the rest.
If you do need a new spark plug, it takes a Bosch WSR 6 F, NGK BPRM 7 A, or a Champion RCJ 6 Y.
Stihl MS440 Review
You can see Corey's 440 review (from the Human YouTube Channel) in the video above which gives a great rundown of the entire saw.
Tim also loves his 440 that's featured in the images throughout this post.
He bought it new 15+ years ago and has been very happy with it.
The MS440 is a great mid-range professional chainsaw for those in forestry or those just wanting a powerful saw for firewood.
Pros:
Powerful
Well reviewed by those who have them
Plenty of parts out them for them
Cons:
And many will say it's good because it's not fuel injected like the MS500i.
The MS 440 Chainsaw
The 440 might not be Stihl's most powerful chainsaw, but it's right up there.
It's a saw that can be regularly used on thick hardwoods and will continue to perform well year after year.
If you're looking for a new mid-range professional chainsaw that you can buy today, the Stihl MS261 is a good option.
Let us know your thoughts, experiences, and any other comments on the 440 down below.