What is the ECHO CS-2511T like?
One of the newest chainsaw options from this brand, this Echo chainsaw offers unique features and a lightweight design that makes it perfect for a wide array of jobs.
It's a light-duty, gas-powered chainsaw that weighs under six pounds and is in the top handle range. While it's stated as being 'for tree professionals only,' don't let that put you off. For the right people, it's the perfect chainsaw.
Lightest ECHO Chainsaw
The Echo CS-2511 is a 25cc top handle chainsaw that's great for limbing and pruning.
It's well known for being the lightest gas chainsaw with a dry weight of under 6 pounds. It's a small chainsaw that is sold with either a 12 or 14-inch bar.
The CS2511T has been very well received by the chainsaw community and quickly became a favorite in the industry. If you need a small lightweight chainsaw, you can't get much better than the CS-2511T!
It doesn't matter if you have purchased a chainsaw before or if this is your first one; there are more than a few options to consider.
When trying to find the right chainsaw, here are a few factors to consider.
Purpose of the Chainsaw
What are you using the chainsaw for?
If you need it for light trimming and pruning around the home, an electric saw or battery chainsaw might be sufficient.
However, if you plan to limb larger branches in a wooded area, a gas-powered saw like the Echo CS-2511T is a smart option.
Engine Size
Engines for gas-powered chainsaws are measured in cubic centimeters or ccs.
The higher the CC, the more power generated by the machine, but the more power it has, the heavier it will be.
At 25ccs, the CS2511 top handle chainsaw is a comparatively low-powered chainsaw. It's made for working in trees so you don't want it to be too powerful as that adds weight.
The ECHO CS-310 is slightly higher powered at 30ccs, but it's heavier and not a top handle chainsaw.
Guide Bar Size
The guide bar size is measured from the tip to the point where it comes from the saw powerhead. This is the actual cutting length that you have.
Most chainsaws range from 12 to 24 inches, but climbing chainsaws are best at 10 – 14 inches. The CS-2511 is usually sold with a 12 or 14″ bar.
Portability
You should consider where you will use the chainsaw.
For example, having something portable is recommended if you will be in a wooded area. As already stated, this is the lightest top handle chainsaw, and indeed, one of the lightest gas chainsaws full stop.
Echo CS-2511T Specs
The Echo CS-2511T is designed with an innovative top-mounted bar oiler.
Most chainsaws are designed with this at the saw's base, but the top mounting feature makes it easier to access. It also helps prevent the oil adjustment screw from being clogged.
While using the chainsaw, it is simple to adjust the flow rate by adjusting the bar oiler. Also, the oiler will only operate as the chain moves, which will help save oil while preventing it from collecting under the saw while it is idling.
The saw also has a textured grip and improved ergonomics. The side-access chain tensioner makes it easy to adjust the tension, and the spring-assisted starter reduces the effort you have to use to start the saw.
Specs:
25cc professional-grade, two-stroke engine
1.5 horsepower
A dry weight of 5.2 pounds
Automatic and adjustable oiling system
Bar length options of 12″ and 14″
Plastic handle
CS-2511T Features & Benefits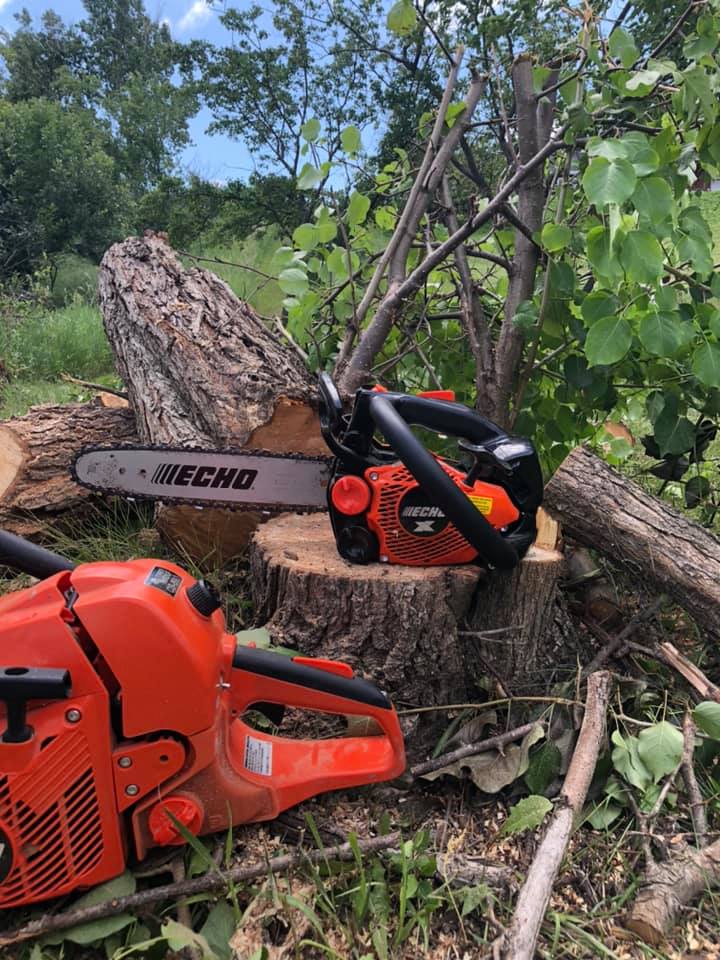 The features of the CS-2511T chainsaw include:
Dual-post chain brake for superior durability
Clutch-driven adjustable oiler (the oiler only operates when the chain moves)
Fine grid starter to help prevent the ingestion of debris
G-Force engine air pre-cleaner to extend filter life
Textured grip for improved control
Easy starting thanks to choke and automatic fast idle
Side-access chain tensioner
It's really everything you need in a lightweight arborist chainsaw.
ECHO CS-2511T Chainsaw Review
After watching this unboxing and first cuts video from Human, check out his muffler mod video here.
Now it's time to get into the details of this chainsaw and why it may (or may not) be right for you.
Overall, it's a very good saw that takes well to modifications.
Because it is so lightweight it's easy to use for arboreal work or just to have on hand in the truck.
It's not a hassle to carry around the farm on the 4-wheeler or tractor (check out the SawHaul tractor scabbard).
Pros
Less fuel required
Lightweight
Capacity to run for long periods of time
Durable and powerful
Easily plug and replace the filter
Simple to use
Anti-vibration handles
Cons
Chain brake height is lower than on other Echo brand chainsaws
Fuel and engine oil tanks may leak (common with many saws)
If you need a chainsaw for heavily wooded areas that you can easily take from location to location, then the Echo CS-2511T is a smart option. While a few issues must be dealt with, they are minimal compared to some of the other chainsaws offered by this brand.
ECHO CS-2511T Price Comparison
Where can you buy the ECHO CS-2511T online?
Compare prices:
Shop around to get the best price – remember to compare like with like and double-check the bar length.
CS-2511 T Alternatives

If you are searching for an alternative to the Echo CS-2511T chainsaw, you can consider a few options.
1. Echo CS-271T 12″ Chainsaw
This is another gas-powered ECHO chainsaw.
It is also a smart option for anyone with a wooded area that may need a powerful saw to handle both big and small areas.
Comparison to the Echo CS-2511T:
Heavier at 11 lbs.
12″ bar only
Slightly less expensive
Check out this option if you are searching for a chainsaw that can handle bigger jobs.
---
2. Husqvarna T435 14″ Chainsaw
Another powerful option to consider is the Husqvarna T435 14″ chainsaw.
Ideal for use on the ground or in a sky lift, the lightweight design and balanced body make it easy to work with.
Comparison to the Echo CS-2511T:
Slightly longer cutting size
Offers better-balanced body
Automatic stop switch for safety
This is a smart option if you are looking for a slightly more powerful machine with a longer-cutting blade.
Complete review of the Husqvarna T435 for more information.
---
3. Makita XCU08Z Top Handle Chainsaw
This Makita chainsaw is considered a superior option for many applications like trimming and pruning.
It offers low noise to maximize operator comfort and doesn't use gas, which means no emissions or mixing. However, it is not as heavy-duty as the other options found here.
Comparison to the Echo CS-2511T:
Electric operation
14-inch bar
25% faster cutting than the CS-2511T
Uses batteries for operation
If you are looking for an option for smaller jobs around your house, it's a good idea to check out this chainsaw.
See our complete gas and battery-powered Makita chainsaw review for more info and options.
---
Echo 2511T FAQs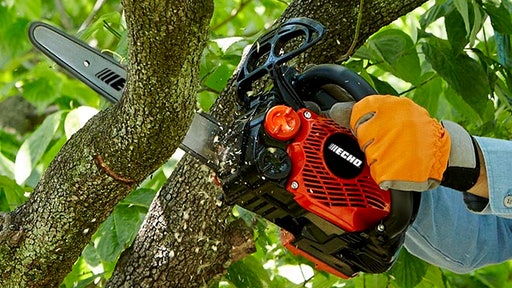 Is the CS-2511T Echo's best top handle chainsaw?
Yes. It delivers a compact size and generous power.
It will provide you with the high levels of productivity and efficiency you need from your chainsaw.
What size bar does the CS-2511T come with?
It is designed with a 12″ or 14″ bar.
These options are available from the Echo brand.
What type of chain comes with the CS-2511T?
The CS-2511T chainsaw from Echo comes with a 91PXL chain.
Is the CS-2511T good for climbing up trees with?
The CS-2511T from Echo is small and lightweight.
It also offers superior cutting power, making it a great option for climbing up trees.
ECHO CS2511T Chainsaw
If you are searching for a quality chainsaw that can handle almost any small job, then the Echo CS-2511T chainsaw is a great option.
It is durable, lightweight, and designed to handle the job at hand.
While there are alternatives, this product will properly handle what you need to do. Are you ready to see for yourself?
If so, check out the Echo CS-2511T chainsaw for yourself. You won't be disappointed with the superior quality and abilities this tool offers.
Another good ECHO chainsaw is the CS-400 – it's a 40cc chainsaw for those wanting a bit more power.