Are Ozito Chainsaws any good?
I've tried and tested a few Ozito Chainsaw models and I own the saw pictured throughout this post. This is a brand that's sold by Bunnings in Australia and New Zealand. There are petrol, battery, and electric models for sale.
My petrol Ozito Chainsaw was one of the first saws I ever bought and I used it a lot for a few months before upgrading to a better, more-powerful saw (a Husqvarna 450), but the Ozito wasn't a bad saw for the price. I think I paid about NZ$120 (AUS$112, US$74) for my 41 cc saw.
If you're looking for a cheap chainsaw in Australia or New Zealand that's not going to break on you the first day, I think the Ozito saws are worth it. I know quite a few other guys who have had good luck with them as well. They're not pro saws, so you can't expect too much from them, but they are pretty good regardless.
My Ozito had been sitting completely unused for about 2 – 3 years until I picked it up the other day and tried to start it. It wasn't stored properly and still had old fuel in it, but, surprisingly, it came to life immediately. Not bad for such a cheap saw. Here's a bit more info on the Ozito brand and range, along with what you can expect them to do for you.
Ozito Chainsaws
My petrol Ozito chainsaw is the model PCS-406B – the model names are not quite as memorable as other chainsaw brands.
It has all the details on the side:
2-stroke, 41 cc, 1.5 kW, 2 hp engine
Idle speed of 3,300 rpm; max speed of 11,000 rpm
16-inch (406mm) bar
3/8″ chain pitch; .050 chain gauge
Fuel ratio 40/1 fuel oil
Made in China
And at 41 ccs, it's big enough to do more than just pruning and light clean-up. I've used it to section up some decent-sized logs and it was happy to do so.
The Ozito saws are easy to use, even for complete beginners as I was when I first got it. It always started immediately – you can see it had an on/off switch, pull-out choke, and primer bulb – and it never gave me any problems.
I only upgraded to the larger homeowner saw because it's faster, had more torque, and has a longer bar on it. Also, Ozito isn't the most prestigious chainsaw brand, and you need to be able to tell the guys you've got more than that, especially when you're in a chainsaw-loving community like I am!
Ozito Petrol Vs Battery Vs Electric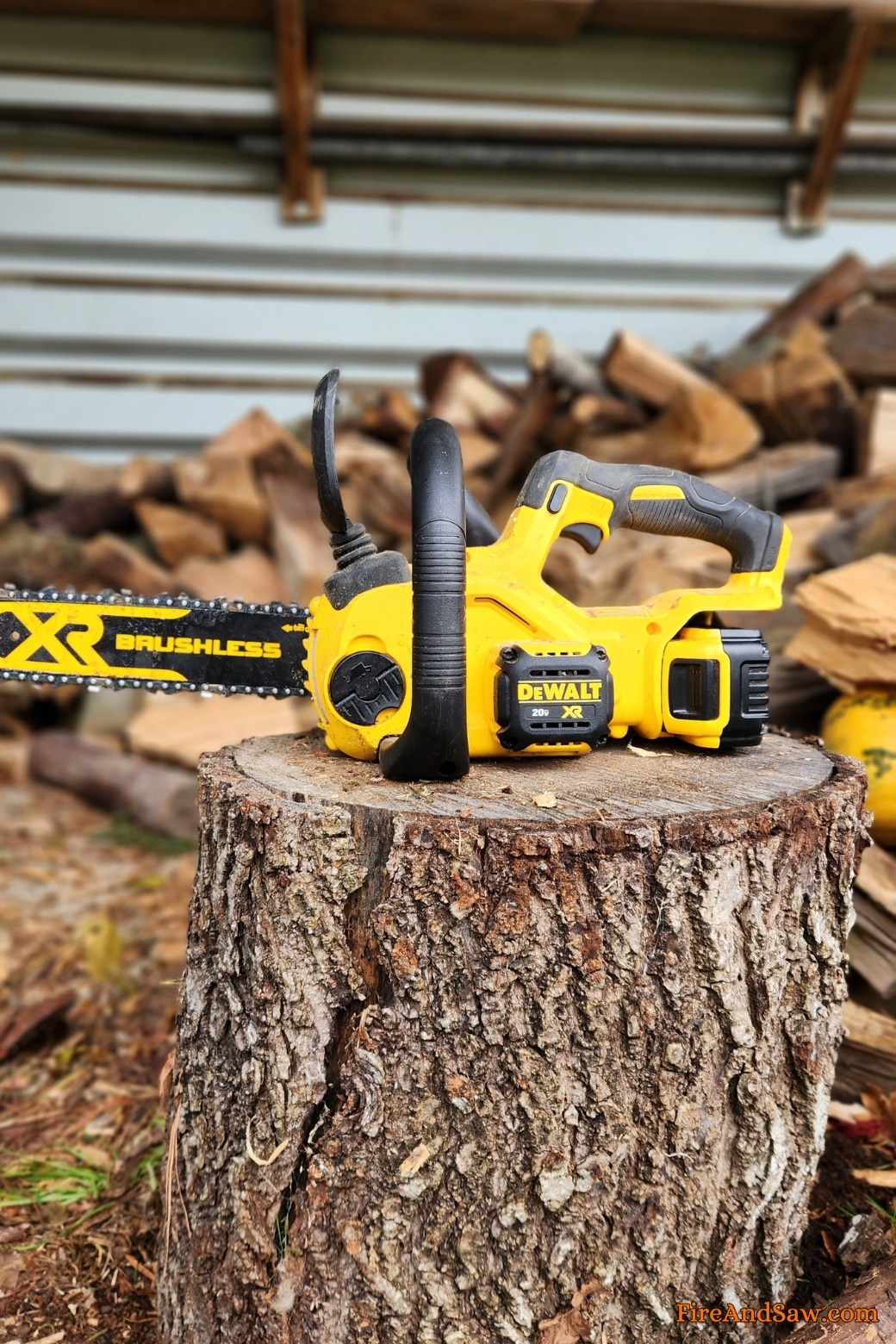 When I need a small chainsaw for a quick and easy job, I always turn to my battery-powered chainsaw (the 18v/20v DEWALT).
I first purchased the petrol chainsaw because I knew I'd be using it further away from the house down in the paddocks a 10-minute walk away. Plus, most battery saws don't really get beyond 30 – 35 cc equivalent which is often not powerful enough.
If you are wanting to prune branches close to home, not use the saw for longer than 20 minutes at a time, and not do anything too demanding, a battery or electric saw will be suitable. But if you're going to be working over longer periods and want to do more than cut up 5-inch branches, petrol is better.
Ozito has a couple of battery-powered chainsaws:
18v Ozito PXCCSK-418 – cordless saw with 10″ bar and battery (PXCCSS-018 is the same saw without the battery)
2 x 18v Ozito PXCCSS-0182 – takes to batteries for additional power (36v) and comes with 14″ bar
And a couple of corded electric chainsaws:
1900W Ozito ECS-1935 – 14-inch/35.6 cm bar
2000W Ozito ECS-2000 – 16-inch/40 cm bar
And I think they only sell two gas saws now. Firstly, the 25.4 cc PCS-305A with a 10-inch bar. It's a small top-handle chainsaw that's good for garden pruning and for use in trees (if you know what you're doing). With such a small bar it's really a mini chainsaw, and I think some people do call it the Ozito Mini Chainsaw.
And then secondly there is the PCS-406B – that's the chainsaw that I have. It's a 41cc, 2 hp chainsaw with a 16-inch bar and it comes with an Oregon bar and chain, unlike the other Ozito chainsaws.
Battery and electric saws are good when you don't want to bother with mixing fuel and oil, though you've still got to deal with batteries and cords, of course!
Ozito Chainsaw Review
I think there are worse chainsaws out there than these Ozito saws. They are made cheaper and sold cheaper than the likes of ECHO, Husqvarna, or STIHL, but lots of people only need something cheap and small for very occasional tasks.
My Ozito Chainsaw was so cheap I really didn't expect it to perform well or last long, and it really did outperform and outlast my low expectations. I bought another cheap chainsaw from Mitre 10 before I bought the Ozito. It was a McCulloch and I think it cost around $300. However, the pull-string snapped on that literally the second time I started it! The much cheaper Ozito has done A LOT better than that.
I think the Ozito saws cost a bit more now than when I bought mine a few years ago, but I'm sure you will still get something worth the money. It's not a Stihl MS 261 or a Husqvarna 372 XP – popular pro saws – but for $100 – $200 you get an alright chainsaw.
Pros:
Very cheap chainsaws that seem to perform well for the money
Really easy to use for beginners – both the gas, battery, and electric models
Different chainsaw sizes to choose from for yardwork level work
Cons:
Some chainsaws may have problems sooner than a "better" brand (not that I've heard of this with Ozito)
Parts will be harder to find if you need to do repairs than if you go with more popular chainsaws
If you're using it with a group of others they are sure to look down on your Ozito saw (lol)
Box Store Chainsaws
Most box store chainsaw brands are OK when you use them as they're designed to be used and it's important not to think you'll feel a forest with them. As with everything, you get what you pay for.
There are other brands that will be sitting next to Ozito in Bunnings – Makita chainsaws, EGO chainsaws, and Ryobi chainsaws, among others – but if you want to spend as little as possible, I'd say give Ozito a go. If you get a dud chainsaw, just take it back – Bunnings is usually very good about that sort of thing.
If you've bought or used an Ozito Chainsaw, let us know your thoughts and experiences down below!