What is the best chainsaw?
The truth is that there are a lot of really good chainsaws out there. It really all depends on your budget and the work you want to do with it.
I personally have about 5 homeowner chainsaws. You can see them pictured above or you can see them in the Instagram video just below.
I have a 50cc Husqvarna, a 35cc Stihl, a 60cc McCulloch, and the DEWALT 20v MAX XR, among others. I really like them all and they all get used for different tasks.
In this round-up, I've added 13 different chainsaws that are really good all-rounders in the gas, battery, and electric categories. They would suit any homeowner taking on light to medium-duty tasks.
I want you to find the best chainsaw for you, so please feel free to ask any questions in the comments or get in touch via our contact form.
Best Chainsaw Reviews
Husqvarna 460 Rancher

The biggest non-pro husqvarna chainsaw
60 cc, 3.6 hp, 18 - 24" bar
More power, higher performance

View On AmazonView On Tractor Supply

Stihl MS250

Best Stihl chainsaw for the money
45 cc, 3 hp, 18" bar
Affordable, lightweight, durable

View On Northern ToolView On Ace Hardware

ECHO Timber Wolf

Powerful ECHO chainsaw
59 cc, 3.9 hp, 18 - 20" bar
Cheaper than Stihl or Husky

View On AmazonView On Home Depot

DEWALT MAX XR

Best battery powered chainsaw
20v, 5 Ah; 12 inch bar
Top selling chainsaw, efficient brushless motor

View On AmazonView On Walmart

Oregon CS1500

Best corded electric
15 Amp; 18 inch bar
self-sharpening, quiet, fume free

View On AmazonView On Northern Tool
Chainsaw reviews shouldn't be absolute.
There is no single best chainsaw for everyone, that's why there are so many chainsaws out there. And, you'll have noticed that these are not professional saws. See this list for a round-up of pro-saws.
Here's a bit more info about my 5 or 6 chainsaws in this video.
You should always start the chainsaw buying process by comparing chainsaws and seeing which is best for your specific lifestyle and application.
There are always trade-offs to account for when considering one over another.
I've used dozens of different chainsaws over the past year (besides the chainsaws I own myself) and have found they all have their pros and cons.
Each of the chainsaws I've shared here is really good in its own class. However, there are so many good saws out there that as long as you're going with a trusted brand, you shouldn't go wrong.
Take one look at the list and you'll see I'm a big Husqvarna chainsaw fan.
Huskys are one of my favorite chainsaw brands, but they do cost a little more, and not everyone needs a high-powered chainsaw.
This chainsaw comparison will help you figure out which is the best for you.
Remember, the best chainsaw for you will depend on:
How often you plan on using it
What you want to do with it
Your budget
Small and mini chainsaws are another good option if these chainsaws are too big for what you need.
1. Husqvarna 460 Rancher: Top Rated Chainsaw
VIEW ON AMAZON →
Chain Bar Length: 24 inches
Power Source: Gas
Weight: 14.5 pounds
The Husqvarna 24 Inch 460R is a serious workhorse with 3.62 horsepower.
If you need a powerful saw for clearing land or cutting up many cords of firewood, this is the best chainsaw before you go pro.
It features an automatic chain oiler to keep the bar and chain well-oiled during use. That's a convenient feature that is also a safety enhancement. A poorly lubricated chain or bar could lead to breakage and potential injury to the operator.
It has an integrated, inertia-activated safety brake to stop the chain when not cutting and a side-mounted tensioning system for quick chain adjustments in the field.
The 460 Rancher has a quick-release air filter for easy cleanings or replacement, and while you need a tool to adjust the chain, you can access the side-mounted tensioner easily for quick adjustments.
At its heart is a 60.3cc two-stroke engine. So, you will need to mix two-cycle oil with your gasoline or purchase premixed fuel. It features a long 24" bar for cutting huge logs.
This saw is heavy at 14.5 pounds, a bit expensive, and very noisy. But, it can handle just about any cutting you need to do as a homeowner or rancher. It is the best gas chainsaw.
I have the 450 Rancher, but more on that chainsaw below.
Pros
Automatic chain oiler
Comprehensive safety assurances
Ergonomic features for added comfort
Cons
---
2. DEWALT 20V MAX XR Chainsaw: Best Battery Chainsaw
Chain Bar Length: 12 inches
Power Source: Battery
Weight: 8.8 pounds
The DeWalt 20V MAX XR Chainsaw draws power from a 20 volt, 5 Ah battery (can be bought with or without the battery).
The battery itself is interchangeable with all the other DeWalt 20V Max tools, so if you have other DeWalt tools in your arsenal, you can easily swap batteries as needed to keep this saw running.
But, you won't have to worry too much about doing so because the MAC XR is capable of making up to 90 cuts on a single charge of its high-capacity battery.
I personally own this saw and I've had a lot of fun with it. It's great for pruning trees and branches.
I even climbed a tree and almost took the whole thing down with this saw alone. I just had to use the Husky 450 to finish off the last 5 or 6 rounds of the trunk which was too thick.
But overall, the DEWALT battery saws are really good and I highly recommend them.
It features:
A tool-free chain tensioning system,
An automatic chain and bar oiler
Weighs less than nine pounds
This saw's 12" bar perfectly matches its power. It will breeze through smaller logs.
While it may take some time to complete bigger cuts, logs up to 10" in diameter are no match for the MAX XR.
If you're a gas chainsaw devotee, you may be pleasantly surprised at just how powerful this battery saw is. It also has a 90-day money-back guarantee, so don't be afraid to give it a shot.
Also, consider the more powerful FLEXVOLT in our DEWALT Chainsaw review.
Pros
Very lightweight
Pleasantly powerful
Long-lasting battery
Cons
Shorter chain
Extra batteries expensive
---
3. Husqvarna 445 Gas Chainsaw: Best Chainsaw for Home Use
14 – 18 inch chain (sold with 18″)
Gas-powered 45cc, 2.8hp engine
Weight 11.2 lbs
The Husqvarna 445 is another really good Husky chainsaw with a bit less power than the 460 I shared above.
There are the other Husqvarna Rancher chainsaws, of course, the 450 and the 455, and the 445 is another step below them. While I really like the Rancher series (and have the 450 myself), the 445 is good for those not wanting quite as much power.
This saw can certainly be used for cutting down small trees, bucking firewood, and pruning branches around the home and hobby farm.
It's sold with an 18″ bar, but runs a lot better with a 16″. This gives it a bit more power as it's not trying to pull so much.
This saw is also a good one to have on hand for storm clean-up and just as a backup for when surprises happen.
Pros:
Cheap but good
Powerful enough for a range of tasks
Well-built and durable
Top rated and reviewed
Parts are easy to find
Easy to find service techs
Cons:
Won't be powerful enough for some
Not as well built as a pro-saw (but that's not what you're looking for
---
4. EGO Power+ CS1604: Quality Pruning Saw
Chain Bar Length: 16″ bar
Power Source: Battery
Weight: 8.9 lbs (without battery)
This 56v EGO Battery Powered Chainsaw is another ultra-popular and well-built device.
If you already have tools in the EGO power tool range, it usually makes sense to just buy the other tools that work with your existing batteries.
But, this EGO saw is genuinely good as well. There's a reason it's another of Amazon's best-selling chainsaws.
It's lightweight, really easy to use, and it's good a cutting, an important feature of chainsaws, right?!
What I really like about battery saws is that they're so quiet. There's no engine idling during cuts, and during cuts, it's only half as loud as a gas saw.
Also, you don't have to struggle to start them. It's just a matter of making sure your battery is charged and then pulling the trigger.
There really are a lot of benefits to battery saws such as the EGO range if all you're doing is light clean-up and other yard work.
Pros:
Really light
Quiet and easy to use
No gas fumes
Compatible batteries with other EGO tools
Not expensive (especially if you don't need batteries as well)
Cons:
Not as good for working away from home unless you have multiple batteries
Not really for processing firewood, unless it's thin stuff
---
5. Stihl MS250 Chainsaw: Premium Quality Saw
18-inch chainsaw bar
Gas Powered 3hp, 45cc engine
13 lbs
The Stihl MS 250 is a really good homeowner chainsaw for the money.
Stihl is arguably the best chainsaw brand (though Husqvarna is right up there), so you do have to pay a bit more for quality. However, generally speaking, Stihl saws last a lot longer than comparable saws from other brands.
The only downside to Stihl saws is that you can't buy them online – you have to go to one of their dealers. You can check out all the specs and features online, but you will need to go and pick it up yourself.
This chainsaw has all of the standard Stihl features like electronic ignition, low-vide handle, and side-access chain tensioner which make using it comfortable and even enjoyable.
The 250 is another good all-rounder for the home, but if you want to get a good all-around pro saw, check out the MS261.
Pros:
Quality components and manufacture
Powerful chainsaws that last for years (or decades)
Well-built and enjoyable to use
Easy to find both OEM and aftermarket parts
Great dealership network for support
Cons:
The most expensive chainsaws
---
6. Husqvarna 120II Gas Chainsaw: Very Cheap
Chain Bar Length: 14 – 16 inches
Gas 3.5hp 38cc engine
Weight: 10.7 pounds
Husqvarna is among the top chainsaw manufacturers globally, so it's no surprise a few of their models made our list.
The 120 Mark II Gas Chainsaw is lighter, easier to maneuver, and features a smaller bar than the previous two models we've shared here.
However, it still comes with the same high-end features you would expect on a premium saw, like a chain tensioning system, inertia-activated brake, and an automatic chain oiler.
This saw would be ideal for a homeowner who needs to do some cutting around their property but doesn't need something quite as powerful or as big of a bar.
It is still competent, but it is unlikely to handle the rigors of professional work like clear-cutting projects or heavy-duty jobs.
This saw is ideal if you have occasional firewood to cut down to size and some small and medium trees to cut down.
Another bonus is that its lighter weight makes it accessible to more users than some heavier saws. Older folk really like this saw, though the battery models above are even lighter.
It is about 13.5 pounds, with a 38.2cc two-cycle motor that makes about two horsepower. It's about half the price of the 460R.
It still has the drawback of the noisy, dirty operation of a two-stroke gasoline motor. You may even have to adjust the carburetor or bring it to a professional if you can't do so yourself.
But for a homeowner who needs a rugged and reliable gas chainsaw, look no further than the Husqvarna 120II or consider the battery-powered 120i.
Pros
Quality safety features
Lighter weight
Easy to maneuver
Very affordable
Cons
---
7. Milwaukee M18 Chainsaw: Powerful Battery Saw
16″ bar
Battery powered
Weight: 13.9 pounds
The Milwaukee Fuel M18 is yet another excellent homeowner chainsaw for DIY yard work, tree pruning, and clean-up.
It's part of the M18 line of battery-powered tools from Milwaukee, so again, if you already have the batteries and don't want a gas chainsaw, this would be the obvious choice.
It's a little bit heavy compared to other chainsaws, but it's also known for being a bit more heavy-duty. It is powerful enough to be used for bucking small logs and is also popular on construction sites for cutting lumber.
As with most (or all) battery saws, the M18 can be bought as part of a kit with a battery or as the bare tool.
Pros:
Use the batteries with other M18 tools
Well-built and designed to perform well
A trusted brand
Cons:
Too heavy for some people
Not as compact and maneuverable as other battery saws
---
8. Husqvarna 450 Rancher: Good For Begginers
16 – 20″ bar
Gas-powered 50cc engine
Weight: 14 lbs
While we've already got a lot of Husky chainsaw on the list, I just had to add the 450R in as well.
It's another one of the chainsaws that I personally own and use frequently.
For me, it's been a really good firewood chainsaw, even for use with hardwoods that have been down for a long time.
You can see some of the jobs it's capable of in my 450R review, but it really does punch above its weight.
Knowing what I know now, I would probably have gone with the 460 Rancher instead, as it's got a bit more power, but for the price, the 450 is great.
It's a really nice mid-range chainsaw that doesn't cost a whole lot.
Also, it's really durable and I expect it to last a long time. I've already had mine for almost 4 years, and it does get used a lot.
There haven't been any problems with it at all and so for that reason, I can whole-heartedly recommend it to you – if you're after a good 50cc saw that is!
The only issue is that because it isn't more powerful, it's a bit slow on some of the thicker logs I put it through.
Pros:
Runs really well
Lasts forever with the right maintenance and care
Hasn't given me any issues with repairs or breakages
Tough and hard-wearing
Cons:
A bit slow through tough wood
---
9. Craftsman 42cc Saw: Cheap Gas Chainsaw
Chain Bar Length: 16 inches
Power Source: Gas
Weight: 21.6 pounds
The Craftsman S165 gas chainsaw is much less expensive than some of the other gas-powered saws in this review.
But, it has plenty of power and comes with features that may surprise you to see on a relatively budget-friendly tool.
The 42cc two-cycle engine is a high-output motor, but finding specs about its total horsepower proved difficult. That's probably because this saw is a little bit underpowered for one with a 16" bar. It's likely to get bogged down when making bigger cuts.
But don't be surprised if this saw ends up handling bigger jobs than you thought it could. It is ready to work with an automatic and adjustable chain and bar oiler.
You can dial in the right amount of oil so that you keep the chain and bar well-lubricated without making a mess.
The side-mounted chain tensioner does require a tool. But, you have tool-less access to the spark plug and the air filter for easy field maintenance.
All in all, this is one of the best Craftsman chainsaws for homeowners on a tight budget and is a good alternative to Stihl or Husqvarna chainsaws.
Pros
Easy to startup
Low kickback
Cushioned handle for reduced vibration
Cons
Not as strong as other models
---
10. Husqvarna 536Li XP: Premium Battery Powered Chainsaw
Chain Bar Length: 14 inches
Power Source: Battery
Weight: 5 pounds
The Husqvarna 536Li XP is a 36-volt battery-powered chainsaw.
Loaded with features, you would expect to see on a saw from a premium manufacturer like Husqvarna; this saw does not disappoint.
It is about five pounds, so it's pretty lightweight for a powerful chainsaw, though is best with a 14″ bar. This makes it best for light tree work.
It is quite expensive, especially since it ships without a charger or battery that requires a separate purchase.
The Husqvarna brand is one of the most recognizable in the world of chainsaws. They claim that this saw's battery allows it to run just as long as a tank of gas would on a gasoline-powered saw.
It also features an inertia-activated chain break for reduced risk of injury from kickbacks and built-in eyelets for attaching a rope to the saw if you need to climb with it.
It's no Stihl MS200T, but a good battery alternative nonetheless.
Pros
Powerful despite battery
Good safety features
Runs a long time on one charge
Cons
Battery and charger not included
---
11. Black & Decker Cordless Chainsaw: Lightweight Saw
Chain Bar Length: 10 inches
Power Source: Battery
Weight: 7 pounds
The Black & Decker Cordless Chainsaw is small and weighs only about seven pounds.
That makes it a top chain saw for quick cuts around your property, and it's lightweight enough that it can be used by pretty much anyone.
It features a tool-less chain tensioner, so all you have to do is turn a knob to adjust the chain tension. But, you will need to use the built-in manual oiling system to keep the chain and bar well-lubricated.
That's not a big drawback, though, because all you have to do is keep the reservoir full and press the lubricating bulb a few times when needed to dispense oil onto the bar and chain.
This model builds on the success of a previous version with an 18V battery.
The new 20V 2 Ah battery is more powerful and lasts quite a bit longer. But, it doesn't have the capacity of some heavier-duty batteries that can run longer without being recharged.
For bigger jobs, you may need a couple of batteries to rotate.
Are you cutting down a thick rose bush? No problem.
Cutting down a whole stand of small saplings? Easy.
But if you're going to be cutting up to ten cords of firewood or trying to bring down a colossal ash tree infested with the emerald ash borer insect, you're barking up the wrong tree with this smaller saw.
Keeping its limitations in mind, we strongly recommend this easy-to-use saw for homeowners.
It packs more than enough power for most jobs you will encounter, and it's lightweight, so it will take less of a toll on you to use it.
Pros
Lightest of all the chainsaws on this list
Easy-adjust tensioner
Smooth to handle
Cons
---
12. Oregon CS1500 Electric Chainsaw: Best Corded Chainsaw
Chain Bar Length: 18 inches
Power Source: Electric
Weight: 12.9 pounds
The Oregon CS1500 18 Inch Chainsaw is a serious tool for homeowners who wants to use electric power instead of gas for their saw.
Like most everything offered from Oregon, it has excellent ergonomics and thoughtful engineering on board. For instance, the molded grips are comfortable in your hand and durable enough to stand up to hard use.
The trigger is large and easy to activate, unlike some machines where you have to hold them just right to use them. You can also make chain tension adjustments without the need for any tools.
The Oregon CS1500 weighs less than 13 pounds, and features a 15 amp motor, an 18" bar, and an automatic oil reservoir for keeping things well-lubricated, with a viewing glass so you can quickly check the level of your bar oil.
Plus, it is quiet, and since it's electric, it makes zero emissions during use. It also doesn't require any dirty two-cycle oil or as much maintenance as even the best gas-powered saws.
The downside is that the saw needs an electric cord during use, tethering you to it. And, the saw lacks the power to complete massive jobs. But, it has one feature that makes it stand out from the pack: an automatic chain sharpener.
Pull the lever for a few seconds, and your dull chain returns to like-new sharpness. That is a gamechanger for any homeowner.
Out of all the electric corded saws, Oregon chainsaws are a great choice (also check out Oregon chainsaw sharpeners).
Pros
Quiet to use
Zero emissions
Automatic chain sharpener
Cons
---
13. Kimo Mini Chainsaw: Best Mini Chainsaw
Chain Bar Length: 6-inch (can be used with 4″ as well)
Battery-powered
Weight: 3.1 lbs
The KIMO Mini Chainsaw is our best-selling model in this range.
I personally have 3 mini chainsaws which are all very similar and also very good, but the KIMO model is always rated the best for some reason.
I own the Denqir mini saw, the ORHFS mini saw, and the ASJMREYE mini saw, and they're all really good. Obviously, they're not top-of-the-line models, but they do the job well.
Most of these saws come with 2 batteries, spare chains, sometimes an extra bar or a different size (like a 4 and 6-inch), tools for tightening the bar, and maybe some chain lubricant.
Mini saws are great for pruning branches – I use mine all the time. It's so much easier grabbing an electric saw and quickly cutting a branch rather than using a hand saw, which is sometimes the only alternative.
And for small jobs, you don't want to be starting up a full-sized chainsaw, and this is the space that these little saws excel in.
Pros:
Good for very light small branches
Excellent pruning saws
Often very cheap
Usually come with two batteries so there's no downtime
Usually come with multiple chains
Cons:
Not as good as the premium mini saw models like the Milwaukee M12 or the Stihl GTA26
---
Gas Chainsaws
Gas chainsaws are the undisputed king of the lumber world.
Their chain cuts the smoothest, they have the most power, and they offer the cordless freedom to roam wherever needed. They are also probably the most versatile.
But, they are also big, heavy, noisy, and require regular maintenance. If you are inexperienced with small motors and outdoor gasoline-powered tools, they might be a bit overwhelming for a novice.
Gas chainsaw engines are measured by their displacement using cubic centimeters (CCs). For instance, the Craftsman S165's 42cc motor is bigger than that of the 38cc Husqvarna 120 II.
An engine's displacement has a direct effect on its power. Typically the bigger the motor, the more power it has.
That's where the term horsepower comes in. The more horsepower a saw has, the faster it can spin its chain, which means you can do more cutting in less time than with a less powerful saw.
Benefits of gas saws include:
You don't have to wait for batteries to charge
Just fill-up the gas tank and carry on
More freedom to go into the woods
Gas saws are a lot more powerful
Easier to work on and repair gas saws
Battery Operated Chainsaws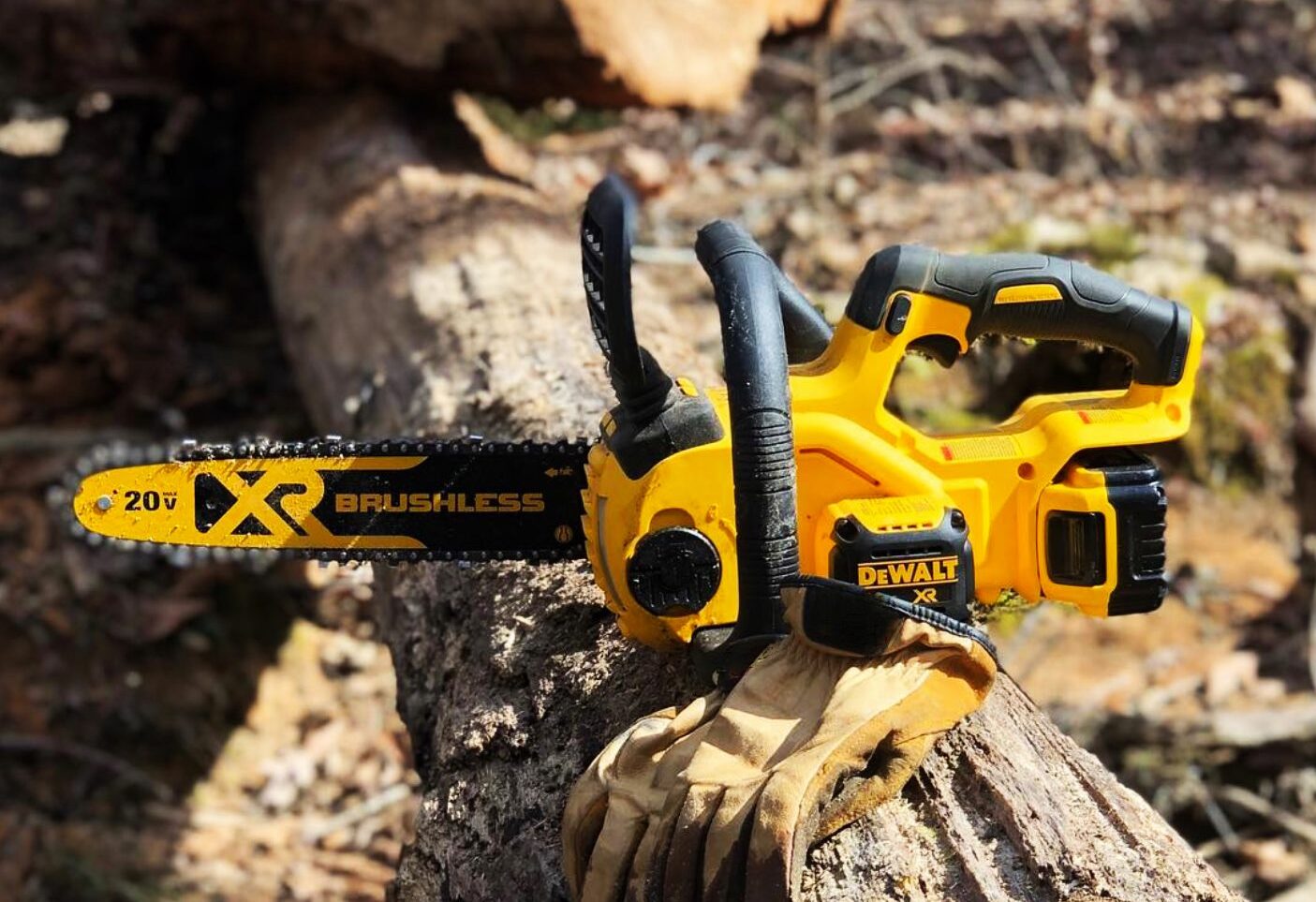 Battery chainsaws also offer freedom of movement.
They don't usually have as much power as gas, and they're limited by having to recharge batteries.
That might mean you'll need to buy additional batteries so you can rotate them from working to charging to keep the chainsaw running. But, they are almost silent compared to their gas counterparts, and they are very lightweight.
They are often the most appropriate choice for homeowners who won't be using them often, as they require next to no maintenance. It's hard not to like the portability and ease with which you can use a battery-operated chainsaw.
As already stated, I like how quiet they are even between cuts, and you don't get the gas fumes either. Most modern saws actually have very low emissions, but the likes of my 30-year-old 011 AV is very fumey.
Corded Electric Chainsaws
Corded electric chainsaws have a plug that needs electric power.
So you're probably going to need a pretty long extension cord to reach your work area.
And, running the saw could blow a fuse if you end up drawing too much power or running the saw for a long time and generating too much heat in the cord.
But, their lack of transportability is a trade-off against their lighter weight, lower maintenance, and quieter operation.
In my opinion, corded chainsaws are a bit of a hassle.
Dragging around an extension cord is literally a drag, and if the cord detaches accidentally, I get quite frustrated. So, I tend to prefer battery power chainsaws for their added convenience and maneuverability.
When choosing an electric saw, remember that corded saw motors rate in amps. The higher the amps, the stronger the motor.
The voltage rating of the battery in a cordless saw tells you how much power it has. Many chainsaws have 18 or 20-volt batteries, while some heavier-duty models have 40 volts.
The capacity of a battery measures how long it can run. For instance, a 2 amp-hour (Ah) battery will need charging sooner than a 5Ah battery.
However, more than anything, I think gas chainsaws are best for most work.
They simply give:
More power
Longer run times
More freedom
A cordless Greenworks chainsaw isn't going to compare to the Stihl MS440 Magnum, for example.
Chainsaw Features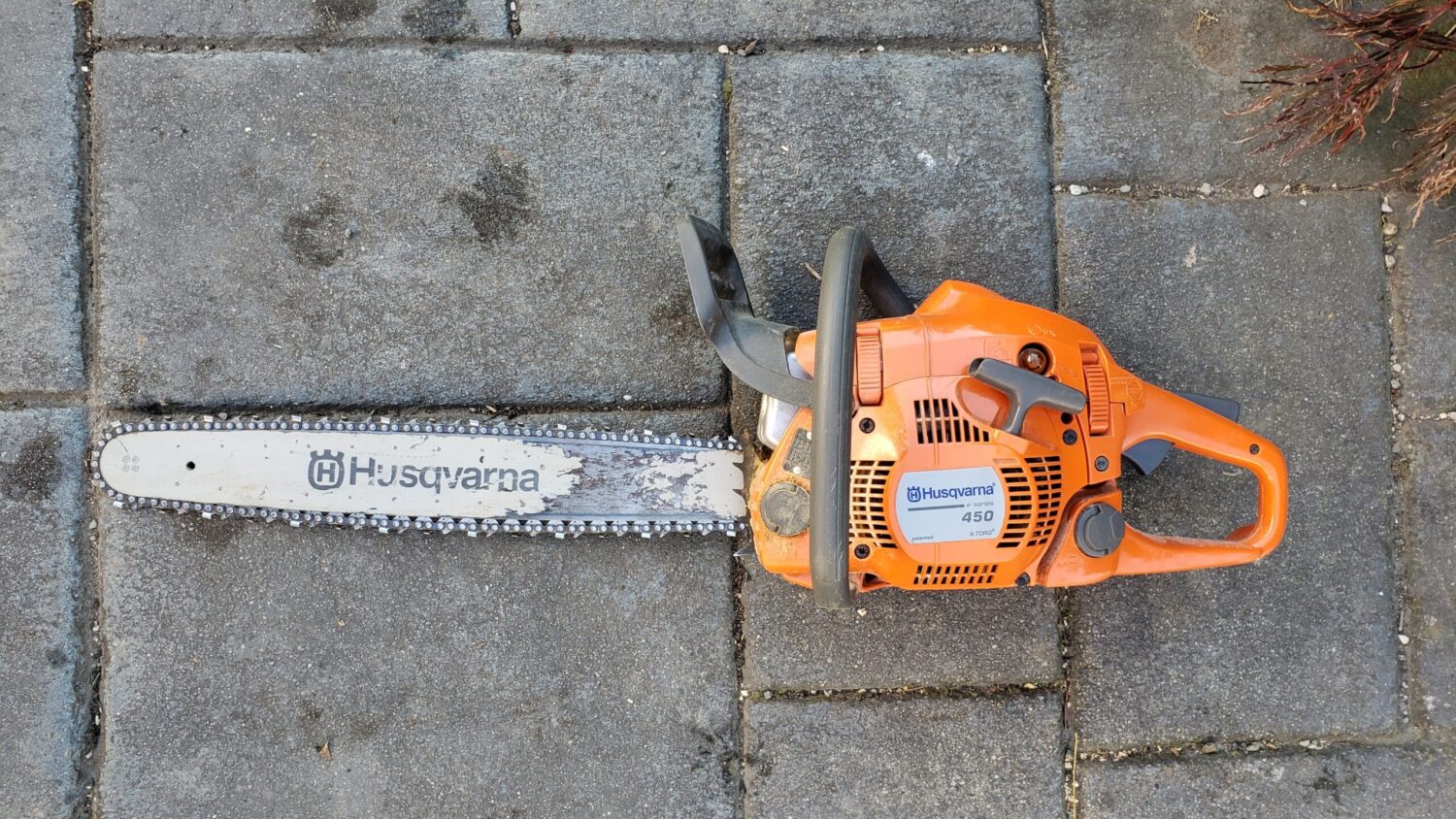 Most modern chainsaws all come with similar features like anti-vibration systems, automatic oilers, side-chain tensioners, and so on.
However, what sets one saw apart from another is the quality of the componentry and build. That's the difference when comparing this brand and that.
However, here are another few things to keep in mind and consider before you buy a new chainsaw.
Weight
The weight of a saw is a big factor to consider.
Gas behemoths can handle any job thrown at them, but they are very heavy. Making sideways cuts at shoulder height and maneuvering with them is difficult.
Lighter-weight saws usually don't have as much power as the heaviest models, but they are much easier to maneuver and take less of a toll on your muscles.
Chainsaws do a lot of the work for you, but you still need to carry it and position it for making cuts.
Bar Length
The bar of a chainsaw easily compares to the blade on a knife or a sword.
That's where the cutting action goes down. The bar is the guide for spinning the saw's chain, as it is turned by the motor and sprocket.
Some professional saws have tremendously long bars that make them very unwieldy.
But, they can cut through huge pieces of wood in one pass. Shorter bars are much easier to work with as they need less power and tend to be much lighter, but their relatively smaller size limits the size of the cuts they can make.
If you try to cut wood that is too big for the bar on your saw, it will be prone to kickback. Kickback forces the saw upwards when the tip of the bar hits the surface where you are cutting.
Bar length is often a compromise between maneuverability, weight, and the scale of your projects. You can change bar size on many saws, but remember that more oversized bars need more power.
Auto Oilers
Most modern chainsaws have a system to automatically oil the blade.
This lubrication helps to prolong the life of the chain and minimize warpage from high heat. Keeping your saw well-lubricated is essential for its durability.
You have to keep your oil reservoir loaded with chain and bar oil, so most saws also have a simple window for seeing how much oil is left.
Most experienced chainsaw users, many of whom have used a saw without an automatic oiler in the past, simply top up their bar oil reservoir before each use.
Chainsaw Safety
Regardless of the type of chainsaw you purchase, you should also anticipate buying some safety equipment.
At a minimum, chainsaw chaps are essential:
But chainsaws also have built-in safety features.
Chain brakes are pretty standard, and they can help keep you safe from chainsaw kickback, which occurs when the tip of your chainsaw blade hits your cutting surface.
Most chainsaws also have an aluminum chain-catcher mounted on the bottom of the saw. If the chain slips off the blade or breaks, it should stop the chain from swinging back and hitting you.
Chainsaw Review
The best mid-range chainsaw, especially for beginners or those who don't have a lot of confidence, is the Husqvarna 445 Gas Chainsaw.
It is the right mix of affordability, power, and features, without being too big or difficult to use.
The 460 Rancher is my personal favorite but might have slightly too much power for some.
Some homeowners might prefer to use electric power tools, but the convenient operation and increased power of this gas saw make it my choice.
It might not be able to handle the biggest projects, but I'm not a professional lumberjack.
If you want more options, consider:
Check out all these saws and see which one is best for you.
For more options, check out the full range of Husqvarna chainsaws here.
And as I said at the beginning of this post, please leave any questions and comments down below and I'll get back to you quickly. Alternatively, feel free to email me and I'd love to help you choose the right chainsaw for your needs.