Is the Remington Outlaw chainsaw any good?
The Outlaw is the largest and most expensive gas-powered chainsaw that Remington sells. However, at under $200, it's not likely to break the bank. It is difficult to find it for sale new these days, either because they've stopped producing it or because of supply issues, but it often pops up for sale on eBay. Alternative saws that are similarly powered include the Husqvarna 445, Stihl MS 180, or the ECHO Timberwolf.
But if you have your eyes on an Outlaw, this is what you need to know before deciding whether or not it's right for you.
Remington Outlaw
Remington Outlaw RM4618

46 cc gas powered chainsaw with 18 inch bar
Best for light home use
Cheap and easy saw for infrequent users

View On Home Depot

Remington Outlaw RM4620

46 cc gas powered chainsaw with 20 inch bar
Good for light firewood duties
The longer bar doesn't totally suit the power

View On Home Depot
The Remington Outlaw Chainsaws are cheap homeowner chainsaws that aren't designed to be used for all types of chainsaw work. For example, they are best suited for infrequent yard work, rather than being used frequently for cutting large logs.
This same saw is for sale in 2 different bar sizes:
The 18-inch RM4618
The 20-inch RM4620
The only difference between the two Outlaw chainsaws is the bar and chain size. Other than this they are identical machines in both look and mechanics.
They are both 46 cc chainsaws and, to be honest, the 20″ bar is a bit long for the power of the saw. It will struggle to pull through some types of wood. The 18″ bar will be more than enough for this saw.
Remington chainsaws are not made in the US but are manufactured and assembled overseas. However, the Remington company is a US-owned and operated business. The saws can be purchased from many big-box retailers, both online and in-store. You'll find it at Walmart, Home Depot, and Amazon, for example.
Amazon currently only stocks the 18-inch model, but it has over 600 reviews (the entire listing has now been deleted). These give a good picture of the overall quality and type of work that can be completed with the saw.
Specs And Features
Both Outlaw saws are essentially the same:
Gas-powered
Contain a 46CC 2-cycle engine
Have a .325″ chain pitch
Come with a 2-year limited warranty
Anti-vibration system
Both units have a 5-point anti-vibration system that makes handling and using the chainsaw much smoother and less jarring on the body.
Spring-assist starting
This feature allows for faster, easier starting of the chainsaw. If kept well-maintained and used correctly, this saw should start faithfully each time.
Pro-grade die-cast chassis
Alongside this and other pro-grade components, the Outlaw is hard-wearing and long-lasting. It's designed for use.
Chain break
A safety feature for starting the engine without the chain running. Can also stop the chain in the event of chainsaw kickback, though is not a failsafe measure.
Automatic oiler
This feature is found on most modern chainsaws, though the Outlaw's flow can be adjusted. The bar and chain oil is feed through to the bar and chain.
Full wrap-around handle
Made from hardy aluminum, this allows for greater maneuverability while cutting wood and/or trees. The handle is also cushioned for added comfort.
Tool-free access
The air filter and spark plug can be accessed without the use of tools. Good for quick maintenance when you're out sawing and have forgotten your tools.
Carry case
Not the most important accessory, but handy for those who will be using their chainsaw infrequently. The case is heavy-duty and can contain the entire saw.
Download the Remington Outlaw pdf manual here. It covers both models, the RM4618 and RM4620, and contains information on Remington chainsaw parts, maintenance, safety, service, cleaning, and storage.
Remington RM4618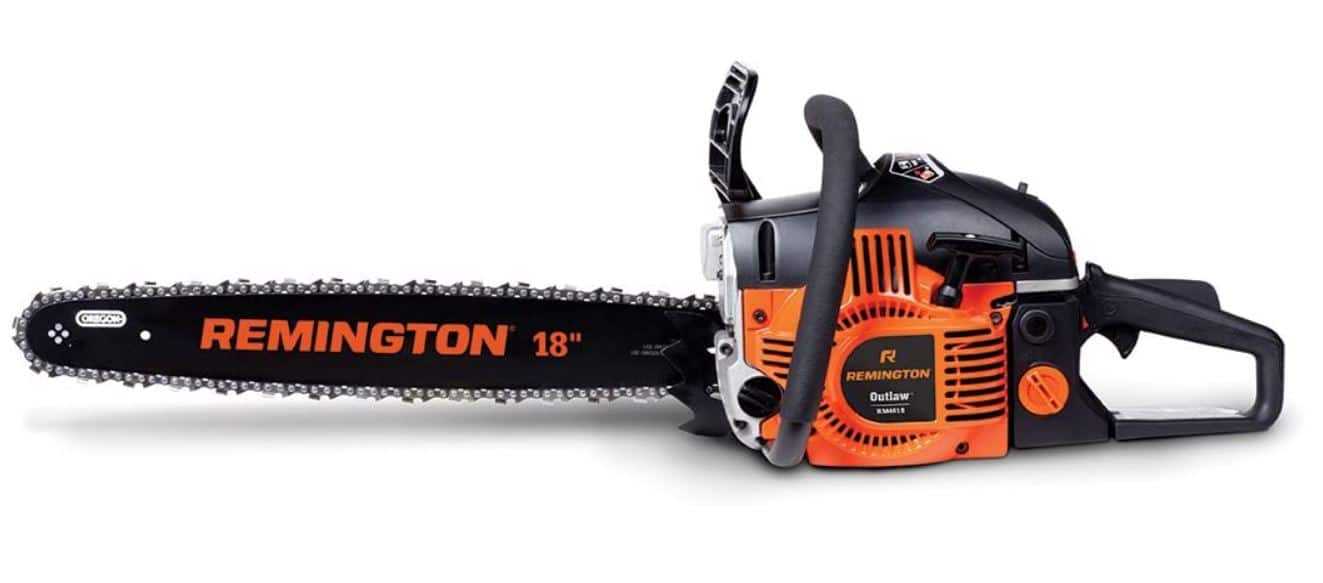 The Remington RM4618 comes with an 18-inch bar.
An 18-inch bar is suitable for most home and hobby farm purposes and is not considered a small chainsaw. It's perfect for processing firewood, dropping small trees, cleaning up after a storm, and those types of tasks.
It's probably too big and heavy for pruning small branches, though you can certainly use it for this if you wish. The saw weighs about 16.4 pounds and wielding it for work above waist height can be difficult and even dangerous.
However, the RM4620 only costs slightly more, so it may be worth it to have a slightly longer bar.
Remington RM4620
The Remington RM4620 has a 20-inch bar and chain.
If you believe you will be felling thicker trees this would be the better saw. It's suitable for cutting logs and pruning as well, though the long bar and extra weight can make it less suitable for small applications.
I personally run a 20-inch bar on the Husqvarna 450 Rancher when using it for firewood. However, it's not the chainsaw that I use for light tasks. For that, I go with my smaller battery-powered DEWALT saw.
Remington Outlaw Reviews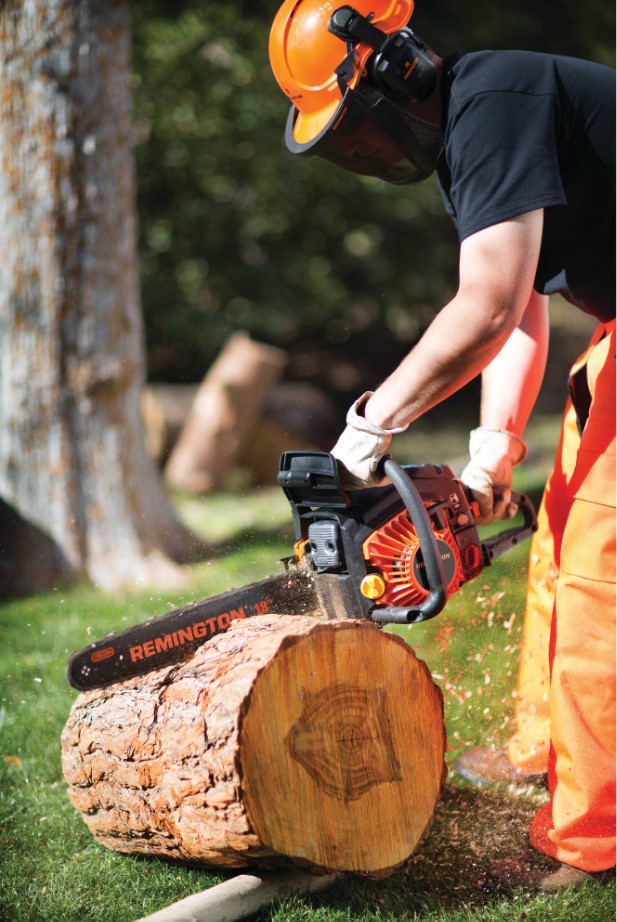 Are Remington Chainsaws Good? Should you get the cheaper Remington Outlaw or a more expensive US-made chainsaw?
It really depends on your budget and what you want to use it for. If you have the odd small job here and there, a cheap chainsaw is fine. But if you want to use the chainsaw extensively, especially for firewood year after year, it would be better to get a better-built chainsaw.
I have a cheap Ozito Chainsaw (Chinese-made, like Remington) and it was good as a first chainsaw. I only used it for cutting up thinner logs and it was good for that, but then I had to upgrade. Remington is a good brand that has been around since the 1930s, but their modern saws aren't built to the same quality level as they once were.
Pros:
Much cheaper than the premium chainsaws
Still able to work hard and fast
Suitable for firewood and clean-up
Easy enough to find parts
Cons:
Components not as high quality
Won't last as long as a premium chainsaw
At only 46cc it will be sluggish at cutting thicker logs
And here is a very helpful review from Walmart's listing:
I have an old Home Lite chainsaw that I was using to chop some large trees that were taken down. It did good on branches but didn't seem to have the willpower to cut through the trunks very well.

I bought this Remington chainsaw based on reviews and the decent price. This thing cut through those trees like butter. Some more points below.

It has decent power but would definitely slow down depending on how much pressure you put on it.
It is not loud. I needed earplugs for the old Home Lite, but didn't need them for this one.
I did notice that it kicks back a bit more than my other one, but that may all depend on the type of chain. Nothing to be scared of, but enough to make sure you have a strong grip.
It usually starts up easily. There was one time that it took a couple cycles of choking and probing to get it going – that was after it sat a few days.
It comes with a plastic case if you wish to keep it closed up and help protect the chain or people around it.
It says to tighter the chain after the first 15 minutes of use. I went through about 40 feet of 14″ tree trunks and the tightness of the chain didn't change. It was set just right from out of the box.
You have to turn it on its side to add gas and chain oil. This seemed a bit concerning to me, but it doesn't seem to affect the startup by doing this.

Would I recommend?

The best I can say is this is great for someone who needs to get rid of some trees in their yard, or some every now and this. I cannot speak on how well it works for every day tree cutters.
Thanks to that person for such thorough feedback!
Remington Chainsaw 18 And 20 Inch
Not everyone needs a Stihl, Husqvarna, or pro logging chainsaw, and a Remington will fit the bill perfectly.
Some have even used these saws for milling (though I wouldn't buy it primarily for that purpose – go with a Holzfforma instead). Often a cheaper saw is perfect for the type of work you need to complete.
The Remington 18 chainsaw or Remington 20 chainsaw are both perfectly fine for light occasional work. Consider buying a higher-grade chainsaw if it's intended to be used a lot.
Let us know if you have any comments or questions below.