What are the best Stihl chainsaws according to Stihl chainsaw fans and pros?
While most Stihl saws are very good when used appropriately, there are a few lemons out there, and there are some that are better than average as well.
These are the ones that people like the most, that perform better than others, offer more value for money, and which are ultimately the best Stihl chainsaws.
Best Stihl Chainsaws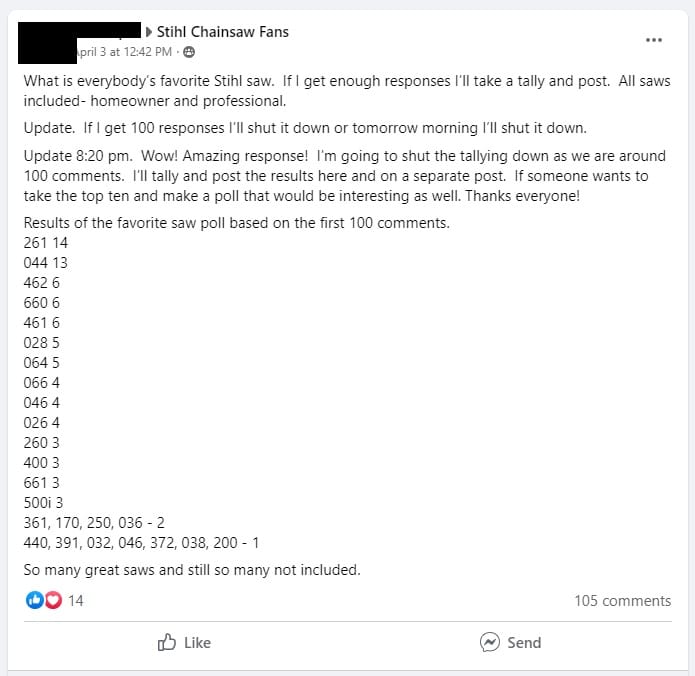 The 100,000-member Stihl Chainsaw Fans Facebook group is the largest Stihl group online by far.
Once every month or so someone will start a thread with something like:
What is the best Stihl ever made?
What is your favorite Stihl chainsaw and why?
Best pro Stihl saw bang for your buck and go!
You get the idea, but they come up often. I would like to have run a new poll like I did for our Worst Stihl Chainsaw article, but I'm sure people are getting sick of being asked "What's the best Stihl?" so I'm going to use existing threads.
1. Stihl MS 261 – best all-round saw
50.2 cc, 4 hp
10.6 lbs/4.8 kgs
16 – 20″ bar
Price: US$699 (subject to change)
Pro-level chainsaw
Good for firewood, limbing, pruning, and light felling
The Stihl MS 261 always comes out on top as the best all-round Stihl chainsaw.
It is Stihl's least powerful pro-level chainsaw and is used by both pros and homeowners alike. Arborists and other tree workers use and love the saw, while it's a popular firewood chainsaw for non-commercial users.
The 261 is a modern Stihl chainsaw that is still in production (unlike some of the others saws we'll list below) and comes with all of the features you'd expect. Captive bar nuts, an adjustable oiler, magnesium construction, decomp button, and so on.
We recently compared the 261 to the 260 and 026, earlier versions of the saw, and as you'd expect, it came out on top there too.
It's not the best saw for felling trees or bucking large logs – you need to keep in mind it's only 50ccs and has a small bar – but it's good for lighter work.
Here are some comments from users:
If you're looking for a saw that covers the most bases, I'm recommending the MS261. My favorite saw currently out, would probably be the MS400. It's light enough to run all day without stressing my body. With a few mods, it will rip with a 25" bar.
The 261 is my favorite for balance of use. It's not a BIG saw, but it's big enough for a lot, and has decent power.
For just general firewood cutting the 261 is awesome. 50cc pro saw.
For power to weight. For ease of use in a tree. A 20″ MS261c with a light bar is the best saw.
I bought a 290 20 years ago as my first saw. Good saw, but it's getting heavier as the years go by. Wish I had known then what I know now and bought a 261 instead.
2. Stihl 044 – best old chainsaw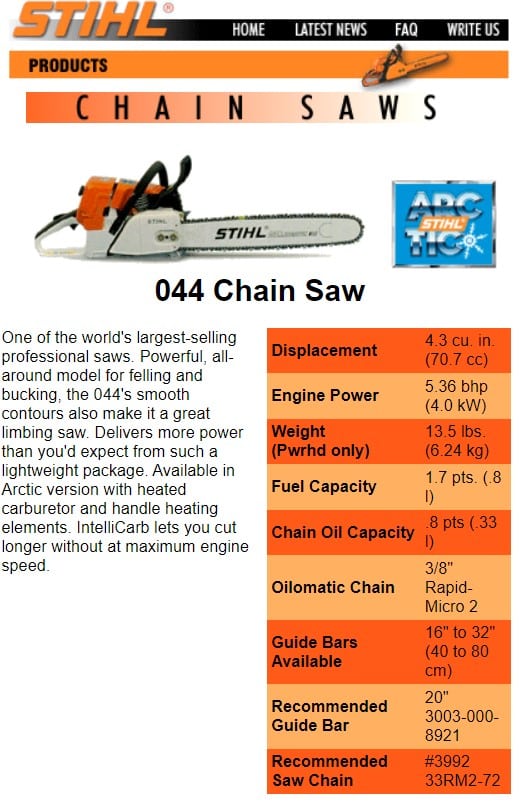 70.7 cc, 5.4 hp
13.5 lbs/6.24 kgs
16 – 32″ bar
Price: check on eBay
Pro level chainsaw
Good for felling and bucking
The Stihl 044 is one of the best old Stihl chainsaws.
It's no longer being made but was produced between 1988 and 2001. The 044 is an earlier version of the MS441 which is much less popular.
This saw can be hard to find because it's so popular. Many guys spend years looking for a good example to buy. However, you will find them coming up on eBay and Marketplace from time to time.
This is what users have to say about the 044:
Been really happy with the 440 I picked up cheap three years or so ago – fantastic all round hardwood muncher.
Have a 044 great saw. I cut 20 to 30 face cord a year. Never let me down. Was my primary big saw. Bought a 461 with 28 inch bar to cut my big stuff. 044 is my bucking saw. 260 for limbing.
One of the best saws STIHL ever made in my opinion the 440 was great as well the 441 sucked in my opinion.
The 044 is the best chainsaw ever made.
The 044, 046, 440, 460, and 461 family are perfect middle-of-the-road saws.
3. Stihl MS500i – best power to weight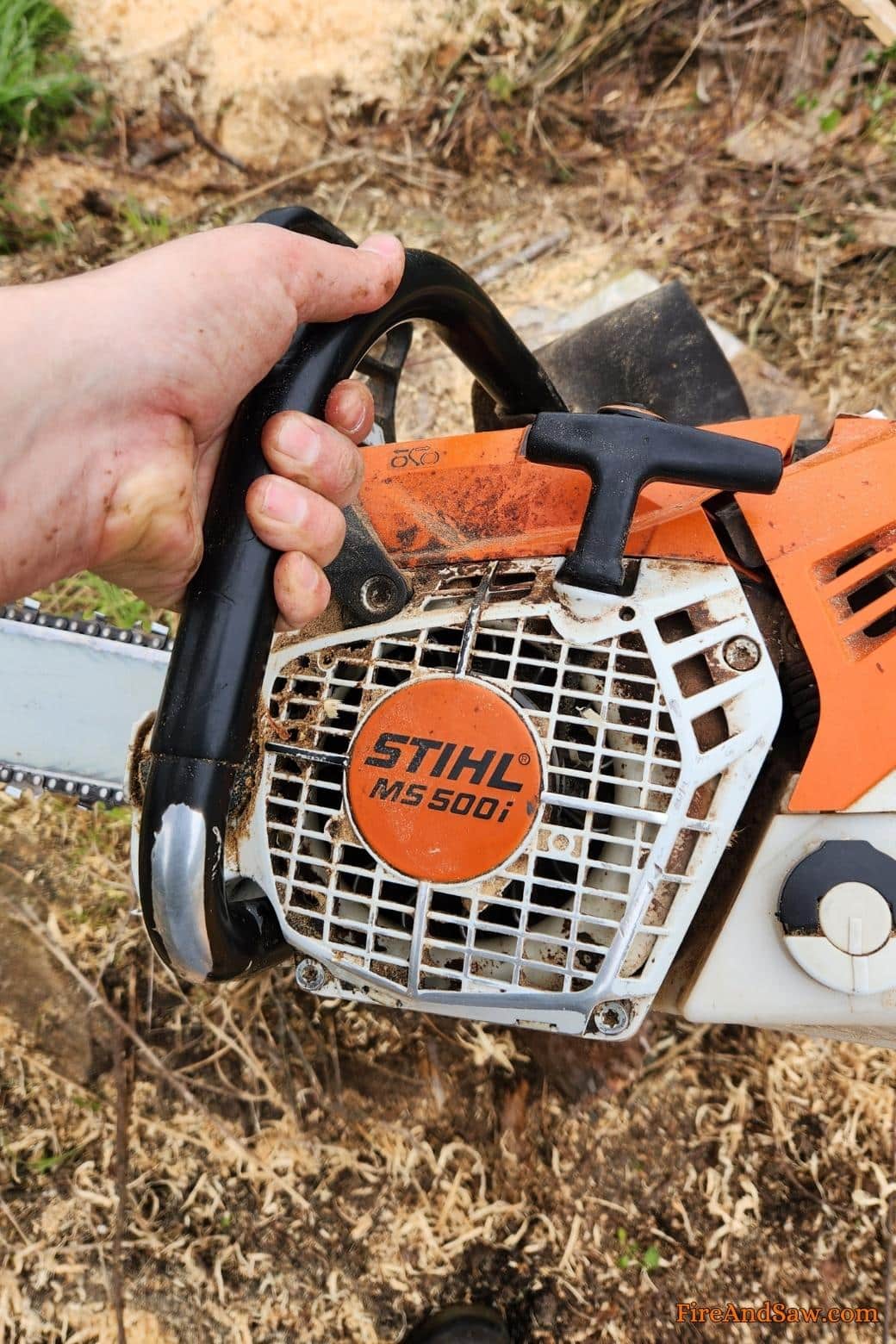 79.2 ccs, 6.7 hp
13.9 lbs/6.3 kgs
16 – 36″ bar
Pro level chainsaw
Price $1600 (subject to change)
Good for felling, bucking, and heavy pruning
The Stihl MS 500i is a bit of a controversial chainsaw that guys will love or hate.
It's Stihl's first saw with an electronically controlled fuel-injection system and that might be why it gets so much hate. It's also said to have issues in cold weather and goes through plenty of parts, among other things.
However, when I used it briefly I really liked it. It's unexpected light for a big 80 cc saw. And the arborist I spoke with also loves the saw and much preferred it to his 461 and 661.
Comments from those who have used and tested it extensively:
Best saw I've ever owned!
I really like the 500 it feels lighter than it is. It is great in the hand. Next to that my 044 and 440mag. But my old worn 460 out-cuts it. My 372xp destroyed it.
You won't find a better power-to-weight ratio. It's such a powerful saw that I see a lot of people cutting dull and in turn blowing up the saw. They pull through almost anything.
I've got a 500 and a few 046s. I like the 046 better for bucking and on firewood days, but for felling monster pine the 500 is the saw to pick up.
When I got my 500 I hated it. Let it break in then use it. Like someone said it takes a couple of tanks of gas to break in.
4. Stihl MS250 – best homeowner chainsaw
45.4 cc, 3 hp
10.1 lbs/4.6 kgs
16 – 18″ bar
Price $389
Homeowner level saw
Good for firewood, pruning, felling small trees
The Stihl MS250 is one of Stihl's best homeowner-level chainsaws, and for many, it is the best.
It's powerful enough that you can do a bit of stuff with it, but not so powerful to be intimidating for newbies and beginners to chainsaws. Most people find that when they buy their first saw it ends up being less powerful than they'd like, so the 250 is a good alternative to the MS170 or MS180 which are the least powerful Stihl chainsaws.
Because it's not a pro chainsaw it doesn't have the same metal (magnesium) construction as the previous saws listed, which is stronger and better. It also has a less desirable cylinder design and lacks some of the pro-level features.
However, this saw is good for those who are light or infrequent users. It's an option for those who do 5 – 10 days a year cutting wood for the fire. Any of the Stihl Farm Boss range chainsaws are also good homeowner saws (other than the 391 which is "the worst").
Users have shared:
The 250 model has proven to be a great general duty saw, certainly big enough to get some serious work done but small enough to be manageable and useful in close quarters when trimming.
The ms250 is the best homeowner saw on the market. It does everything you need and then some for around the house. And it's affordable.
You can't go wrong with a brand-new ms250.
No doubt the ms250 is the best affordable saw on the market. It's my go-to saw for limbing. For heavy-duty cutting 661 all day long.
5. Stihl MS461 – top pro chainsaw
76.5 cc, 6 hp
14.6 lbs/6.6 kgs
16 – 32″ bar
Price $1300
Pro level saw
Good for forestry and logging
Both the Stihl 461 and 462 are considered very good saws, with the 462 being more than a pound lighter.
The 461 is no longer for sale new in the US but may be available in other parts of the world from Stihl dealers (Canada, NZ, Australia, for example).
These are both powerful professional Stihl chainsaws that are made to be used every day. They will go and go and go.
Comments on the 461:
Do not get rid of a 461. One of the best Stihl saws.
The 461 is going to have a cult following like a 200t lol.
I have a brand new 461 happy as hell with it. Power is unbelievable has 28" light bar.
I have a brand new 661 and 500i. I like them both but very impressed with the throttle response from the 500. You can't go wrong with either one.
If you already have a 461, kind of pointless to buy a 462 IMO. How big of a bar do you need to run? Do you intend to do any milling? If you're getting into situations the 461 can't handle, I'd go 661.
I just purchases a 461 with a 28 in light bar and love it! I run 32 in on my 661 and it rocks! Can't go wrong with a 661. Can't speak for 462 or 500i since I've never ran one but I have a 500i on order with a 25 in light bar.
6. Stihl MS200T – best top-handle chainsaw
35 cc, 2.1 hp
7.9 lbs/3.5 kgs
12 – 16″ bar
Price: check on eBay (a NIB version can go for $2000)
Pro level chainsaw
Best for limbing, pruning, climbing
The Stihl 200T is one of those saws that every man wants to own, but they're very hard to find these days.
It's a top-handle chainsaw that is especially used by tree-climbing arborists. As you can imagine, this type of work requires something very light, maneuverable, and powerful; and that's what the 200T is in a nutshell.
It's no longer in production which is why it's hard to find, and when good models do go up for sale, they're very expensive. You can pick up a new 201T instead, but this does not have the same excellent reputation as the 200T. Nor does the 020T which came prior to the 200.
192T is another good top-handle saw from Stihl, but the 015T is by far the most interesting.
Comments from users on the 200T:
The best one in my opinion! If only you could strengthen the front handle by the trigger. That's a weak spot. Although I've had a 201 that comes pretty close. The 201 doesn't hold as much fuel I don't think.
My favorite top handle saw ever made.
Absolutely the single best top handle saw ever marketed. I'd say it's in the top 5 Stihls ever produced.
Fantastic power and responsiveness and the fact a well broke in 200T loves to turn 15,500rpm lol.
I bought one from a friend last month for 100 bucks, not brand new but well taken care of. I threw it to one of the climbers and she's been spraying money ever since.
That was and still is the best top handle saw ever make. I have 3 of them. And still using mine.
7. Stihl MS880 – best Stihl for milling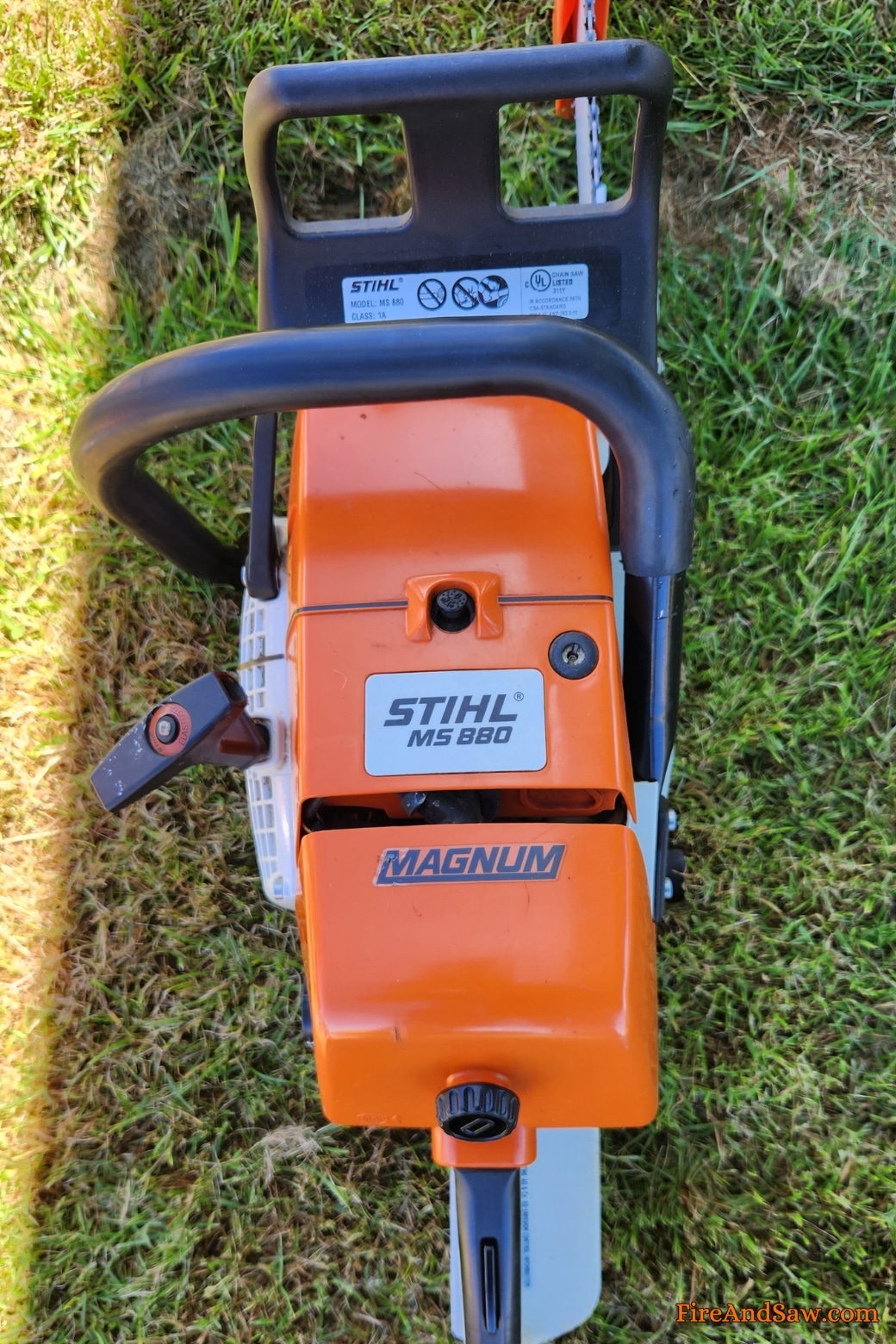 121 cc, 8.6 hp
2.6 lbs, 9.8 kgs
21 – 41″ bars
Price: check on eBay
Pro level saw
Good for felling, logging, bucking, milling
The Stihl MS 880 is one of the biggest Stihl chainsaws ever made.
It's one good option if you're looking to start milling, though many people opt to use one of the Holzfforma Clone Saws instead. They have a model G888 that is a copy of the 880, but half the price.
Those who have tested and tried the 880 say:
084 or 880 magnum cannon set-up is the best for milling.
084 or 088 (880). 070 or 090 also works but it's a pain when the oiler and fuel tank are on different sides. 066/660 is also a great choice, but only second to the 088.
The 880 is a good milling saw – no replacement for displacement.
Honestly, I'd get an 880. If you need more power, get a double-ended bar and add a second 880. Cannon bars are highly recommended as well.
For milling, Ggt the biggest saw you possibly can.
Other Good Stihl Saws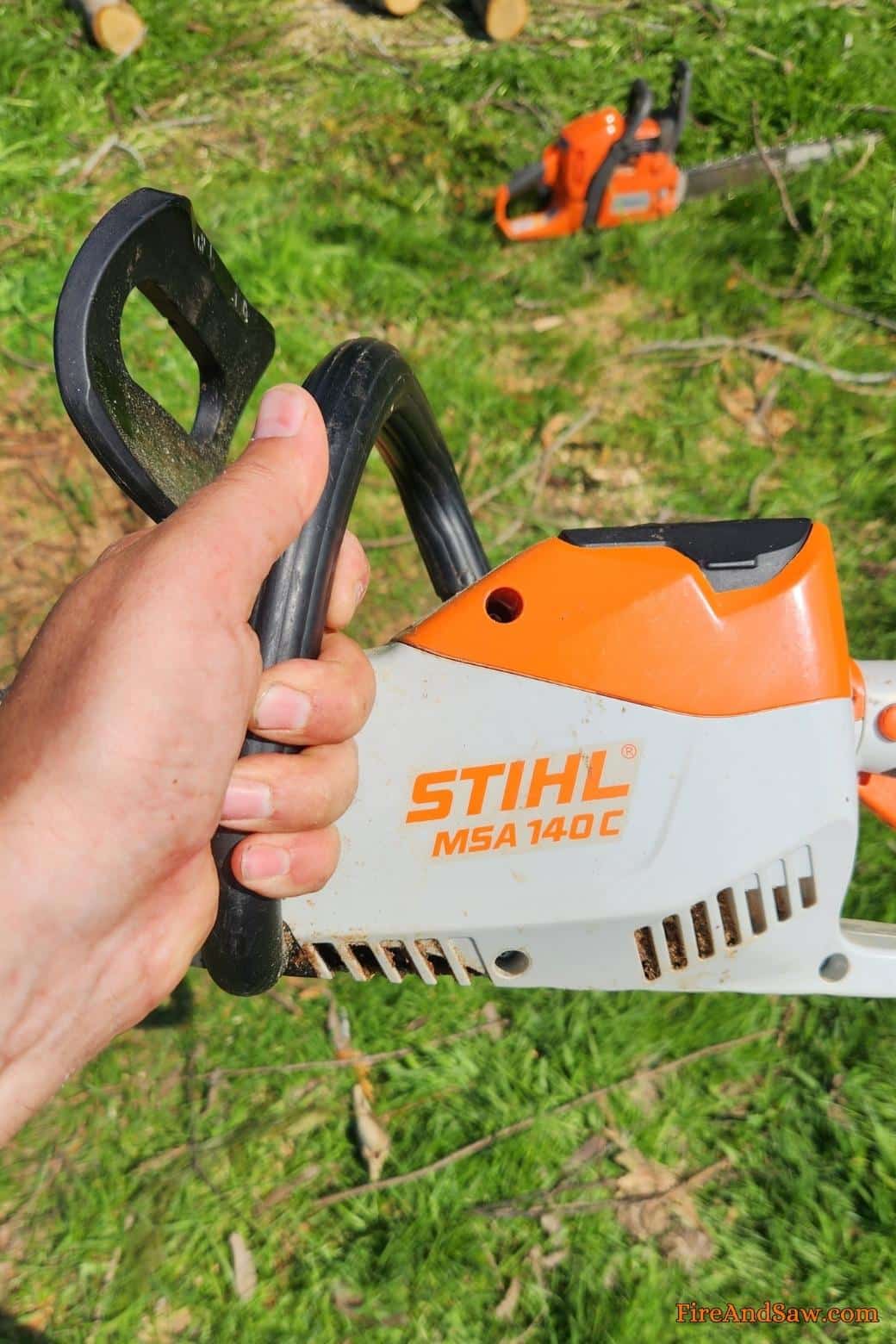 All Stihl saws have their place, and all can be good for somebody.
Everyone is doing different types of work on different types of trees or wood, so there is no one BEST Stihl saw. We'll all be using them more or less frequently than one another, and we've got different budgets.
The best Stihl saw for you is the one that gets the job done within your budget. If you have an endless or open budget, then bigger is usually better.
The 261 is an excellent saw because you can do so much with it, however, you can't do everything with it. It's the best firewood chainsaw, but not the best for felling or milling.
The 500i or 461 are good for felling, but not good for milling or pruning. And the Stihl Model A is good for collectors but not good for anything else!
Every saw has its place but hopefully we've given you some good ideas here.
These are some other honorable mentions – saws that are often recommended:
028
064, 066
046
400
MSA 140 (pictured above – yes, even battery-powered Stihls have their place)
You can find links to all our Stihl chainsaw reviews in this post listing the Stihl chainsaw production years. There are so many more good ones that we haven't mentioned here, including all the great vintage saws.
Let us know your favorite Stihl chainsaw models or those you think we've missed off this list.