The STIHL MS 250 is a homeowner-level 45 cc chainsaw that's good for storm clean-up, firewood cutting, pruning, and other tasks around the home and garden. It's a popular saw with many calling it "Great" and others even going so far as to say "It's the best non-professional Stihl chainsaw" – in fact, it came #4 in our round-up of the best Stihl chainsaws.
The MS 250 first came out in 2002, replacing the 025, and is still being produced and sold today by Stihl dealers around the world. There are a couple of different versions of the saw, which we'll get into first, and a few things you should know about the saw from users before buying one. All-in-all, however, the Stihl MS250 is an excellent low-to-mid powered chainsaw for home use.
*Images sourced from Northern Tool's STIHL MS 250 listing.
Stihl MS 250 Versions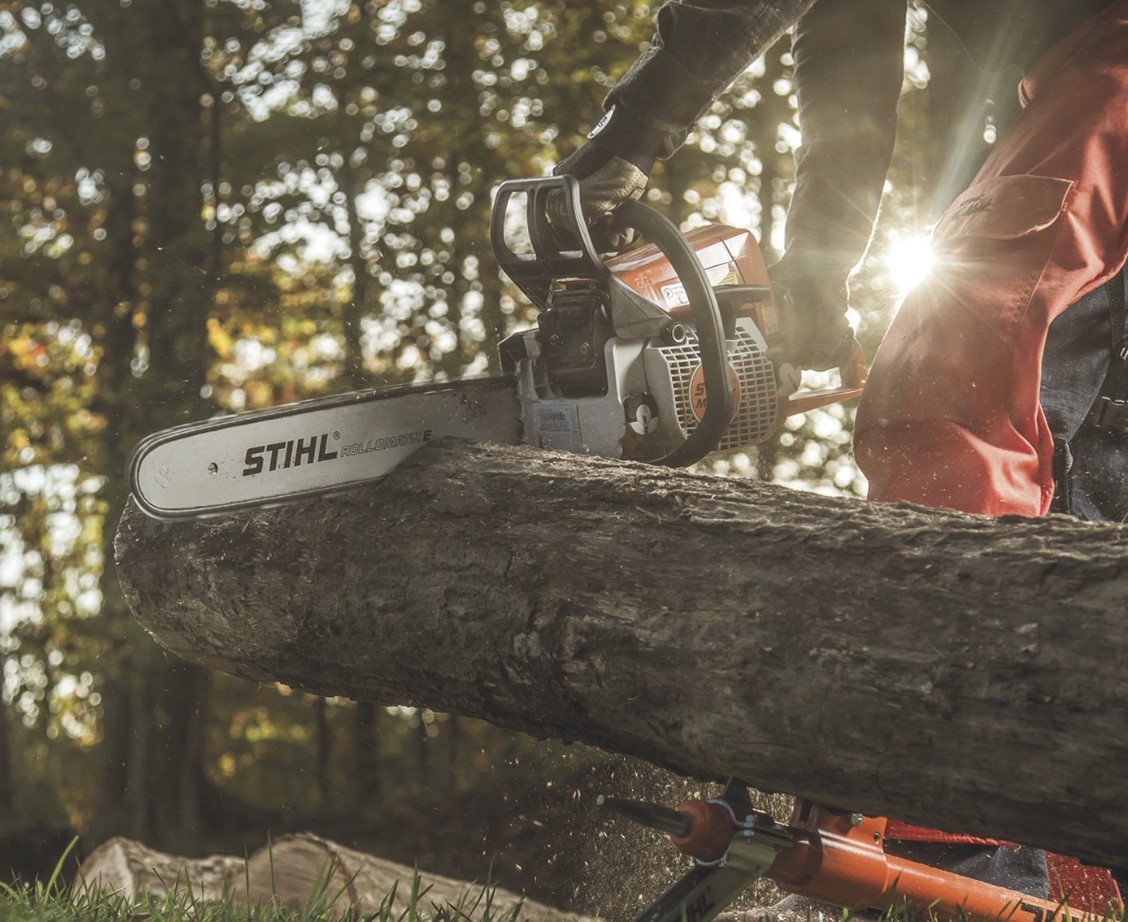 The 250 has two versions:
STIHL MS 250 – standard base version
STIHL MS 250 C-BE – with ErgoStart and Chain Quick Tensioning
The base version is the better seller, and the C-BE version isn't available everywhere. While the version with the extra features may seem like a better option, a lot of users actually prefer the saw without the Quick Chain Tensioning system. The alternative is having bar nuts, which give you greater control.
ErgoStart is simply a comfort feature that makes starting the saw easier. However, the 250 is not a high-compression chainsaw, and the saw is not at all difficult to start without this feature. It's not important, in our opinion. If you are tossing up between the two versions, or you only have the option of the base model, don't be upset. Most users agree it's the better chainsaw.
Best Bar Size
The MS250 is most often sold with an 18″ bar, and it runs OK with this size. For those wanting to get a bit more out of the saw, it goes even better with a 16-inch bar. Don't try to put anything larger than an 18-inch bar on the 250, as it will be too much for it to perform well.
User comments on the best bar size for the MS250:
I wouldn't go any larger than 18″… really that saw is meant for a 16″ bar.
18-inch is the max, drop to a 16 to make it sing.
The 250 runs better with a 16-inch bar. Any bigger on that saw will burn up the bar as they don't get enough oil.
18 is the max bar link for that so you'll like 16 even better.
Anything bigger than 18 is going to bog down the engine! Could cause burn-up?
You can put a 20 on it but the 18 will cut much better. Most people would go down a size just to increase performance.
I run mine with a 16" bar… haven't tried anything bigger.
If you need a bigger saw, get a bigger saw. Never underpower anything.
And James said:
Me personally, if you need bigger than 18 you should probably up your saw size. I know the clutch doesn't love an 18 on that 250, it will run it but 16 is the biggest I would go with it.
Brandon said:
18" is absolute max for a 250. I personally wouldn't run a 18" and would definitely stick to a 16".
And Craig said:
16-inch is best for performance. Yes it will run bigger bars but overheating will occur. Depending on homeowner or commercial may last 6 months to 2 years with a bigger bar. If commercial and using 8 hours a day, it will fail within 2 months. And not a warranty due to using too big of a bar.
Why STIHL doesn't sell it with a 16-inch bar, I'm not sure. But when you're purchasing, ask your dealer if you can get it with a 16″ rather than an 18″. Larger Stihl homeowner chainsaws that can be run with an 18 or 20-inch bar include the MS 271, MS 290, and MS 391 – these are also known as the Stihl Farm Boss Chainsaws.
Stihl MS 250 Review
It's really hard to find bad or negative comments about the STIHL MS 250 Chainsaw. 99% of owners and users are very happy with the saw. There are bad Stihl chainsaws out there, but the 250 isn't one of them.
Here are some more user reviews and comments about the MS250:
The MS250 is a good saw. Great power-to-weight ratio.
250 is a great saw. The 261 is better but twice the cash so if that's an issue 250 is great.
MS250/251 is a beast for the price. Beat the heck out of ours and is so reliable!
I've got 3 of them and run them 5 days a week… a great saw.
Great saw for the price. Really respond to opening up the muffler, advanced timing, and carb tuning.
In my opinion, the 250 is the best non-pro saw Stihl makes, hands down.
I love the 250. Get her broke in and punch a 3/8 hole in the muffler, retune, and it's my favorite small saw.
Good saw. I have the CB-E version which is really easy to use.
My 250 has been a great saw for the last 15 years! It's a solid homeowner saw that is more than capable!
I own an MS 250 and it's a beast, goes through wood like a hot knife through butter.
Robert said:
My 250 is the only saw I have. Bought it to take down trees in my yard. I've got one down and cut up with it so far and no problems. Most of the trees I have to take down are about 14-16 inch diameter and 75 feet high. Dropped the first one like a pro and missed my apple trees and my shed like i wanted to. I haven't used it on anything super hardcore like an old oak yet but I have confidence it'll get it done if I need it to.
Hagen said:
Great saw. My dad who's 68 still uses his on a smaller property. He cuts mainly oak and it does just fine with a 18″ bar. My brother and I use larger saws but we are 30 years younger and can still honk around 60-95cc saws.
Vernon said:
I went from an 044 to the 250. I can not cut as fast with the 250. However it is much lighter and I am not as young anymore.
Terry said:
I have had an MS 250 for almost 7 years now and it has cut hundreds of cords of wood and starts maximum of three pulls. Last year I had a widowmaker hung of tree pop loose and ripped my bar and chain clean off. I bought another one just like it second or third pull every time…
Geoff said:
Love mine. I have 4 of them I picked up used for cheap. Best all around saw for the money. Light, sips fuel, good for limbing and drops trees too. I use 18″ bars. I have almost 10 saws and is the one I grab to do most of my cutting.
Alan said:
I'm happy with mine, had it for going on 10 years now. No issues and I cut, limb, and buck around 12 full cords a year. She hasn't let me down yet. Take care of it and it will take care of you.
Most negative comments about the MS 250 could be the result of user error. Some new users struggle to get the saw started and running, which is likely the result of a flooded engine.
About this, James shared:
New saw can be tricky. The 250 often doesn't burp, it kinda kicks back instead. If you miss that, it's flooded next pull. As a rule no more three pulls on choke, they flood easy. After few runs it settles out.
And Patrick said:
It's flooded. Every two stroke anything that I've bought new was more finicky to start until it was broken in. I had an MS250 for ten years and that thing would fire up on the 4th pull every time no matter what. It was dead reliable. I now have a 261 and now that it's broken in it starts just as easy as my old 250 did. My 261 was actually more finicky when new than my 250 was when it was new.
The MS 250 is somewhat notorious for flooding, so often it's a case of getting on top of the proper starting procedure, breaking the saw in, and then she'll be right.
Specs And Features
| MS 250 / 250 C Specs | Details |
| --- | --- |
| Cylinder displacement | 45.4 cm³ / 2.8 cu. inch |
| Power | 2.3 kW / 3.1 hp |
| Cylinder Bore | 42.5 mm / 1.67 inch |
| Piston Stroke | 32 mm / 1.25 inch |
| Max RPMs | 10,000 |
| Idle RPMs | 2,800 |
| Sound level | 99 dB(A) |
| Noise emissions, LWA | 113 dB(A) |
| Vibrations, front/rear | 250: 6.9 / 8.9 m/s²; 250C: 5.2 / 7.2 m/s² |
| Powerhead weight | 250: 4.6 kg / 10.1 lbs; 250C: 4.9 kg / 10.3 lbs |
| Fuel tank volume | 0.47 l / 0.99 US pint |
| Oil tank volume | 0.20 l / 0.42 US pint |
| Oil pump type | Automatic, fixed flow |
| Chain gauge, pitch | 0.063″, .325″ |
| Bar length | 30-45 cm / 14-18 inch |
The STIHL MS 210/210C (35.2 cc/2.2 hp), MS 230/230C (40.2 cc/2.7 hp), and MS 250/250C are all built on the same platform so share many features, specs, and parts. View or download the manual for all three saws here.
Because the MS 250 Chainsaw has been manufactured for over 20 years, it has undergone some changes over this side. A 2002 MS250 is going to have a different feature set to a 2023 MS250. Keep that in mind if buying a used chainsaw.
Stihl MS 250 (2023) features:
Side access chain tensioner makes it easier to tighten the chain
Toolless fuel and oil caps makes it easier to refill
Adjustable carb for winter or summer use
Single master control level makes it easier to start/stop
Easy-access air filter makes it easier to clean
Manual fuel pump purger
Any MS 250 will have all of the standard features found on a Stihl homeowner chainsaw of its era. This includes the anti-vibration system, the type of casings, and the stock bar and chains.
Stihl MS 250 Price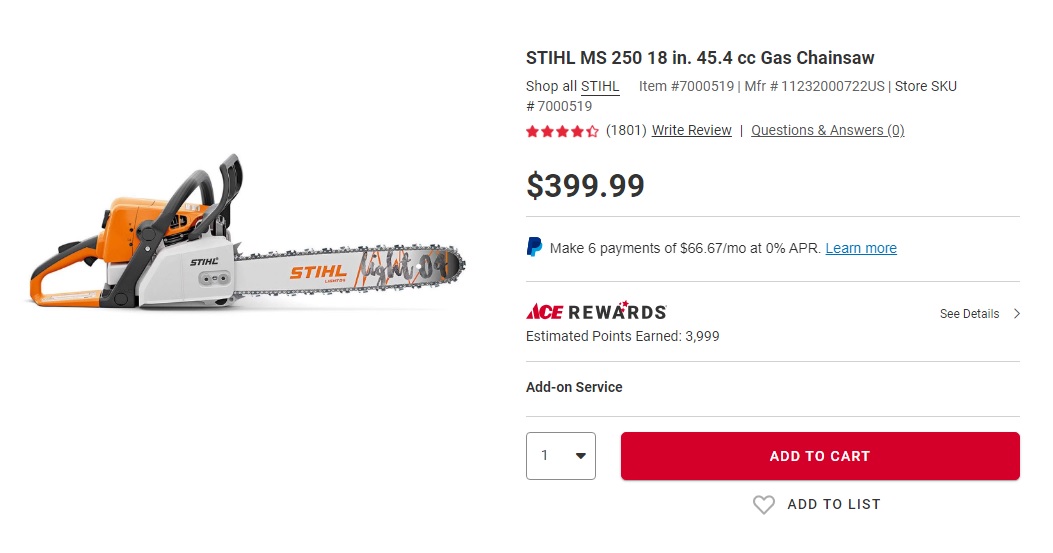 The MS 250 isn't as cheap as the MS 170 or MS 180, but you are getting a good bit more chainsaw for the money. The standard price across the US is $399, though this can be affected by state and local taxes.
Visit your local Stihl dealer or compare prices across these retailers:
Because the MS250 is still in production and has been for decades, parts for this chainsaw are not a problem. Also, because it shares parts with the 210 and 230, there are even more options out there.
Find parts for the MS 250 here on H L Supply, at your dealers, or here on Amazon.
Stihl MS250 Chainsaw
Is the Stihl MS 250 chainsaw good? The major majority of users think so. If, at 45 cc, it's going to be enough power for what you want to do, it's a very good chainsaw.
If you are planning on cutting a lot of wood with it, a higher-powered saw would be a better option as this will get the job done faster and easier. However, for a medium amount of firewood processing, this will get the job done.
Some final recommendations for an alternative, outside of Stihl, are the Husqvarna Rancher chainsaws, such as the 455 Rancher, or the ECHO Timberwolf. Both of these saws have a bit more power and are around the same price.
Let us know your thoughts on the Stihl MS 250 in the comment section below. Has it been a good chainsaw for you?