The Stihl MS260 is an excellent 50cc chainsaw that was made between 2002 and 2011.
It's a professional-level chainsaw that's built tough and made to last. In a commercial capacity, the saw is designed for limbing, trimming, thinning, and pruning. However, it's a popular firewood chainsaw for homeowners as well.
The 260 came out after the 026 and was followed by the 261, which is the current model you can buy new. We have an article comparing the 260, 261, and 026, but in this post, we'll take a look at the different versions, specs, and check out some user reviews.
Stihl MS260 Versions (260 Pro)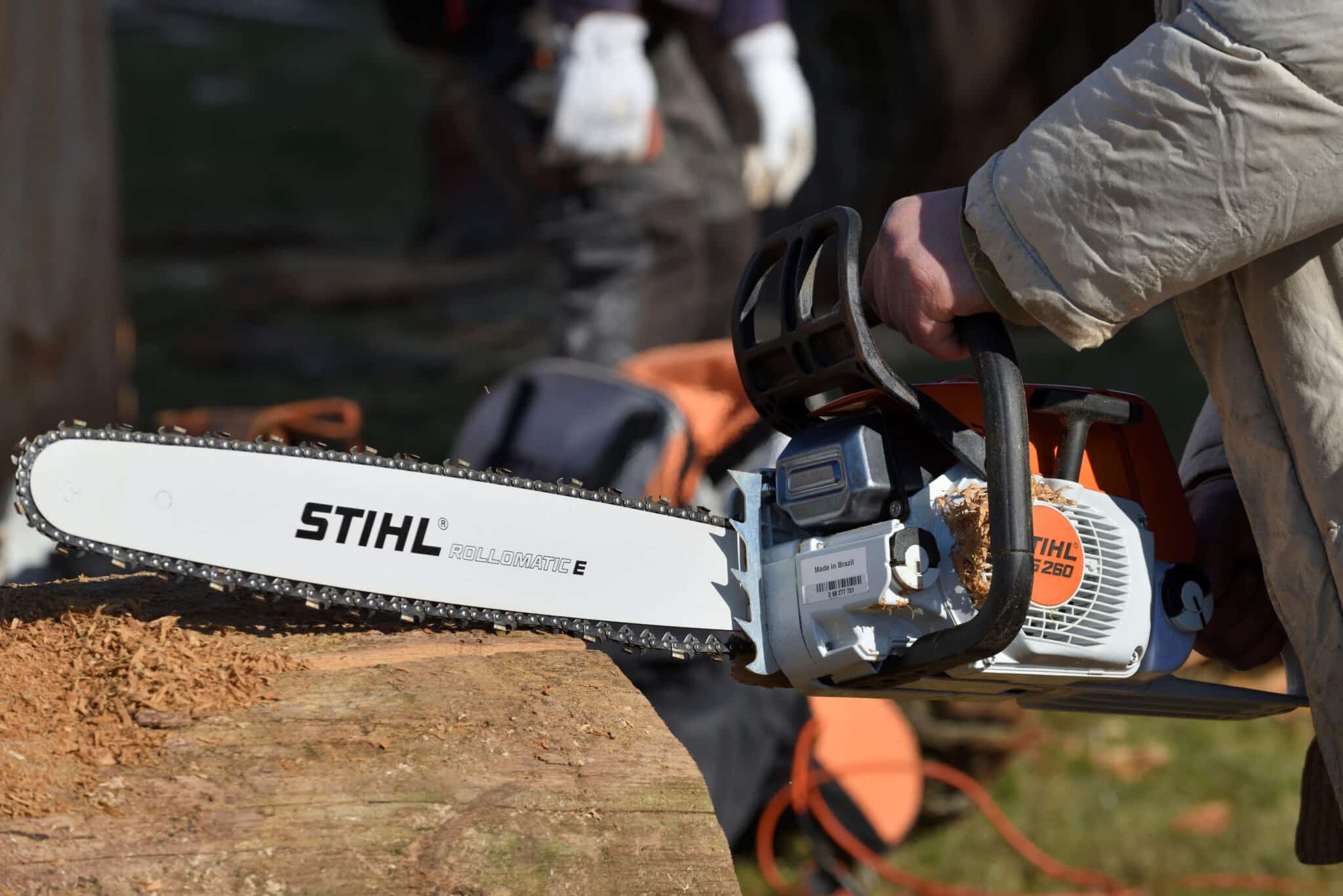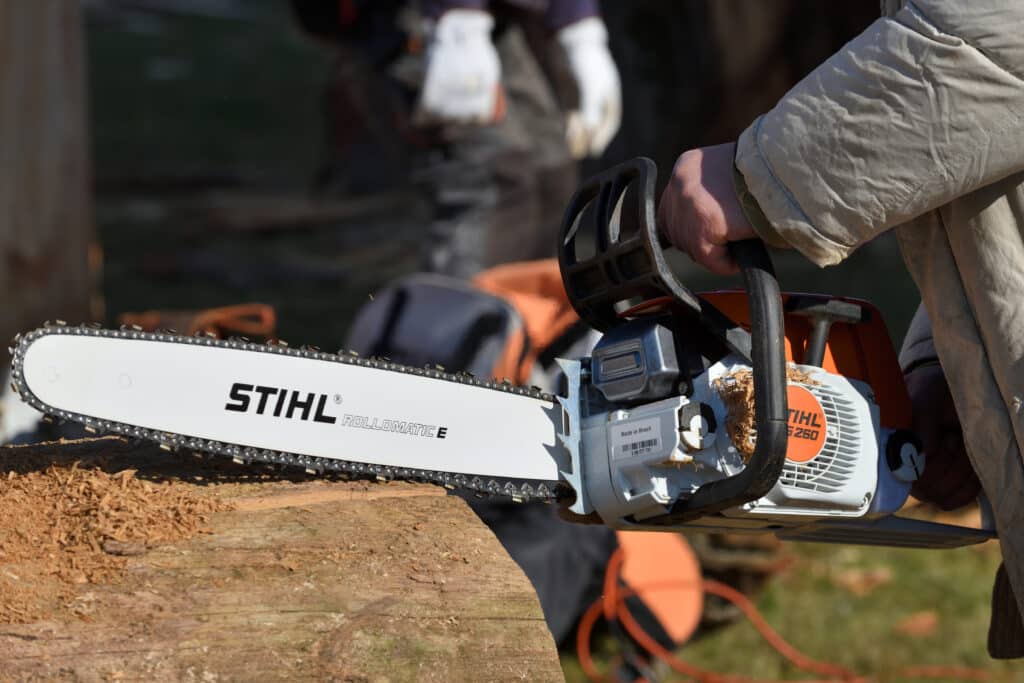 There were two versions of the MS260 – the base model and the MS260 Pro.
Both versions are pro chainsaws (which some people get confused about) but the 260 Pro had a couple of extra features.
Here's how Stihl described the original 260:
This is one tough chain saw. Lightweight and designed for the professional user, the MS 260 is ideal for limbing, thinning and other cutting applications. With an excellent power-to-weight ratio, this mid-sized powerhouse remains steady and is durable enough to take on hours of use.

Standard Features:

IntelliCarb™ compensating carburetor
Side access chain tensioner
Toolless fuel and oil caps with retainers
Carburetor preheat shutter for summer/winter operation
Available as .325 or 3/8 inch version
And this is how the 260 Pro was described:
This chain saw takes design to the next step. Lightweight and rugged, the MS 260 Pro is an upgraded version of the MS 260 with all the same quality features for an entry-level arborist. An added decompression valve for easier starts, and an adjustable automatic bar and chain oiler for firewood cutting is what puts the "pro" in this professional chain saw.

Standard Features:

Decompression valve
Adjustable automatic bar and chain oiler
IntelliCarb™ compensating carburetor
Side access chain tensioner
Toolless fuel and oil caps with retainers
Carburetor preheat shutter for summer/winter operation
The Pro version of the MS260 simply has a couple of additional features – the decompression valve and adjustable oiler. Other than that, they are the same.
Later versions of the 260 Pro also had the optional accessory of an ElastoStart starter handle.
MS260 Specs And Features
You can see as far as the technical specifications go, there are no differences between the 260 and 260 Pro.
The Pro is just the upgraded version with a couple of extra features (which can be helpful) but engine power and output are the same.
MS260 Specs:
50.2 cc, 3.06 cu in
2.4 kW, 3.2 hp
10.6 lbs, 4.5 kgs
15.6 oz fuel capacity
9.8 oz chain oil capacity
16 – 20-inch bar recommended
.325 or 3/8″ chain
1.76″ (44.7 mm) bore
1.26″ (32 mm) stroke
Many of the 260s features were mentioned above in Stihl's description, but it had all the best features that were available in saws of that era. This includes having bumper spikes, front hand guard and chain brake, electronic ignition, chain catcher, master control lever (one switch for choke, on/off), and an easy-to-change spark plug.
It has the IntelliCarb™ Compensating Carburetor which "measures air on the clean side of the air filter and adjusts metering diaphragm in the carburetor. Keeps RPM levels even when the filter begins to clog."
MS260 Review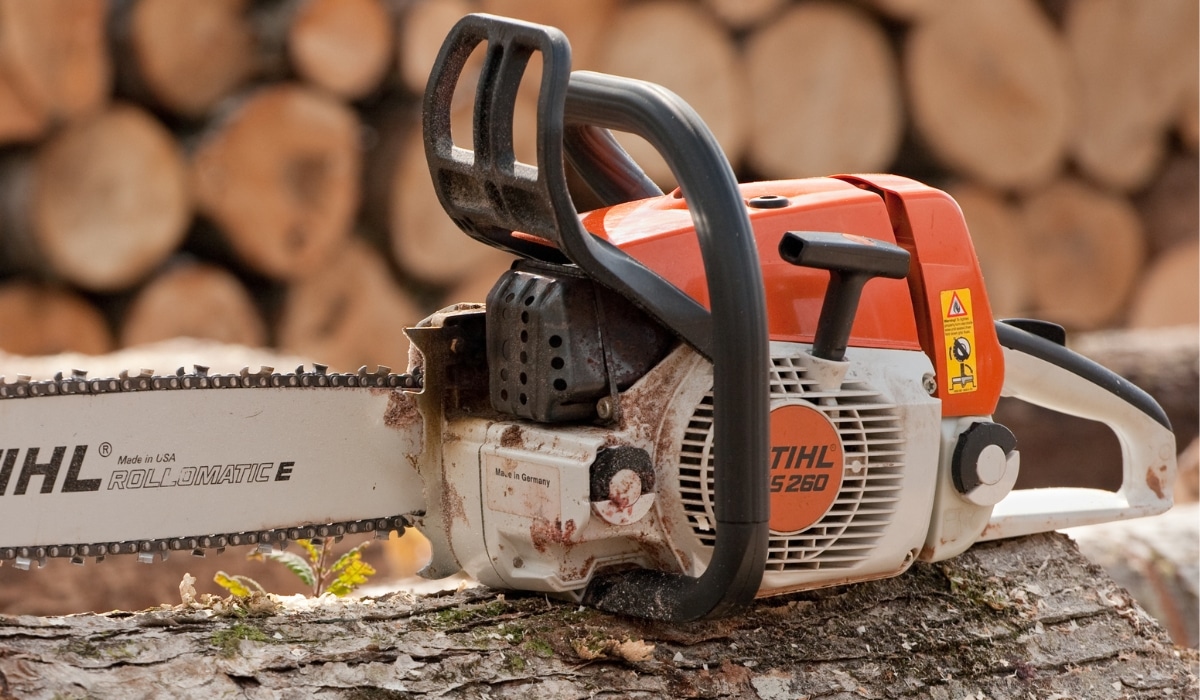 The MS260 is a really good Stihl chainsaw, though it's not as good as the MS261 if you have the option.
If you already have a 260 or you've spotted one for a good price, there's nothing wrong with the saw. It's certainly not considered one of the worst Stihl saws.
If you can go for the 261 instead, it's generally recommended to do so. You get more power (4 hp to the 260s 3.2 hp) for the same weight. Plus it's the newer model which makes parts and service a bit easier.
This is a typical comment:
I have owned a 260 Pro but the 261 is still a better saw. Sold my 260 when I got a 261 it's that much better.
But the 260 is a decent saw in it's own right. Personally, I'd love one.
Here are some other comments from those who have tested the 260:
My 260 was great, it lasted 15 long years of abuse.
I'd take a worn-out 260 over a 391 any day.
In my experience its a beast of a saw! It cuts fast and makes quick work of big wood.
I have been clearing trails for BC Parks for 12 years with my ms260, it's never let me down.
Loved my 260 right up until I put straight gas in it.
Great saws wish I'd not sold mine and held onto it. Best saw I ever owned.
I got one. The guy I bought it from put a meteor piston in it. It runs great, just bought some yellow chain for it. Can't wait to see how it rips with that.
My 260 never let me down but since I got my 500i the 260 stays at home ????
the 260 has loads of power for its size. I'm not a tree feller, I'm a carpenter but use mine for logging and work all the time ????
My go to is a 026 pro bought new in 1996. To this day she rips. All i do is run synthetic mix with non ethanol fuel, change the plug every once in awhile, and keep the air filter clean. Love that saw.
And after reading dozens of threads on the Stihl MS260 I didn't see a single negative comment, other than when it was compared to the 261. However, people still like the saw in that context, just not as much as the 261, which is actually considered the very best Stihl saw!
MS260 Pros:
Powerful, lightweight saw
Universally loved and well-reviewed by users
Great for a range of tasks from firewood, light felling, pruning, and construction
Pro-level saw means it's better built than homeowner-level chainsaws
MS260 Cons:
Not the MS261
Not as easy to find parts compared to a current chainsaw
MS260 Price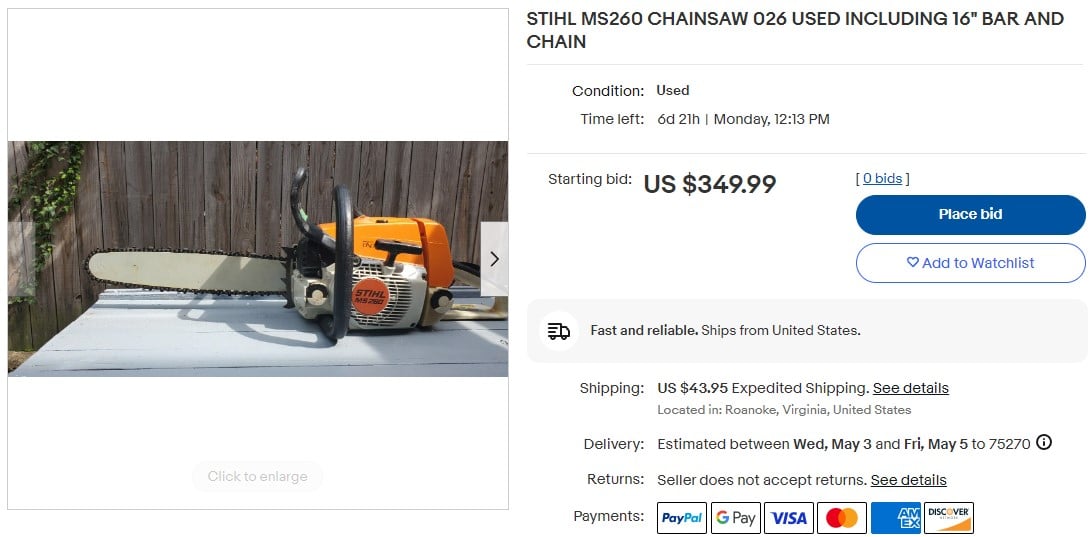 How much should you pay for an MS260? Or, how much could you sell one for?
As always, the price of used chainsaws depends on three things:
Condition – OEM or aftermarket parts, whether it's running well, mods, damage, hours, etc.
Location – in some states or parts of the world used STIHL saws fetch a much higher price than elsewhere.
Time – the more time goes by, the more or less a saw will be worth – vintage saws can be worth more while outdated models that are not yet collectible will lose value.
At the time of writing, there are some very tidy-looking 260s for sale around the US$300 – $350 range on eBay.
There's a new-in-box 260 that's listed for $799. Also, there are plenty of 260 parts for sale on eBay (OEM) and on Amazon (aftermarket). The Stihl FB groups are another great spot to ask for parts.
In the US, for a decent working 260, you can expect to pay anywhere between $250 and $400. Because they're such a good saw they hold their value better than other models.
Stihl 260 Chainsaw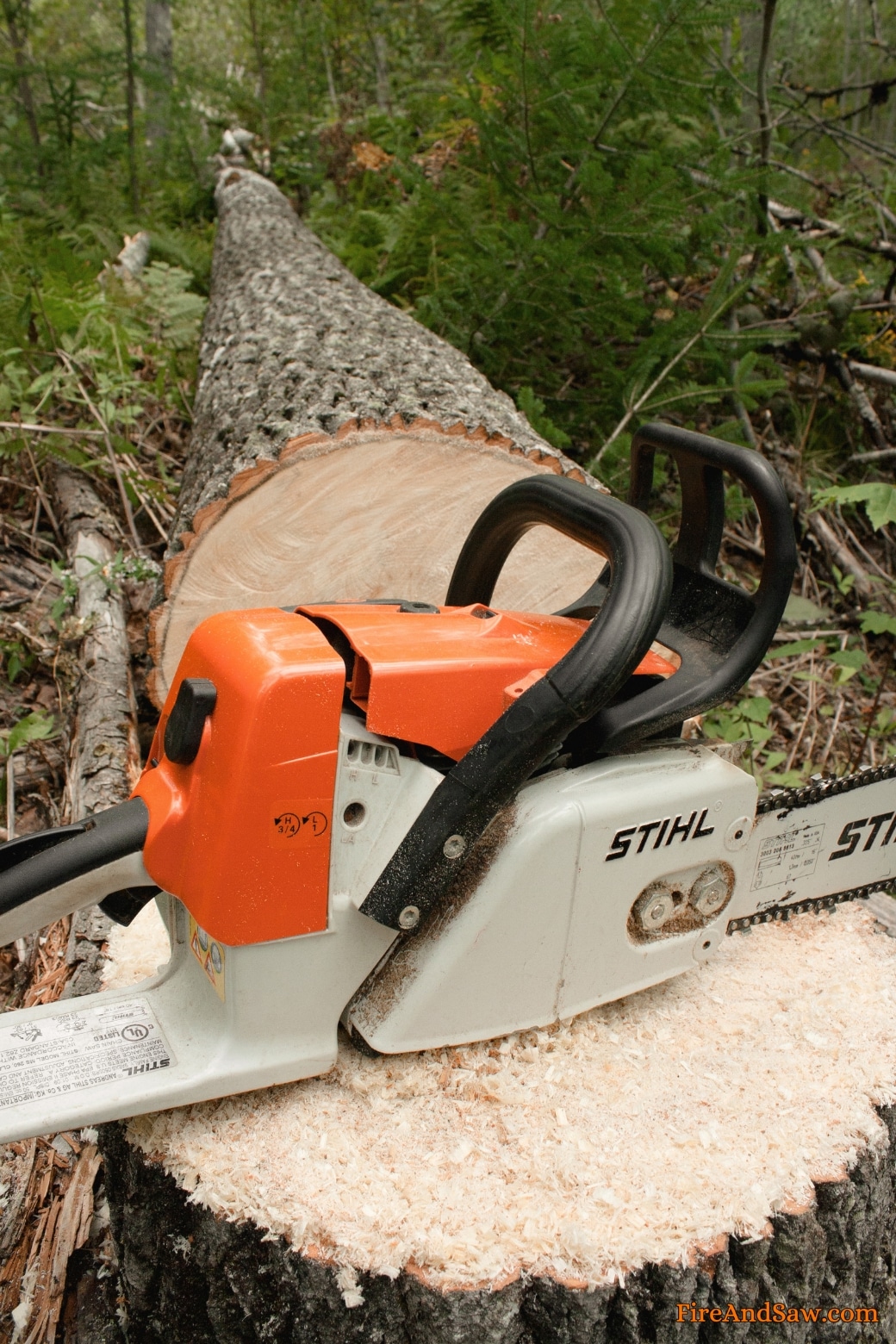 The 260 is one of the better Stihl saws, and while it's not as good as the 261, it's probably preferable to the 026, which is a very old model now.
The 260 is a good firewood or pruning saw for home, especially as it can be run well with anything from a 16 – 20″ bar. It's very light – even lighter than many battery-powered saws – so it's a nice one for all-day use.
It can be used for felling small trees, but you'll probably want something bigger like the MS461 or the MS380 if your focus is going to be on dropping trees.
Let us know if you have any questions or comments about the 260 down below!