Is the Stihl GTA 26 mini chainsaw any good?
Mini chainsaws are really helpful to have on hand for pruning branches or even cutting down small trees. I've got a few of them (I keep getting sent them) and use them all the time.
They are great for cutting those things that are slightly too large for your pruners and they are so much faster than regular manual garden saws.
Stihl's Mini Handheld Chainsaw is definitely one of the best ones out there, but you've got to pay for quality.
Stihl Mini Chainsaw
The Stihl GTA 26 is a really nicely designed handheld chainsaw for home use – it's not designed for or intended for commercial use (the run times are too short and it's not a heavy-duty tool).
You can get a lot of cheap mini chainsaws on Amazon and Walmart, such as we listed in the table above, but Stihl's model is better.
It's made of better quality components and has been designed for both comfort and performance.
It has really great rubber grips which make holding onto it really easy, even in damp conditions, and it is well balanced.
The other thing that really stands out about this saw is how well balanced it is. It has a much smaller battery which means it's lighter and not bottom heavy.
Compare the size of this saw with these other mini chainsaws I've reviewed:
You'll see that these other saws have a much larger 20-volt battery at the bottom of the handle. This isn't totally negative, but they are heavier and quite different to hold.
The downside to Stihl's smaller 10.8-volt batteries is that the run time is much shorter. Also, Stihl's mini chainsaw only comes with a single battery, whereas the other cheaper saws on Amazon usually come with two.
Stihl GTA 26 Specs And Features
This promo video gives a number of the Stihl GTA 26 features.
It's stated as being low noise, easy to grip and carry, well-balanced, and performing with a high chain speed. They are obviously also marketing it towards women!
It can be used on tree branches, shrubs, and large plant leaves (palm fronds, etc), and you can also cut lumber with it. While these mini chainsaws don't always leave the cleanest finish on lumber, they're definitely capable of doing it.
Stihl GTA 26 technical specifications:
2.7 lbs
4″ bar
10.8 volt battery powered
20 – 25 minute run time
¼ PM3 saw chain
Safety trigger switch
Top chain cover
Scabbard
LED battery indicator
Rubber grips
The saw also has something of an anti-vibration system that makes it really easy to use.
In most cases, it is sold with a single bar and chain, a scabbard, a single battery and charger, some chain oil, and a carry/storage case (see on Ace Hardware).
Stihl GTA 26 Review
Compared to other mini handheld chainsaws, the GTA 26 does have many extra little features that make it special.
You can see how much charge is left on the battery, it has a decent sawdust exit, toolless chain access, a small lightweight battery, a chainsaw scabbard, and so on – features that you won't find on most.
Plus, it just looks really good and feels better than many other mini saws.
However, the run time isn't that great (20 mins) and the saw can get bogged down a bit depending on what you're doing.
It's important not to force it through a piece of wood or a branch, as it will stall. But if you just let it do its thing without pressing down too firmly to cut, it's pretty decent.
Personally, I wouldn't buy one simply as a cost/benefit calculation.
I own many Stihl products (the FS45 and the MS180c, for example, or even the Stihl moisture meter), but the GTA 26 is more gimmicky than anything else.
I love mini chainsaws, but this one is just a bit too pricey to really be worth it.
GTA 26 Pros:
Easy and comfortable to use
Great design features and look
Lightweight and well balanced
GTA 26 Cons:
Expensive for what you get
Short run times
Only comes with a single battery
Stihl Handheld Chainsaw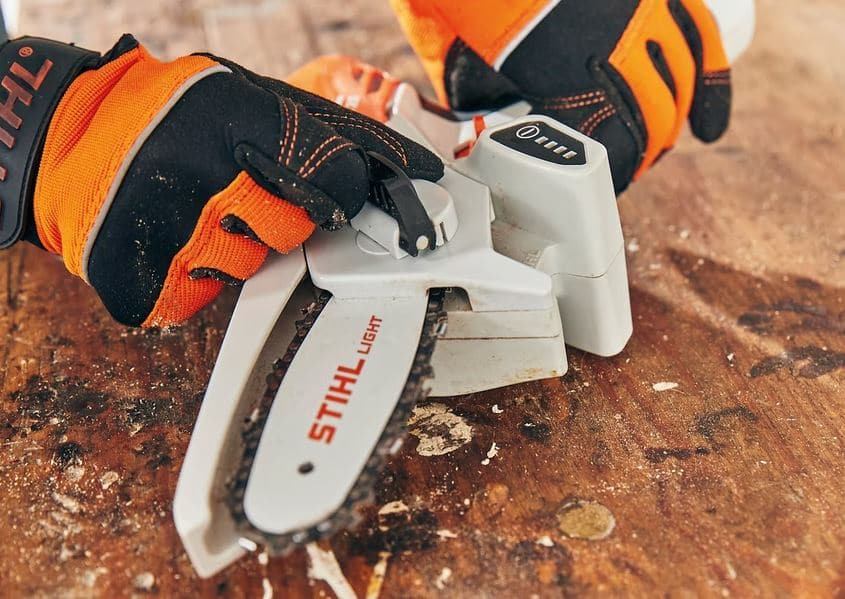 The Stihl GTA 26 is a fun little tool for light home use, but shouldn't be expected to be used for anything too serious.
Many people use them for cutting branches for the wood-burning fire pit or for shortening garden waste down to fit in the car or trailer for disposal.
It's great to have on hand for quick light tasks but shouldn't be relied upon for heavy work. As listed in the table above, the gas-powered Stihl MS 170 would be a better option for more power and much greater run times.
Or, if you really wanted a mini saw, the Milwaukee M12 mini chainsaw is another good option.