The Stihl MS 200 T is an excellent pro arborist chainsaw that was released in 2002 at the same time as the MS 191 T.
The MS 200 T is a 35 cc, 2.1 horsepower, 7.9 pound top handle saw that replaced the Stihl 020 T. The 200T was in production from 2002 until 2012, at which time it was replaced by the Stihl MS 201 T.
However, the 200 T is an extremely good saw that has remained very popular and still commands high prices. It's not uncommon to see it called the best topping or climbing saw ever made – here's why.
Stihl MS 200 T Chainsaw
The years of production for the Stihl MS 200T were between 2002 and 2012.
On the Stihl site at the time of release, they called it the 'Ultimate Arborist Saw.'
The MS 200T is extremely well balanced with the same durability and a narrower profile than the legendary 020S and 24% lighter.

Other performance features include a side access chain tensioner, Master Control Lever™, adjustable oiler, STIHL Quickstop® chain brake and retractable carrying ring.
And its popularity quickly grew.
The 200T description on the site just before it was discontinued acknowledged its place in the community.
No introduction needed. For professional in-tree use only, the MS 200 T is lightweight and has more power than the MS 192 T C-E – so it does the job day in, day out.

Well balanced and easy to use in confined conditions, it's no surprise this chain saw is our top of the line, "ultimate arborist saw."
And while there were tons of units produced, they can be slightly tricky to get your hands on because everyone that has one wants to keep it!
Everyone needs a good top handle saw in their collection, and the 200T is among the best.
It's also so good there are a number of clones of it out there that you need to watch out for. Farmertec Holzfforma has one called the G111, for example.
Stihl MS 200T Specs

The MS 200T specifications remained basically the same throughout the decade or so of production, but there can be some differences depending on where and when it was made.
MS 200 T specs:
35 cc
2.1 hp
1.6 kW
7.9 lbs
12 – 16″ bar (14″ is the sweet spot)
14,000 max RPM
2,800 idle RPM
NGK BPMR7A spark plug
1.6″/40mm cylinder bore
1.1″/28mm piston stroke
8.1 fl oz chain oil tank capacity
12.5 fl oz fuel tank capacity
It is really the perfect power for a professional climbing chainsaw with an excellent power to weight ratio.
Features included:
IntelliCarb compensating carburetor
Toolless fuel and oil caps with retainers
Side-access chain tensioner
ElastoStart starter handle
Adjustable automatic bar and chain oiler
Built-in retractable carry ring
Carburetor preheat shutter for summer/winter operation
Top handle
Along with all the other standard Stihl chainsaw features on a pro saw of that era.
MS 200 T Price And Parts
You can expect to pay anywhere from $300 – $1000 for a Stihl MS 200T in working condition.
A brand new Stihl MS 201 T will only cost you $699 (here on Northern Tool), so it's a bit unusual that you can end up paying more for a second-hand older model, but that's the way it is.
The 200 T has made a great name for itself, so it holds a lot of value and there are always plenty of people looking for them.
On eBay at the time of writing, there is an extremely tidy model listed for $800, and other non-working models sold as is where is for $200.
Parts can be sometimes tricky to find, especially OEM, but there are plenty of aftermarket and clone parts out there.
For MS200T parts, check:
And remember, many parts from the base model 020T are interchangeable with the MS200T.
Stihl MS 200 T Review
Check out Corey's review (Human YouTube Channel) of the MS 200 T and comparison with the MS 201 TC (both with muffler mods).
He explains why the 200T has a faster cutting speed while it has less horsepower than the 201 TC.
Other differences:
Longer run time with the 200T
201 TC 20% more fuel-efficient
200T has carb adjuster, 201T does not
200T has no captive bar nuts, 201T does
201T is not as stiff AV as 200T
They both have the same size bore and stroke.
The older 020T is basically the same as MS200t but the 020T AV S is a completely different animal.
Almost all of the parts don't interchange and it's a lot heavier (020T 9.7 lbs vs 020 AV S 11 lbs).
The Stihl MS 200 T is considered by most to be better than the 020T and MS 201 T, but Corey (in the video review above) finds that they are really comparable and has no preference.
MS200T Pros:
Powerful and lightweight
Considered the best climbing saw
Reliable and durable
MS200T Cons:
Stihl MS200T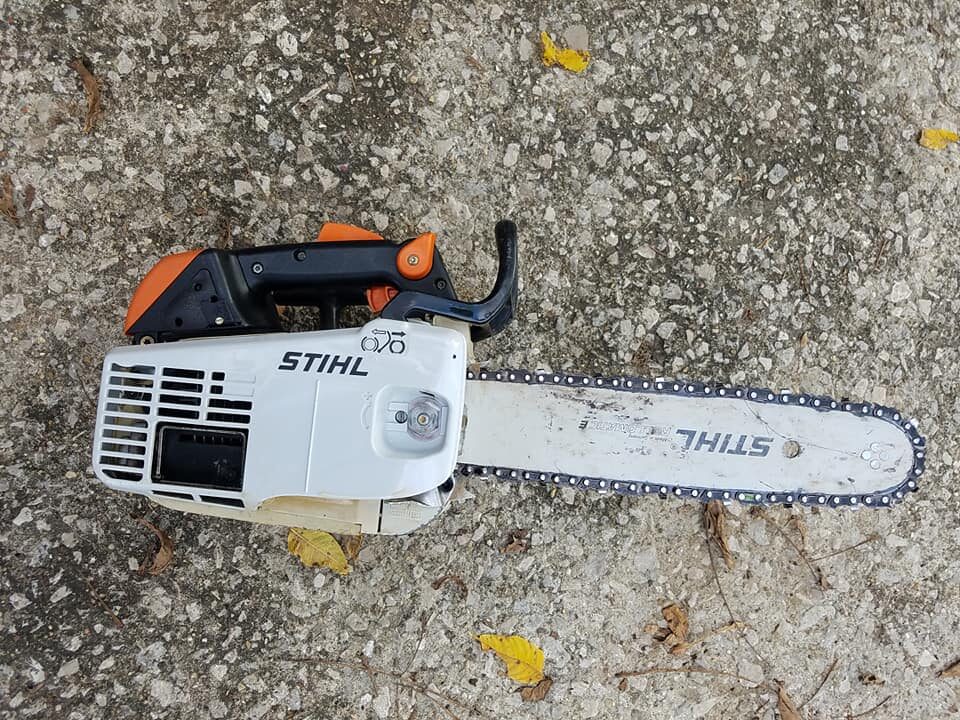 We think the Stihl MS 200 T lives up to its name as one of the best arborist saws ever.
However, you don't have to be an arborist to enjoy one – if you see it listed for the right price and in the right condition for you, grab it quick before someone else does.
ECHO chainsaws are a good alternative – we listed the CS-355 T above, and that's a great saw with similar power.
The ECHO CS2511T is also awesome. It is the lightest top handle saw out there, but it's slightly less powerful at 25cc.
Let us know if you have any questions or comments down below!