The Stihl MS170 is a lightweight 30.1cc gas chainsaw.
It's Stihl's lowest powered gas chainsaw that is designed for cutting fallen limbs, pruning, and other light tasks.
The MS170 is a good chainsaw, as all Stihl saws are, just keep in mind that is an entry-level homeowner chainsaw that won't be good for cutting thicker or hardwood logs.
If you buy the Stihl MS170 in the USA, it was made in the USA.
Stihl MS170 Chainsaw
Stihl 017

Produced 1995 - 2002
30.1cc, 1.6 hp, 12 - 16" bar
8.6 lbs

View On EBAYView On HL Supply

Stihl MS170

Produced 2002 - current
30.1cc, 1.7 hp, 12 - 16" bar
8.6 lbs

View On Acme ToolsView On Ace Hardware

Stihl MS171

Produced 2009 - current
31.8cc, 1.7 hp, 12 - 16" bar
9.5 lbs

View On Acme ToolsView On Ace Hardware

Husqvarna 435

Husqvarna alternative
40.9cc, 2.2 hp, 12 - 16" bar
11 lbs

View On AmazonView On Tractor Supply

DEWALT 20V MAX XR

Best-selling battery saw
20v, 5 Ah bat, 12" bar
8.8 lbs

View On AmazonView On Home Depot
The Stihl MS170 does get a bit of ribbing in the chainsaw community, simply because it is a low-powered saw that is more cheaply made than the alternative Stihl chainsaws.
However, it's still worth getting if you only have light work to do, or need a small back-up chainsaw.
The MS170 was released in 2002 to replace the Stihl 017 – a very similar saw that can be picked up for about $75 these days.
That means that the MS170 has been in production for almost 20 years – a much longer run than most Stihl chainsaws!
There is the newer Stihl MS171 as well, and I'll share the differences between the two saws below.
You can see where the MS170 fits among other entry level Stihl saws in the following comparison chart.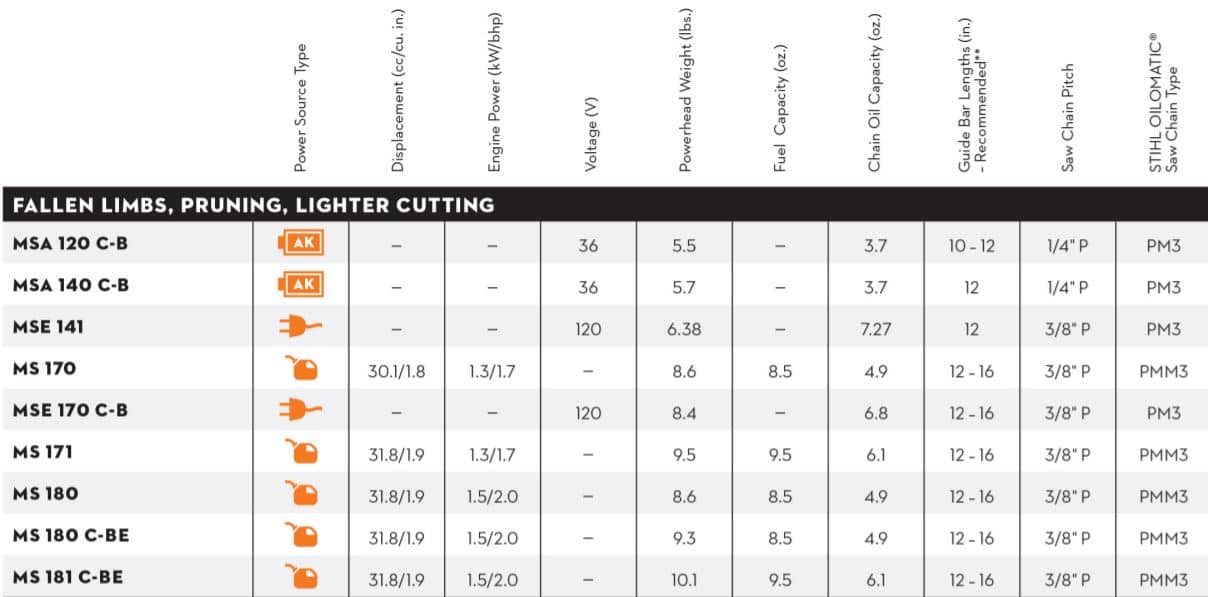 The MSA models are battery powered, MSE are electric, so you're mostly comparing the 170 with other MS gas powered models (more on what MS, MSA, and MSE mean).
The battery powered Stihls would be comparable in power to the MS170, while the Stihl corded electric chainsaws would be less so.
Battery and electric chainsaws can be nice because:
There are no fumes
Less vibration and noise
You don't have to pay for gas
But they also have their limitations as well – the main ones being that you're either tied to a cord or limited by battery time.
Gas chainsaws like the MS170 are great because they can do much longer run times, you have more freedom as to where you can go, and they just feel more powerful.
Stihl MS170 Specs

You can see some of the MS170 specs listed above in the comparison chart – that could help you choose between this model and the Stihl MS180, for example.
The Stihl MS230 is another slightly more powerful model that can work longer hours and chew through logs a bit faster.
Here are the MS270 specifications:
30.1 cc
1.8 cu. in. displacement
1.3 kW of power
1.7 horsepower
1.6 lb powerhead dry weight
8.5 oz fuel capacity
4.9 oz bar oil capacity
12 – 16 inch bar
3/8″ chain pitch
So that's for the new Stihl MS170, but earlier models from 20 years ago, may differ slightly (especially in exact features).
Specs and features can also differ a bit depending on the country of production.
Here are the specs for the original MS170 sold back in 2002.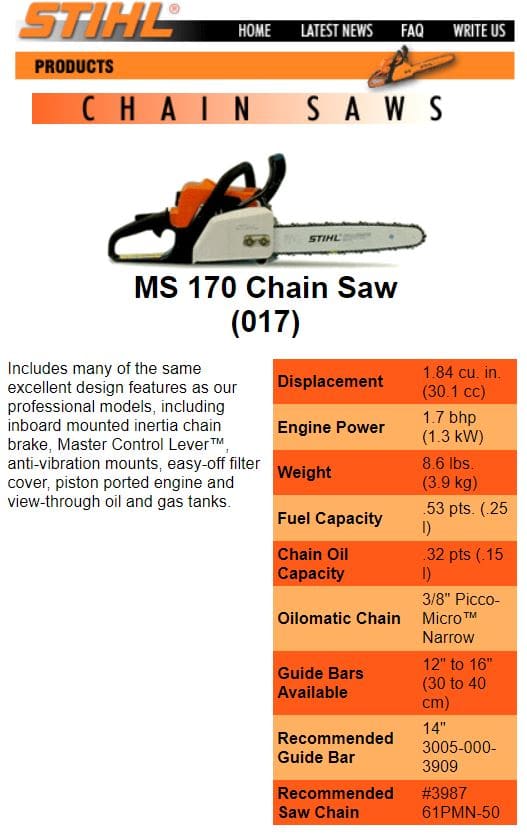 You can see it hasn't changed on paper at all.
Overall, however, there have been slight modifications to different systems meaning a brand new model could arguably be better than one of the earlier models (or vice versa).
Stihl MS170 Features
Check out the features and review in the video above.
The MS170 comes with all of the basic/standard features of a Stihl chainsaw.
The 170 comes with:
Master control lever – stop, start, choke, etc. on one switch
Throttle trigger lockout
Anti vibe system
Self-adjusting carb
Chain brake
Quick-adjust chain tensioner
It's an easy saw to use, being well balanced and lightweight, meaning you can use it for hours on end if necessary.
Also, it's a reliable machine, unlike many of the cheap chainsaw brands that you can choose from.
Stihl MS170 Price
How much does the Stihl MS170 cost?
It's listed for about $189 at most retailers – a very good price for a Stihl chainsaw.
Here are retailers that sell online:
Most stores only have in-store pick up, but you can still compare prices to get an idea.
Ebay sellers will ship Stihl chainsaws, and there are both new and used models available at the time of writing.
Also, go and check out your local Stihl Dealership – sometimes they will offer you a bit of a deal if you ask, or chuck in some free oil or something like that.
Stihl MS170 Replacement Chains can be picked up at any of the above retailers.
You can also check for chains:
Best to use Stihl or Oregon brand chains rather than cheap generic brands.
Stihl MS170 Review
All in all, the MS170 is a good homeowner chainsaw for first chainsaw buyers.
It's not an ultra-powerful machine that is suitable for processing a large volume of firewood each year, so if that's what you're looking for, try something else.
It is, however, a good pruning and light clearing chainsaw, and there are a few MS170 modifications that can be made to improve it if you're that way inclined.
It starts easily every time, being very reliable, and you'll get a lot of years out of it (if maintained properly).
Pros:
Cheapest Stihl chainsaw
Reliable and durable
Parts/service easy to find
Suitable for purpose
Good ease of use
Cons:
Entry-level
Lacking some helpful features like side chain tensioning
Stihl MS170 Vs MS171
What's the difference between the MS 170 and MS 171?
When compared by users, the MS170 usually comes out on top as the better saw, however, that's because it's easier to mod (not something everyone is interested in).
Otherwise, the 171 (or the 180) is recommended.
The 171 is slightly larger and almost 1 pound heavier – it's also a 31.8 cc compared to the 170s 30.1.
Pros of the 171 over the 170:
Side chain tensioner (pictured above)
Better air filter design
Adjustable carb
Pros of the 170 over the 171:
Easier to modify
Lighter
Better engine and oiler
Both are good chainsaws, so it really depends if the pros of the MS171 are worth the extra $20 – $30.
The MS310 is another good option, or the MS261 even better.
For another model that can be picked up second-hand (no longer in production), the 023 is another lower-powered homeowner chainsaw.
Stihl MS 170 Chainsaw
The MS170 is one of Stihl's longest-running chainsaw models.
It's worth buying both new and used, and has thousands, if not tens of thousands of fans worldwide.
If you were wanting to get started with a chainsaw, the MS170 is certainly a good way to do it.
You're not going to be felling trees and bucking 6-foot logs with it, but you'll be able to familiarize yourself with chainsaws in general and the Stihl brand in particular.
If you're looking for a small, light pruning saw, you're onto a winner!