The Stihl MS170 is a lightweight 30.1cc chainsaw. It is Stihl's least powerful gas chainsaw, designed for cutting fallen limbs, pruning trees, and other light tasks around the home and garden.
The MS 170 is a good chainsaw for the price and power, as all Stihl saws are (even if it is counted among the worst Stihls). Just keep in mind that this is an entry-level homeowner chainsaw that is not made for heavy-duty tasks. It's not really even a firewood chainsaw, it's a light pruning saw.
However, this comment from Stephen in the Stihl Chainsaw FB group says a lot:
Screw anybody that thinks the 170 isn't a good chainsaw. A saw is a saw, all depends on how you use it. Yes some have more power than others and so on and so forth, but it is all what is needed to get the job done. I've been running an MS170 for years cutting firewood for our house and family and never had a problem just took longer to cut bigger trees.
The 170 is capable of doing a lot, it's just not going to get it done as easily or as quickly as more powerful alternatives…
*Images sourced from Northern Tool's Stihl MS 170 listing.
MS 170 Comparison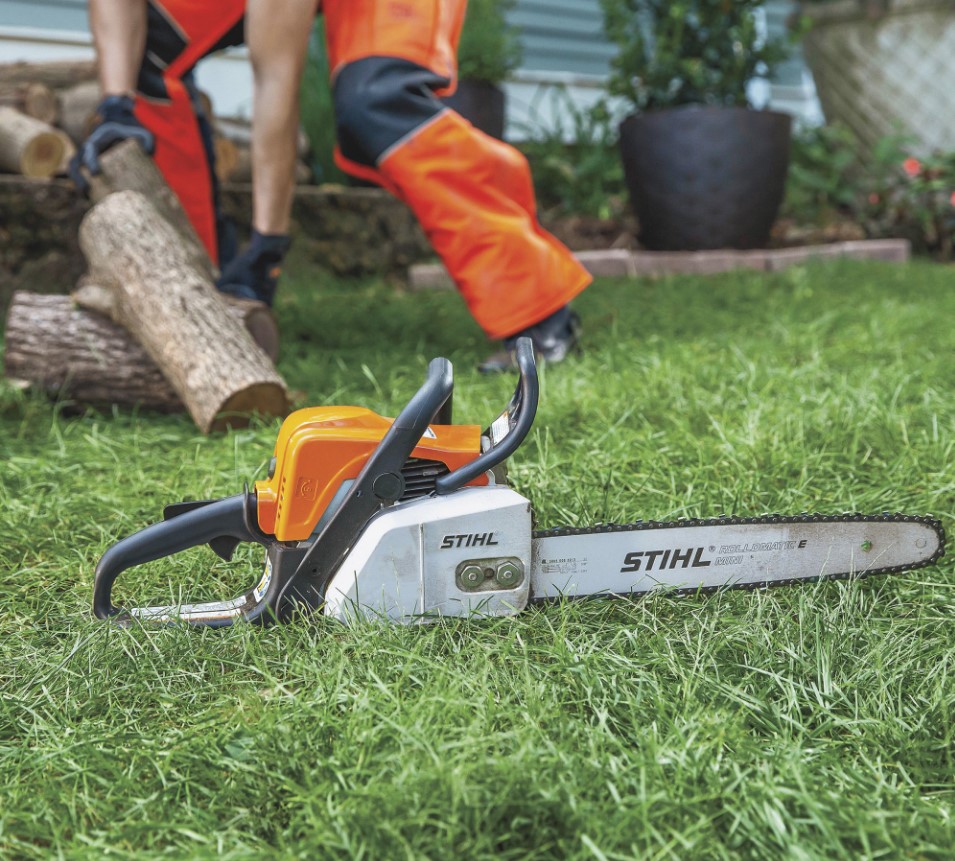 The Stihl MS170 does get a bit of ribbing in the chainsaw community, simply because it is a low-powered saw that is more cheaply made than the alternative Stihl chainsaws. However, it's still a saw worth getting if you need something for light work or want a small back-up chainsaw.
The MS170 was released in 2002 to replace the Stihl 017 – a very similar saw that can be picked up for about $75 these days. That means that the MS170 has been in production for almost 20 years – a much longer run than most Stihl chainsaws, which says something about its popularity and overall performance.
There is the newer Stihl MS171 as well, and we'll share the differences between the two saws below. In the following chart, you can see where the MS170 fits among other entry-level Stihl chainsaws.
| Model | Power Source | Displacement | Power Output | Powerhead Weight | Bar Length |
| --- | --- | --- | --- | --- | --- |
| MSA 120 C-B | Battery | – | (36 volts) | 5.5 lbs / 2.5 kgs | 10 – 12″ |
| MSA 140 C-B | Battery | – | (36 volts) | 5.7 lbs / 2.6 kgs | 12″ |
| MSE 141 | Electric | – | (120 volts) | 6.4 lbs / 2.9 kgs | 12″ |
| MS 170 | Gas/Petrol | 30.1 cc / 1.8 cu in | 1.3 kW / 1.7 hp | 8.6 lbs / 3.9 kgs | 12 – 16″ |
| MSE 170 C-B | Electric | – | (120 volts) | 8.4 lbs / 3.8 kgs | 12 – 16″ |
| MS 171 | Gas/Petrol | 31.8 cc / 1.9 cu in | 1.3 kW / 1.7 hp | 9.5 lbs / 4.3 kgs | 12 – 16″ |
| MS 180 | Gas/Petrol | 31.8 cc / 1.9 cu in | 1.5 kW / 2.0 hp | 8.6 lbs / 3.9 kgs | 12 – 16″ |
| MS 180 C-BE | Gas/Petrol | 31.8 cc / 1.9 cu in | 1.5 kW / 2.0 hp | 9.3 lbs / 4.2 kgs | 12 – 16″ |
| MS 181 C-BE | Gas/Petrol | 31.8 cc / 1.9 cu in | 1.5 kW / 2.0 hp | 10.1 lbs / 4.6 kgs | 12 – 16″ |
MS models are gas-powered. MSA models are battery-powered and MSE saws are corded-electric Stihls. In terms of what these saws can do, they are comparable with the MS 170/171 and 180/181.
Battery and electric chainsaws can be perfect for some people because:
There are no fumes
Less vibration and noise
You don't have to buy, mix, and top up gas and engine oil (they still need bar oil)
But they also have their limitations as well. You're either tied to a cord or limited by battery time. When using a saw for longer stretches of time, gas is better because you fill up and go. There's no waiting for batteries to charge and the length of a cord does not limit you.
Stihl MS170 Review
The MS 170 is an OK homeowner saw for first buyers, or good for those wanting a "fallen limbs, pruning, or lighter cutting" chainsaw (as it's described by STIHL). There are thousands of happy users out there, despite the saw getting some negative feedback from those who only prefer powerful chainsaws.
The 170 is not a good chainsaw for processing a large volume of firewood each year. It will do it (to an extent), but it will be slow and sluggish, especially on thicker logs. Also, you'll run the risk of overheating the saw, damaging the piston and cylinder, and over time losing compression leading to engine failure. Of course, there are a great many other problems that can arise mechanically from misusing a saw like this.
With all that in mind, here are reviews from MS 170 users in the Stihl Chainsaw Fans group:
Stihls #1 selling saw for a reason!
If the right bar and chain are on it's a great little saw for the money.
There is one always in the toolbox on my truck, a great little saw, never know what's across the road.
I run the hell out of mine with an adjustable carb, muffler opened, and 18" bar.
There is absolutely nothing wrong with the little MS170.
I love mine it's lightweight and it beats an axe.
Slap an adjustable carb and open the muffler up and they pull pretty hard.
Don't push it. Let it take its time. I used my 170 today for cutting up landscape timbers. Just fine.
They are great for a little saw.
James said:
For everyone saying the MS 180 and 170 are trash, I got mine when I was 19. I'm 21 now I've kept up with it! Hasn't given me any problems, but I'm definitely ready to upgrade!
Bryan said:
They are handy sure, but for the purposes they fill, I'd rather run an electric saw. I find them more enjoyable to run in smaller clean up type stuff. I was a doubter for a long time and I've come full circle. I run a ton of DeWalt tools already, my brother had a bunch of 60v tools and bought the 60v DeWalt saw. It's definitely got more juice than my other brother's little 170 he bought for his wife. Way handier too…

I dont think the mini-gas saws are useless by any means, but they definitely have limitations that make buying one new less appealing. For the same price range, my local tractor dealer/saw shop/farm store takes saws in on trade regularly and you can get a serviced and function tested used-saw in the 45-60cc range for pretty near the cost of a 170 or 180 new and get far more for your dollar. Basically for the same cost as Joe Schmoe's Facebook marketplace saw, but it's serviced and in working order for certain.
And he further expanded with:
For the price difference of around $20, I find that the MS180 is overlooked and is way more capable than the MS170 it shares the platform with. They still follow the same niche, but the 180 makes a notable amount more power. All these guys swapping carbs and muffler modding a. MS170… Just to make it run just like an MS180 as is.
Doug said:
It eats pretty well for its size. My neighbor has one, he and I did some side by side bucking with it and my 261. The 170 was obviously slower but not embarrassingly so.
Kevin said:
I bought an MS170 16 inch about 3 years ago and it has been a great little saw. It has never let me down. Wanted something small and light compared to my MS271 20 inch.
Tim said:
Have two 170s, that's how much I like them. First one is over 10 years old or more and still running. Just tired. For the price you can't moan. Great lil saws.
Mark said:
It's a good saw… Just use it for what it's intended for and it'll serve you well…

Throw some dogs on it and replace that pain in the butt front chain tensioner with a side unit from a 250. The side style chain adjuster from an MS 250 will bolt right into an 017, 018, 021, 023, 025, MS 170, MS 180 slot.
And another Mark, also into 170 mods, said:
Here's a list of things I've done with a 170 to improve the performance of the saw:

14″ light bar and yellow chain
MS 250 carb
Muffler mod
MS 250 side tensioner
Metal spikes off a 180

This has turned an ordinary saw into a nice little limbing saw that really holds it's own. No, it's not an MS 260 or a 200 long handle but for the money it's good.
However, unless you've been given or ended up with a 170 extremely cheaply, you're better off just getting a more powerful saw from the get-go, rather than spending the time and money modding it to make it better.
Specs And Features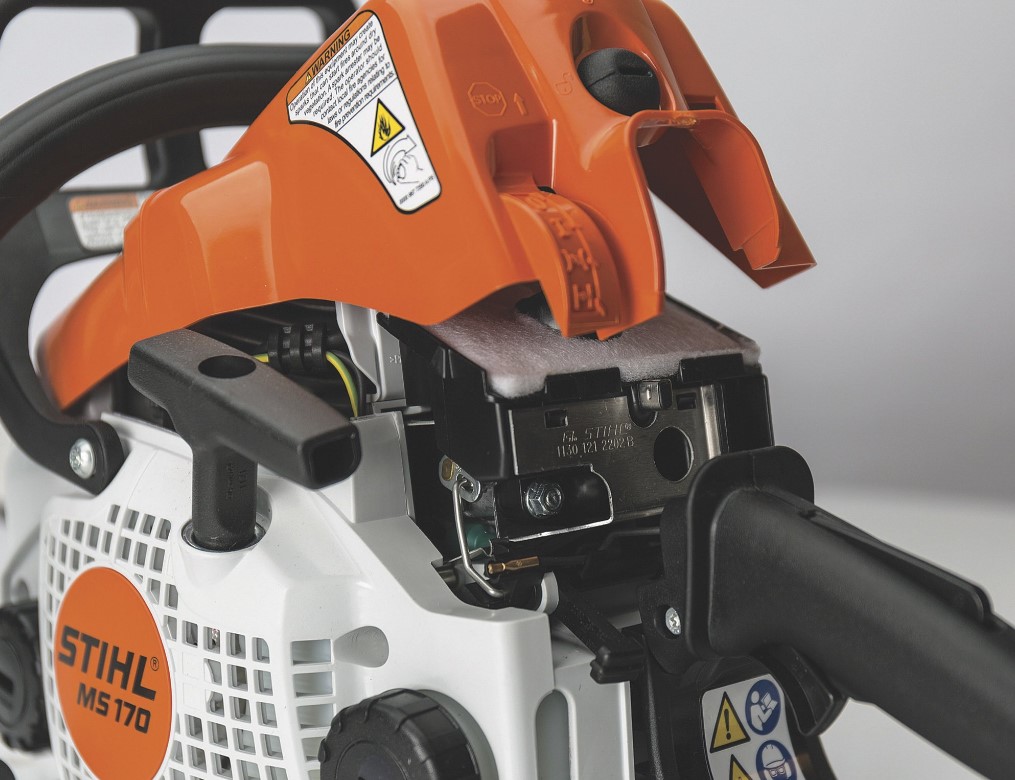 STIHL MS 170 specifications:
Displacement: 30.1 cc / 1.8 cu. in.
Power output: 1.3 kW / 1.7 bhp
Powerhead weight: 8.4 lbs / 3.8 kgs
Stroke: 1.10″ / 28 mm
Bore: 1.45″ / 37 mm
Fuel tank capacity: 8.5 oz / 0.25 L
Oil tank capacity: 4.9 oz / 0.145 L
Bar length: 12 – 16 inch
Chain pitch: .325″ / 3/8″
Oil Pump: automatic (non-adjustable)
Spark plugs: NGK BPMR7A or Bosch WSR6F
*Specs and features can vary depending on the country of production, year made, and version of the saw. These are the MS 170 chain sizes for each bar.
STIHL MS 170 features:
Master control lever – stop, start, choke, etc. on one switch
Throttle trigger lockout
Anti vibe system
Self-adjusting carb
Chain brake
The Stihl MS230 is another slightly more powerful model that will perform better for harder tasks.
Stihl MS 170 Vs MS 171
| Specs/Features | MS 170 | MS 171 |
| --- | --- | --- |
| Displacement | 30.1 cc / 1.8 cu in | 31.8 cc / 1.9 cu in |
| Power output | 1.3 kW / 1.8 hp | 1.3 kW / 1.7 hp |
| Piston stroke | 1.1″ / 28 mm | 1.1″ / 28 mm |
| Cylinder bore | 1.5″ / 37 mm | 1.6″ / 38 mm |
| Powerhead weight | 8.6 lbs / 3.9 kgs | 9.5 lbs / 4.3 kgs |
| Fuel mix capacity | 8.5 oz / 0.25 L | 9.1 oz / 0.27 L |
| Bar oil capacity | 4.9 oz / 0.145 L | 9 oz / 0.26 L |
| Bar length | 12 – 16 inch | 12 – 16 inch |
| Side chain tensioner | No | Yes |
| Quick chain adjuster | No | Optional |
| Master control lever | Yes | Yes |
| Anti-vibration system | Yes | Yes |
| Toolless fuel/oil caps | No | Yes |
| Fuel cap retainers | No | Yes |
| Throttle trigger lockout | Yes | Yes |
| Translucent fuel tank | No | Yes |
| Made in America* | Yes | Yes |
*MS 170 and MS 171 chainsaws that are sold in America are made in America. Models sold outside the USA may have been manufactured elsewhere.
What are the differences between the MS 170 and MS 171, and which is best?
Steven said:
The 171 is better built, has a fully adjustable carb, and better air filter. The 170 is woeful. If you can afford it, get a 181 or 211, same weight and more power then the 171. The 211 is great little saw but it's more expensive.
Robin said:
Those 2 saws are easy to start (very little back pressure). The 171 only has one nut on clutch cover (unless it's the version with quick chain adjust). 170 is hard to tighten chain!

My choice… the MS 171 and I work for Amish barn builders. Always have 2 to 4 chainsaws, ALL MS170.
Trey said:
I can't stand my 170. I wish I can bought a saw that had an adjustable carb. I believe the 181 does, but not completely sure. I wish I had bought the 250 instead of the 170. I've got pro saws that I use all the time, so maybe I'm just expecting to much from the 170, but I used a friend's 250 and really liked it.
Thomas said:
I have the MS 171 and love it. I cleared almost 5 acres of thick brush and mesquite trees in a few days with no problems besides sharpening chain after everyday of cutting. I love the thing. My neighbor/friend has the MS180 and hates it. He has so many problems with it and barely gets to use it because of that. I'd go MS171.
And Zach said:
Just get a 180. Already has the side tensioner, and a touch more power. I love mine for limbs and small stuff.
All are decent chainsaws, so it really depends if the pros of the MS171 are worth the extra $20 – $30 compared to the 170. The MS310 is another good option.
STIHL MS170 Price
How much does the Stihl MS 170 cost?
It's listed for about $199 at most retailers – a good price for a Stihl chainsaw. Most stores only have an in-store pick-up option, but you can still compare the prices above to get an idea.
EBay sellers will ship Stihl chainsaws, and there are both new and used models available at the time of writing. Also, go and check out your local Stihl Dealership – sometimes they will offer you a deal if you ask, or chuck in some free oil or something like that.
Stihl MS170 Replacement Chains can be picked up at any of the above retailers, or:
Stihl MS 170 Chainsaw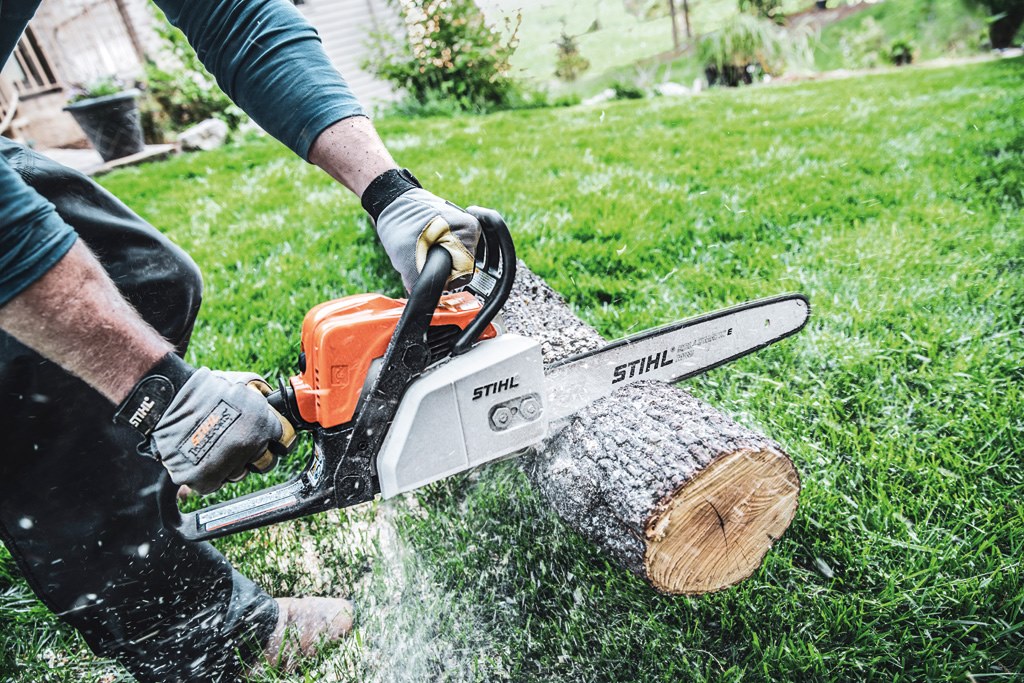 The MS170 is one of Stihl's longest-running chainsaw models. It's worth buying both new and used, and has thousands, if not tens of thousands of fans worldwide. If you were wanting to get started with a chainsaw, the MS170 is certainly a good way to do it.
You're not going to be felling trees and bucking 6-foot logs with it, nor will you be sticking a 36-inch chainsaw bar on it, but you'll be able to familiarize yourself with chainsaws in general and the Stihl brand in particular.
If you're looking for a small, light pruning saw, you're onto a winner, but if even the 170 is too big for you, check out the Stihl GTA 26 Pruning Saw. It's a small one-handed saw for very light pruning.