Stihl designed the MS500i chainsaw with professionals in the forestry and tree service industries in mind.
Weighing in at under 14 pounds and with a displacement of 79.2 cc's, it has the power-to-weight ratio people who work long hours felling trees or bucking firewood need.
It's well-regarded by the Stihl community for its reliability, ease of use, ease of maintenance, and power, but is it the right choice for you?
Here's what you need to know about the Stihl MS500i to help you decide.
Stihl MS500i Chainsaw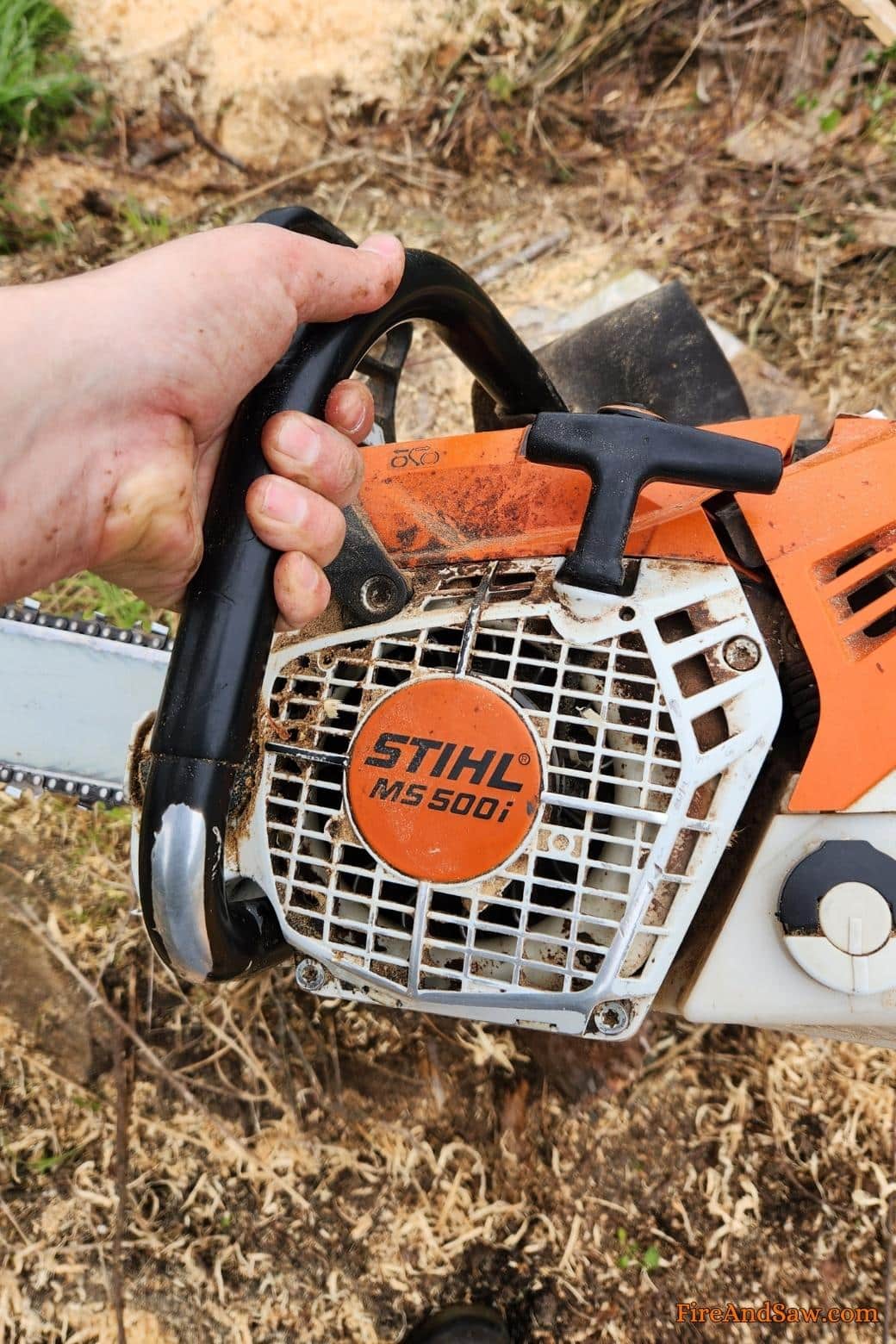 The 500i featured throughout this post belongs to Jimbob – he's a New Zealand based tree worker that I spoke with recently.
He uses this saw for dropping trees and processing firewood. He's worked with a ton of other Stihls saws while logging, and really likes the 500i for what it is. He said that compared to the MS661, at least, it's a million times better.
As I've already said, the saw is really lightweight. It's not a small saw; it looks like it will weigh a ton, but when you pick it up it's surprisingly light.
At this stage there are two versions:
Stihl MS500i – the standard base model
Stihl MS500i W – same as the base but with heated handles
But more versions will arise in the future, no doubt.
Before you purchase a Stihl MS500i, there are several things to consider. Chief among them is the list of problems other users have encountered with their Stihl MS500i.
It's been on the market since 2019, so there's been plenty of time for criticisms to emerge. Overall though, they haven't.
Issues are few and far between, with the most common limited to:
Some reports of high fuel consumption
A few complaints about low oil capacity
Problems encountered due to misuse
Difficulty diagnosing problems
Failing quickly
The vast majority of people who have used the Stihl MS500i don't have anything negative to say, which is impressive from a target market of industry professionals who know chainsaws inside and out.
Examples of negative comments you'll see:
Our dealer doesn't sell them, he doesn't want to deal with the cost of the program to tune/diagnose, etc
They don't like smokey or dusty environments as it upsets their advanced electronics
My 500i motor blew at 2hrs 33min was in the shop for over a month waiting for parts to come in
But not everyone agrees, which we'll get into in the review further below!
Importantly, you need to know the details of how this particular chainsaw works.
Electronic Fuel Injection
This video illustrates how the electronic fuel injection process works. You can also check out the official Stihl 500i promo video on YouTube here.
The MS500i is notable for its unique electronic fuel injection system – it's the first chainsaw of its kind.
Initially, Stihl fans and potential buyers were a bit cautious. Stihl's carburetor models work just fine, so why make changes?
More technology often means more opportunities for something to go wrong, so the innovation left many wondering whether the new saw would work effectively.
These concerns mostly (but not completely) dissipated as soon as reviews and videos about the Stihl MS500i appeared online. The fuel injection was a game-changer for the chainsaw industry.
It allows the saw to start quickly, accelerate rapidly, and removes the need for a choke. As a result, you can get to work faster and more efficiently.
The Stihl 500i chainsaw's release date in the US was in Spring 2019 (rolled out across the world after that) and it quickly became known as one of the best logging chainsaws.
MS500i Specs
One of the best parts of shopping for a new chainsaw is looking at the specs of what's on the market.
As you might have guessed from the hype surrounding the MS500i, its specs are pretty impressive.
MS 500i specs:
Displacement: 79.2 cubic centimeters
Engine power: 6.7 brake horsepower
Weight: 13.9 pounds (6.3 kgs)
Fuel capacity: 26.05 ounces
Oil capacity: 11 ounces
Recommended chain: 3/8th of an inch RS3
Recommended guide bar length: between 16 and 36 inches
For the best performance, Stihl recommends the 25" 3003 000 4030 Ematic guide bar and the 33 RS3 84 Oilomatic saw chain, which the saw initially comes with.
It's one of Stihl's most powerful chainsaws.
Features And Benefits
The Stihl MS500i is a powerful, lightweight chainsaw, but those aren't the only features users love about it.
It also has:
A good anti-vibration system so you can work longer and be more comfortable
A decompression valve that means pulling the starter rope requires less effort
Stihl's ElastoStart™ feature increases the ease of pulling the starter cord
The Ematic lubrication system decreases oil consumption
Retainers for the fuel and oil caps
Easy access to the chain tensioner
This chainsaw is best for professionals who spend long hours felling trees, limbing branches, and dealing with the mess. But in saying that, it's also a great saw for those who aren't in full-time tree work but who want one of the best Stihl saws.
They use a lot of fuel, but if you're cutting big stuff they're awesome.

While some people have problems with them, they don't fail any more often than any other pro-Stihl saw and perform better power-to-weight wise.
Stihl designed it to make the work you do as safe, fast, and easy as possible.
Stihl MS500i Review
Stihl's MS500i chainsaw is a phenomenal saw.
Its power-to-weight ratio is among the best on the market. While it's on the more expensive side for a chainsaw, if you're a tree service professional, you'll recoup your investment with increased productivity.
It's comparable to Stihl's 461 and 462 models, but more powerful and efficient. The electronically-controlled fuel injection system puts the MS500i in a class of its own, and we wouldn't hesitate to recommend it.
If you're interested in a video review, check out Skogsforum's test of the MS500i. They had someone use the saw for three months without performing maintenance, and the results are interesting to see.
Jimbob, the owner of the saw featured in this post, far prefers his 500i to his 661 (and he's run a lot of them). He is often using the 500i all day and hasn't had any issues.
Pros/positive reviews and comments:
I usually run a 461 and a 660. I absolutely love my 500i and have a lot of hours on it and tanks ran through. Still my main saw.
I find it to be a really good saw. I use the most and really love it, but it is a little thirsty ??
The majority of issues are due to operator error. I have several I've used endlessly and they're all running fine.
I have not had any issues at all!
Bought one when they first came out and it's still running strong. And it's used a lot.
And there are many glowing reviews, like this one from Donald:
I sold just about all of my other saws from 60cc to 80cc when I got my 500i 2 years ago. 360 pro 036, 038, 441, 461, even my 064. I refused to use them after I had this thing. Of course, there are bad ones that blow up. Look up reviews on anything with an engine.
And Andrew said:
The biggest issue is my heavy 461 and 661 sit on the shelf now!
The 500i quickly became the favorite saw of many loggers and other tree workers, but not all of them…
Cons/negative reviews and comments:
I heard they don't perform well in the cold weather, but I don't have one so I can't say for sure.
Only problem is that they're loud as hell, you'll know about it when you've screamed one all day.
The air filter sucks but you can buy a good one. I did and I like the saw but I do use the 400 more.
I've used the 461, 462, and 500i, and prefer the 461. Easier to fix in the field.
They're overpriced, overhyped junk
And this was a helpful thread… Eston commented:
EVERYBODY I know that has one or has had one has told me to stay away from it if I was going to have one as a daily user.

That's because one guy's saw blew the engine the second day and the other three guys told me they've had numerous problems in and out the shop often.

I'll just stick with the extra weight of the 661c that has not failed me yet, and I run the Hell out of them every day.
And Gary replied back:
I've run mine almost daily for well over a year. Flawless. My dealer is also a friend. They go out to loggers and no problems reported yet. So I don't know who's doing what buy I'm running my saw hard from freezing cold to over 90 degrees out with zero problems. But, I also maintain my stuff.
Make sure you're using the gear right and It'll look after you.
Stihl MS500i Price
The one factor that might make you balk when looking at the Stihl MS500i is its price, especially if you're looking for a chainsaw for personal use.
If that's the case, you'll likely be better off with a different model the MS461 or MS661 are alternatives that might be suitable (just stay away from the MS441).
No matter what country you are buying in, this is going to be more expensive than the average high-end chainsaw.
Current price examples:
Despite the price, if you're a forester, arborist, logger, tree service professional, or in another field where you spend a lot of your time with a chainsaw in your hand, it might be a worthwhile investment.
If you're not sold on the MS500i or want to shop around a bit more before making your decision, don't worry.
There are a few comparable non-Stihl options available, including:
All of the alternatives we listed are designed for the demanding work undertaken by tree service professionals rather than personal use. They're durable and robust but a bit heavier than Stihl's MS500i.
Alternatively, the old '0' series Stihl saws that are similarly powered are another alternative. Check out the 70cc Stihl 044, the 81cc Stihl 056, or the 111cc Stihl 075.
These vintage saws are not nearly as comfortable to work with – they're loud, fuel-hungry, and will vibrate you half to death – but they're much cheaper (even those in good condition) and can be easier to work on yourself.
FAQs
I'm sure you still have questions about the MS500i.
These are some of the more common inquiries we see.
How many ccs is the Stihl MS500i?
This chainsaw has a displacement of 79.2 cc's.
Satisfied buyers report that it seems to run like a more powerful saw while weighing far less, given its incredible power-to-weight ratio.
Has there been a 500i recall?
After Stihl's massive 2017 recall of the MS461 and 461R, you might have concerns about the 500i.
After roughly two years on the market, however, there have been no recalls of the 500i.
Is the 500i worth it?
You're the only one that can decide for sure that the 500i is worth it.
If you're a forestry professional of some sort, we think it is, though. Its power, efficiency, and ease of use make it worth the higher-than-average price tag.
It also comes with a three-month warranty for professional use so that you can feel secure in your purchase.
How does the 500i compare to the 462?
Stihl's 500i and 462 are relatively similar.
The 462 is marginally lighter, slightly less powerful, a bit cheaper, and lacks the electronically controlled fuel injection system. If you're debating between the two, we believe the 500i is worth spending a bit more on.
What chain does the MS500i have from the factory?
The MS500i comes with a 33 RS3 84 Oilomatic chain.
For reference, if you're looking for a replacement, that's part #3624. It's a 3/8th of an inch chain, and it's what Stihl recommends to get the best performance from your saw.
MS 500i Pro Chainsaw
If you're a forester, arborist, or logger, you need a saw with the power to cut through thick hardwoods.
You also need it to be light enough that you can use it for hours at a time without becoming fatigued. With its power-to-weight ratio, that's the Stihl MS500i.
If you're looking for a chainsaw for personal use around your home or farm, the MS500i is more heavy-duty than anything you're likely to need. If you're looking for a lightweight, powerful saw geared toward professional users, however, this is the chainsaw for you.
It's not the best saw for around the home or even for occasional use on the farm – find out more about the Stihl MS 261 or the MS 310 for lessor-powered saws.