The 044 is a pro Stihl saw made between 1988 – 2001.
It's a powerful 70cc saw that features in all of the 'best Stihl chainsaw' round-ups.
Even today, it is a sought-after saw that fetches a good price. It is known for being a reliable workhorse in a pro capacity or as a very good heavy-duty firewood saw.
*Used Stihl 044 Chainsaws can be found here on Ebay.
Stihl 044 Chainsaw
The base model 044 was released in 1988.
The 044c, which was released in 1989, was the first Stihl Chainsaw with a catalytic converter; a device that limits the hydrocarbons in the exhaust gas by 70 – 80%.
In fact, Stihl was the first company in the world to develop such a device for 2-stroke engines.
Here are some comments from various owners of the 044:
Fantastic saws – the 044 / 046 are Stihl's most sought-after saws.
The best saw Stihl ever made.
Beast of a saw. Stihl's best ever.
My favorite saw! 440 magnum are rippers. I've got 2 and absolutely love them.
One of stihl best saws I used 2 of them logging never once let me down
Mine is 30 years old, and gets used every year to cut firewood. One of Stihl's best saws.
Bought a used 044. Worth every penny I spent. Will never give it up. The thing just runs.
These types of comments are very typical.
It's certainly one of the top 5 best saws ever made so if you have the opportunity to buy one at a good price, jump on it.
Check out our guide to buying a second-hand chainsaw for a few tips on how to know whether a seller is legit – don't get scammed!
Stihl 044 Specs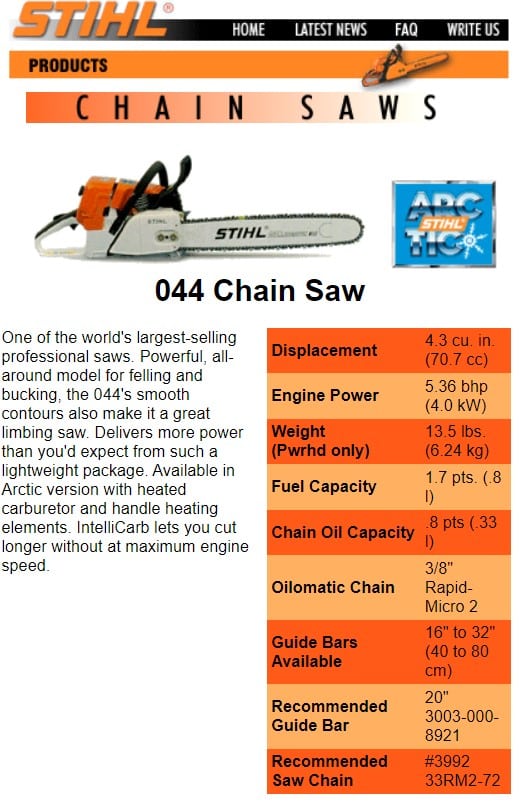 You can see the main specs of the 044 in this chart.
It's a powerful 70cc, 5.3 hp saw weighing 13.5 lbs without bar, chain, fuel, and oil.
Stihl marketed it as:
One of the world's largest-selling professional saws. Powerful, all-around model for felling and bucking, the 044's smooth contours also make it a great limbing saw. Delivers more power than you'd expect from such a lightweight package.

Available in Arctic version with heated carburetor and handle heating elements. IntelliCarb lets you cut longer without at maximum engine speed.
Both the base model 044 and the Magnum can be purchased as an arctic model.
This means it has heated handles and carb for working in low temperatures. It can be switched on and off. This feature increases the weight of the saw by about 0.4 lb.
Other specs of the series 1128 044:
50mm bore, 36mm stroke
Piston ported intake
Nylon mesh air filter
Magnesium casing
Automatic oiler
Anti-vibration handle system
2,500 RPM idle speed
13,500 PRM max speed
Bosch WSR 6 F or NGK BPMR 7 A spark plug
And what is the best size bar for the 044?
It depends on who you ask, but as a general rule, anything from a 20″ to 32″ bar will be good.
Some people try to take it up to a 38″ bar, but that's pushing it a bit.
The majority of people run the 044 with a 25 – 28 inch bar, but say it comfortably goes up to a 32″.
It's hard to state what an 044 is worth without seeing the particular model and knowing its history, but saws in good condition can fetch up to $600. Most seem to sell for around the $400 mark.
Stihl 044 Vs Stihl 044 Magnum
If you compare the specs of the 044 and the 044 Magnum they are identical.
However, the description states:
One of the world's largest-selling professional saws. Powerful, all-around model for felling and bucking, the 044's smooth contours also make it a great limbing saw. Delivers 5% more power than the previous model.

Available in Arctic version. IntelliCarb lets you cut longer between filter cleanings.
It's hard to find solid info on the actual differences, but there are a few ideas floating about out there.
Likely differences are:
The Magnum is dual ported; much stronger but has the same 5.4 bhp
Magnum has a decompression valve and crankshaft that were changed to incorporate a larger wrist pin
Different timing and coils
However, take that with a pinch of salt as there are a lot of disagreements on the differences, even among Stihl techs and dealers.
There are those who say it's just a marketing label. They put a sticker on it and called it a Magnum but it's identical. But I don't buy that.
This does seem to be the case with the MS440 and MS440 Magnum, but not here.
10mm Vs 12mm Piston Pins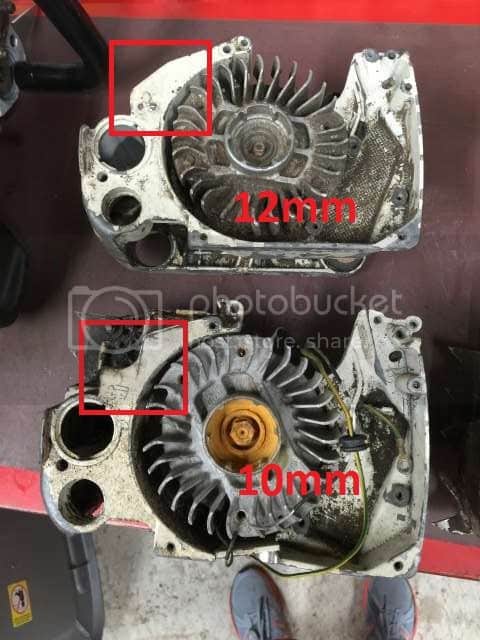 The big question people want to know is whether or not they have the 10mm or 12mm piston pin model.
That's because the higher port timing on the 10mm is more desirable, but the smaller combustion chamber is good as well.
According to Stihl, the 10mm crank was used up to serial number X 29 583 701. Whereas the 12mm crank was used from X 29 382 283. The change from 10 to 12mm was made around 1994.
The early 10mm saws tended to have a red control lever rather than black, plus they had a larger exhaust opening. Also, the casing behind the muffler was slightly different between the two versions, as illustrated in the picture above.
And as a general rule, a cylinder with slanted fins will be 10mm, while a straight fin cylinder will be 12mm. However, there are exceptions. Some very early 12mm saws had slanted fins. Also, people will put a 10mm cylinder into a 12mm saw which can confuse things.
Difference Between 044 And MS440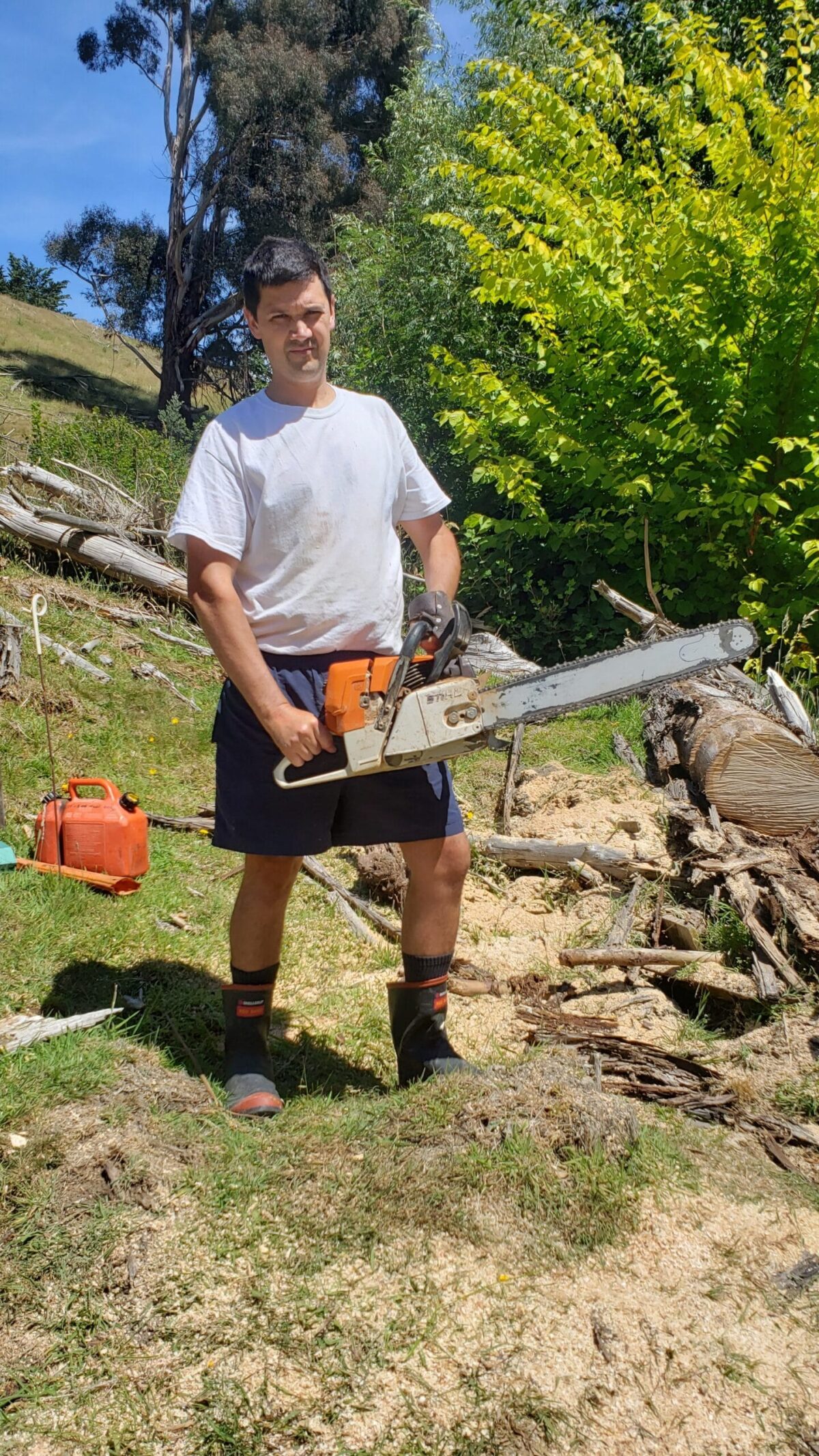 The Stihl 440 is the saw that replaced the 044 in 2001.
Here are some of the differences between the 2 saws:
440 has a compensating carb, decompression valve, and are all 12mm pin (some 044 have 10mm)
The 440 also has slightly different porting to some early 10mm 044
Minor cosmetics difference, though many parts do transfer
044 has threaded fuel caps, 440 has flip-caps
The 440 meets the emissions requirements of that era
The 440 itself was followed by the unpopular Stihl 441 (2007 – 2019) – check out all the Stihl Chainsaw production years here.
Stihl 044 Review
9 out of 10 Stihl chainsaw owners agree that the Stihl 044 is one of the top 5 Stihl chainsaws ever made…
OK, I made that up.
But if you do talk with Stihl chainsaw fans, it does come off that way. The 044 is almost universally loved by those who own them and run them.
They are a good pro saw for commercial use but they're just as popular among homeowners who appreciate saws and buck a lot of firewood.
In saying that, it's one of Stihl's largest chainsaws so it's not the ideal saw for beginners or those who do not have a lot of experience. The MS260 might be more appropriate, or even the MS230 for complete newbies.
Let me know if you have any questions in the comment section below and feel free to share your thoughts and experiences as well.