The Stihl MS290 is a mid-range chainsaw that was made between 2000 – 2012.
It is a 56.5 cc chainsaw from their NON-pro range. It is part of the Farm Boss line of chainsaws, which basically just means it is one of the top farm and ranch chainsaws. It's powerful and reasonably tough, but it isn't built like a pro-saw, and won't perform like one either.
While it can no longer be bought new, it often comes up for sale on eBay, Facebook Marketplace, or in other local chainsaw sale groups. Is the Stihl MS 290 any good? Let's take a look.
Stihl MS290 Chainsaw
Here are the different ways Stihl marketed the 290 when it was for sale new.
In the US they said:
Our number one selling chain saw: enough said. Designed for rugged homeowner or landscape and farm use, the legendary STIHL FARM BOSS® is a true work saw. With plenty of power to spare, you can let the MS 290 do the cutting for you — from limbing to felling and bucking larger trees into firewood.
In Canada, they said:
STIHL's Most Popular Model

Designed for rugged farm use, this powerful unit comes equipped with side access chain tensioner, IntelliCarb™ compensating carburetor, built-in "winterizer" kit for cold weather operation and toolless fuel and oil caps. Anti-vibration system is designed to reduce the transmission of engine vibrations to the operator's hands.
In the UK, they said:
Robust, durable with an engine that develops considerable torque even at medium speed. The perfect helper for a whole variety of sawing jobs on farms, orchards, gardens as well as for local authorities. Available with guide bar lengths 15″/37cm to 18″/45cm.
And in Australia, keeping things short and sweet, they said:
Very reliable and hardworking home or light commercial saw.
As we mentioned earlier, it was part of Stihl's Mid-Range Chainsaw range, which was described like this:
STIHL Mid-Range Chain Saws

For more than just an occasional job, these chain saws get the bigger jobs done right. They are perfect for cutting firewood, and have more power and features than our smaller chain saws. Farmers and landscapers also depend on mid-range chain saws from STIHL to take down bigger trees, clear thicker limbs and larger areas.
That's a lot of descriptions about the MS290 and its place in the Stihl line-up, but if you are looking at buying a second-hand model that should help you to determine if it's going to be suitable.
Other chainsaws in the "Farm Boss" line include the MS271 and 391 – they are newer versions of this same line of saws. Not everyone loves them, but plenty of people do rate them highly.
If you want a saw for commercial or professional work, the 290 is probably not for you. But for occasional home, farm, landscaping, or agricultural use, the 290 fits the bill.
Specs And Features
Specs vary depending on time and location sold.
Some versions of the 290 are listed as 2.8 kW/3.75 bhp and 3.45 cu in/56.5 cc. For example on the Stihl USA site: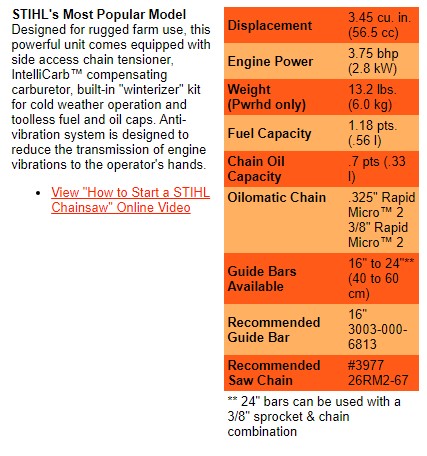 While on the Stihl UK website, it's listed as 3.0 kW/4.1 bhp.
So make of that what you will… any ideas?
It was the same in our Husqvarna 350 chainsaw review. Husqvarna listed the saw with different specs at different times and in different places. My guess is just that saws were slightly different depending on where they were released. This is sometimes the case due to different regulations and laws in each country.
Here are the specs from the manual (download here):
Displacement: 3.45 cu. in (56.5 cm3)
Bore: 1.81 in (46 mm)
Stroke: 1.34 in (34 mm)
Idle speed 2,800 rpm
Weight: 13 lbs (5.9 kgs)
Fuel tank capacity: 1.2 US pt (0.56 L)
Oil tank capacity 0.68 US pt (0.33 L)
The 290 has these standard features:
Anti-vibration system
Compensator
Ematic chain lubrication system
QuickStop Chain Brake
Side chain tensioner
Single-lever master control
Special filler caps
Variable-displacement oil pump
And some had the additional ElastoStart feature. The MS290 was sold with a 15, 16, or 18″ bar (37, 40, 45 cm). Some people use it with a 20″ and it seems to run well enough.
290 Vs 310 Vs 390
The MS290 shares a lot in common with the MS310 and MS390.
All three saws are from the same series (1125; entered production in 2000), have the same frame, and have many of the same parts. They are pretty much identical except for the cylinder bore. People often do a 290 to 390 rebuild and there are some good YouTube videos showing how.
| Stihl | MS 290 | MS 310 | MS 390 |
| --- | --- | --- | --- |
| Displacement | 3.45 cu. in. (56.5 cm³) | 3.60 cu. in. (590 cm³) | 3.90 cu. in. (64.1 cm³) |
| Bore | 1.81 in (46 mm) | 1.85 in (47 mm) | 1.93 in (49 mm) |
| Stroke | 1.34 in (34 mm) | 1.34 in (34 mm) | 1.34 in (34 mm) |
| Weight | 13 lb (5.9 kg) | 13 lb (5.9 kg) | 13 lb (5.9 kg) |
| Fuel Capacity | 1.2 US pt (0.56 L) | 1.2 US pt (0.56 L) | 1.2 US pt (0.56 L) |
| Oil Capacity | 0.68 US pt (0.33 L) | 0.68 US pt (0.33 L | 0.68 US pt (0.33 L |
| Idle speed | 2,800 rpm | 2,800 rpm | 2,800 rpm |
All three saws have/use:
Electronic (breakerless) magneto ignition system
Bosch WSR 6 F or NGK BPMR 7 A spark plug
0.02 in (0.5 mm) electrode gap
Coarse prefilter and bisectional box air filter
Fully automatic speed-controlled oil pump
Some comments on the 390 engine in a 290…
Justin said:
Only thing to think of is the decomp. I just plugged them rather then cutting the top cover. Other wise direct bolt in everything else works.
Rick said:
It's a straight bolt on. I did it for a friend and it bolted right on. I did some port clean up and a muffler mod while I had it apart.

I took off the limiter caps but I'm not sure I needed to. It tuned easily after the rebuild, I didn't have to adjust much.
Matt said:
The only thing different with a 290/390 is the piston and cylinder. Same crank, same bearings, same muffler, same carburetor.

I do this upgrade to any blown 290 that comes into my shop for customers. The difference in price is minimal and they are always happy with the upgraded power.
And Brian said:
290 carb works on a 390 to 290 conversion IF you don't port the muffler too much.

After gutting my muffler the 290 carb wouldn't supply enough fuel. The carbs are not the same; the 390 is jetted differently (hd-18 for the 290; hd-21 for the 390). You could probably just change the jet. I put in a new 390 carb. She's a gas hog.
MS290 Reviews

During the period the 290 was produced, it was one of Stihl's most popular saws. Stihl's tagline for the saw was:
Our #1 selling chain saw model.
Every farm needs a STIHL FARM BOSS®.
While it isn't a good saw for professional use, it's a decent farm and ranch saw. In saying that though, some people actually prefer it to the likes of the infamous MS261 C.
One guy commented:
Bought a used, but in good shape 261c… kind of disappointed tbh. My old Farm Boss 290 puts it to shame. I'm just a weekend warrior firewood-cutting farm keeper-upper. Should I just pick up a 462 and quit moaning? Mostly fir in the 20″+ range.
Though most of the replies were "there's something wrong with your 290" there were a few who agreed, saying: "The 261 is overrated" or "Yeah agreed, it's not that powerful. The Husky 550xp destroys it."
Here are some positive reviews of the MS290:
I had a 290 it lasted me 17 years. Good saw.
I love my 290 ported muffler runs like a beast.
I've used an ms-290 for 5 years now and it has never failed me. Use only non-ethanol gas and it will not disappoint.
I bought an MS290 15 years ago it still runs today never been in the shop for anything. I've just changed the bar and chain, oil, filter, spark plug, and gas filter – all I've ever done to it.
I just repaired my father in laws 290 had some chain issues but he loves this saw it's his go-to saw for whatever needs cut fast.
Great reliable saw I use 3/8, 16 and 20″ bar, love it.
They are decent firewood saws and taken care of will last a good long time. A little port work to the muffler and a little tuning they wake up and make decent power.
And Kyle said:
I've had a 290 for years. Been a great saw. I've always ran 3/8 on it. This year I put a 20" bar on for reach as I'm tall. It was a little weak for that. However, I gutted the muffler and pulled the limiter caps on the carb and retuned. It was a huge increase in power. Most say anywhere from 15-25%. After doing that I had no problem burying the bar in ash. 18-22" diameter. Great saw.
And here are some negative reviews:
290 are underpowered and heavy for the power they put out.
They are throw-away over-weight saws. If it runs be happy with it.
My 290s are gutless.
I have an ms290. It's heavy compared to the other commercial saws I've run. Like said above with a muffler mod it definitely helps.
MS290 Price
What is a Stihl MS 290 worth?
Check the latest prices on eBay for an indication of what they're selling for in your area. The sale price will always depend on condition and location. And, in the case of the 290, it will depend on what modifications have been done, if any.
Some guys are picking the 290 up for around $100 – which is a very good price – while others are spending upwards of $300. Some 290s are being parted out for as little as $30.
Modern equivalents of the 290, if you want to buy someone similar new, are the MS391 and 371. If you are outside the US and Canada, the MS382 is worth checking out, along with the 500i (if you'd like to go pro).
Stihl MS 290 Farm Boss
The 290 Farm Boss is a good chainsaw by most accounts. The biggest complaint against it is that it's too heavy for the power output.
The main problem I see with it is that everyone wants to do all these modifications to it in order for it to be acceptable. Not everyone is in a position to modify and upgrade chainsaws, and in this case, it would be best to simply get a better chainsaw. Don't mess around with the 290 (unless you find one cheap), just get something more in line with what you need.
While the 290 isn't the best Stihl chainsaw by a long shot, it has plenty of fans. If you're one of them, share your experiences with us in the comment section below.