The STIHL 084 is a professional 122 cc (7.44 cu in) monster of a chainsaw that is on the bucket list of many chainsaw fans and collectors.
The 084's production years were 1985 – 1997. It is said that the Stihl 084 AV "pretty much replaced the 090 with advancements such as chain brake and AV", with the 090 G ending production in 1985.
It's still a popular saw, especially for big tree felling and milling, though some parts have become very difficult to find. Ebay and Stihl Chainsaw Facebook groups are the best spots to find what you need.
*Images come from eBay seller Sherman_Saws and are used with permission. This STIHL 084 was for sale in October 2023 (listed for US $2,899.99).
Stihl 084 Versions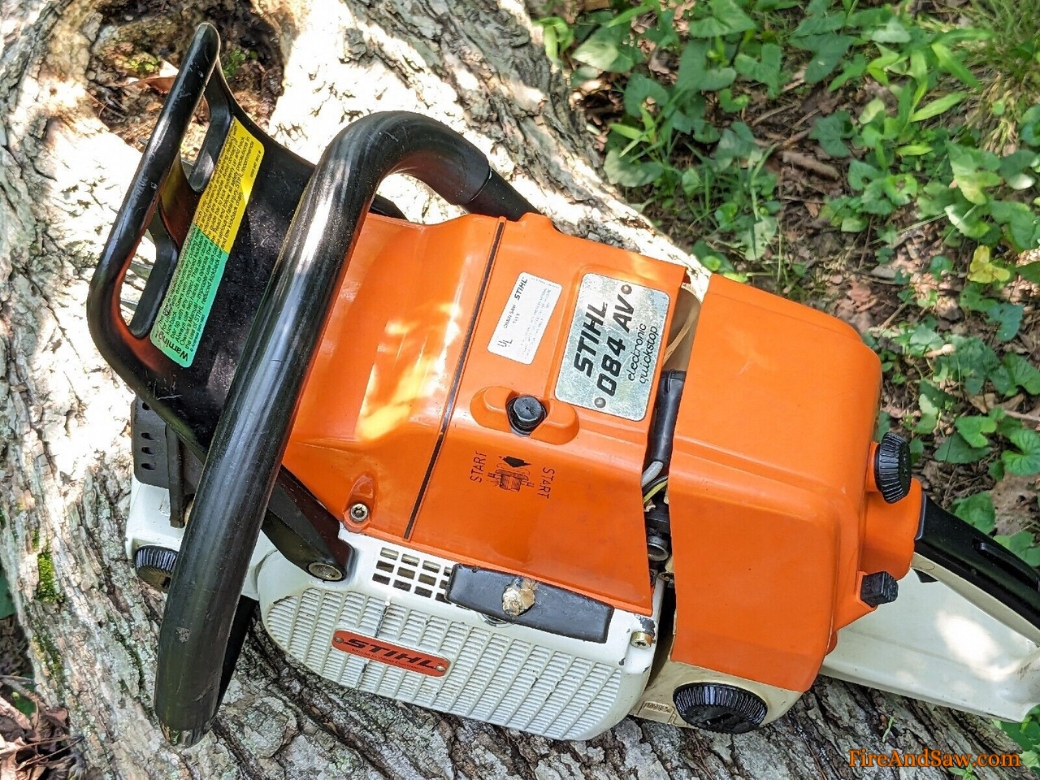 The Stihl 084 (1985 – 1997) is the predecessor to the 088 (1997 – 2004), which was then followed up by the MS880 (2004 – 2019), which in turn was followed up by the Ms 881.
The 084 only came as an AV EQ version. Anti Vibration and Electronic Quickstop were standard features when it was released. There is a version of the saw with electronically heated handles (084 AV EQ W).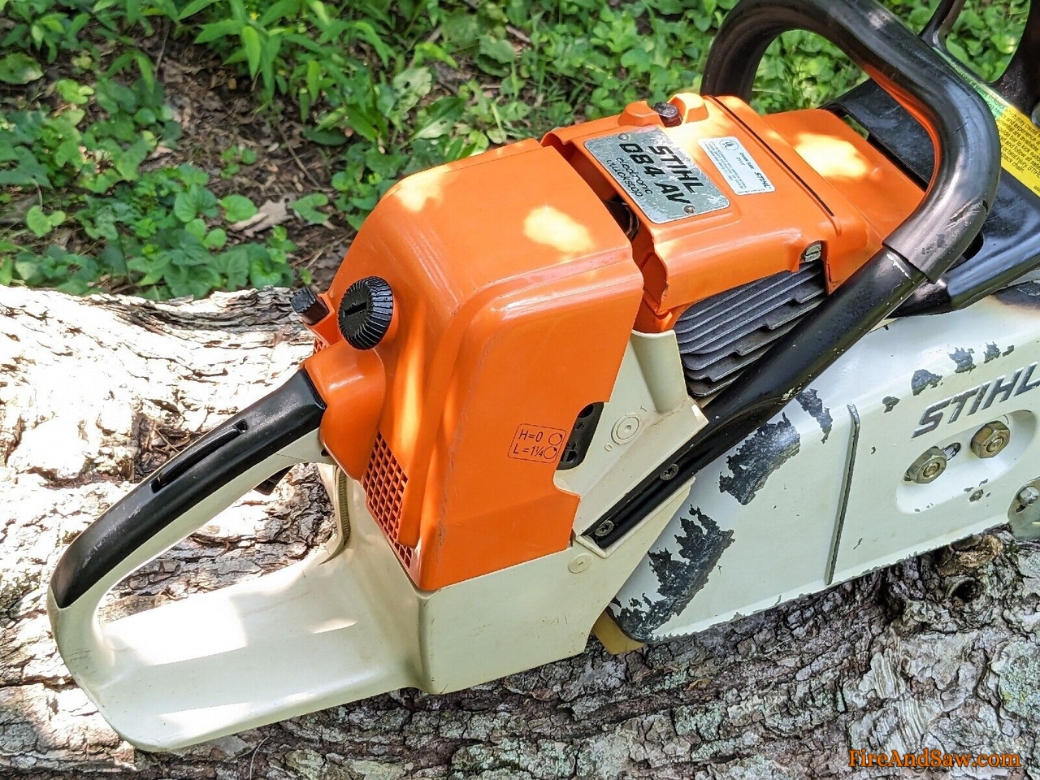 There are no other versions of this saw; no 084 Magnum, no 084 Super, and no 084 Farm Boss, or any of these types of designations.
084 Vs 088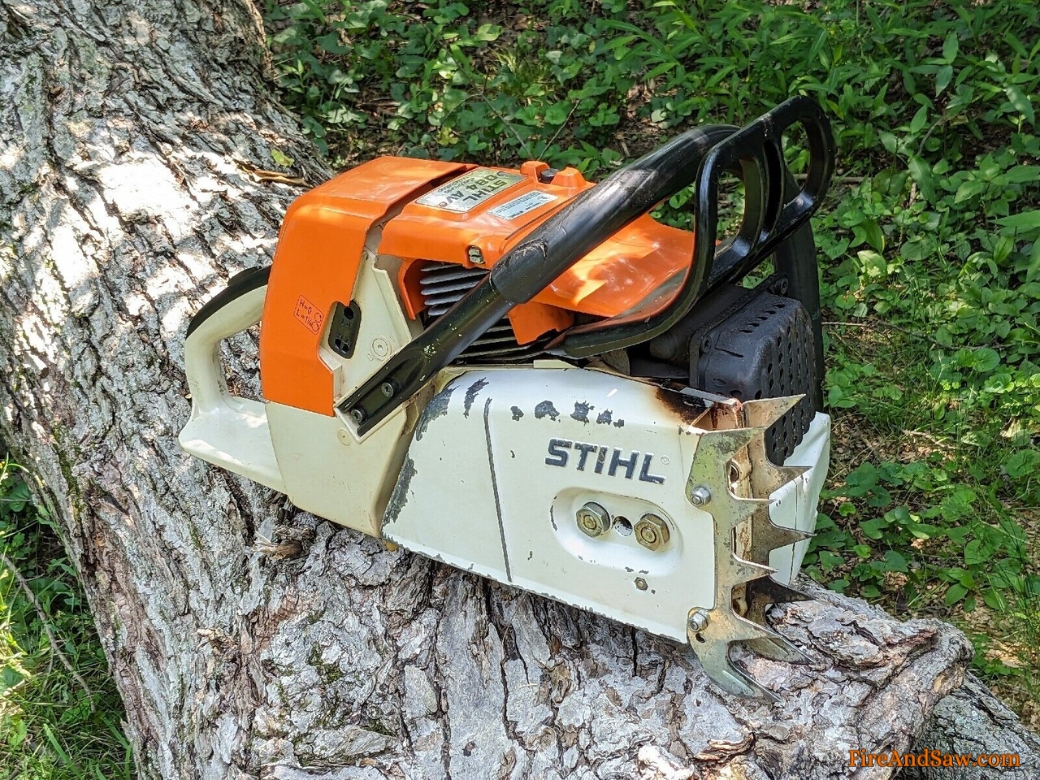 The 084 is the same as the 088 in power output and engine displacement, but there were differences inside:
STIHL 084: 121.6 cc; 6.3 kW / 8.6 hp; 9.4 kg
STIHL 088: 121.6 cc; 6.3 kW / 8.6 hp; 9.9 kg
And as one user put it, "They are both torque monsters."
Regarding the differences between the 084 and 088, ArboristSite member kdhotsaw2 said:
The 088 and the 084 are the same sized motors but there are considerable differences inside.

The 088 develops more power than the 084 does when they do stock. The factory changed a number of the things we were doing on our woods modifications, all for the better.

They changed the combustion chamber volume from 13.5 cc to 11.5 cc, they lowered the squish clearance from .043 to .034, and both these mods increased compression.

They changed the transfer duct so it is now a straight shot into the barrel and the tonsil that hung down into the 084's inlet duct is now gone. They increased the exhaust duration slightly and changed to a slightly larger cast aluminum muffler. Also went to the newer fiberglass flywheel.

Probably has 1-1.5 more foot pounds of torque. Also the lower transfer area in the case is larger so you can process more air-fuel mixture.

All in all the 088 is a better saw.
And when someone asked if this means "the 084 is a bad saw", kedhotsaw2 replied:
The original stock 084's just didnt run all that great stock.

When we modified them they ran very well. They were designed 10-15 years before the 088s came out.

Stihl realized that they could make power by changing some of thier port timing figures and some of the bottlenecks in their 084 designed saw without losing any of their dependability so they incorporated many of the features we put in our modified saws.

Viola! More torque, more cutting power. The hp and torque figures are almost the same but the two saws don't run the same, the 088 has 10-15 more power stock and 35-40% more power modified.
Stihl 084 Reviews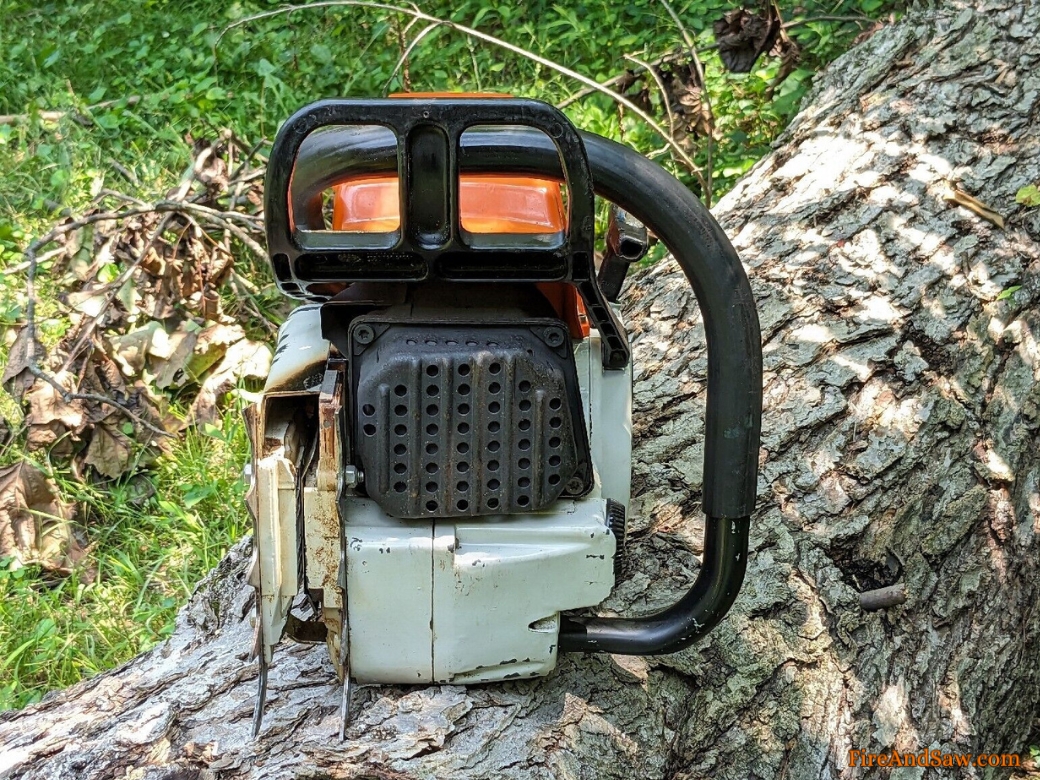 User reviews from the Stihl Chainsaw Fans FB group:
The 084 is a beast. Dad had one when I was younger but it finally spun a bearing a few years ago and was beyond repair.
I keep one for milling. It has a 96″ bar I run double 084s on! I am mostly milling large hardwood logs.
I have one that is the red lever version, with a 42″ bar it cuts very well…
Flush large stumps, drop large spars, and mill with mine. Picked up as a basket case, aftermarket jug, and piston.
A lot of guys turn them into race saws too. They hop up real well.
Parts are as rare as hens' teeth, great saw though.
Buy her as long as she is going well. My 084 thumps like a jackhammer. Great saw.
Justin said:
Mufflers are hard to come by. If you find them, they sell for $200+ bucks.
While Mike said:
I have one, great saw but parts are becoming obsolete. I had to pay$300 for a used muffler.
Daniel said:
I have one and still use it with big big trees. Running a 44 inch bar. Never yet let me down.
James said:
In 1990 I bought this Saw new from the dealer and was never impressed with it back in those days and have used several since and still not a fan.

Decent saw yes, but nothing great in my opinion. I'm not interested in buying one but the best I would ever pay for one in excellent shape would be $500, and again, I'm not interested.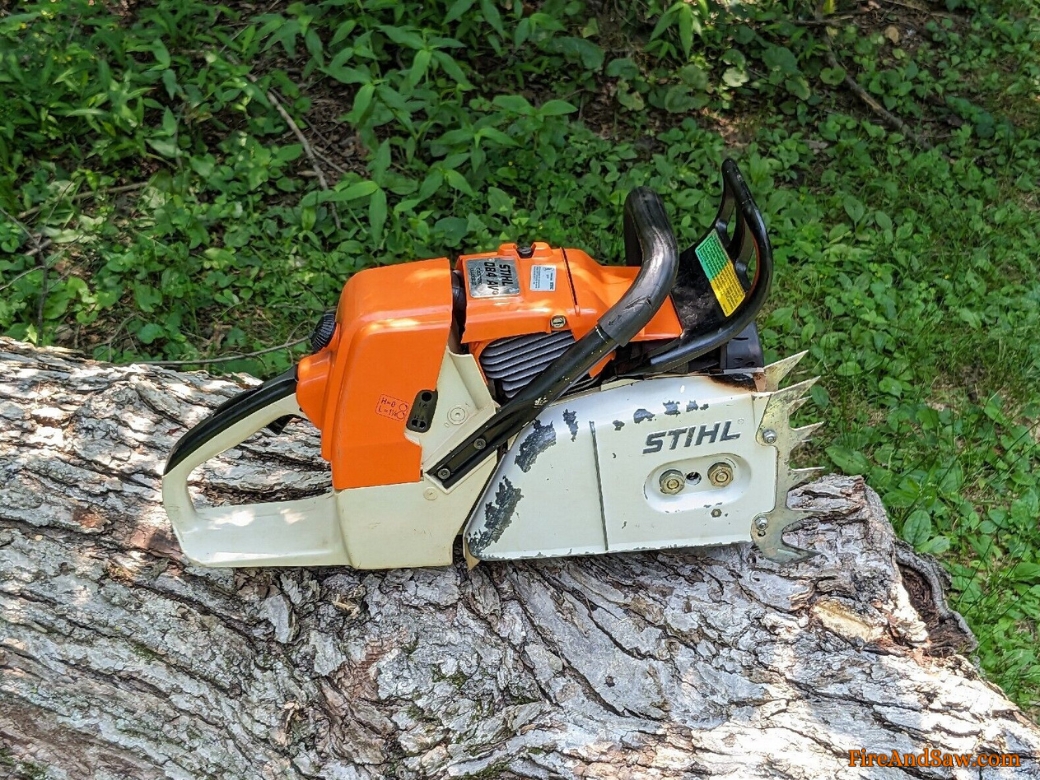 Yak said:
I am a big fan of the 084. They have been the preferred saw for the racing fans for decades.

I have one that I bought second hand when I worked for Stihl. I used to build racing motors for them so did mine up too.

Gee it cuts nice with no effort what so ever. And its pretty good on fuel too now that its run in. I am finding over the last 10 years parts are getting real had to buy.
And Matt said:
Great saw.

Parts can be scarce and expensive, since they are specific to that saw. Especially mufflers for some reason. And a lot of the parts aren't available from Stihl.

But great saw to run, I mill with mine. Built a whole barn with lumber I milled with it.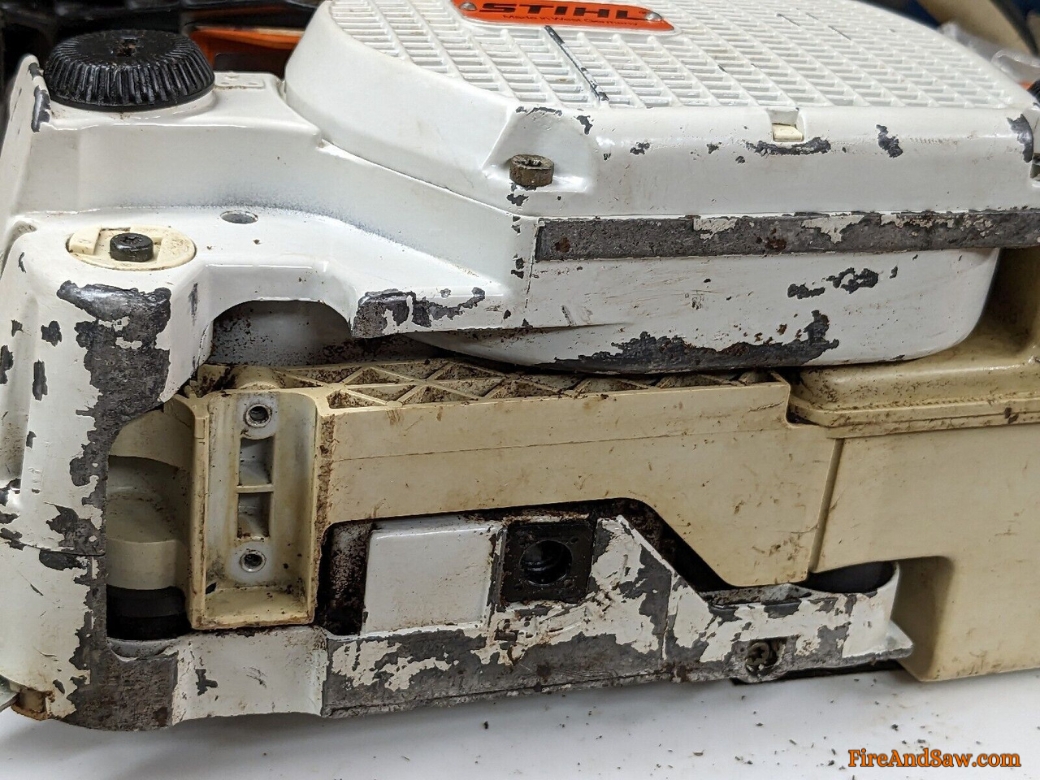 Regarding modifications, Ian said:
The 084 doesn't need much.

A couple things you can do are to make sure you have the non-limited three prong coil and the non-limited HT1 carb. You could also open up the exhaust outlet by about 15% (with corresponding carb adjustments).

I wouldn't do too much more than that if you need reliability for milling. Aside from that, a good sharp milling chain and maybe a bar end auxiliary oiler might speed things up.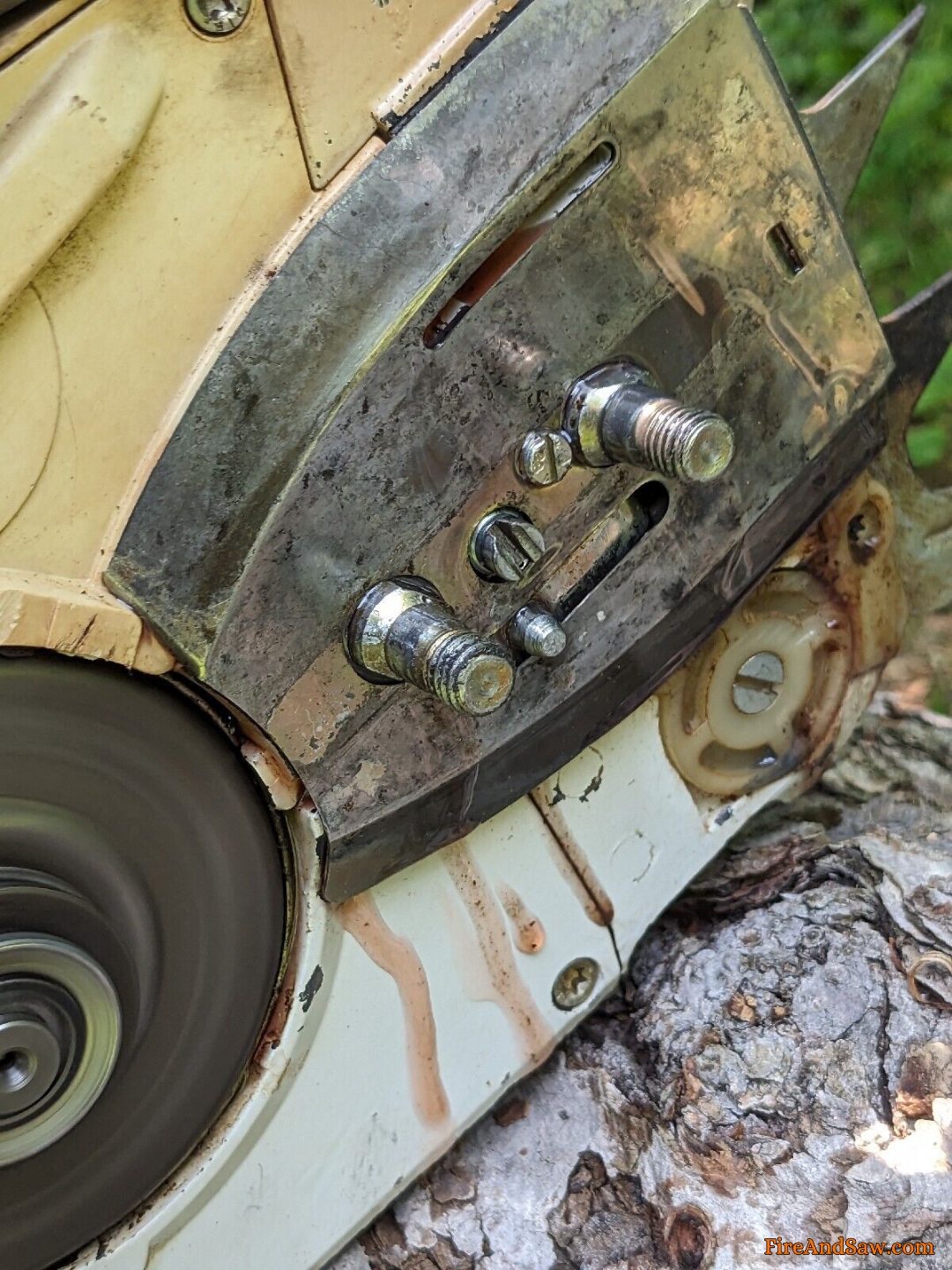 Rody said:
The 084 is a very good milling saw. The last one of the big Stihl saws with a manually operated oilpump.

But as others have said, parts are getting hard to find and a milling saw makes a lot of miles during its use. If it is in good condition and cheapish I would buy it, otherwise buy an 880 or a 3120.
Specifications
| | |
| --- | --- |
| Stihl 084 Specs | Details |
| Production years | 1985 – 1997 |
| Displacement | 122 ccm (7.44 cu. in.) |
| Power | 8.2 hp (6.03 kW) |
| Cylinder bore | 60 mm (2.36 in.) |
| Piston stroke | 43 mm (1.69 in.) |
| Weight: | 8.9 kg (18.7 lbs) |
| Max RPM | 12,000 |
| Idle RPM | 2,800 |
| Spark plug | NGK BPMR7A |
Stihl 084 Price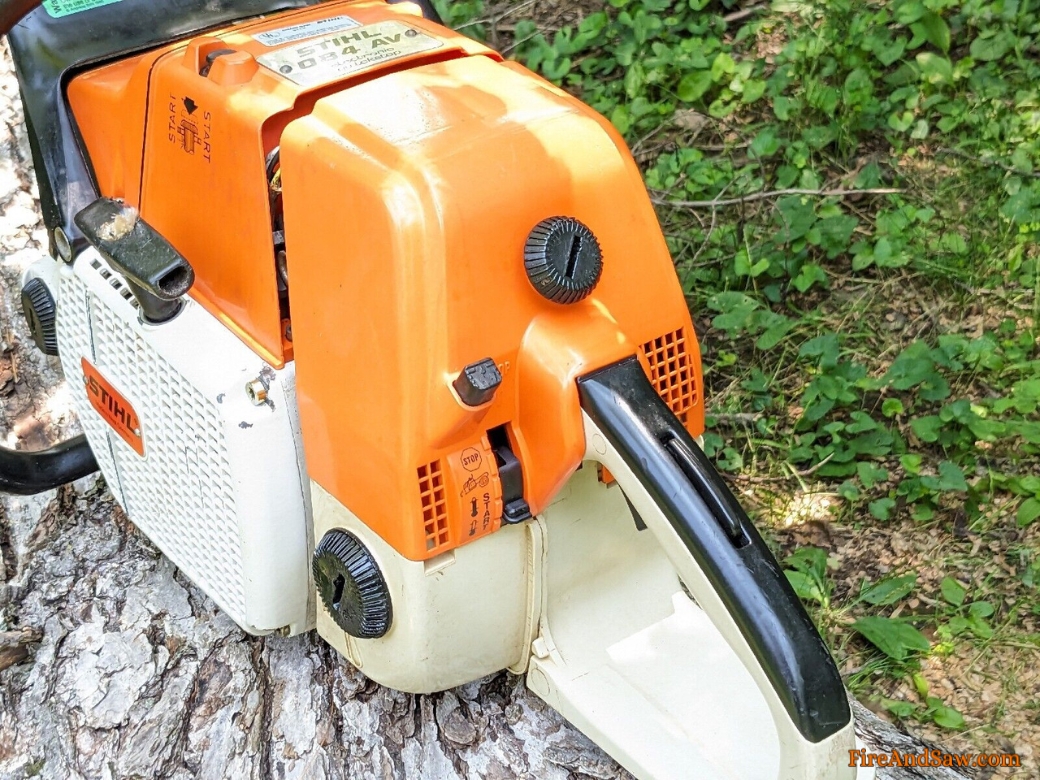 The used 084 pictured throughout this article is listed (or was listed) for a little under US$3000. It's in great condition, but it's not brand new.
Most people wouldn't pay that much for "a dinosaur." Especially as most parts are going to be NLA and you could have a much newer, nicer saw for the same price.
However, some guys just love these old saws and are happy to pay. Some guys can make that money back pretty quickly working with a saw like this, so that makes it well worth it.
Generally, you can expect to pay between $1000 – $2000 for a running 084, but the final price will depend on condition and location.
In 2019 Matt said:
I paid $400 for mine with a 36″ Stihl bar and new chain installed.

It's a little rough looking as it belonged to a tree service and was bounced around in a truck more than it was used, but all OEM parts and good compression.

I have used it for milling for four years now with nothing more than tune-up parts and a fuel line installed on it. I'm located in the northeast where these big saws are seen a little less frequently.

Also… I would probably never consider selling it for what I paid. I think I got a pretty good deal at the time.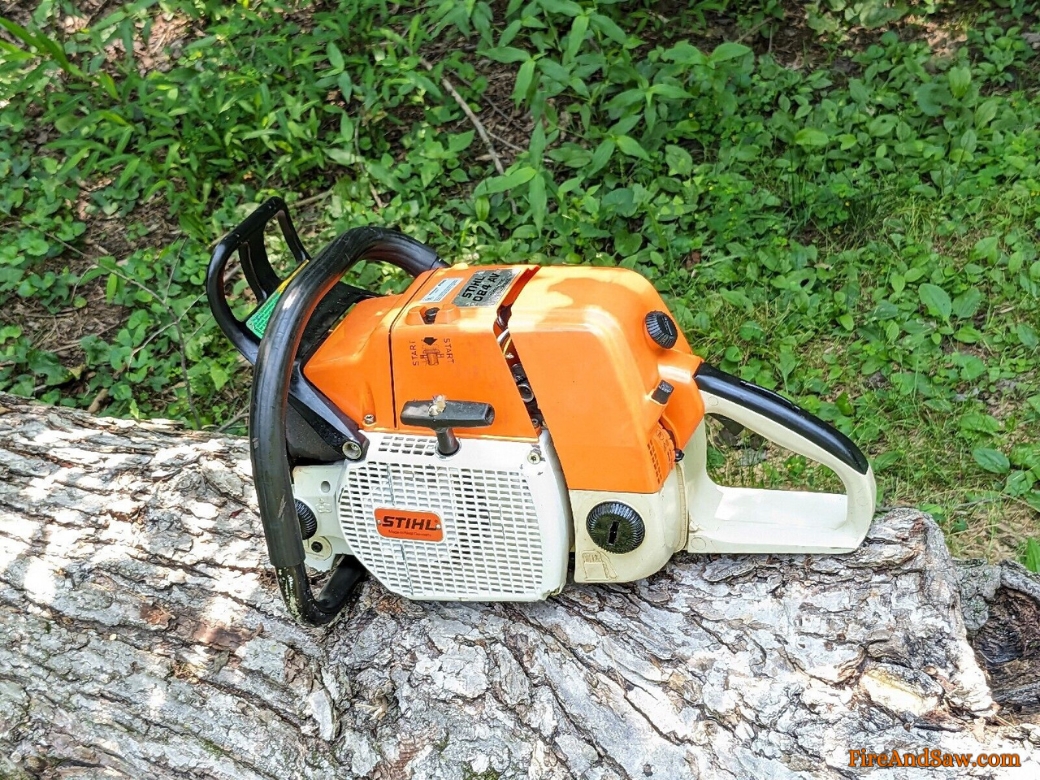 Brad said:
I have the 084 set up for milling. Works so nice. I use a 42" steel bar and Oregon hyper skip chain.
And Owen said:
I was getting a little frustrated with the 084. Rebuilt the carb and it broke my stones setting the metering lever. After a few tries it's right and I'm impressed. My other mill saw is an MS880 and the 084 hangs with it.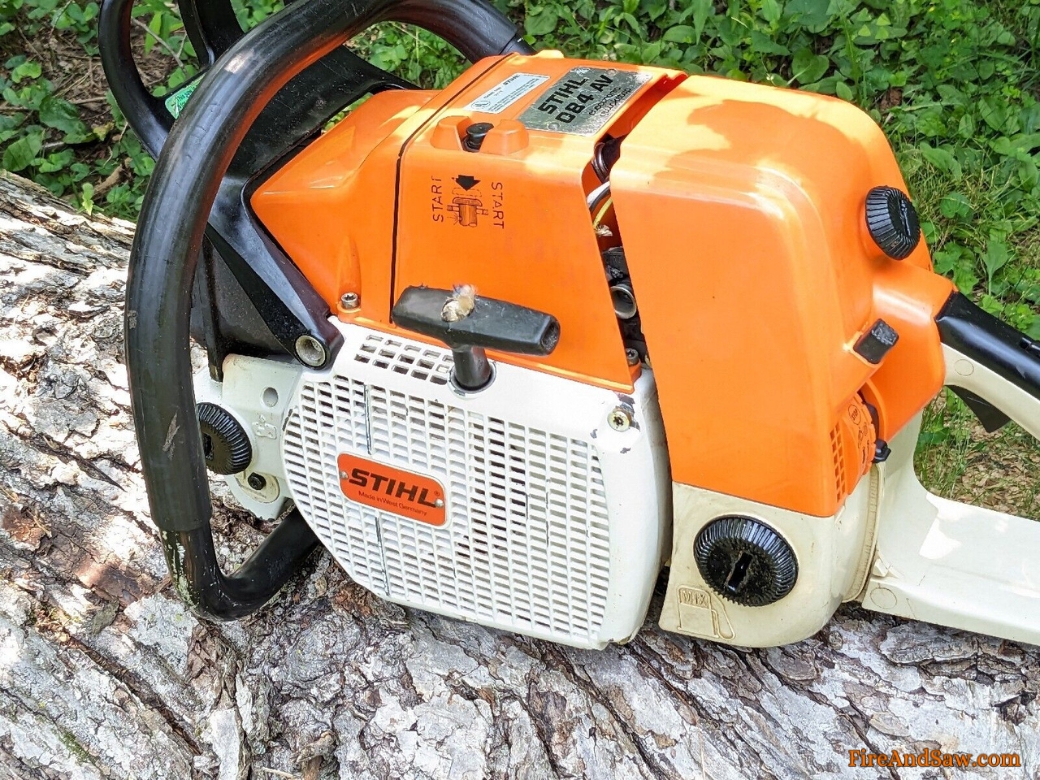 Pros:
Strong and efficient, particularly for milling.
Holds nostalgic and performance value for many users.
Potential for modifications and performance improvements.
Cons:
Difficulty in obtaining replacement parts.
Some users find the saw overpriced for its age and availability.
Might require buying another saw for parts, increasing overall cost.
Stihl 084 Parts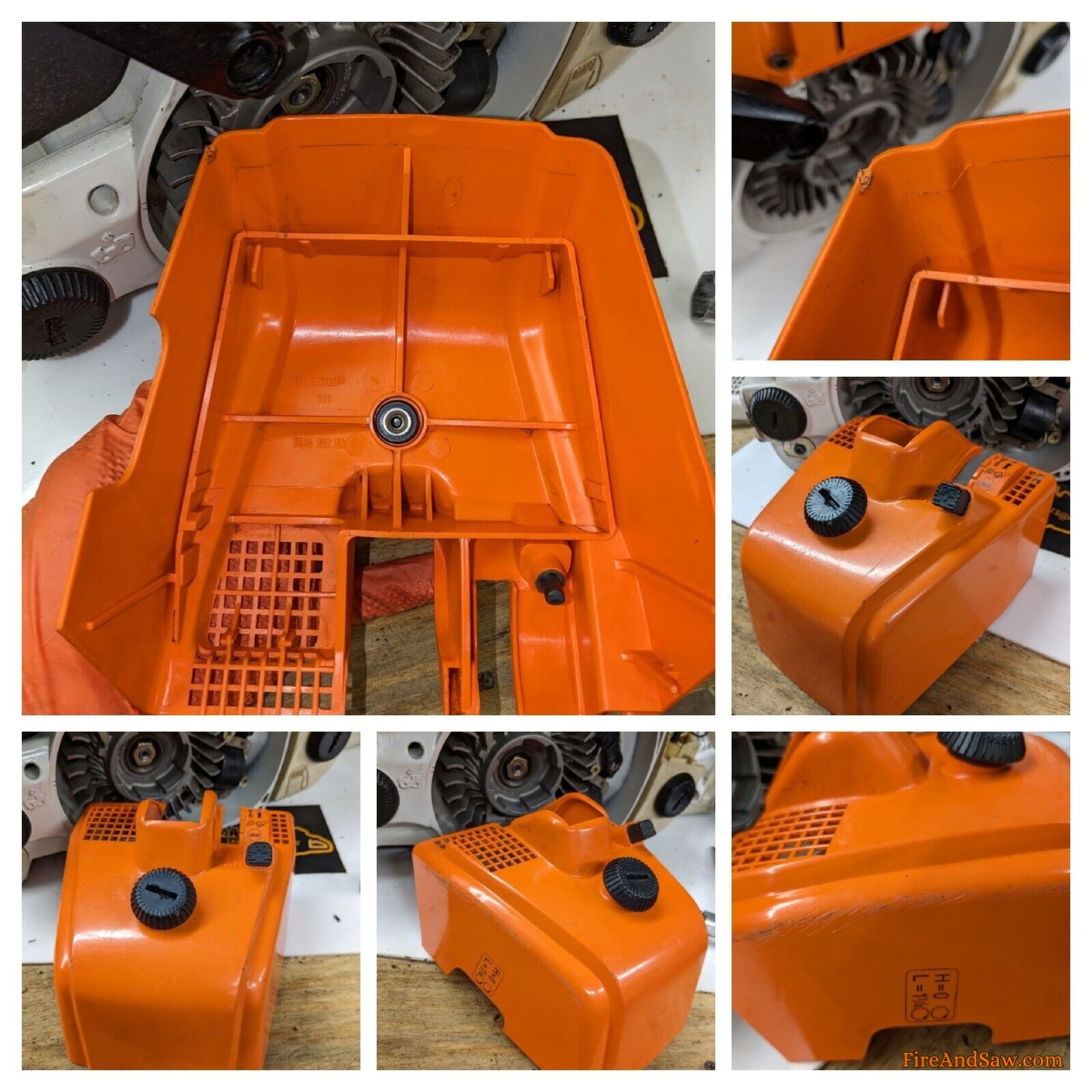 There is no such thing as a good source for parts for an 084, most guys buy another one or two to steal parts off for their main saw.
The saying goes, "The only source for 084 parts is another 084…".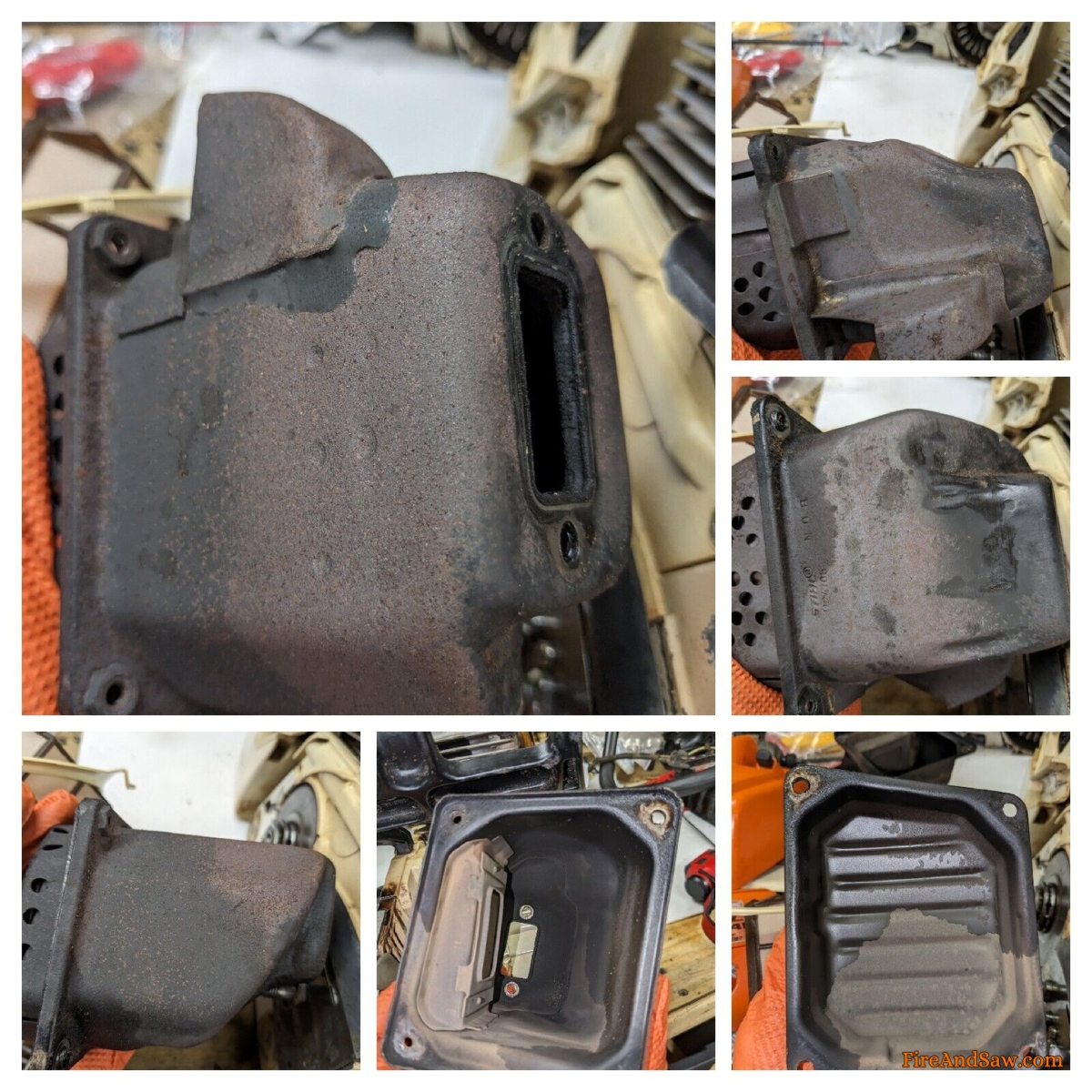 H L Supply has some aftermarket parts such as the Cross Performance Stihl 084 cylinder kit, MaxFlow Air Filter system for Stihl 084, or the Non-Genuine Piston Kit for Stihl 084.
EBay has the best range of OEM parts, including entire saws. It's said that if you are patient, you'll find everything you need on eBay, but it's a matter of waiting for your part to be listed.
Alternatively, Stihl Chainsaw Facebook groups (of which there are many, some of which are focused on rebuilds and parts) are a good place to ask for anything, including the harder-to-find parts like mufflers and coils.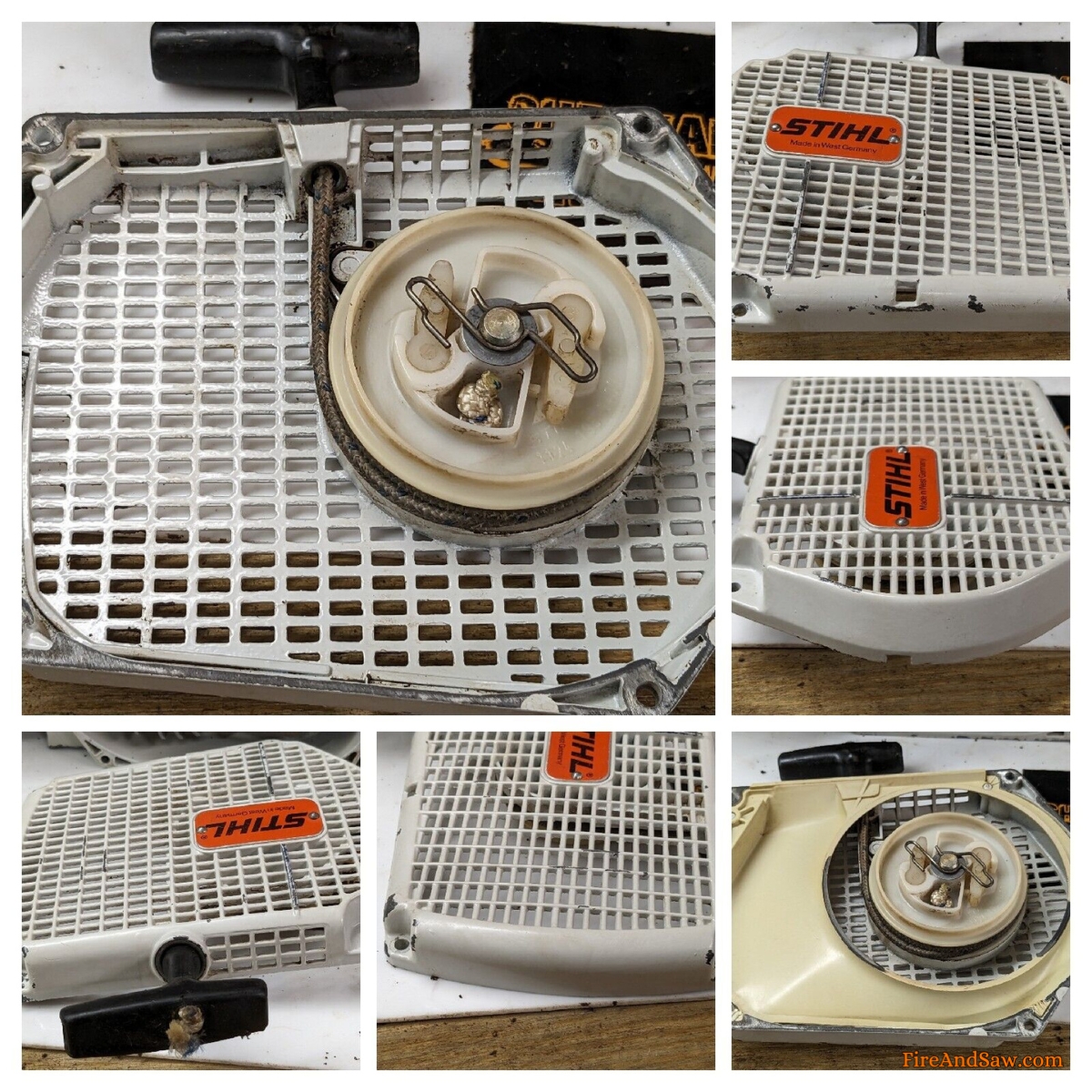 This saw from Sherman Saws is in very tidy condition.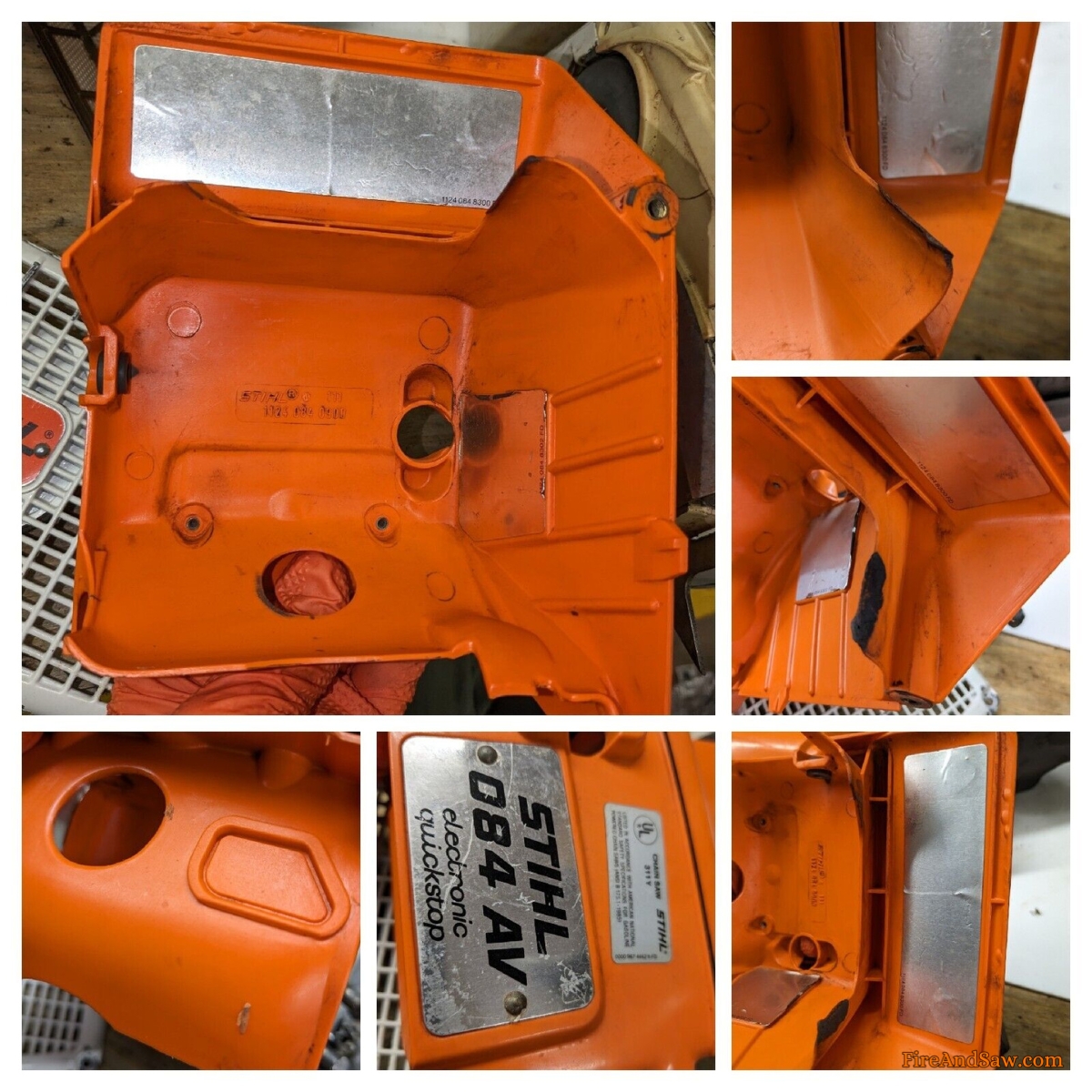 The 088 and 084 use the same piston, but the cylinder is not interchangeable.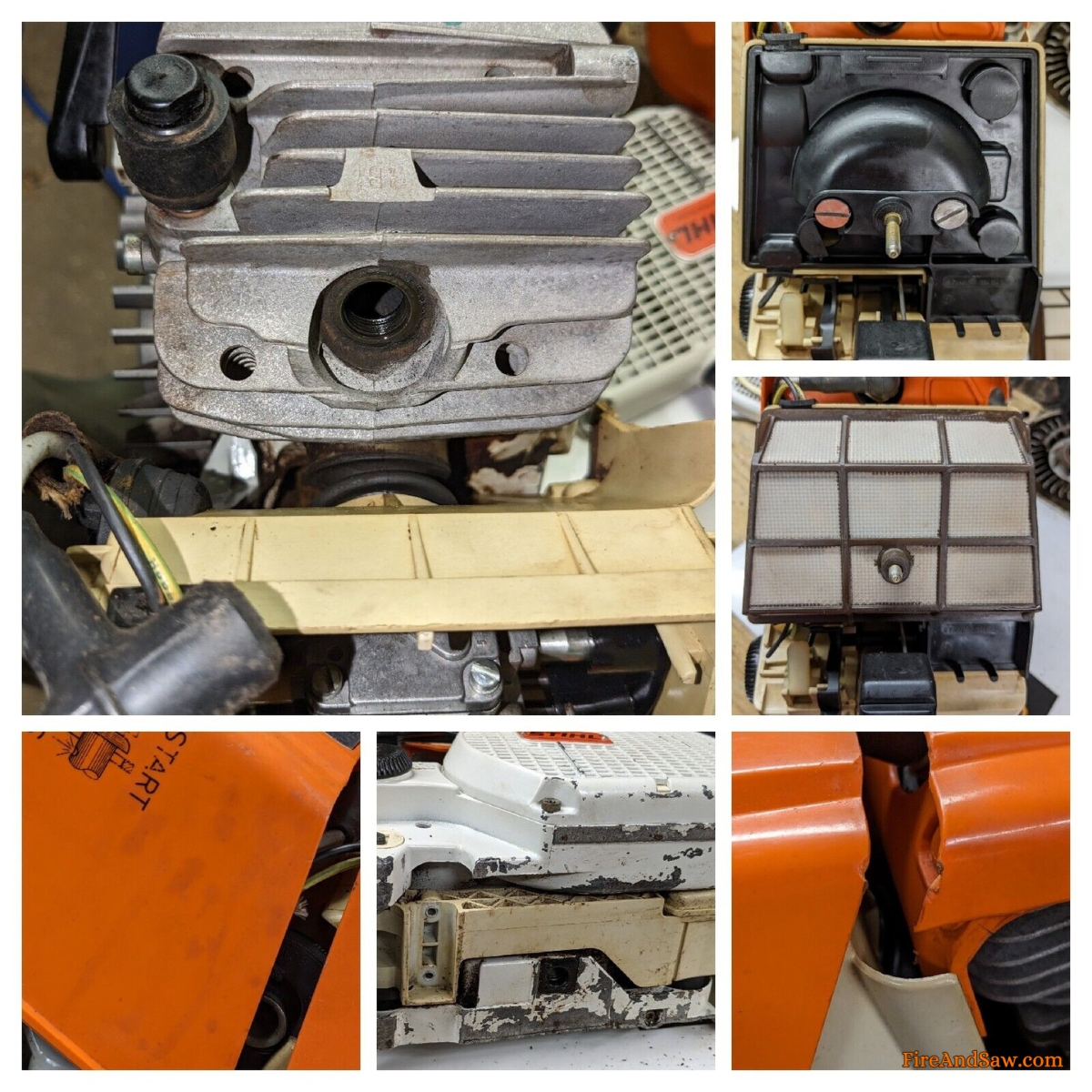 All in all, the 084 is an excellent milling and felling chainsaw.
084 AV Chainsaw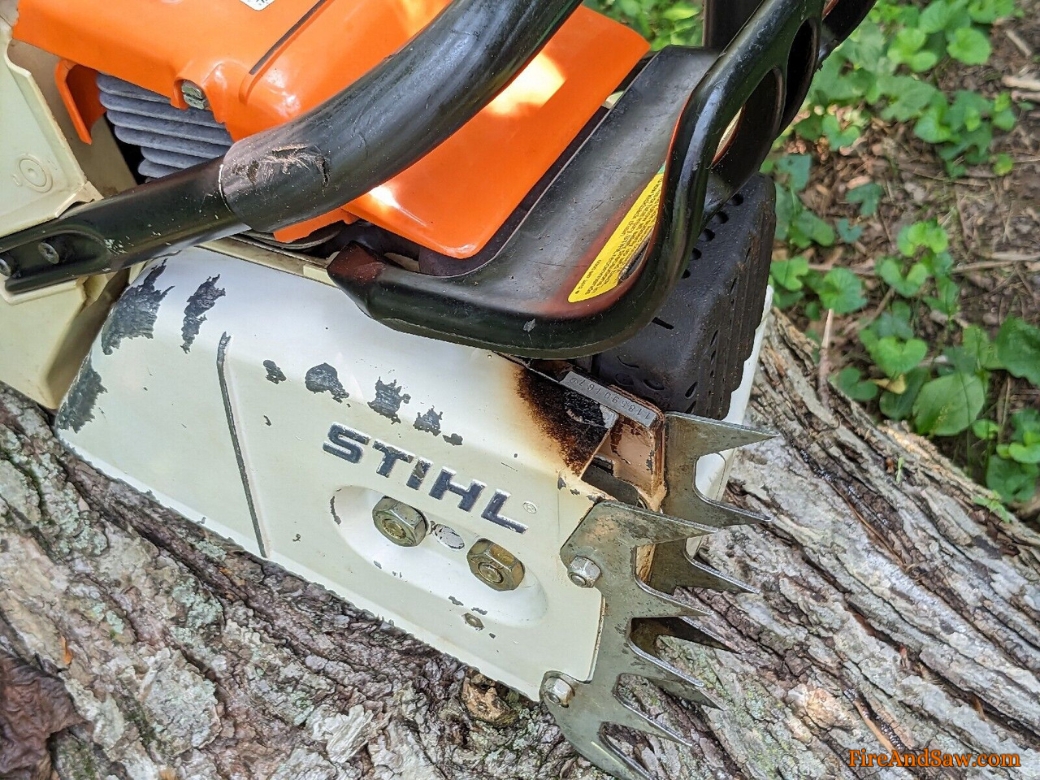 In summary, the Stihl 084 chainsaw is regarded by many as a robust and reliable saw, particularly well-suited for milling.
Users appreciate its power and efficiency, with some stating that they have used it to mill large logs in order to build structures such as barns. The saw has a legacy of being favored by racing saw fans and those who modify saws for optimal performance.
However, a notable concern is the availability of parts. Many users have highlighted the increasing difficulty in obtaining replacement parts, with some parts, especially mufflers, being particularly hard to come by.
Though some aftermarket parts are available, many lean towards scavenging parts from other saws or waiting for listings on platforms like eBay.
While some users feel the pricing for a used 084 can be steep given its age and parts availability, others believe its performance justifies the investment. It's noted that one might expect to pay between $1000-$2000 for a running 084, depending on its condition and location.