The Stihl MS720 is a powerful 1106 series chainsaw.
It's a 105.7 cc, 4.8 kW, 23.8 lb beast of a saw – it's the same as the Stihl 070, only with a few minor updates.
The MS720 is still available for sale new in some parts of the world – such as South Africa, Malaysia, and the Philippines – but whether or not it is still being produced is a bit of a mystery.
It is or was presumably made in the Stihl factory in Waiblingen, Germany, but there are suggestions that it could be produced in Brazil as well or instead.
Stihl MS720 Chainsaw
Whether or not the MS720 is still being produced, it can still be purchased in a number of countries around the world.
The seems to be plenty of stock out there, and the Stihl South Africa website still has it listed for sale.
Their description goes:
The MS 720 – Improved design of the most popular livelihood chain saw STIHL 070. Equipped with the New Duromatic E guide bar (approximately 8% thicker) for less vibration.
It's commonly used for milling and felling hardwood trees.
You can find plenty of videos on YouTube of people in South East Asia freehand milling.
It's difficult to find out much verifiable information about the history of the MS720, and, as already stated, no one really seems to know for sure if it's still in production or not.
However, other than the fact that there are still units for sale, there doesn't seem to be any evidence that is it is still being produced.
Production year figures that are mentioned in places state 2012 – 2015 – though there will be many who dispute that (let me know in the comments).
Many dealers outside of the countries where it is still sold don't even know it's available.
The reason it is not sold in the USA, Canada, UK, Australia, New Zealand, and Europe is due to safety and emissions regulations.
Stihl makes the MS720 for countries that don't have the same standards as these large Western markets.
It is suggested that Stihl is so quiet about the production of these saws because they are possibly being used for rainforest and jungle deforestation and other arguably dodgy practices.
This type of thing is, unfortunately, happening one way or another, but I guess you wouldn't want to have a particular saw associated with it.
Would it be Stihl's fault what someone did with their saw?
Perhaps if they knew that was its primary purpose.
Did Poulan care what Leatherface did with their chainsaw in The Texas Chainsaw Massacre?
Anyway, that's just speculation, but if you have any more info, drop it in the comment section below.
The saw is extremely popular in Africa and Asia for all sorts of work besides deforestation, and there's no doubt that many in the US and around the world would love to get their hands on one.
Stihl MS720 Specs
Exact MS720 specs may vary depending on the year of manufacturing.
Here are the specs as listed in the manual:
Displacement: 105.7 cm3
Cylinder bore: 58 mm
Stroke: 40 mm
4.8 KW at 7000 RPM
6.5 bhp
Idle speed: 2000 RPM
Cut-off speed: 8000 RPM
Dry weight: 23.8 lb/10.8 kg
You can download the MS720 manual here (instant download).
It doesn't have quite as much power compared to some of Stihl's other large chainsaws, but it has other benefits over them.
For example, the 720 is incredibly tough and often described as indestructible.
It's also much easier to maintain and perform repairs on than other saws.
It was designed to be worked on in the forest or in the jungle where you don't have access to every tool under the sun.
MS720 features include:
Compensator – prevents fuel/air mixture from getting too strong with a dirty filter
Ematic chain lubrication – a long bar needs plenty of oil
Single control – start, choke, throttle, stop all with one switch
Decompression valve
Anti vibe system
Power to weight ratio or 2.2
Filter made of non-woven fabric (HD2 filter)
Quickstop Chain Brake
But remember, exact specs and features vary depending on where and when the chainsaw is being sold.
The MS720 is a cousin to the MS780, a higher powered 5.6 kW, 7.6 hp saw (to the 720s 4.8 kW, 6.5 hp).
The MS780 is predominantly sold in the South American market.
Fake MS720 Chainsaws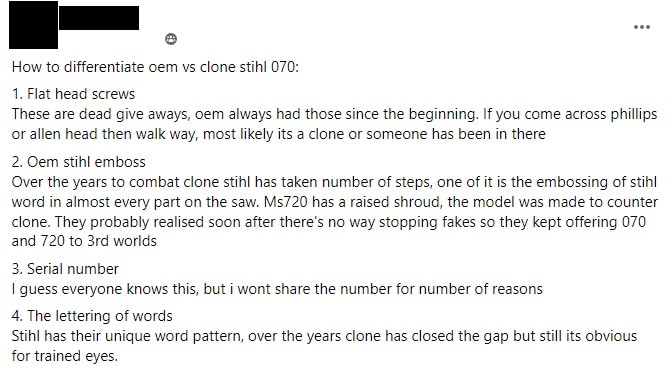 There are plenty of fake or clone Stihl 070/MS720 chainsaws out there.
The above post by a helpful guy in the Stihl Chainsaw Fans Facebook Group can help you to determine whether or not you have the real deal.
4 signs of a genuine MS720 or 070:
Flat head screws
Embossed Stihl logo on basically every part of the saw
Real serial number
Genuine Stihl logo
Many of the fakes are made with cheap Chinese parts that won't last or perform as well as OEM.
Some of those signs can be faked as well of course – you can get hand-stamped fake serial numbers and that sort of thing.
You can see a good example of a real Stihl MS720 with pictures of the Stihl logo on all the parts in this thread on Arborist Site.
You may also see genuine OEM MS720 chainsaws that were not factory assembled – something else to watch out for if you're wanting something factory new.
There are guys making these saws from parts and then selling them as if they were factory built.
A dead giveaway to this practice is that it won't be sold with original boxing – unless they manage to source and package it up with an original box, of course!
Stihl MS720
As more information comes to hand through research and speaking with knowledgeable folk, I'll update this post.
Don't rely on this information 100% because, as I've said, it's hard to find accurate information on the MS720.
Everybody seems to say something different!
Lastly, a couple of alternatives to the 720 that you can find in the West – the Stihl 064 or the Stihl MS440.