The Stihl MS192T is a 30cc top-handle saw made between 2005 – 2014.
All Stihl top-handle saws are technically professional saws – they don't have any homeowner-level top-handle saws. However, the 192T would be at the bottom of the pro-line and is considered by some to be homeowner grade.
The 192T isn't as popular as the infamous 200T and some people really dislike it for reasons we'll get into below. However, a good working model shouldn't be frowned upon, and it has just as many fans as those who hate it.
*There is also the Stihl MS192 with a regular chainsaw back handle, but we'll focus on the top handle here.
Stihl 192T Versions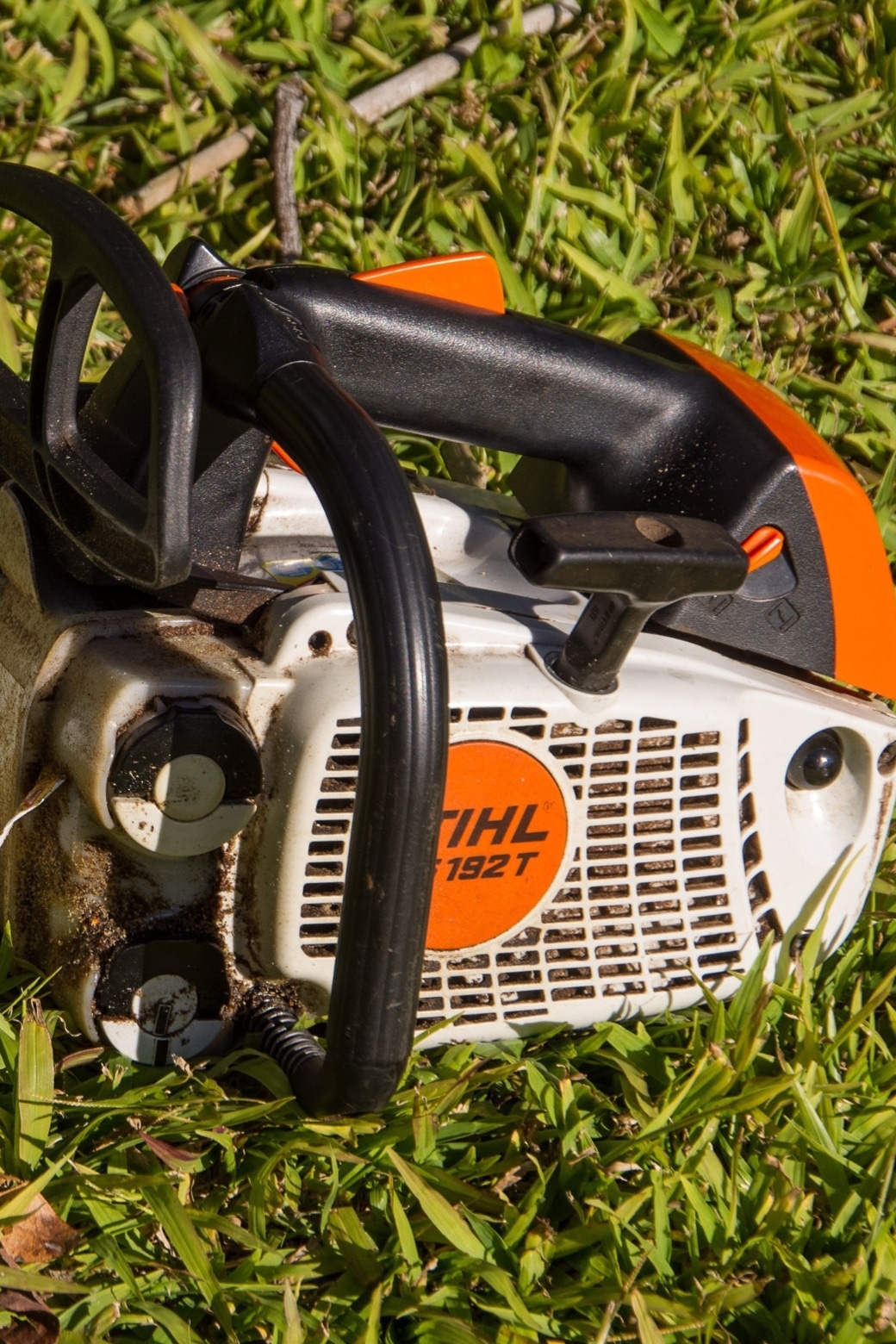 There are a couple of versions of the 192T:
Stihl 192T
Stihl 192T C-B – with Easy2Start system
The first model was described:
Light compact saw for the tree maintenance. Ideal power-to-weight ratio. Accurate guidance and outstanding cutting performance. Optimum ergonomics and handling.

This arborist saw has been specially designed for professional tree surgeons and is only intended for use by trained tree service personnel.
While the MS192T-C was described:
At only seven pounds, this top-handle saw provides a lightweight ally as you climb to the sky.

Even better, the MS 192 T C-E employs the STIHL Easy2Start™ system, which enables you to start the engine with an almost effortless pull on the cord (a particularly welcome feature when you're 40 feet up), as well as a retractable carry ring for climbing.
And here is the evolution of this saw from the 019T to the 194T:
Stihl 019T | 1997 – 2002
Stihl MS 191 T | 2002 – 2006
Stihl MS 192 T | 2005 – 2014
Stihl MS 193 T | 2014 – 2020
Stihl MS 194 T | 2020 – Current
While it's always nice to buy the newest version, there are a lot of similarities between them.
This comment/review on Arborist Site is really helpful when comparing the 192T to other Stihl top handles:
It really all boils down to needs & wants. The professional grade saws are better performers, but not lighter. They're built to run hard and take a beating… just like they'd see with professional use.

The MS192T is essentially a homeowner-grade version of a Stihl top handle; plastic construction and clamshell top end instead of a cast magnesium case and traditional cylinder. They also have lower displacement and make less power.

I'm a regular homeowner and it sounds like you're probably the same or similar, so perhaps I can provide some insight. With my "hobby" I've owned and run both the MS200T and MS201, as well as the MS192T.

The pro models have awesome power and run great (especially after some mods). But, since I just needed a saw for light tree trimming around my property and cutting up larger branches that fall I ended up just keeping an MS192T for personal use.

For my use I only run a 12″ bar and much prefer the lighter weight over the power and durability since I don't make a living with the saw nor do I beat it up.

The little MS192T has performed great for my needs and has never let me down. I've even helped some friends out who had large trees fall that they needed to cut up and it has no problem efficiently cutting through tree top branches that are several inches in diameter.
If you're after a saw for home use, the 192T is a good bet. But if you want something for work, grab the more powerful 200T (if you can find one) or the 201T.
Specs And Features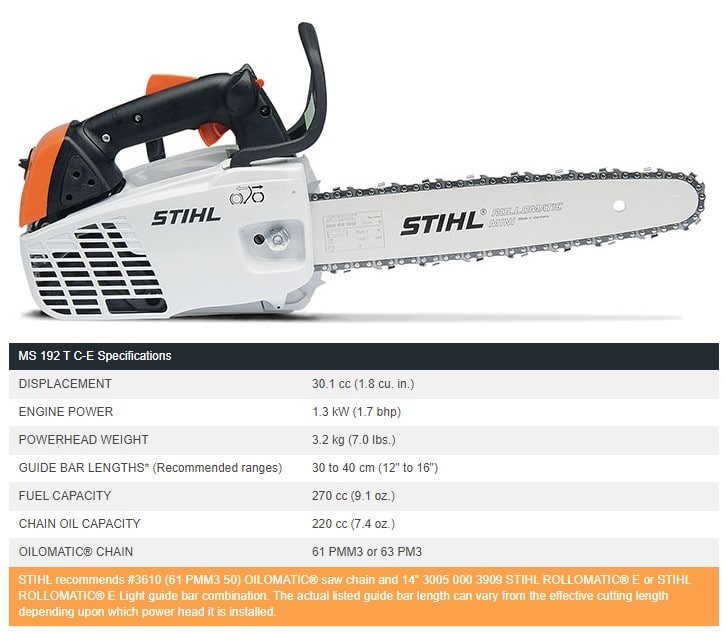 Stihl MS192T specs:
30.1cc, 1.84 cu in
1.3 kW, 1.7 hp
1.46″ / 37mm bore
1.10″ / 28 mm stroke
1300 rpm idle, 13,500 max rpm
9.1 oz / 0.27 l fuel tank capacity
7.4 oz / 0.22 l oil tank capacity
Use with 12 – 16″ bar
Weight varies between versions:
192T: 6.8 lbs / 3.1 kgs
192T C: 7.10 lbs / 3.2 kgs
And as you can see in the screenshot:
STIHL recommends #3610 (61 PMM3 50) OILOMATIC® saw chain and 14″ 3005 000 3909 STIHL ROLLOMATIC® E or STIHL ROLLOMATIC® E Light guide bar combination.

The actual listed guide bar length can vary from the effective cutting length depending upon which power head it is installed.
Download the instruction/user manual for both the 192T and 192T C (instant download here).
Stihl 192T Review
The MS192T gets a mixed reaction in the Stihl community, though it didn't make our list of the worst Stihl saws.
The main problems that people have with it are:
It's more difficult to pull apart and work on than other saws
It is underpowered and struggles to get through anything of real substance
Slow and "gutless"
But when you're using it for lighter stuff, it's perfectly fine.
In the Stihl FB group, Jon said:
I love mine. It's not a substitute for a 200T or 201T, and as long as you don't expect it to have similar power to the $600 top handle saws, you should be happy.

It's really a lot of fun to use. Decent power, speed, and throttle response, and great antivibe.

Keep the air filter clean, keep the chain sharp, feed it ethanol free with a premium synthetic mix at 40:1 or 50:1 and it should go for many many hours.
A glowing review!
Other positive reviews:
I had a 193t and it was a good saw. I thought it was pretty badass. Then I got a 201t and man what a difference. But the 192/193 aren't bad. Just a different price point.
Slight mod on 192 and it is a great little saw.
I love my 192. At least 4 buddies liked it so much after trying it that they have gone out and bought one too.
I have both – 200T for bigger stuff and 192 is much lighter for smaller work
But there are those that are less than positive about the 192T.
Here are some more neutral or negative thoughts on it:
Good, but not great. Can't really do slash cuts.
I guarantee you'll wish you got the 200/201 instead!
I mean I like all top-handle saws but the 200t and 201TC are the greatest
Absolute nightmare to take apart and rebuild.
Get the 200t instead the power is no comparison to any other.
After getting a 201 after using 192's to 193's your hand wrist and arm will thank you, for the tad extra weight comfort and balls are awesome great balance
I run both the 193 and 201 – for the price the 193 gets the job done but if you use it on an everyday basis the 201 it just has that extra power you need
As we've already established, it's good for homeowner or infrequent pro work, but if you're going to be using it a lot it's better to get something more powerful.
Stihl 192 T Price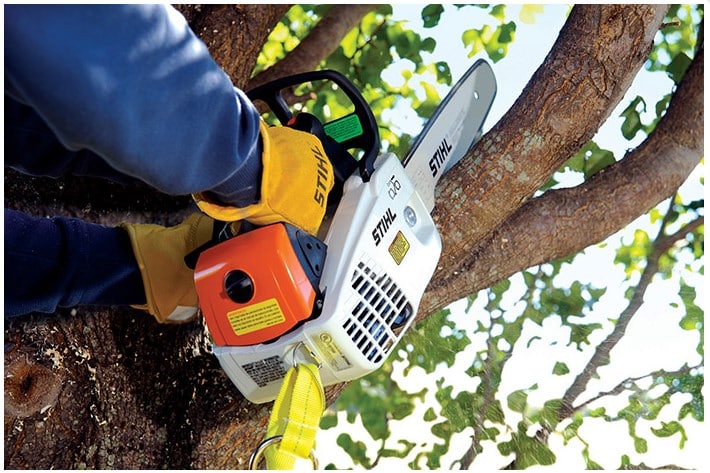 Price expectations for these saws are always changing. As the price of everything else around us goes up, it's the same with used chainsaws.
A stock 192T that is in very good condition will sell for between $150 – $200. A ported 192T might fetch a bit more than this.
A 192T that needs to be rebuilt is worth very little – perhaps $20 – 50. In which case it might be better parted out.
As always, the worth of a used 192T, whether you are buying or selling, will depend on condition and location. They are not rare saws, nor are they overly collectible.
See the latest asking prices here on eBay for a guide.
Stihl MS 192T Chainsaw
Overall, the 192T is a saw worth having on hand for pruning, limbing, clearing trails, and those types of things.
It's a decent climbing saw for those with the experience and expertise to use saws up trees, but isn't as good or powerful as other Stihl top-handle chainsaws.
Compared to cheap top handle saws, I'd personally rather have a Stihl, as they do tend to last longer and perform better overall.
Some of the small ECHO saws, such as the CS2511T, would give the 192T a run for its money, so it's worth comparing as well. Other Stihl top handles that are worth learning more about are the 020T and the interesting 015T.
Let us know if you have any questions, comments, or further reviews of the 192T down below!