The Stihl 090 chainsaw was made in Germany and produced between 1968 – 1977 – the Stihl 090G between 1969 – 1985.
The 090 (here on eBay) is the largest chainsaw ever produced, with more power than the likes of the Stihl 880 and 500i, though without all of the modern improvements such as anti-vibration systems.
It's a 137cc chainsaw with 8.5 horsepower, and the powerhead alone weighs over 25 pounds. Factor in the weight of the fuel, oil, bar, and chain and you realize it's not a saw just anyone can pick up.
Here's a bit more about the 090, one of the most well-known chainsaws in the world.
Stihl 090 Chainsaw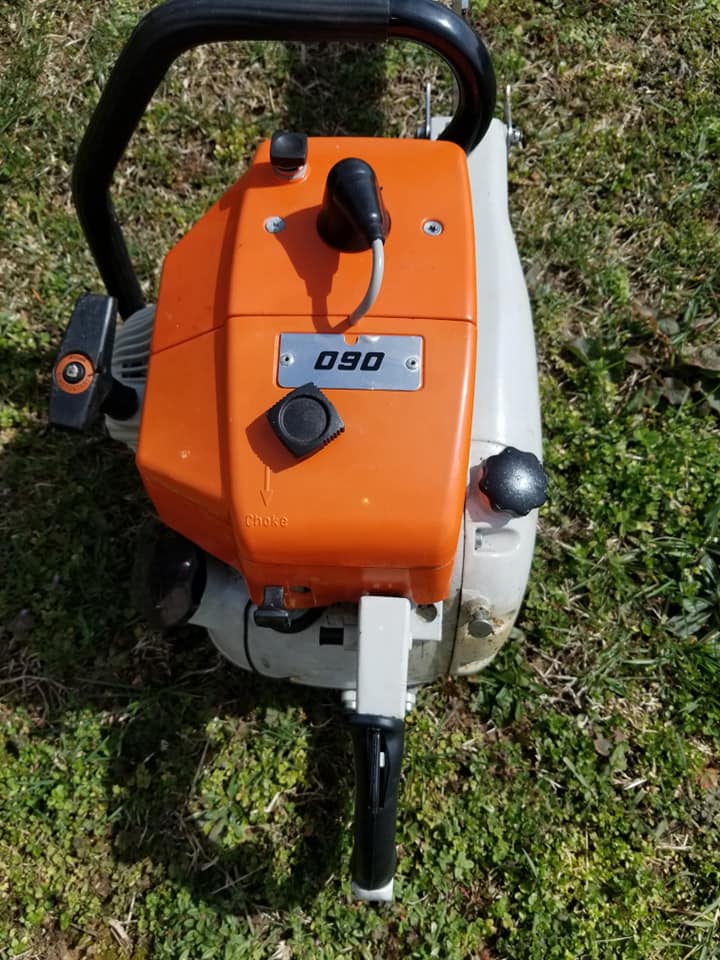 The 090AV is one of the most well known chainsaws simply because it's the largest single powerhead chainsaw ever manufactured – when it's got that title it's no wonder people want to talk about it!
There are a lot of people out there who collect chainsaws, and this is a good one to have as part of a collection. Especially if you can find it in great condition with original parts, which is still possible.
A lot of the Stihl 090 chainsaws for sale are rebuilt using OEM parts which is also fine if that's what you're looking for.
The different 090 models:
The Stihl 090 base model
Stihl 090AV – anti-vibration feature, and had handlebar coming down the middle
Stihl 090G – a 2-1 gear reduction
Or the Stihl 090GS – a stone saw
Let's find out a bit more about the technical specs of this beast.
Stihl 090 Specifications
One of the best 090 reviews comes in this video from the Human YouTube channel (despite the loud background music) – he also has a follow-up 090 video here.
Check them both out for a good idea as to what this saw is all about.
I've already mentioned the Stihl production years in the intro, here are the specs of the base model:
137cc engine
8.5 horsepower (though another source states 11.5)
Weighs 25+ lbs
Manual and automatic oiler
Has a throttle lock (making it good for milling)
Decompression valve
Front placed chain tensioner
It also has a metal casing – no plastic here!
It does NOT have:
An anti-vibration system (unless it's an 090AV)
A chain brake
And it doesn't have standard bar nuts, so your regular scrench won't be able to help you.
You can run a bar size of anything from 30″ all the way up to 60 or 70″, and it is commonly used for chainsaw mills.
Stihl 090 Price And Parts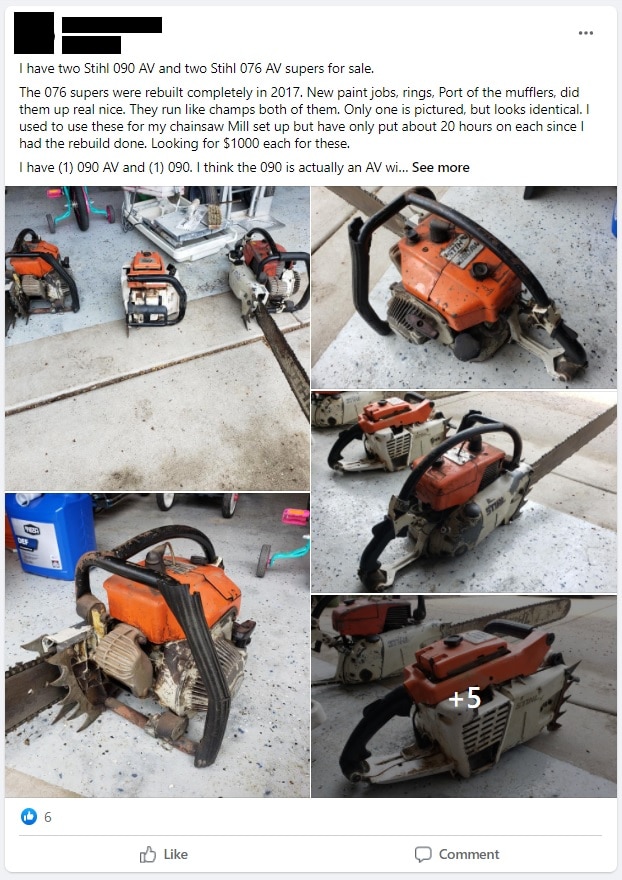 How much is a Stihl 090 worth?
They vary in price from $500 for a non-working model in bad condition, to well over $3000 for a working model in excellent condition.
Prices also vary depending on the cosmetic condition of the saw, as many chainsaw shops are looking for a nice display model to hang up in their stores.
The average price on eBay at the time of writing is around $1000 for a working 090 in average cosmetic condition. However, there is not always a whole lot of buying options.
Besides eBay, Facebook Marketplace or Craiglist are good places to look. I've seen one or two in my local area over the past year or so.
And beyond that, the 100,000 member Stihl Chainsaw Facebook Group is the next best place to ask if anyone is selling. There are plenty of owners in there, and you never know when someone will be ready to send theirs to a new home.
Stihl 090 parts can be found:
On eBay here – casings, rings, chains, bars, handles, etc.
HL Supply here – a wide range of OEM chainsaw parts for Stihl
On Amazon here – carbs, recoil assembly, ignition wires, flywheels, and much more
Stihl 090 Review
Check out the above video from Matthew Cremona to see the 090 in action as a chainsaw mill.
While I haven't used the 090 personally, I've spent many hours watching videos, listening to reviews, and reading user experiences.
Overwhelmingly the 090 is reviewed positively, and most people are gushing in their praise of it.
It could be in large part due to the nostalgia of these old chainsaws, or the fact that it has the title of the world's biggest chainsaw, but either way, people are happy with it.
It's a difficult saw to maneuver and is lacking a lot of the modern safety features, so only extremely confident and experienced chainsaw users should attempt using it. It's obviously not your average homeowner chainsaw!
Pros:
Powerful
Cool
Useful
Epic
Good for increasing your status in the chainsaw community
Cons:
Extremely heavy
Not so smooth to use
Expensive
It's becoming more difficult to find parts for it
Stihl 090 Alternatives
There are plenty of good alternatives to the Stihl 090.
The most common would be the Stihl MS880 which is a 121cc 8.6 horsepower chainsaw. It's a lot lighter and has all of the modern features that are missing on the 090.
The Stihl MS500i is another good alternative. It's a 79cc 6.7 horsepower chainsaw. It is also the first electronically controlled fuel injected chainsaw on the market.
And lastly, the Husqvarna 592 XP is a fantastic Husky alternative (to be released in early 2022). It's a brand new 90cc 7.6hp chainsaw that is said to have the best in class cutting capacity – plus it has the best power-to-weight ratio of all 90cc saws.
All of these saws need to be picked up from your local dealer, but you can check out some other powerful logging chainsaws here that you can buy online.
090 Chainsaw FAQs
What is the fuel oil mix for the Stihl 090?
A 32/1 fuel oil mix can be used with this saw – it was built before current emission regulations so it can take a bit more oil than modern chainsaws.
When was the Stihl 090 made?
The base model was produced between 1968 and 1977, while the Stihl 090G was made between 1969 and 1985.
How many CC does a Stihl 090 have?
This is a 137cc chainsaw.
What's the thread size on the 090 bar studs?
8 x 1.25 mm.
What is the biggest Stihl chainsaw ever made?
The Stihl 090 is the biggest chainsaw ever made by Stihl.
In fact, it's the largest one-man production chainsaw ever made by any chainsaw company. Despite having slightly lower horsepower than the MS880, it has a higher torque engine giving it more pull.
The Stihl 070 is a slightly less powerful version of the 090.
090 Stihl Chainsaw
So that's the Stihl 090 chainsaw.
It's an excellent old saw that anyone would be lucky to own – but one that not everyone should try using!
Let us know if you have anything to add in the comments section below – always keen to get additional info on these great chainsaws.
If you're a true fan, do you know what the c means on Stihl chainsaws?