Is the Stihl 064 Chainsaw worth picking up?
I went and talked to my friend about his 064 – the one pictured throughout this post. He uses it for felling large trees and bucking logs, or anything else the requires a saw of this size.
It's an 85cc 6.5hp chainsaw that was manufactured between 1986 – 1997. It can no longer be bought new – which is somewhat obvious, given it's been out of production for 15 years.
However, there were massive numbers of this saw sold worldwide, and used models are commonly listed for sale online.
You will also often see very tidy 064s for sale that look as though they've basically never been used – I saw a great example today on Marketplace.
Stihl 064 Chainsaw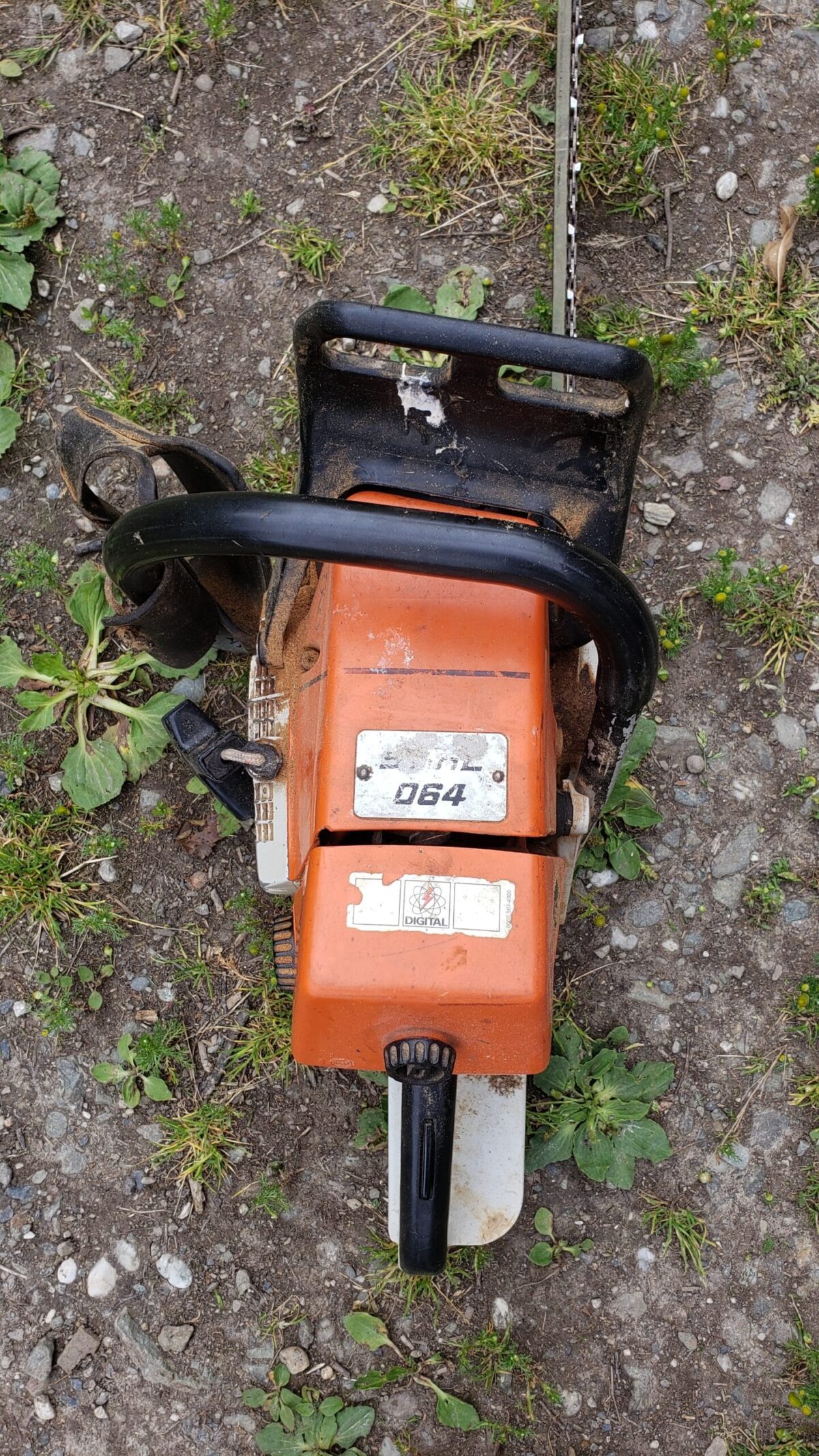 The 064/066 replaced the 056 that ended production in 1986 – more about Stihl production years here.
It's a powerful saw that was part of Stihl's professional saw line-up, designed for use by loggers and other tree workers.
The main downside of the 064 today is that it's a heavy machine compared to similarly powered chainsaws available today.
The power-to-weight ratios of the 80s don't compare to today's most powerful Stihl chainsaws.
In the chainsaw community, some Stihl saws are extremely popular, and others are not.
The 064 is one of the popular ones.
You will find owners passionately referring to it as 'my beloved 064,' or 'my baby' and other terms like that.
When they share pics of 'their baby' in the FB groups, members will comment and say 'she's a real beauty, or with statements like the following that I screenshot from a recent 064 post.
These terms are not uncommon in Stihl circles, but still, they don't say it about all of them.
The machine looks good, but it's the performance that they are praising as well.
Stihl 064 Specs
Here are the basic 064 specs, compared with the slightly higher powered 066 and, today's equivalent, the MS661.
Stihl 064 vs 066 vs MS661
| | | | |
| --- | --- | --- | --- |
| | Stihl 064 | Stihl 066 | Stihl MS661 |
| CCs | 85 ccs | 91.6 ccs | 91 ccs |
| Horsepower | 6.5 hp | 7.1 hp | 5.56 hp |
| Power Output | 4.8 kW | 5.0 kW | 5.4 kw |
| Dry Weight | 15.7 lbs | 16.1 lbs | 16.5 lbs |
| Bar Length | 16 to 36″ | 16 to 36″ | 16 to 36″ |
There are other differences between the 064 and 066, such as different flywheels, the size of cylinder bolt holes, and that sort of thing, but for the most part, they're very similar.
They're all heavy but powerful chainsaws that are suitable as full-time work saws logging, felling, limbing, bucking, and clearing land.
There were and continue to be used on farms, in forestry, and by chainsaw enthusiasts alike.
You can download the Stihl 064 operators manual here.
064 Chainsaw Features
The 064 had all the modern features of its day (keeping in mind that early models may differ from later models).
This includes:
Automatic chain and bar oiler
Chain brake for protection against kickback
Spiked bumpers to hold saw in place in wood
Chain catcher to reduce risk from broken/thrown chain
Anti-vibration system for more comfortable use
Decompression valve for easier starting
Heated handles (not all models)
Among other things.
Stihl 064 Price And Parts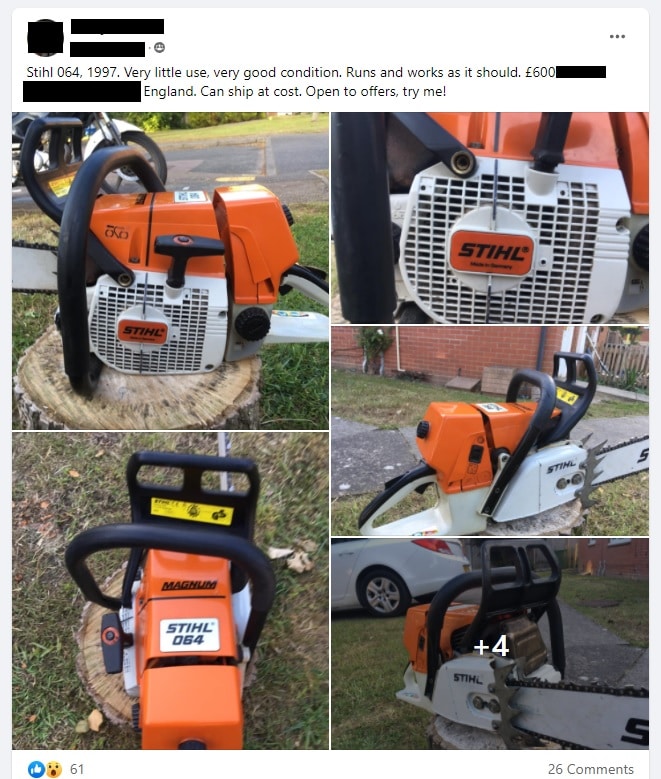 How much should you pay for a Stihl 064?
It really depends on:
the condition
the country or state or looking at buying it in
time of the year
And whether or not it's a Stihl 064 AV (anti-vibration), 064 M (Magnum), or other additional designation.
Also, keep in mind that chainsaw price inflation is a real thing right now.
Due to transportation disruptions, difficulties obtaining components/workers/materials, and incessant money creation, chainsaws (even old models) are quickly increasing in value.
It's hard to say 'the Stihl 064 costs X' because prices are rapidly increasing.
However, in recent times, I've seen extremely tidy 064s for sale on Facebook Marketplace (such as pictured above) for as little as £600 (approx US$810) in the UK or as low as $700 in the US.
OEM and aftermarket parts can be found:
For interest's sake, I've noticed that when people are looking to buy a Stihl 064, they generally request that it's been repaired, maintained, or modified only with OEM parts (which are somewhat hard to come by).
Stihl 064 Chainsaw Review
My friend Bruce loves his 064, and so does most of the Stihl chainsaw community.
The 064 is known for being a reliable and powerful saw that will go for years and years.
It's obviously not a beginners chainsaw, but one for experienced users who have some large tasks ahead of them. Bruce uses his Husqvarna 45 for the small stuff.
Often the people who have these saws and farmers, those with a lot of land with trees, and firewood businesses.
It's a serious chainsaw with plenty of weight that requires a decent amount of strength to use.
Pros:
Great power
Efficient felling and bucking chainsaw
Will last for decades (with the right care)
Cons:
Chews through the gas
Heavy
Stihl 064
If you've seen an 064 for sale and you're wondering whether or not to get it, then consider the following questions.
Do I need a seriously powerful saw for heavy-duty work?
Will I be able to comfortably deal with the weight for the periods of time I need to use it?
Has it been well maintained and been repaired with OEM parts?
If the price is right, then it could be the Stihl chainsaw for you.
If not, the Stihl MS310 is another option – it's a 59cc non-pro saw. If you strike the jackpot, the Stihl 090 is an even more powerful chainsaw. Or, if you're buying for Grandma, check out the Stihl corded electric chainsaws.
Let us know if you have any comments or questions down below.