Stihl has about 6 battery saws on the market right now, and the MSA 140 is one step up from the least powerful.
It's one of only two Stihl saws that use the AK series batteries, the other being the lessor-powered MSA 120. The next step up from these two saws is the MSA 160 which uses the AP series batteries, as does the 161, 200, and 220.
I got the chance to use my neighbor Graham's Stihl MSA 140, which is pictured throughout this article. I thought it was great!
At the same time, I was using my Dewalt battery saw to limb some branches, so I was able to compare them both. I'll share my thoughts below.
Stihl MSA 140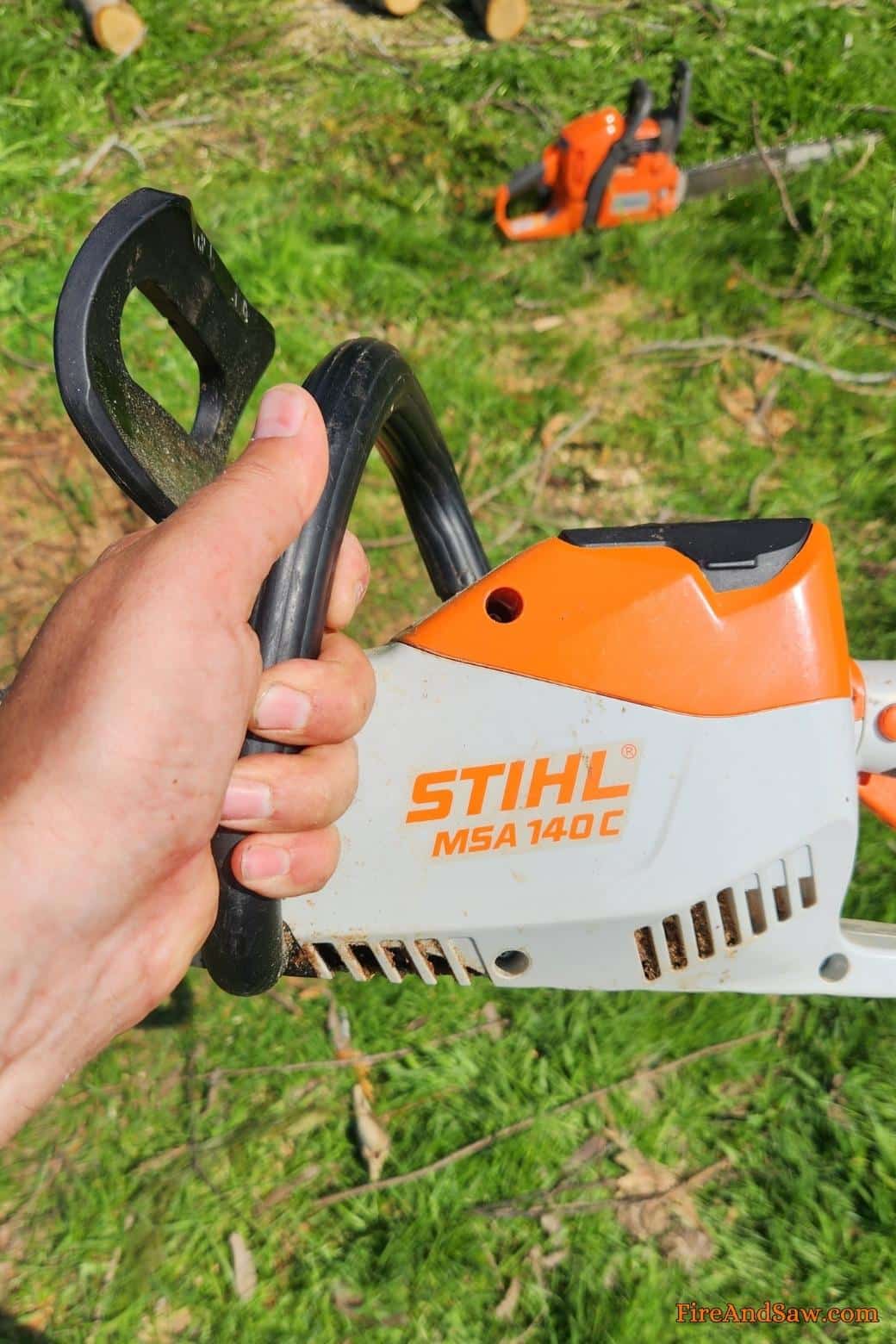 The Stihl MSA 140 is a lightweight saw that's good for light yard work.
We recently had a few large trees down and I was burning the green waste while salvaging any good firewood. While a saw like the MSA140 is not able to cut up large logs, it was good at removing small limbs and breaking down branches for the fire.
I really like battery saws for this type of task. I was constantly picking the saw up, using it briefly, and then putting the saw back down for a few minutes.
These battery saws are great because you just need to pull the trigger and it starts and you let go and it's silent. It's nice to not have an idling gas saw in between cuts.
Compared to my DEWALT 20v Max XR Saw, the MSA140 was much lighter and more powerful. However, it was also a lot louder.
I can comfortably use my Dewalt saw without any earmuffs or plugs. It's so quiet that it's not necessary. But if I was using the 141 for any length of time, I'd want some ear protection to make things comfortable.
I did see this comment from someone else:
There is some chain noise as it travels around the bar, and a bit from the electric motor, and that's about it. No need for ear plugs in my opinion.
And compared to a gas saw, it's still a lot quieter and easier to pick up and use.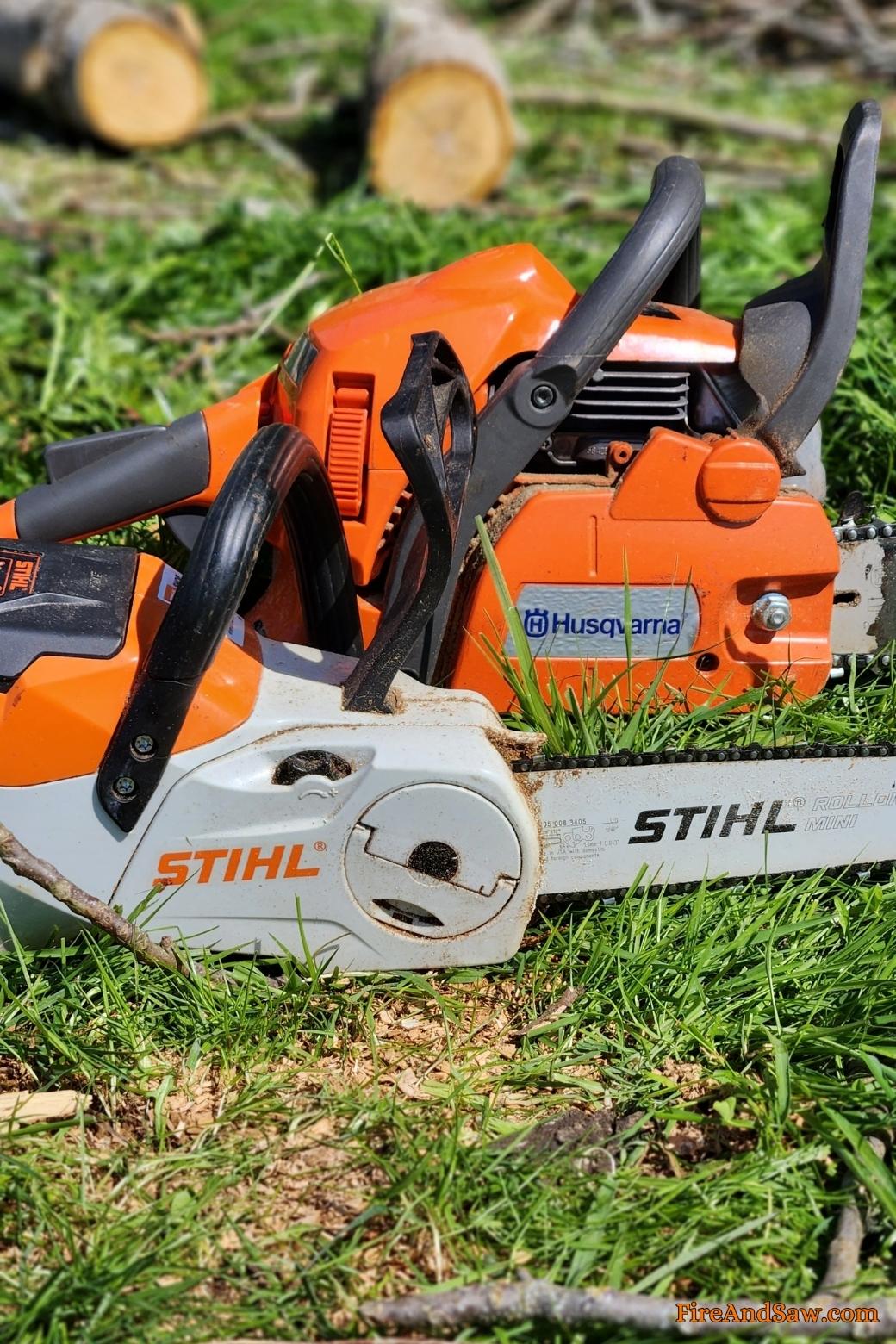 I also had my Husqvarna 450 on hand for the larger logs of Black Walnut that I was cleaning up.
It's good having the battery saws to clean up the small branches, and to also have a more powerful gas saw for the trunks and other thicker branches.
As everyone says, when you use these battery saws as they're intended, they're great. You just can't expect them to do more than what they're designed to do.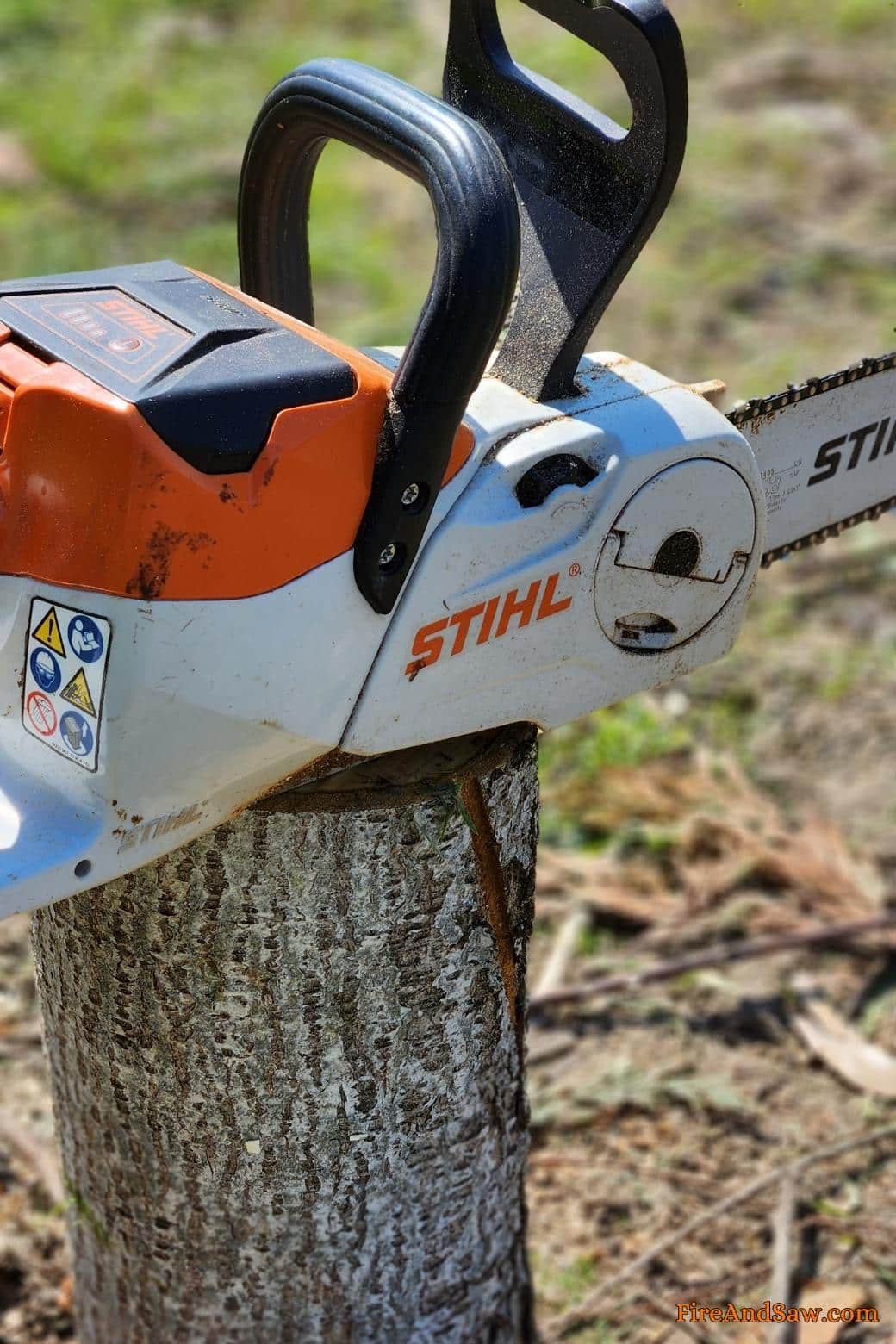 While there appear to be many different versions of the MSA 140, I think there are two: one version with everything except a manually activated chain brake, and one model with it.
You will see it mentioned in these ways:
Stihl MSA 140
Stihl MSA 140 C
Stihl MSA 140 C-B
Stihl MSA 140 C-BQ
And usually, as with something like the Stihl 015, this does mean there are that many different versions of the same saw with more or fewer features.
But in this case, B, for example, means it has Quick Chain Adjustment, and I've never seen a 140c without this feature. It's the device you can see in the image above for tightening or loosening your chain without tools.
C stands for Comfort, and the exact comfort feature is listed afterward – in this case, it's always Quick Chain Adjustment.
The additional feature that can be purchased for extra is the Q. Q stands for Quickstop, a safety feature for stopping the chain.
Northern Tool says about this feature:
Quickstop® Plus manually-activated chain braking system is designed to engage when the operator's right hand completely releases the rear handle, stopping the chain within one second for safer operation.
Some people prefer the saws without this feature.
Stihl AK Series Batteries
The Stihl AK series batteries go with what they call their homeowner series tools.
These batteries have four LEDs that can glow or flash red or green.
Here are what the lights mean on the battery:
Four green LEDs = full charge (or 80 – 100%)
Three green LEDs = 60 – 80% charge remaining
Two green LEDs = 40 – 60% charge remaining
One green LED = 20 – 40% charge remaining
One green LED flashing = less than 20% charge remaining
One red glowing LED means the battery is too hot or too cold and can be used again when temps are between 50 to 68°F (10 to 20°C). If you get three red glowing LEDs, this means the chainsaw motor, rather than the battery, is too hot and needs to cool down.
If all four LEDs are flashing red, the battery is dead and can no longer be used. It must be replaced. And, if you get three flashing red LEDs, this means the saw itself has an electrical malfunction and needs to visit the dealer.
The AK Homeowner System batteries can also be used for a range of other Stihl products.
This includes:
FSA 57 and 60 R Line Trimmer
BGA 57 Blower
HSA 56 Hedge Trimmer
HLA 56 Pole Trimmer
SHA 56 Shredder/Blower
HTA 50 Pole Pruner
They can also be used with the RMA 460 and 460 V lawnmowers.
The batteries come in three different sizes:
AK 10 – 1.8 lbs, 72 Wh, 2 Ah, 36v
AK 20 – 2.7 lbs, 144 Wh, 3.9 Ah, 36v
AK30 – 2.9 lbs, 180 Wh, 4.8 Ah, 36v
All three can be used with the MSA 120 and 140 chainsaws.
Stihl MSA 140 Specs
Learn a bit more about the MSA 140 in this short promo from Stihl.
I don't think the saw is quite as epic as they make out, but it's not bad.
MSA 141 specs:
Weighs 4.6 lbs (2.1 kg) without battery, bar, and chain (battery weights listed above)
Weighs 8.6 lbs with the bar and chain and AK 30 battery, for example
Oil tank volume 3.7 oz (0.11 l)
36 volts, different amp hour batteries available
Sold with a 12″ bar, but can also be used with 10″
Zero or low exhaust emissions
Inertia activated chain brake
And as they say in the listing on Ace Hardware:
Lightweight and compact, Stihl electric motors require minimal maintenance and feature low noise levels and reduced vibration.
They also state that, with the AK 30 battery, the saw "delivers excellent cutting performance for up to 45 minutes on a single charge and is ideal for limb removal and storm cleanup."
The saw is good for all sorts of tasks from pruning and limbing, to processing small logs for firewood, construction site work (cutting lumber, etc.), and farm and orchard work.
The saw is also popular for chainsaw carving!
This image comes from the Markey & Son Woodcraft and Carving Facebook Page.
Also, check out the saw in action in their video Chainsaw Carving Bear with Stihl MSA 140 battery saw.
Stihl MSA 140 Review
You've heard my thoughts on the saw already – I like it and think it has its place.
My neighbor has used the saw extensively and also seems to really like it. But here are some comments for and against that I picked up from MSA 141 threads in the Stihl Facebook groups.
Pros and positive comments:
I bought one and gave it to my wife the best thing I have done.
Really like ours, wife uses it too.
Dad is confined to using the MSA 140 due to having a pacemaker.
I bought the msa140 and it's a great little saw for pruning.
I got one for my daughter. It works really well! It's not a 462 and she doesn't ask it to be.
MSA 140 owner here. Bought it for the wifey. It is the go-to for trimming and cutting up the small stuff. Works great.
Great machines when used for their intended purpose.
I've used both the MSA 120 and 140 – great for cutting off branches and small limbs.
I thought this comment summed things up nicely:
Just picked up the newest addition to my saw stash: the MSA 140C.

Battery operated, works awesome for small projects around the farm as well as taking camping and on the backroads. Of course, it can't replace my MS461 falling saw or my midsize MS310 for the tasks they are designed for, but sure is handy for the nick-nack cutting jobs.

Battery lasts a surprisingly long time.
But as always, not everyone is happy.
Cons and negative comments:
Not a fan. A friend of mine has one and I tried it today on some smaller stuff… it basically stopped the saw.
I wish it used the same AP series saws as the more powerful models.
Go the MSA 220, I love mine and it's good being able to do more with it.
Stay away from electric and battery saws – the EPA is trying to outlaw gas saws but don't let them.
It's always a toss-up between getting the lower-powered model or something bigger, as this comment suggests:
If you're impressed with the 140c, try a 200 or 220 sometime. AP Series pro batteries. Double the price, but it's also double the performance for double the run time.

I've was eyeballing the 140 for carrying around on a 4-wheeler to keep trails open, but I occasionally have 12″ plus size tree blow down so ended up going with the 220. It was the right choice.
Personally, after I buy something I always wish I went for the next model up, or something even larger. It happened recently when I bought the Stihl FS45 – I wish I'd gone with the FS85 simply so that I could use it for more things.
The 161 is a big step up in both power and battery length.
Stihl MSA 140 Price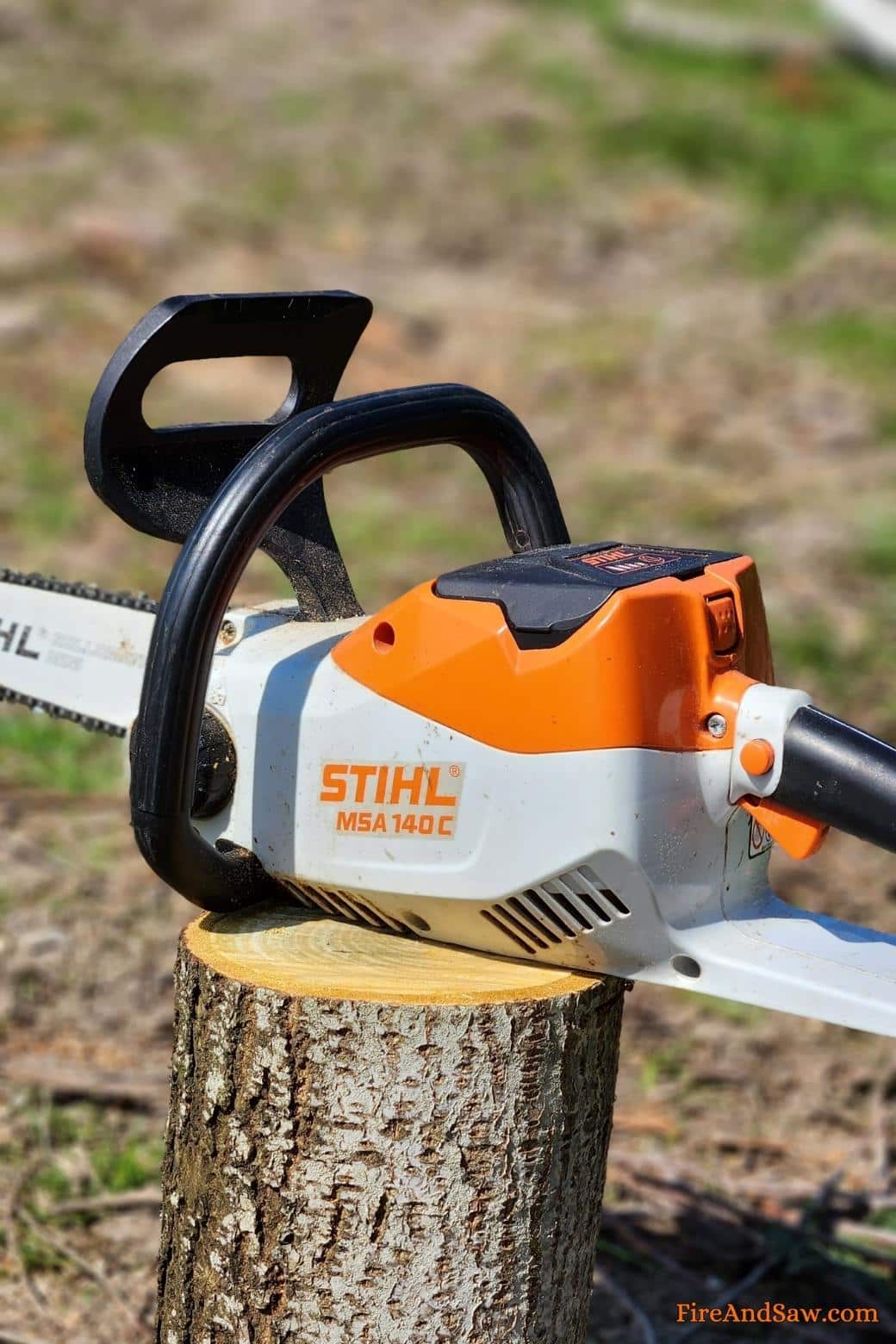 In the US, the Stihl MS 140 with the AK 30 battery costs around $349.00.
Of course, the price varies depending on local taxes, whether or not it's on sale, etc.
Check prices here:
It's also worth asking in your local Stihl FB groups as you'll be surprised at what people have for sale from day to day.
Stihl Battery Saws
Not everyone is going to love Stihl's battery saws, but as I said in at the start of this review, I think they have their place.
They're not going to replace gas chainsaws anytime soon, but for light yard work they're really good.
It's nice not having to start the saw each time you need to use it, it's also good not having the saw idling between cuts as well. You just pick it up pull the trigger and away it goes.
While it still needs a good chain and bar oil, there's no need to mix fuel and oil, less noise, and no fumes. As they say, "it keeps the neighbors happy."
The MSA 140 is a good saw if it's within your budget and you think it'll be powerful enough to do all you need it to do. Alternatively, check out these cheaper battery-powered saws from the likes of Dewalt, EGO, and Greenworks – I don't think they're as good, but not everyone needs a Stihl.