The Stihl MS261 is often cited as the best all-around chainsaw and is a favorite of arborists and other heavy users of chainsaws.
It's one of the best-selling Stihl chainsaws out there and you will find a lot of chatter about it in the chainsaw forums and Facebook groups.
Why is it so popular? That's what we're going to find out!
Here's everything you need to know about the Stihl 261. Find out if this is the right chainsaw for your job, or if you need to keep on looking!
Stihl 261 Chainsaw Review
The Stihl 261 is a pro-level chainsaw, as opposed to a 'farm and ranch' or homeowner chainsaw.
This means it will cost a couple of hundred dollars more than a similarly powered model in those other series, but there are a lot of differences.
One of the best things about the MS261 is that it has an excellent 1.6 power-to-weight ratio. That basically just means that for the power it gives, it's very light.
To explain this further, let's compare it with the cheaper Stihl MS271, which is in the farm and ranch series.
Without fuel and oil, the 261 weighs 10.8 pounds and has a 4hp engine. The 271 weighs 12.3 pounds and has a 3.5hp engine. It's a bit of a difference, right? But we'll compare these two models further shortly.
It probably goes without saying that it's a Stihl gas-powered chainsaw, as opposed to their electric models like the Stihl MSA 161 T.
Stihl MS261 Review
Check out this video review of the Stihl 261 chainsaw from Old School Millennial.
Here are some of the points he makes about this 50cc saw:
Power to weight ratio very good
Weighs about 10.8 pounds with a 4 hp engine
Use it for felling and limbing trees, and bucking wood
Use a 16 – 20 inch bar on it
The case is made of magnesium (as opposed to a plastic or polymer case)
Has an M-Tronic system – autotunes your chainsaw to optimal levels
Captive bar nuts keep you from losing them
Decompression valve – not necessary, but nice
An F&R chainsaw has an all one case, whereas the 261 has multiple parts for easier access
It's a great middle of the road chainsaw – 'grab and go' for all tasks
Great for firewood or felling small to medium trees
The weight to power ratio comes up again in this video, and it's important to keep in mind how often you'll be using your saw. If you are using it often, the weight-to-power ratio matters and makes a difference. For infrequent and light use, it isn't so important.
MS261 Pros
Robust, durable design
Use it year-round in all temps
Great power output
Lightweight
Trustworthy
Top features
Efficient
MS 261 Cons
Costs more than your non-pro saws
Stihl fuel and oil caps can be finicky
I've yet to hear or read a negative review on the MS 261. It is one of those saws that is universally loved and praised.
Check out this review from someone who owns 7 Stihl chainsaws.
It's easy to use and maintain, light, and reliable. 95% of the reviews are 5 stars.
If you can get your hands on one (because they are often sold-out), you are not likely to go wrong!
MS 261 Specs And Features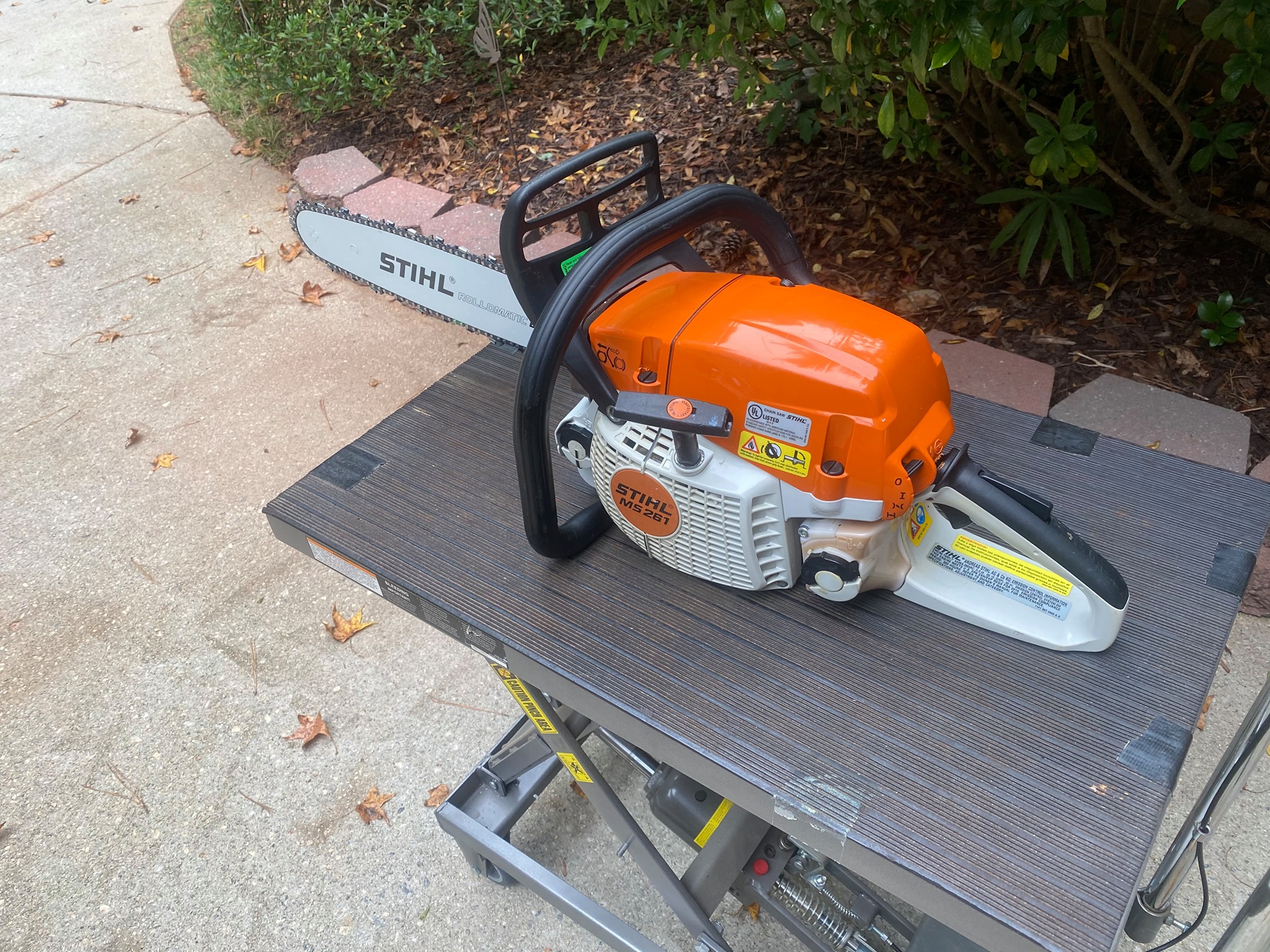 We've already covered a lot of the Stihl 261 features already, but here they are again (along with some extras)!
It's a 50.2cc gas chainsaw with a 4hp engine.
Bar size is another important factor when buying a chainsaw. It is most commonly sold with a 20-inch bar, but you can find it for sale with anywhere from a 14 – 20 inch bar. 16″ and 18″ are other commonly used bar sizes.
It's happy to be run with any of these bar lengths, though 18″ seems to be about the optimal length. And yes, of course, you will hear of those running a 28″ inch bar on it as well, but this isn't recommended.
What else does it have going for it?
Reduced-emission engine technology
Pre-separation air filter
Anti-vibration system
Toolless fuel and oil cap (what chainsaw doesn't?)
Easy access chain tensioner
The 261 also has a decompression valve that can help with starting the chainsaw, though is not the most important thing on a 50cc engine.
The 261 is most often compared with the Stihl MS271 – here's what you need to know about the 2 models.
Stihl 261 Vs Stihl 271
What's the difference between the Stihl 261 vs 271? Watch this video for a great overview.
These 2 saws are often compared because they are both Stihl (obviously) and both 50.2ccs. However, they are quite different. In a nutshell, the 261 is a professional saw, and the 271 is homeowners saw.
Here are some more of the differences.
The Stihl MS 261
Magnesium case
4 horsepower
Captive nuts
Slimmer and lighter
Decompression button
Better pull cord
The Stihl MS 271
Polymer case
3.5 horsepower
Loose nuts
Thicker and heavier
No decompression button
Standard pull cord
If you watched the video above, you'll have heard that the different casing, magnesium vs polymer, is the most significant difference (in his opinion). This casing is harder wearing, longer-lasting, and when using the saw it's a far nicer experience.
Ultimately, the Stihl 261 is the better chainsaw over the 271, which is what you'd expect for the extra $150 – $200. If you can afford the better model, then this is the route you should take.
On the other hand, if you are only going to be using the saw for a bit of firewood (5 cords of wood a year or so), then there's nothing wrong with going for the 271. It's still a good saw.
The Stihl 026 is a similarly powered chainsaw that can be picked up for a decent price second-hand.
Stihl MS261 Price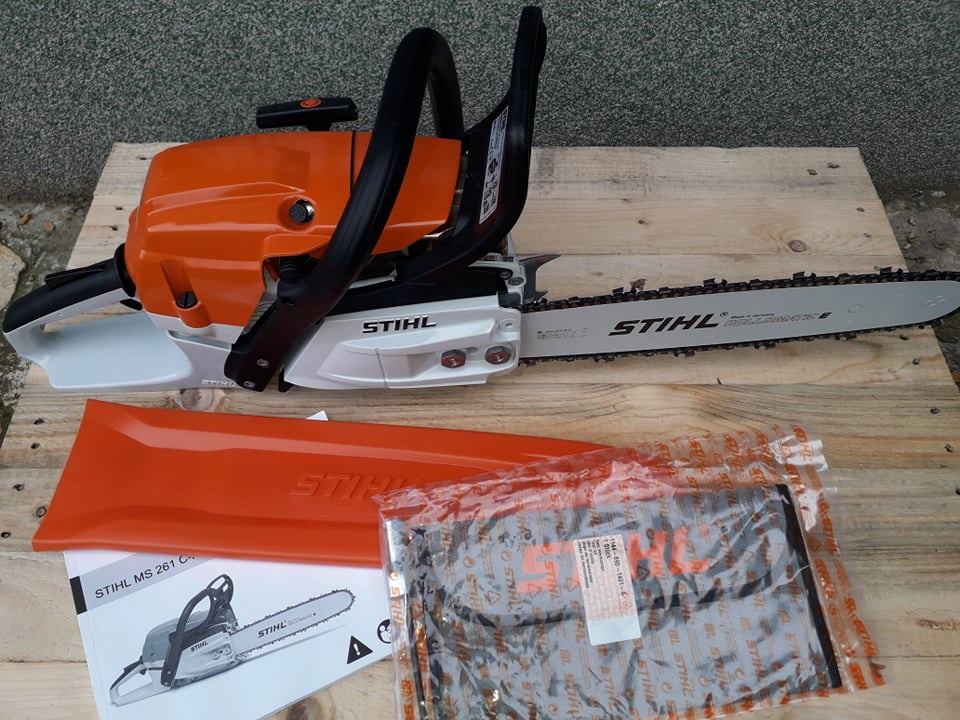 How much is a new Stihl MS261?
In the US, you can expect to pay about $580. However, this varies from state to state depending on taxes and things like that. For interest's sake, the MS271 is priced around $430, so it's about $150 cheaper.
Can you buy the MS261 online?
I haven't been able to find it for sale online. It's listed in various places, but you have to go in-store to buy and pick it up.
You can find used and second-hand Stihl MS261 chainsaws on eBay here – always try to find out an accurate history of the saw before parting with your cash though.
Second-hand 261s are selling for almost as much as a new one due to the shortage of chainsaws at the moment. Sometimes, if you can get your hands on one, it's best not to hesitate.
Also, here are the best places to buy Stihl parts if that's what you need.
Stihl MS 261 Reviews
If you own a 261, give us a review in the comment section below. We'd love to hear your thoughts.
Also, if you discover a good supply of them out there, let us know about it.
Otherwise, I hope this has helped you to determine whether or not this is the perfect chainsaw for you (or not). It's can be used for anything and is a great all-rounder. A lower-powered alternative is the Stihl MS251c chainsaw.