The STIHL 088 is a 121.6 cc professional chainsaw that was made between 1997 and 2004. It was followed by the MS 880 (2004 – 2019) and the current model is the MS 881 (2019 – current).
The 088 is one of the most powerful Stihl chainsaws ever made, with the MS 881 being the current most powerful Stihl production saw. These saws are generally used for big tree felling and milling.
*Check the current 088 prices on eBay here.
Stihl 088 Versions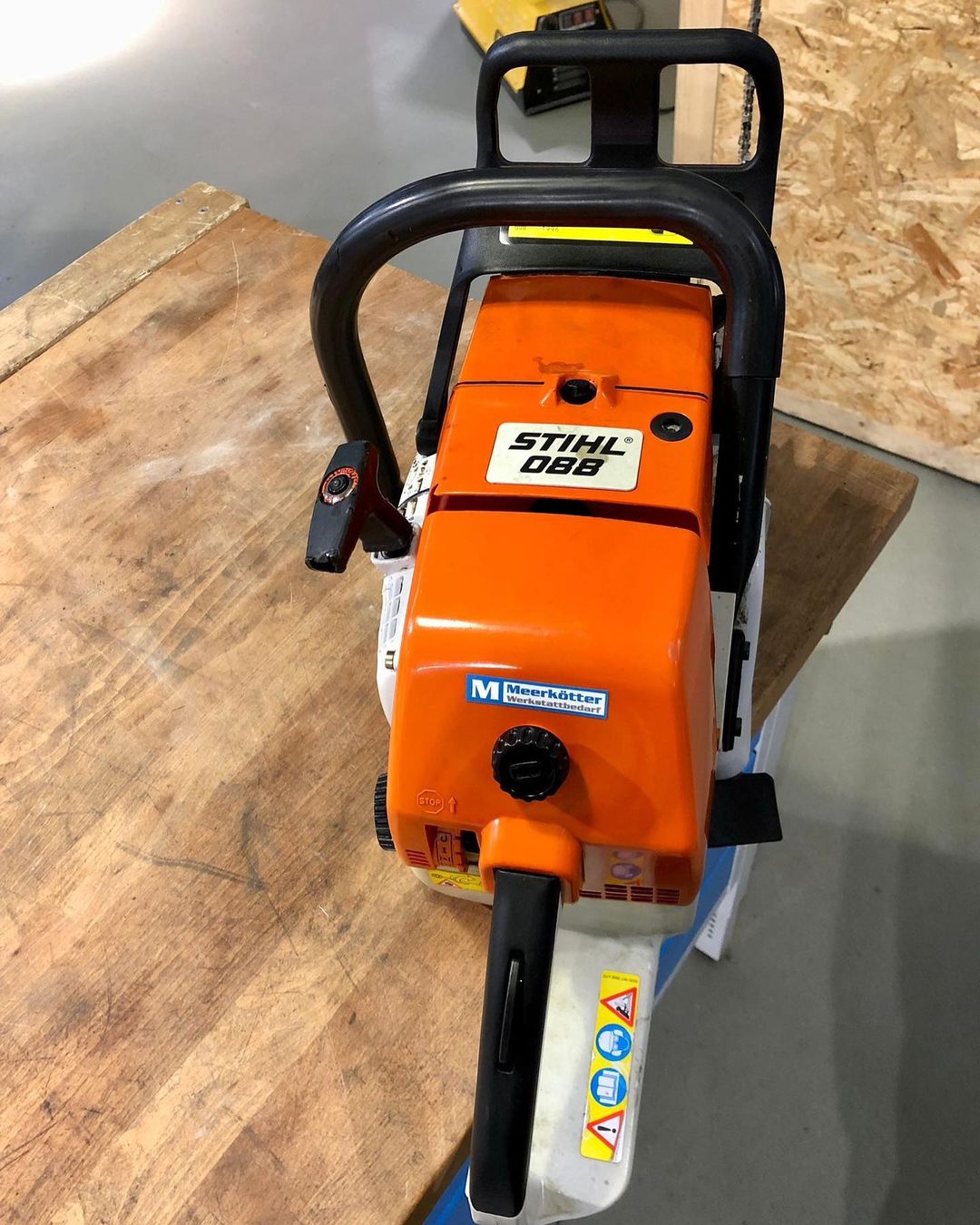 All Stihl 088 Chainsaws were tagged as Magnums, and there are no non-Magnum 088s.
On some models, Magnum means a more powerful version of the chainsaw. The STIHL 038, for example, has both a Magnum version and a non-Magnum version. The Magnum has a bigger bore and has much more power than the base chainsaw.
In the case of the 088, there are no differences. There is no "big bore" 088, and the same goes for the MS 880 and 881. It was listed as Model 088M from the start, and all versions are 121.6 cc, 8.6 hp.
The only other version of the 088 is that with a wrap handle. This was listed as an "optional feature".
Specs And Features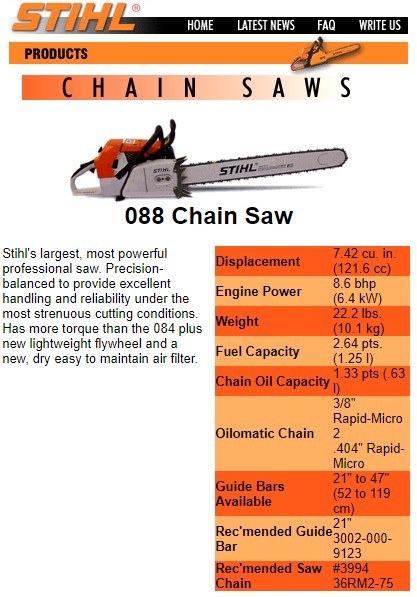 Stihl's largest, most powerful professional saw. Precision-balanced to provide excellent handling and reliability under the most strenuous cutting conditions.

Has more torque than the 084 plus new lightweight flywheel and a new, dry easy to maintain air filter. Includes decompression valve for easier starting.
| | | | |
| --- | --- | --- | --- |
| STIHL | 088 | MS 880 | MS 881 |
| Displacement | 121.6 cc / 7.42 cu in | 121.6 cc / 7.42 cu in | 121.6 cc / 7.42 cu in |
| Power | 8.5 hp / 6.3 kW | 8.5 hp / 6.3 kW | 8.6 hp / 6.4 kW |
| Bore | 60 mm / 2.35″ | 60 mm / 2.35″ | 60 mm / 2.35″ |
| Stroke | 43 mm / 1.69″ | 43 mm / 1.69″ | 43 mm / 1.69″ |
| Weight | 10.1 kg / 22.2 lbs | 10.1 kg / 22.2 lbs | 9.9 kg / 21.8 lbs |
| Bar Length | 21 " – 41″ | 21 " – 41″ | 21 " – 41″ |
Other 088 specific specs:
Max engine speed – 12,000 rpm
Clutch engages at – 3,200 rpm
Diaphragm carburetor
Standard filter (green) with wire mesh element for normal operating conditions and winter operation
Electronic magneto ignition (breakerless) with integral trigger unit ignition system
Spark plug – Bosch WSR 6F or NGK BPMR 7 A
Electrode gap – 0.5 mm (0.02 ")
More info in the STIHL 088 Manual (download here).
Model Features:
IntelliCarb
ElastoStart grip
Decompression valve
Automatic oiler (adjustable)
Side access chain tensioner
Heavy-duty air filter
Extended chip deflector
Bumper spikes
Chain catcher
Chain brake
Handguard
And other features that were common to all STIHL pro saws of the time.
Stihl 088 Reviews
The 088 is a beast of a saw that should only be used by pros or those who really know what they're doing. For many experienced chainsaw users, it's a bucket list Stihl model.
The 088 is a very well-made saw. It was the most expensive saw in it's time and so faults or underperformance are not issues you need to worry about.
Comments on the 088 (from the Stihl Chainsaw Fans group):
The best 088 has a clip-on muffler (unlimited coil).
Pictures don't really show how big the 880 is – it's a monster.
They are a wicked saw and really reliable. I'd recommend going to an 8-tooth sprocket on it if you get one, makes them go a lot better.
If you run one for any length of time, I don't care who you are, you're feelin' it.
Dad had a 088 with a 72″ bar back in mid 90s. Was a monster.
I've been using the 088 for a decade on-and-off milling. Hasn't let me down yet.
The most powerful chainsaw I've ever run and I could only manage it for half an hour.
I have 2 of them. Hard on the body if you run it for a while lol.
It weights a ton. I am just using it for large trees only.
Will said:
I've had good saws and bad saws; I run Husky and Stihl; but my 088 always does well by me. I cut lots of western red cedar.
And Bryan said:
When they are that big they have a ton of compression. That is a superhuman saw. Gotta love the decompression valve on the bigger saws.
The only downside is that it's heavy – which is to be expected – and when it comes to re-selling them, a lot of potential buyers can be afraid of the size and power of it. Not everyone wants to use a monster.
Price And Parts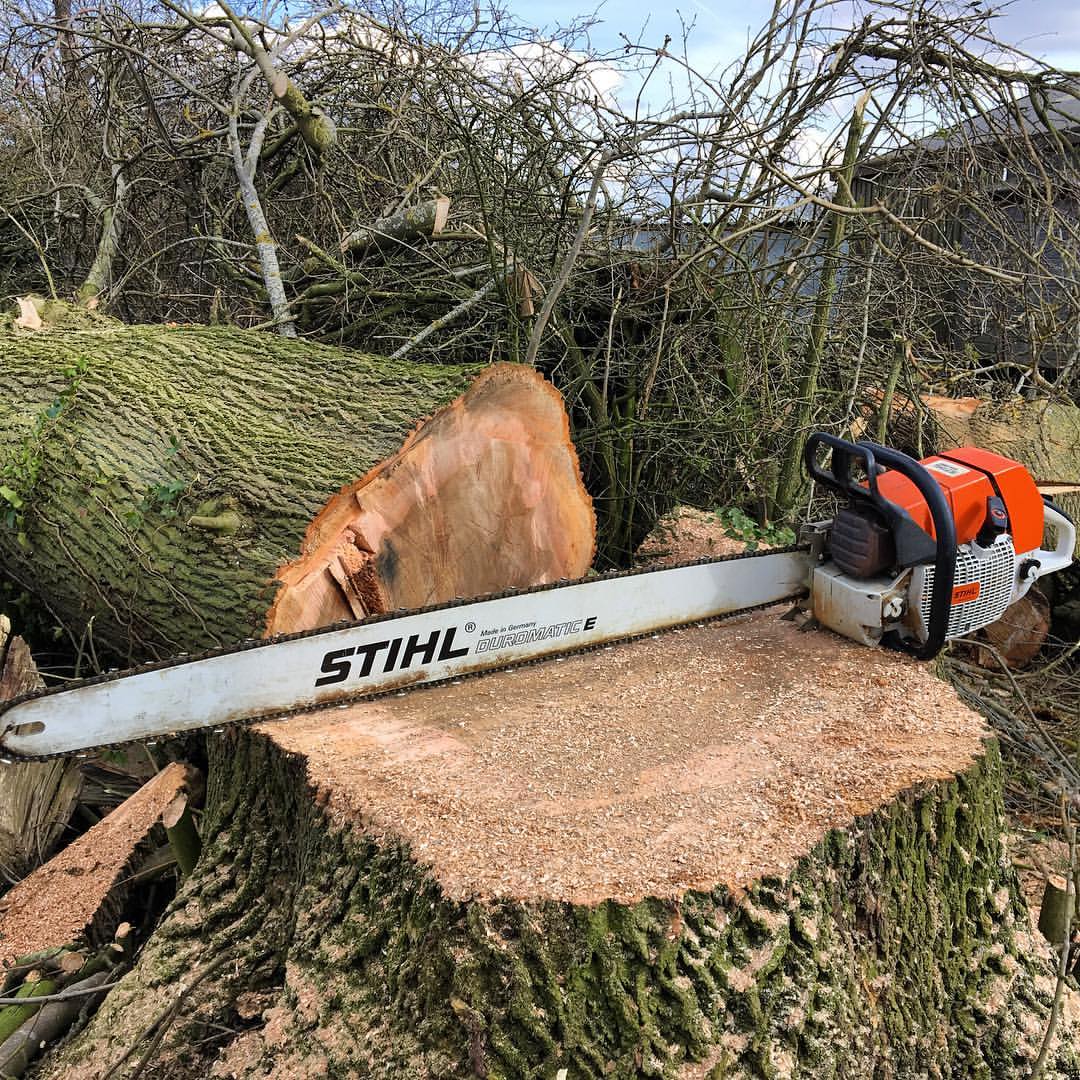 In the US, 088s generally sell for between $1000 to $1500.
A recent comment from a thread on buying and selling 088s:
Condition is everything with used saws. Anywhere between $800 clapped to $2000 in excellent. I'd say a nice runner would be around $1300-1500.
And further comments:
Running 088s are worth at least $1000.
Shoot for like $1300 or maybe $1350 be patient if you can and it will sell there aren't a billion of them around for sale.
088s sell for around $1500 if they've been looked after. More if they don't have a lot of hours on them.
088s are sometimes listed on FB in the Stihl groups. This one was from 2022 (for price and condition indication):
Stihl 088 powerhead for sale. All oem… with new oem plastics. Have video with muffler off showing piston and cylinder… piston has machine marks top to bottom, cylinder looks amazing good, makes pull your arm off compression. Located in Illinois. Price is $1450 shipped to lower 48 states only. PayPal or Venmo payment only.
Prices on eBay at the time of writing:
Low hour 084 – $3499
088 with good compression – $1200
088 in good condition – $1700
EBay is always a little more expensive for buying chainsaws like the 088. It's usually cheaper to ask if anyone's selling in the Stihl FB groups. There is even an entire FB group dedicated to the 084/088/MS 880/MS 881.
Parts for the 088 can also be readily found on eBay, and it shares many parts with the MS 880.
STIHL 088 Chainsaw
The Stihl 088 is an excellent professional logging chainsaw. It's a high-powered, hard-working saw that can go all day.
Because of its size and weight, most users just pull it out for big jobs or use it in a chainsaw mill operation. It's not the type of saw you're bucking firewood or felling trees with all day.
If you see a good working 088 for sale for around the $1000 mark, it's a good deal. Just remember to do your used chainsaw checks before committing to the purchase.