The Stihl MS441 is NOT the most popular pro Stihl chainsaw – far from it.
It came second in our worst Stihl chainsaw poll and is often described as "gutless", "problematic", and "Stihl's version of a Husky."
But that's not to say it doesn't have its fans, because it does.
There are just as many people who have found the 441 to be a solid, reliable, or even great saw. The problem is that it's not universally loved like some of the alternatives.
Let's find out why some people hate it and other people love it.
Stihl MS441 Chainsaw
The MS441 is no longer for sale new from dealers. It was discontinued in 2019.
The years made for the 441 and similarly powered saws:
Stihl 044 made 1988 – 2001 (Series 1128)
Stihl MS440 made 2001 – 2012 (Series 1128)
Stihl MS 441 made 2007 – 2012 (Series 1138)
Stihl MS 441 C-M made 2011 – 2019 (Series 1138)
The 044 is maybe the most popular of these saws, of which you'll read, "Stihl stopped making that model because they are too well made. They didn't make any money in parts or replacement."
The MS440 was, and still is, a much-loved saw as well.
However, compared to its predecessors, the 441 doesn't have the same reputation and is prone to having a lot of issues.
Stihl even took it off the market for a year or so and told dealers to full warranty any engine problems till they re-designed it. These issues were to do with the M-Tronic saws.
It is a very different saw compared to the 440, which we'll get into below, and most parts cannot be transferred.
Stihl MS441 Specs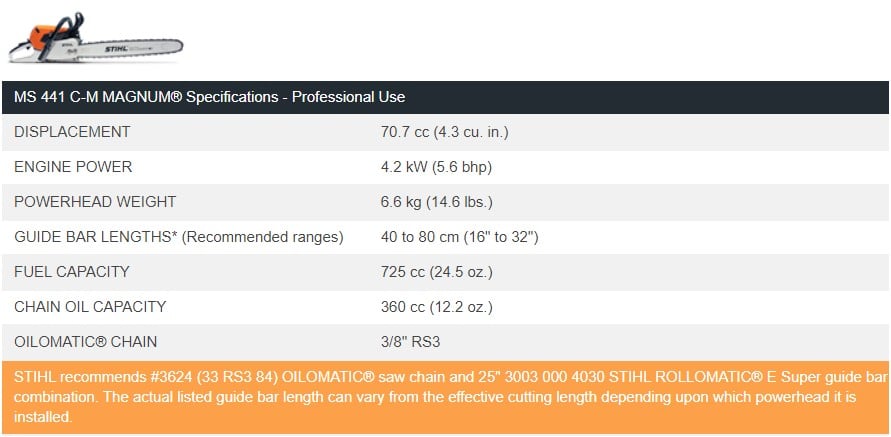 The exact specs and features will vary depending on the year and location of manufacture.
For example, early 441s were not M-Tronic, whereas newer models were.
Stihl 441 specs (as ab0ve):
DISPLACEMENT 70.7 ccs (4.3 cu. in.)
ENGINE POWER 4.2 kW (5.6 bhp)
POWERHEAD WEIGHT 6.6 kg (14.6 lbs.)
GUIDE BAR LENGTHS* (Recommended ranges) 16″ to 32″ (40 to 80 cm)
FUEL CAPACITY 725 cc (24.5 oz.)
CHAIN OIL CAPACITY 360 cc (12.2 oz.)
OILOMATIC CHAIN 3/8″ RS3
It had all of the standard features of a pro saw of that era, including a good anti-vibration system, side-access chain tensioner, toolless fuel and oil tank caps, and so on.
It has a magnesium casing and decompression valve – features not found on all Stihl chainsaws.
If you have a 441 with comfort features, see our post on what the C means on Stihl saws to find out what it's designating.
Difference Between The 440 And 441
| | | | |
| --- | --- | --- | --- |
| | MS440 | MS441 | MS400 |
| CCs | 70.7 ccs | 70.7 ccs | 66.8 ccs |
| Horsepower | 5.4 hp | 5.6 hp | 5.4 hp |
| Displacement | 4.3 cu in | 4.3 cu in | 4.1 cu in |
| Weight | 13.9 lbs | 14.6 lbs | 12.8 lbs |
| Bar Length | 16-32″ | 16-32″ | 16-25″ |
As you can see there are some similarities between the 440 and 441 – they're both 70.7 ccs, for example. But the 441 is from a different generation.
You can see that the 441 has a slightly higher horsepower than the 440, but it's almost an entire pound heavier as well.
Most Stihl saws that have a 1 as the last digits (eg. 441, 461, 211, 261) have the new strato engines.
They are said to be more efficient because they have an additional carb butterfly that introduces a pocket of air that separates the mix and exhaust charges. They typically run higher RPMs than their traditional counterparts. However, they can also be easier to bog down.
The 440 was the switch to the MS series from the 044 and the 460 (which is also often compared to the 441) was the switch from 046. They're basically the same saws, just with different piston sizes.
The 441 and 462 are modern models of those saws. The M-Tronic didn't show up until the newer 441 and 461 models.
Bucking Firewood With The 441
View this post on Instagram
The 441 is a decent firewood saw – it sure beats non-pro chainsaws anyway.
It can be a bit heavy for blocking firewood rounds unless they're over 20″ all the time, but it'll rip through most of what you can throw at it, hardwood and softwood.
It can be a good idea to get a smaller saw too, like the MS250 or MS261, for when you're working with smaller logs.
There are those who will say you're better off with a 046,460, or 461, of course. It all comes back to the 441 having too much weight for no more power.
Felling Trees With The 441
View this post on Instagram
The 441 is a pro-Stihl Chainsaw and is certainly capable of use as a felling saw.
Because of its weight and potential for problems, it's not one for full-time use, but it is suitable for dropping decent-sized trees when needed.
Just search #stihlms441 on Instagram and you'll see tons of images of trees that have been felled by the 441, as illustrated above.
If you're looking for a saw primarily for felling, you'd be better off with something like the 500i or the 064.
Milling With The 441
View this post on Instagram
A lot of people use the 441 for milling, but that doesn't make it OK ?
But seriously, it's not the best chainsaw for milling. Usually, you'd want something that's at least 80ccs and above.
The 441 can be run with a 32″ bar, but it doesn't pull it exceptionally well. It runs best with a 25″ which is likely too short for milling, but it's easy to blow up this saw anyway if you put it under too much strain. Don't try and put a 36-incher on her!
The Holzfforma G44 is a Chinese substitute for the 441 if you don't mind clone saws, and would be cheaper to test out on the mill.
Stihl 441 Review
You can get a good look at the 441 in the video above.
Don, who is a small engine mechanic, had this 441 brought into his shop with problems and he gets it running again.
As for a 441 review, check out these comments I collected from real owners and users of this saw. We'll start with all the negative comments and follow up with the positive ones.
441 user negative reviews:
Heavy and not that powerful. I hated mine.
I lost money on mine. A 400, 461, 462, or 500i are better even if they will all do about the same job.
About 50 % of the 441s have had serious issues. With that said, some have had good luck with them. In my opinion, 50/50 isn't a good gamble.
They were known for problems and discontinued because of the problems.
All RPM and no power. The 441 reminds me of trying to buck a 20″ log with a full stock ms260.
Too heavy for the power. If you're going to carry one of these you might as well lug a 660.
I have one. It's not a great saw. It's not a horrible saw. It isn't well balanced compared to the 461, for example (I have one of those too). But it does cut. I got a great deal on mine… it was given to me – thankfully I didn't spend anything on it.
It is a lot easier to find bad comments about this saw, but that's usually the case for anything. People are more willing to speak about their negative experiences than their good ones.
441 user positive reviews:
The three 441s I had were awesome. Up there near my 461, 500i, and 661. Much stronger than a 362.
My 441 is a great saw. I use it for my Alaskan mill and it has lots of power.
I have a 441C. It does what I ask of it.
Have one with a 25" on it. Saw has been good so far. Owned it for 5 years, It took about 10 tanks of gas before she opened up.
Hard to kill them. 10+ years still going strong. Although it's a backup saw now.
Heavy for what they are, but it's still better than a non-pro saw…
There are plenty of those who cannot understand the hate for the 441, but as is often mentioned, perhaps they don't know the difference.
If the 441 is the only pro saw you've ever used, and you haven't compared it to one of the better-reviewed saws, you wouldn't see the problems as much.
This next comment summarizes the 441 well, I think.
It's an unremarkable saw as far as power to weight goes. As to dependability, I haven't seen a lop sided failure rate on this model vs other Stihl pro saws. It's still a better choice then a clam shell.
There are still plenty of parts out there, so if something happens, that shouldn't be an issue.
However, the consensus is usually to spend the extra money on a 661 or a 460/461 – "You'll be much better off."
Stihl 441
Is the Stihl MS441 a good chainsaw?
It's one of those saws that people will disagree on forevermore.
It isn't the worst saw in the world, it's just that there are much better options out there.
If your options or budget are limited, and the 441 is the best chainsaw presenting itself, I wouldn't write it off completely.
Do your due diligence when buying a used chainsaw, avoid buying a lemon, and you could get lucky.
It's difficult to say how much you should pay for a 441, as prices fluctuate wildly depending on location (and ongoing price inflation for such things). But for a model in good condition, you could expect to buy or sell it for $400.
If you've recently bought a 441 or have a 441 for sale, let me know the latest pricing expectations in the comments below. And feel free to leave any other comments as well.
Thanks!