The 015 is a very interesting 32 cc Stihl chainsaw with a lot of history and peculiarities.
It was produced for 10 years between 1973 and 1983 and was manufactured in both (West) Germany and at the new Virginia Beach plant in the US which opened in 1974. In fact, the 015 was the first Stihl chainsaw ever made in the USA, with assembly starting on October 1st, 1974.
It was also Stihl's first chainsaw that was specifically designed as a homeowner-level saw, rather than a professional saw. And it's one of the few Stihl saws that has both a top handle and rear handle version.
But on top of all that, perhaps the most interesting thing is that there is a semi-rare Stihl 015 R version – and in this case, R does not designate a wrap handle, as is often suggested…
I'll tell you what it means below!
Stihl 015 Versions
The Stihl 015 pictured in this article belonged to Aaron Freeman from Retro Restores – he's also an admin of the 100,000+ member Stihl Chainsaw Fans group on Facebook.
He bought this 015 for £100 in 2019 and sold it again for £100 in 2022. To give you an idea of the condition, when selling the saw he listed it with this description:
A nice little 015 up for sale in good condition, but needs some work.

Could do with an air filter cover to replace the homemade one that came with the same. The saw ran briefly with mix down the cylinder, but needs a fuel line and probably a carb rebuild. Looks to be a really clean little example with an original bar.

It's obviously not seen much work. Would suit a collector as it makes a nice shelf piece.
As you can see, it's the top-handle version and it was made in West Germany rather than in the US.
The saws that were made in West Germany are white (or grey, as Stihl referred to them) with an orange clutch cover that has 'Made in West Germany' cast along the bottom of it. You can see that a bit better in this image.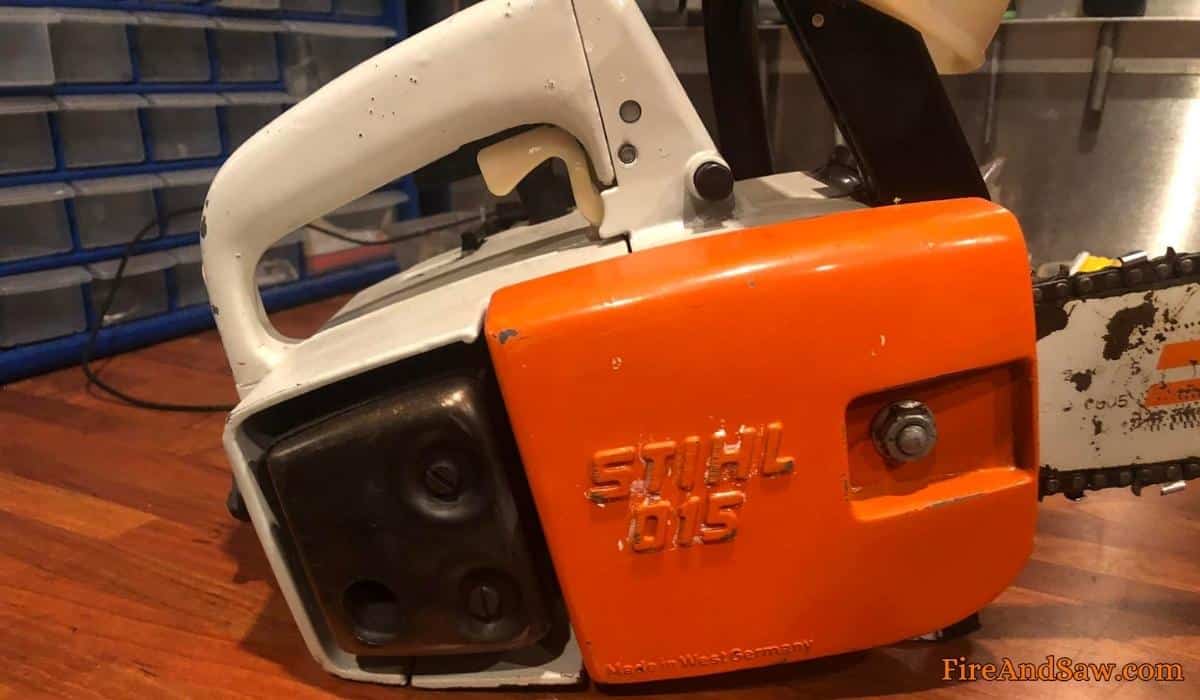 The 015s that are completely orange were made in the USA beginning in 1974. There are many 015 versions listed in the manuals.
It was produced during the period when features like Anti Vibration, Electronic Ignition, and Quickstop Chainbrake (often together as EQ/Electronic Quickstop) were first introduced. This helps to account for why there are so many versions.
All of the Stihl 015 Versions:
015 – original standard version with top handle
015 AV – Anti-Vibration rear handle
015 AVE – Anti-Vibration and electronic ignition (rather than points)
015 AVEQ – Anti Vibration, Electronic Ignition, and Quickstop chain brake
015 L – Limbing saw (top handle)
015 LE – Limbing saw (top handle) with electronic ignition
015 LQ – Limbing saw (top handle) with Quickstop chain brake
015 R – Racing (larger bore) and seems to be always top handle
These versions are all listed in the Stihl manuals (other than the R) but you won't often see 015s with most of these designations on the sides.
The only tags/plates I've seen are 015, 015 AV, 015 AVE, 015 L, and 015 R – I haven't seen a plate with 015 AVEQ or LQ, for example. You can see an 015 marked AVE in this video from the Chainsaw Guy (no chain brake).
Some people say that all of the L-designated models are electronic ignition, but this isn't so. There are plenty of 015 L saws with points (for example, in this video). Often, you won't know what a saw is until you open it up. The points ignition can be converted to electronic in a similar fashion to the 031 AV.
The exact version and features of a particular 015 chainsaw depend in large part on the year it was made.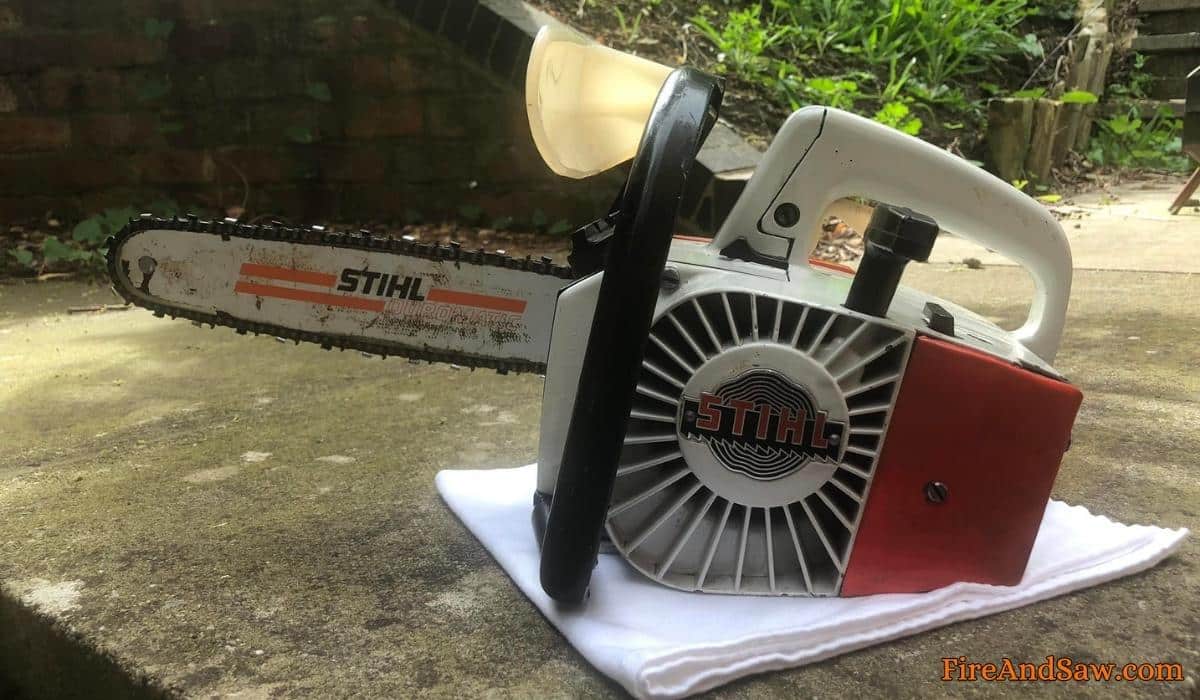 You can tell which saws were made in 1977 and later by the logo.
Pre-1977 saws have the wood cross-section logo (as on Aaron's saw above), while those made after have the slant STIHL logo.
Knowing this can help you date some saws quite precisely. For example, the 015 AV came out in 1976 so it was only made for one year with the wood/sawtooth logo before changing to the slant STIHL logo.
Stihl Series 1116 years made:
Stihl 015 | 1973 – 1980
Stihl 015L | 1973 – 1983
Stihl 015AV | 1976 – 1983
Stihl 015AVE | 1974 – 1983
Stihl 015AVEQ | 1978 – 1983
He's some more info about specific versions.
1. Stihl 015 AV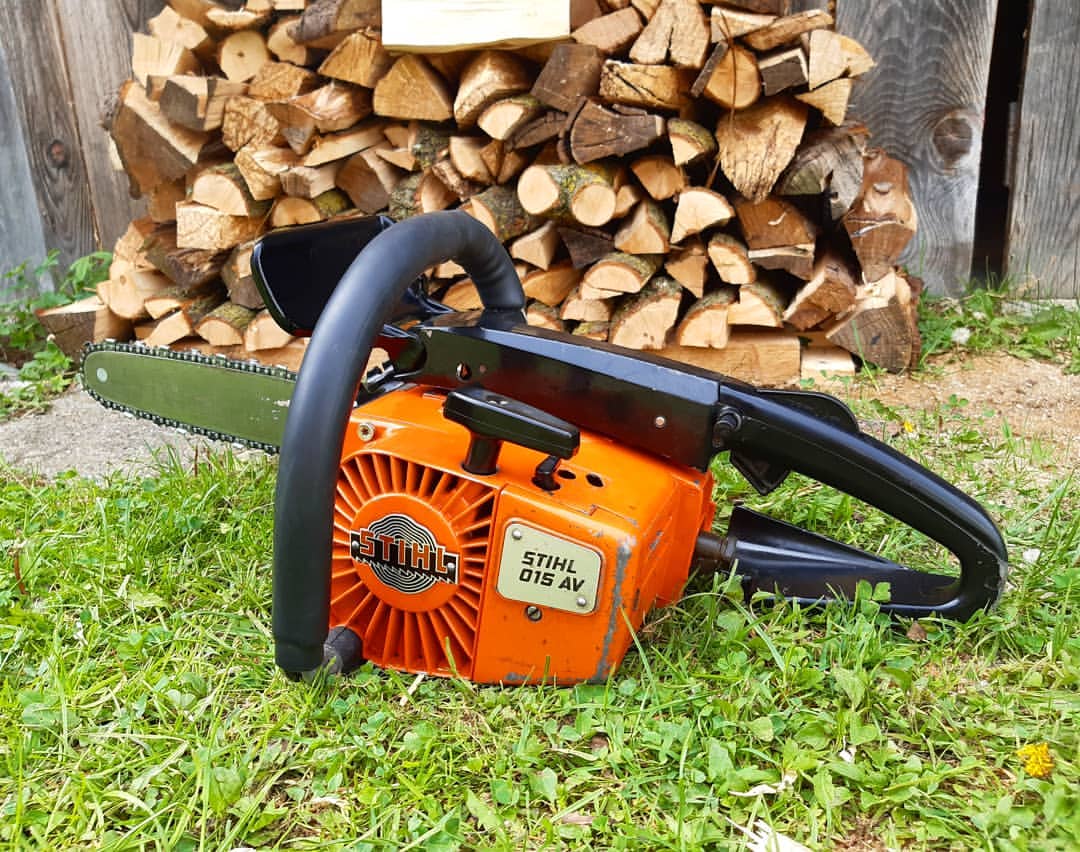 The 015 AV, AVE, and AVEQ are the versions with rear handles, and the AV system is part of the rear handle setup. This style is better for cutting up firewood (small logs), pruning on the ground, or for those who prefer the more standard style of handle.
The 015 AV does weigh slightly more than the non-AV – it's listed as being 9.6 lbs compared to 8.1 lbs. Other than that they're basically the same. They all have the same bore and stroke size, and they all have automatic oilers and magnesium construction.
They might sometimes have different air filters, but there is a lot of variation depending on the exact version and the year and location of manufacture. There's no real rule there.
2. Stihl 015 L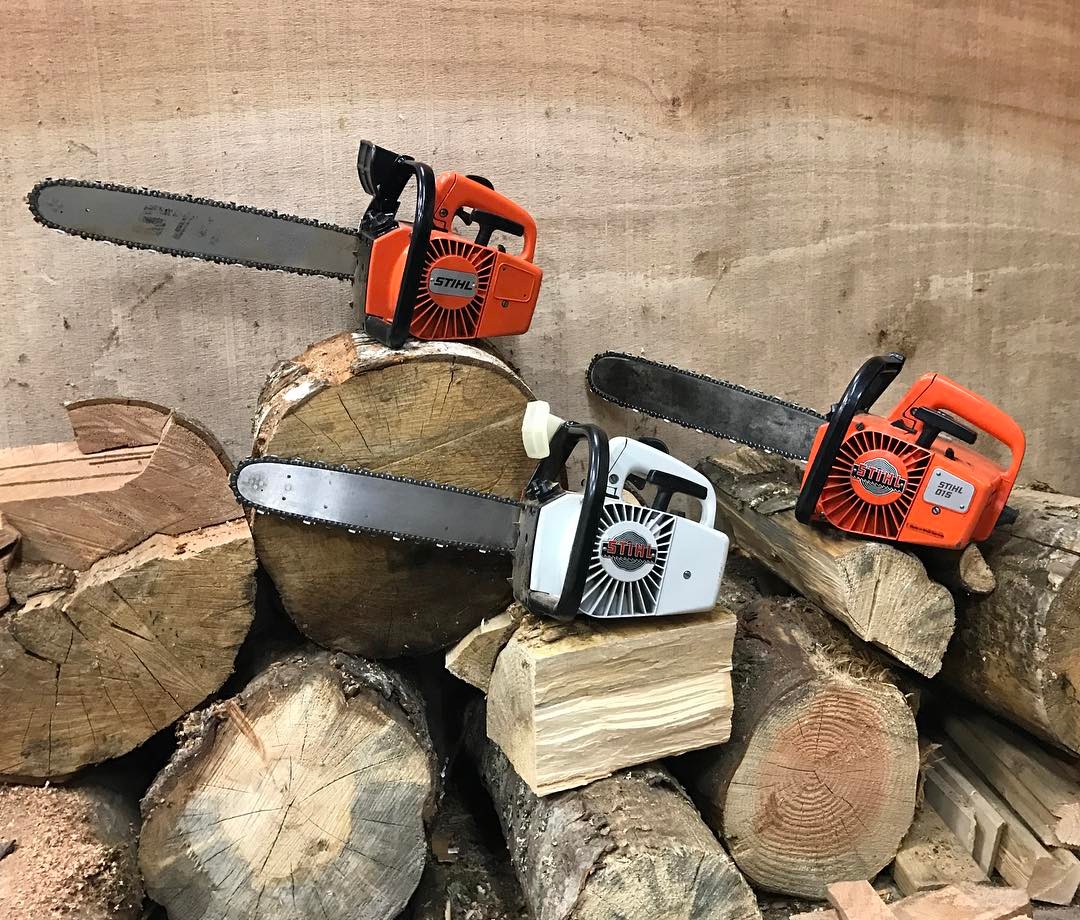 The base model 015 without any further designations is always a top-handle version, as well as those marked L.
Most people think that L stands for Limbing, but not everyone agrees, such as this guy:
L does not stand for limbing on an 015L.

I know the L had a different air filter and magneto than the regular 015, and on later models the L typically indicated "low noise", as is the case with the 023 L, which definitely is not a top handle saw.

I don't know if this applies to the 015L, though. Engine size is the same on both models.
However, all the L-designated saws are top handle saws and most people seem to think that in the case of the 015, L means Limbing. But as always, there's plenty of debate about whether or not this is so.
As shared above, L does not mean that is it electronic ignition or that the models have different magnetos, as there are many examples of 015 Ls with points and condenser.
Even acresinternet.com Chain Saw Collectors Corner, which is usually very reliable, states the 015 L has an electronic magneto (see here), but it just ain't so. Only the 015 LE was electronic.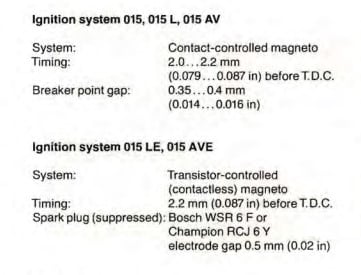 The only consistent difference between the 015 L and 015 AV that I can find is the top handle vs the rear handle.
3. Stihl 015 R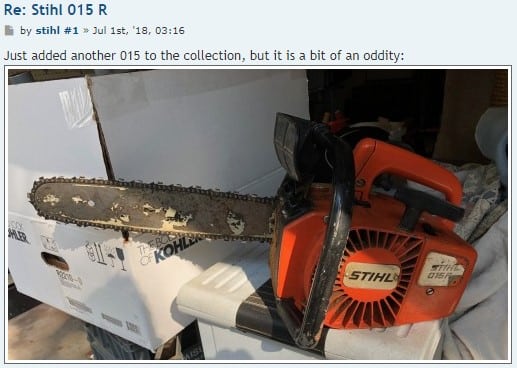 What does the R mean on the 015?
The best information on what the R means on the Stihl 015 can be found in this thread on chainsawcollectors.se. One of the forum members uploaded the above image of an 015 R he had just bought and asked for info.
I have asked around at the plant and found one gent who has been working at STIHL since 1975.

He told me he remembered the "R" but could not recall why it was badged that way. He thought that maybe 5% of the saws were R models. I can find no reference in any of the older literature and production files I have.

This saw is being shipped this week so once I get it will compare with others and see if anything significant is different on it.

The badge is a sticker, not a inked metal plate, and the slant STIHL logo means it was built after 1977.

Anyone have any info on this?
He didn't find any help online but discovered the answer himself after asking another old Stihl factory worker.
I now have the info on the 015 R.

I found a guy still working at the plant that remembered something about the R meaning it was an experiment to try some with a bigger piston for more power. So I pulled the muffler on an 015 in the museum and measured the bore and it is 38 mm like the IPL says it should be.

So then I measure the bore on the R model and sure enough it is 1 mm bigger at 39 mm. No tech bulletins, no part numbers for the bigger cylinder and piston, just a small trial run so that makes these pretty rare in my book.

I have only ever seen one other, last year, and that saw came from a guy who retired from STIHL after 40+ years so he got it off the assembly line when it was new.

The other really weird thing about this saw is that it has this funny bracket looking part cast into the front cover. No idea why and the gent that remembered the big piston did not recall why the cover is cast this way.

So anyway, if you ever come across another 015 R snatch it up because it is the "Big Bore" version!!!
So while you'll see people state that the R means wrap handle – for example, this guy…
According to the STIHL Tech Bulletin, the "R" model number suffix can mean three things, but for chainsaws it designates "Wrap handle"
… in the case of the 015, it means it has a larger bore.
4. Stihl HS 151

The 015 was also interesting and notable because it could take a hedge trimming attachment, as well as a brushcutter attachment (next). I'm not going to cover this in detail here, but it was called the Stihl HS 151 attachment.
Stihl stated:
The great advantage is that only one engine is required to power any of the attachments. This makes the powerhead economical even if the individual attachments are only used occasionally.

The attachments are easily mounted in a few minutes. Each attachment has its own corrugated spring clutch for positive transmission of power.

Almost any type of hedge can be efficiently cut using the combination of the Stihl HS 151 hedge trimmer attachment and the 015 powerhead. The 24″ (60 cm) cutter bar provides high cutting performance and can even tackle 1/2″ thich branches.
With these attachments, Stihl was going all out on their first saw targeting homeowners and light users.
5. Stihl FS 151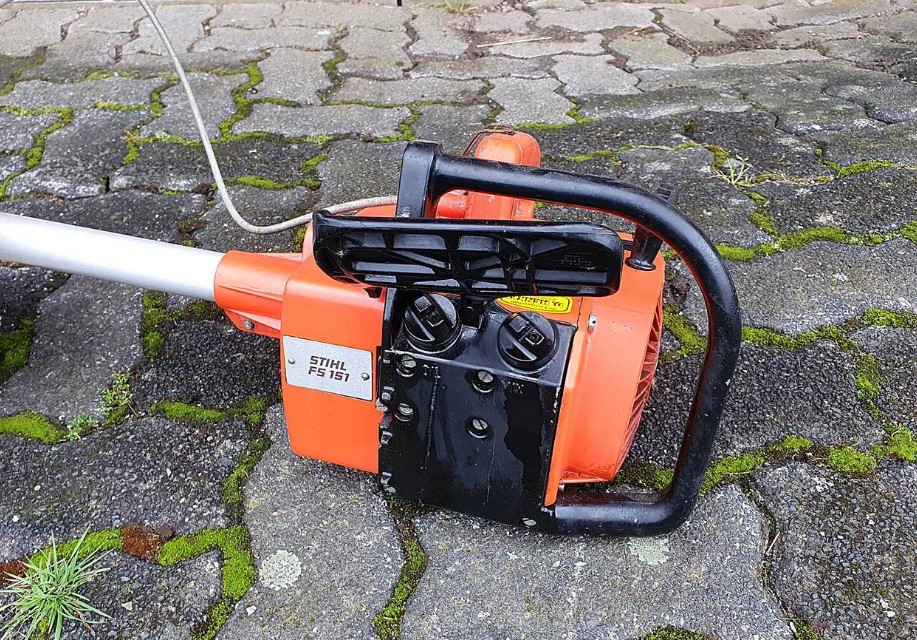 Yet another interesting tidbit about the Stihl 015 is that the FS 151 trimmer used the same motor. Again, I'm not going to cover it in detail here, it's just another cool fact of the 015.
About the brushcutter, Stihl said:
The lightweight Stihl FS 151 brushcutter attachment combined with the 015 powerhead can be used for practically all clearing, trimming and thinning jobs.

Other applications include moving of grass and brush, especially around shrubs, on slopes, along fences and walls – areas that cannot be reached with a normal lawn mower.
As you can imagine, many of the parts are interchangeable, and these trimmers are often rebuilt using 015 chainsaws and vice versa.
Stihl 015 Specs And Features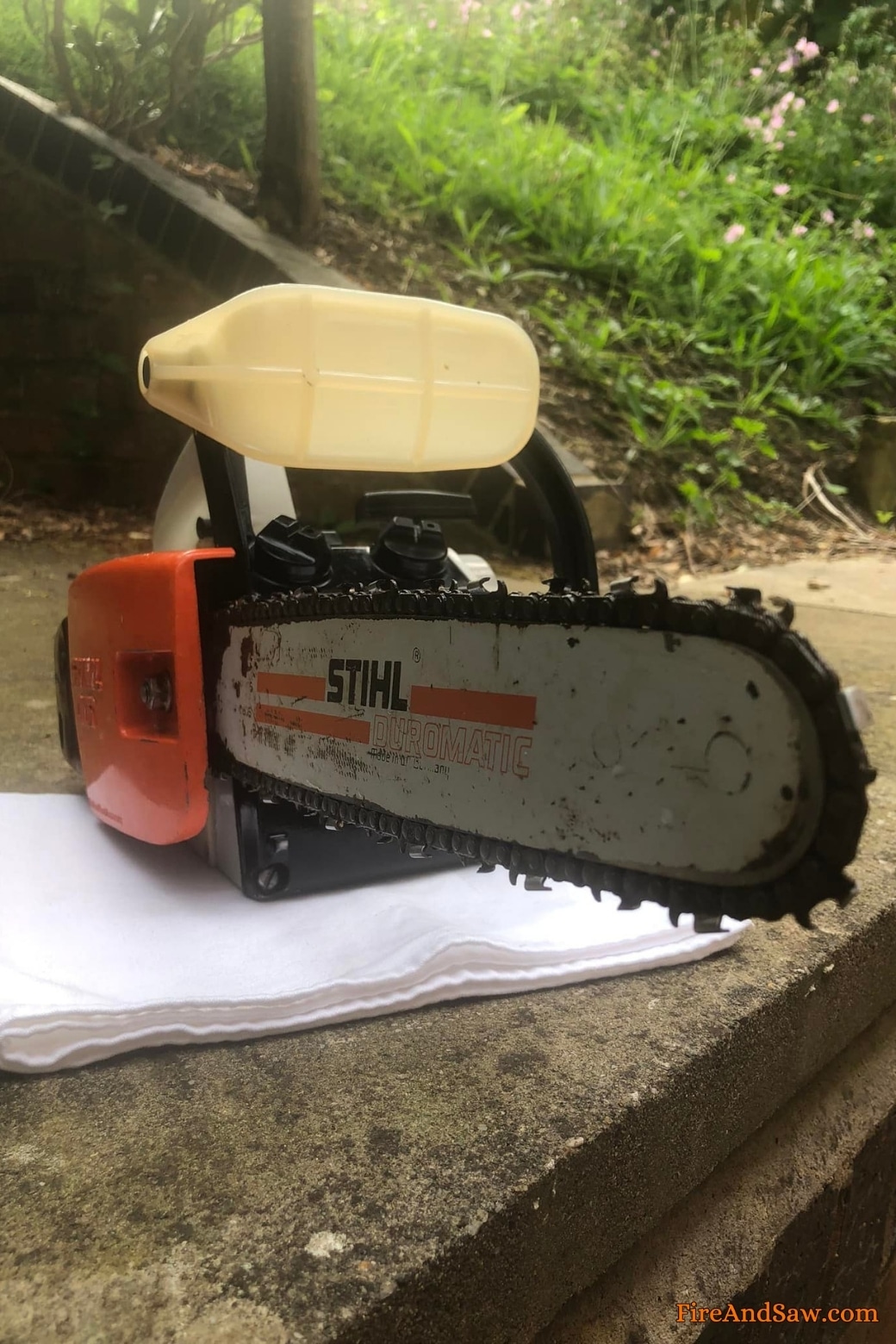 In getting to this point, I've already covered a lot of the 015 specs and features. You'll understand that the exact specs and features depend on the version, the year, and the location of manufacture.
| | | | |
| --- | --- | --- | --- |
| Stihl | 015 | 015 L | 015 AV |
| CCs | 32 ccs | 32 ccs | 32 ccs |
| Horsepower | 1.8 hp | 1.8 hp | 1.8 hp |
| Handle | Top | Top | Rear |
| Powerhead Weight | 8.1 lbs | 8.1 lbs | 9.6 lbs |
| Bar Length | 10 – 12″ | 10 – 12″ | 10 – 12″ |
All models:
Displacement 1.95 cu in
38 mm bore
28 mm stroke
Auto oiler
Some models had hand guards and some did not.
The manuals list versions with a chain brake, but I haven't personally seen any of those. The feature was first released in 1968 on the 041 AV, so they're possibly out there. Let me know in the comment section below if you have one or have seen one in real life.
Manuals:
Stihl 015 Review
Check out this video to see a tidy German-made 015 running. Overall, the 015 is very well-reviewed and is a popular collector saw.
Other than the 015 R, it's not super rare and you will often see them for sale. However, early models are more collectible and will usually sell for a bit more.
As far as using it goes, it's a fun little saw but isn't the nicest. It's a bit heavy for the power it puts out, but those who enjoy vintage saws won't care about that.
Here's a helpful comment on the saw:
I like the 015. Most of them are top handles.

They're old, heavy, and underpowered compared to newer saws the same size but they're all metal and tough as hell. People will say parts are hard to find and I'm sure new ones are but there are countless used parts available.

They were popular and many were built.
Or a more negative one:
I passed on one recently.

They are heavy for what they are and underpowered for their weight. I am pretty sure that most of them are from the '70s so parts are hard to find as well.

If you want something to use I'd say keep looking. If you want a conversation piece then grab it.
The majority of people are extremely positive about the saw and I've seen more than a few with large 015 collections (5+ saws).
A few more comments pointing out the pros:
Great little saws. I'm running a 12-inch power pruner bar. Perfect for bucking up cherry wood. Not the easiest to work on though.
I love mine. I still use it as my climbing saw. It's a cold starter for the first time that day but first pull the rest of the day.
One of my favorite small Stihl saws. Love the top handle.
It can also be a nostalgic saw for many who remember their fathers or grandfathers using them back in the day.
And a few more comments pointing out the cons:
Heavy, clunky, underpowered. Nope.
They are heavy trim saws.
Not easy to find parts for it.
The main issue they had was the spring in recoil giving up.
The problem with these saws is either a rotten carburetor from decades of sitting fuel or an ignition coil.
I have one of these, fuel line seems to always be a common issue. Originally when I got mine I was told the fuel line was no longer available, my local dealer did some searching and it cross-referenced it with a string trimmer.
Some people just can't be bothered with old saws, which I can understand a little.
Stihl 015 Parts
HL Supply Genuine Stihl Parts

OEM and aftermarket parts
Parts for most STIHL models
Call or message for advice

View On HL Supply

eBay Old/New Chainsaw Parts

OEM, aftermarket, and saws for parts
Great range
Buy from reputable sellers

View On eBay

Amazon Aftermarket Chainsaw Parts

Mostly aftermarket parts
Very cheap
Delivered quickly

View On Amazon
Check out these retailers to see if they have the 015 parts that you need.
If not, head to the Stihl Facebook groups. There are plenty of guys with saws they are parting out. Because you can pick up entire saws pretty cheaply (like under $50), used parts are often not all that expensive.
Aftermarket carb kits, fuel lines, cylinders, and so on can all be picked up on eBay, HL Supply, or Amazon.
Stihl 015 Price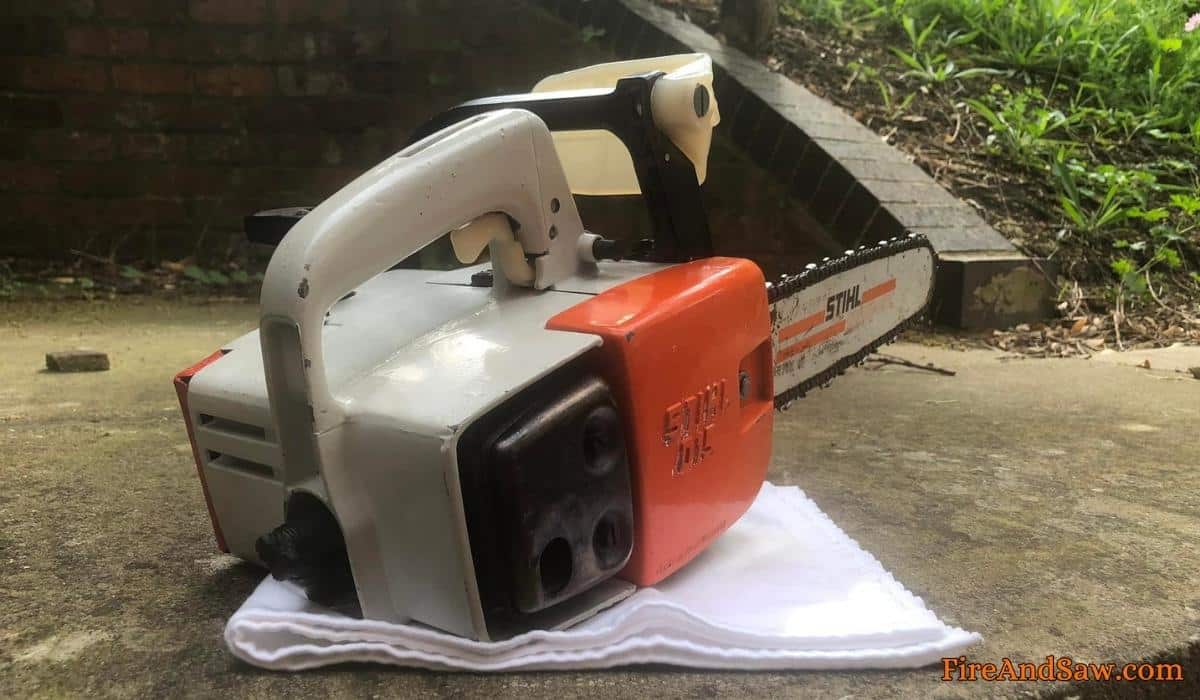 Price is always going to depend on condition, though in saying that, the year will also play a part with the 015.
As I said earlier, the older models will usually sell for a bit more than the newer ones, and sometimes the German-made saws can also command a small premium.
If you have a 015 R in good condition, you may also be able to sell that for a bit more than the standard model if you explain its rarity.
But, as for a price indication, these saws usually sell for between US$15 and $100. If it's running well it will likely be towards the top end of that range, but if it's in need of repairs, don't expect too much.
You'll find a lot of 015s in some locations and very few in others, so that will also push the price up or down.
Let me know if you have any comments or questions down below, and check out these other vintage Stihl saws – the 056, 075, and the 010.