The STIHL 066 is a 91.6 cc monster of a saw made between 1998 – 2003 before being replaced by the MS 660.
The 066 is popular with professional chainsaw users like arborists and loggers because of its power, performance, and reliability. These saws can go all day, all week, and not miss a beat.
A lot of guys list the 066 as one of the best Stihl chainsaws ever and they are still highly sought after. They are one of the most expensive used Stihl saws you can buy or sell.
Stihl 066 Versions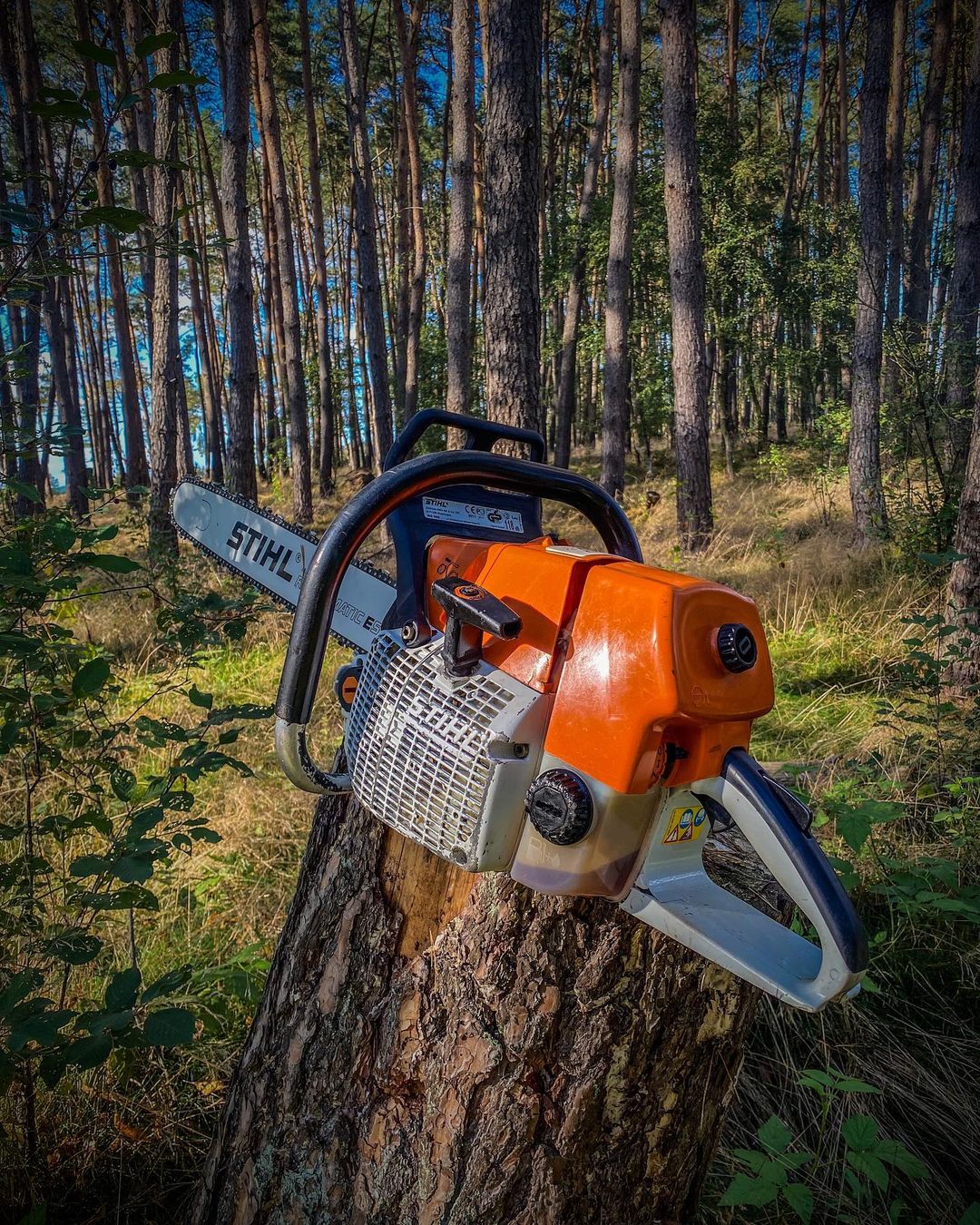 The STIHL 066 Magnum just has one version with a few variations depending on when it was made.
The earliest models were flat tops with no decomp button
Then came the flat tops with decomp buttons
Then came the bubble or round top 066s
There is no non-Magnum version, and the Magnum label is just a marketing term on this saw. There are other models, like the 038 Magnum, where the Magnum is a larger saw, but that's not the case with the 066.
The 066 had the optional "Arctic" feature:
STIHL Arctic chain saws are built with an automatic, electrically heated carburetor to help prevent icing in severe weather. Arctic versions also feature electrically heated handles that you can turn on and off for comfort.
A good feature for those in cold climates!
And there was a "red light" version, sometimes listed as the STIHL 066 RL.
Gunn, a member of the Forestry Forum said:
They were kind of a neat saw. The red led would blink when the saw was hitting the rev limiter and that was supposed to aid you while tuning your saw.

The cylinders had awesome port timing, so a lot of guys would take an old 066 jug and stick them on the newer saws.

Most guys ditched the limited coil in favor an unlimited coil. Other than the crappy limited coil they were nice saws.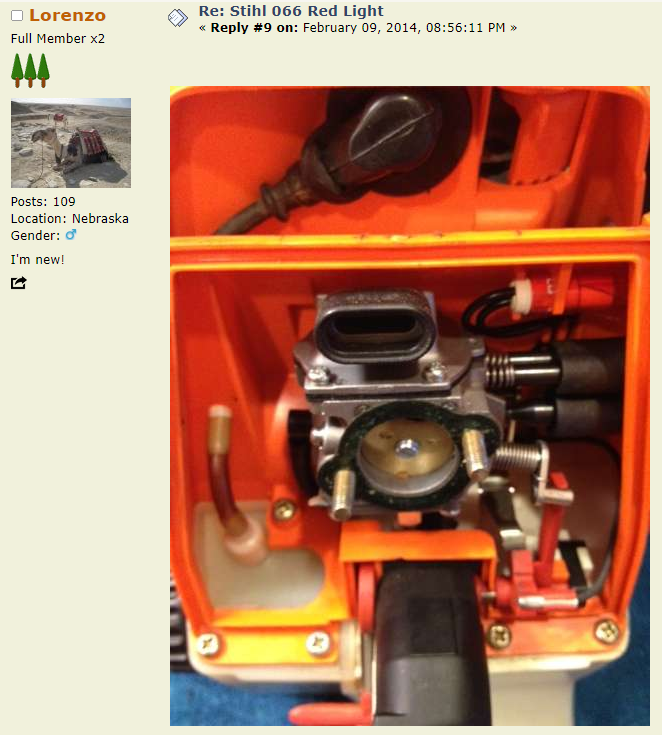 And sablatnic said:
The red light was to help tuning the saw. (Full throttle, turn in the H-screw till the light lit, and then in an eighth of a turn, or something like that).
The 066 Red Light seems to be the more sought-after variation.
Stihl 066 Reviews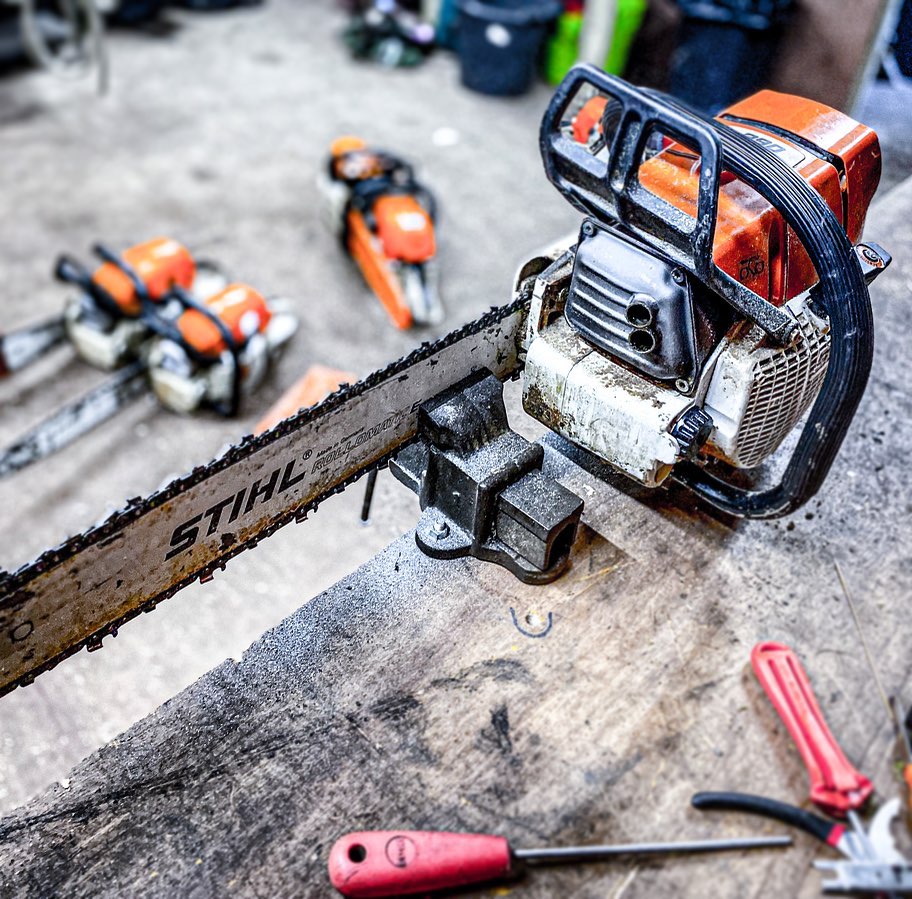 The 066 is one of the most well-reviewed Stihl chainsaws, and many guys list it as their favorite big saw. Others put it second to the bigger 088.
Here are comments and reviews from the Stihl Chainsaw Fans group:
An 066 is my all-time favorite saw.
Fantastic saw. Mine never misses a beat.
A powerhouse of a saw.
I would take the Redlight over any Stihl saw being made today.
066 Red lights in good shape are highly collectible in the world of Stihl collectors.
Can't beat a 066 with dual dual-port muffler.
I just rebuilt my 066 Mag RL and I'll never sell it.
Those early 1991 to 1992 RL had strong port #'s and that high-revving lightweight 064 bottom end.
066 Red Light still getting it. Strongest saw I ever owned.
The 066 flat top (no decompression) hands down the best saw compared to the 660 or 661. Unlimited coil, fully adjustable carb…
Not even close.
Bill said:
I have a flat top, wrap handle, 066 Magnum, redlever, redeye, with wrap handle that I bought new. Great powerful saw, they make more horsepower and kWs then the newer ones.
Jason said:
From my experience a big bore old-school 66 will keep up or surpass a 661, the weakling is the 660.
Eric said:
Maybe it was just the ones I ran, but the 066 is my all-time favorite saw. Loved using it in the field for felling and stump cuts with a bigger bar, but my favorite was slapping a 20 inch bar on it for cutting firewood it ripped.
Mike said:
Love the old flat top 66s! Mine isn't a red light, but it's an early flat top red lever non-decomp saw. It runs neck and neck with my poly flywheel bubble top 66 that's ported!

The Red Lights have a dual port muffler, completely different port timing in the cylinder, and a metal flywheel. The reason the newer 66's changed to poly flywheels and a bigger crank journal is because the chain would grab and try to stop the saw and with the extra mass of the metal flywheel and the power they made they would break the crank shafts.
Comparing the 066 to the MS 661, Caleb said:
The MS 661 is smoother for sure as far as anti-vibe. It won't run with the ported 066 but it's a different kind of power. The 066 you can really lean on and it won't stop. Gotta keep the 661 wound up.
Travis said:
The 66, 660, and 661 are all great but I think the 660 was the best. I dont mill, only felling and bucking for tree removals and also firewood but would love to have a 660 again. My dad had both 660 and 088 when I was younger and yes the 088 was a beast but man was it heavy and also very thirsty.
And Michael said:
I have 066 and 660. Can't really say anything bad about either, but my personal preference is 066. It has that muscle saw feel that's hard to replicate. For what it's worth, there's also a lot of nostalgia attached to my specific 066, so that gives it another slight edge for me.
It's hard to find anything bad about the 066!
Specs And Features
| | |
| --- | --- |
| Specifications | STIHL 066 Magnum |
| Year Introduced: | 1988 |
| Year Discontinued: | 2003 |
| Engine Displacement: | 91.6 ccm (5.58 cu. in.) |
| Cylinder Bore: | 54 mm |
| Piston Stroke: | 40 mm |
| Piston Ring Thickness: | 1.5 mm |
| Cylinder Type: | Aluminum with Chrome plated bore |
| Intake Method: | Piston ported |
| Manufacturer Advertised H.P.: | 6.8 B.H.P. (5.5 kw) |
| Weight: | 7.3 kg (16.1 lbs. dry powerhead only) |
| Operator Configuration: | One Man operation |
| Handlebar System: | Anti-vibration |
| Chain Brake: | Inertia activated |
| Clutch: | Centrifugal |
| Drive Type: | Direct |
| Construction: | Die cast Magnesium housings |
| Magneto Type: | Electronic flywheel type |
| Carburetor: | Tillotson HS series |
| Major Repair Kit: | RK-23HS |
| Minor Repair Kit: | DG-5HS/T |
| Air Filter System: | Wire mesh screen, HD options available |
| Starter Type: | Automatic rewind |
| Oil Pump: | Automatic, adjustable |
| Maximum Engine RPM: | 13,000 |
| Idle RPM: | 2,500 |
| Ignition Timing: | fixed |
| Breaker Point Setting: | breakerless |
| Flywheel/Coil Air Gap: | fixed |
| Spark Plug Type: | Bosch WSR6F, NGK BPMR7A |
| Spark Plug Gap: | 0.5 mm (0.020 in.) |
| Crankshaft Main Bearings: | Ball |
| Fuel Tank Capacity: | 840 ml (1.77 U.S. pint) |
| Fuel Oil Ratio: | 50:1 |
| Recommended Fuel Octane: | Regular grade |
| Mix Oil Specification: | Stihl |
| Chain Pitch: | 3/8 in. or .404 in. |
| Chain Type: | Stihl |
| Shortest Guide Bar Supplied: | 40 cm (16 in.) |
| Longest Guide Bar Supplied: | 105 cm (36 in.) |
Designed for heavy-duty cutting in big timber, the 066M combines high power with low weight. Available in wrap-around or flushcut handle configurations. Decompression valve makes starting easier and IntelliCarb™ helps keep the saw running at full RPM.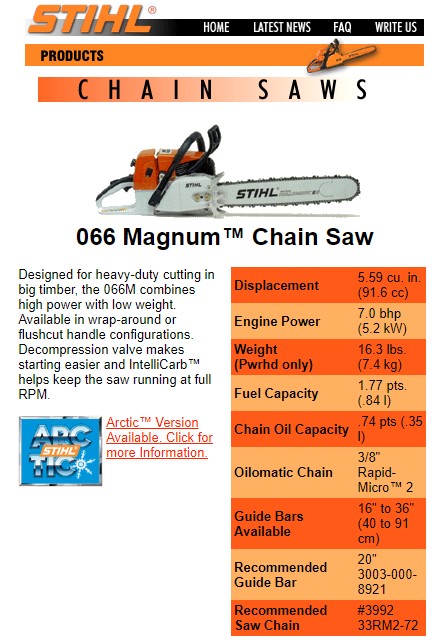 Price And Parts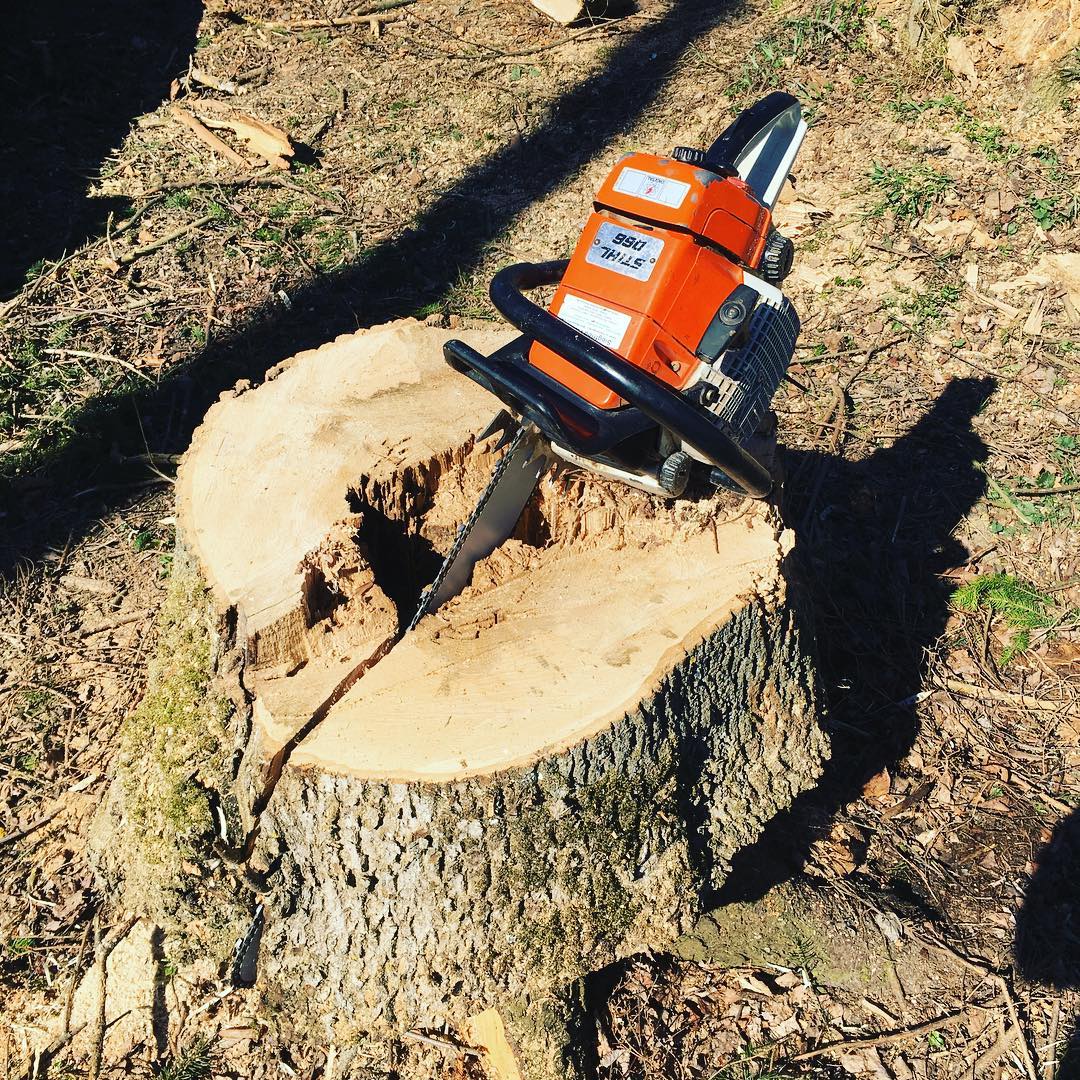 What is the STIHL 066 worth?
It's a popular and powerful Stihl chainsaw that holds its value. As you'll have read, some versions/variants of the 066 are more highly sought after and therefore worth more.
On eBay at the time of writing, there is a New In Box STIHL 066 for sale for $2500!
It's a really nice saw, but it's pricey!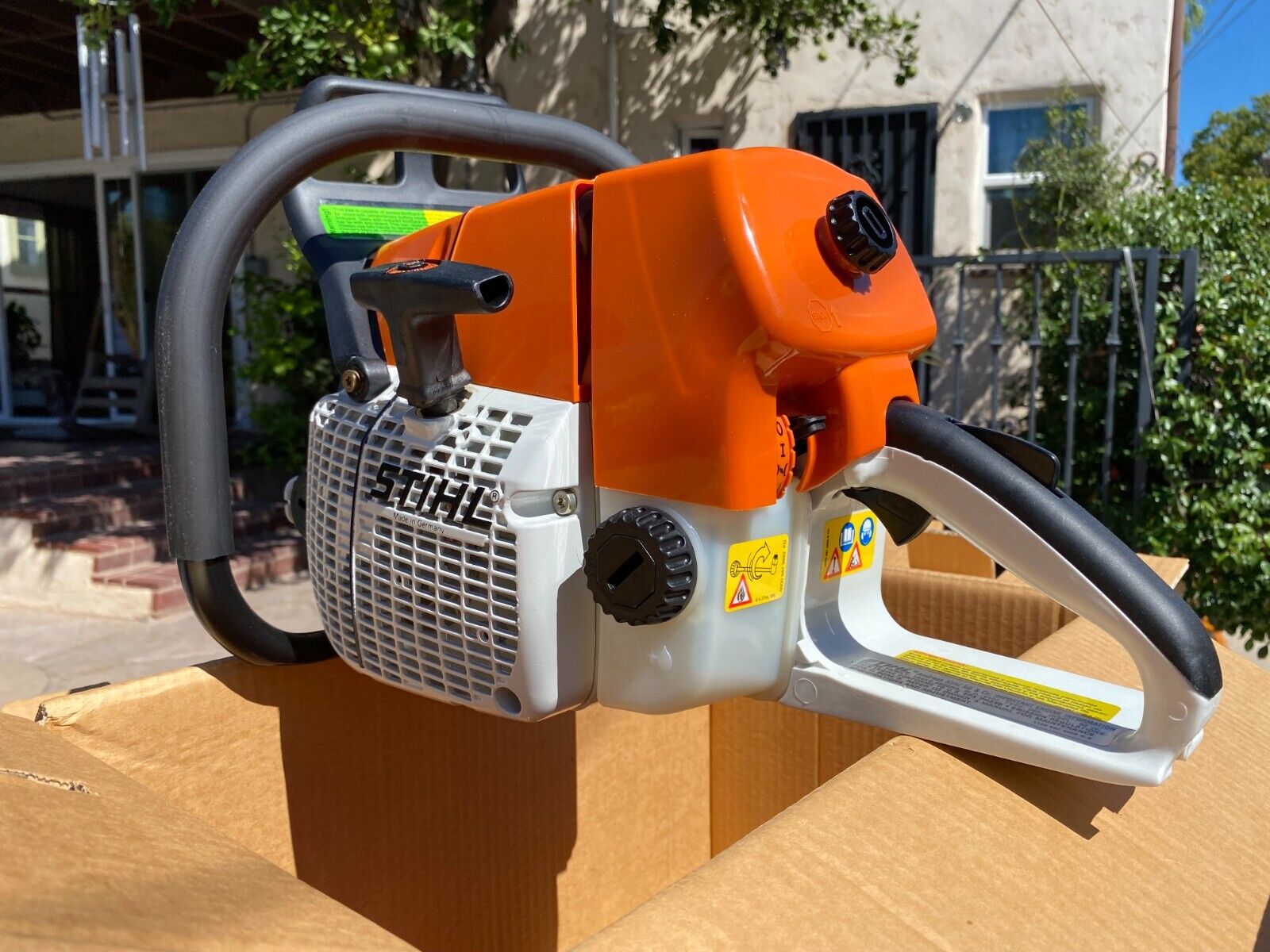 The 066 was made in Germany or Brazil.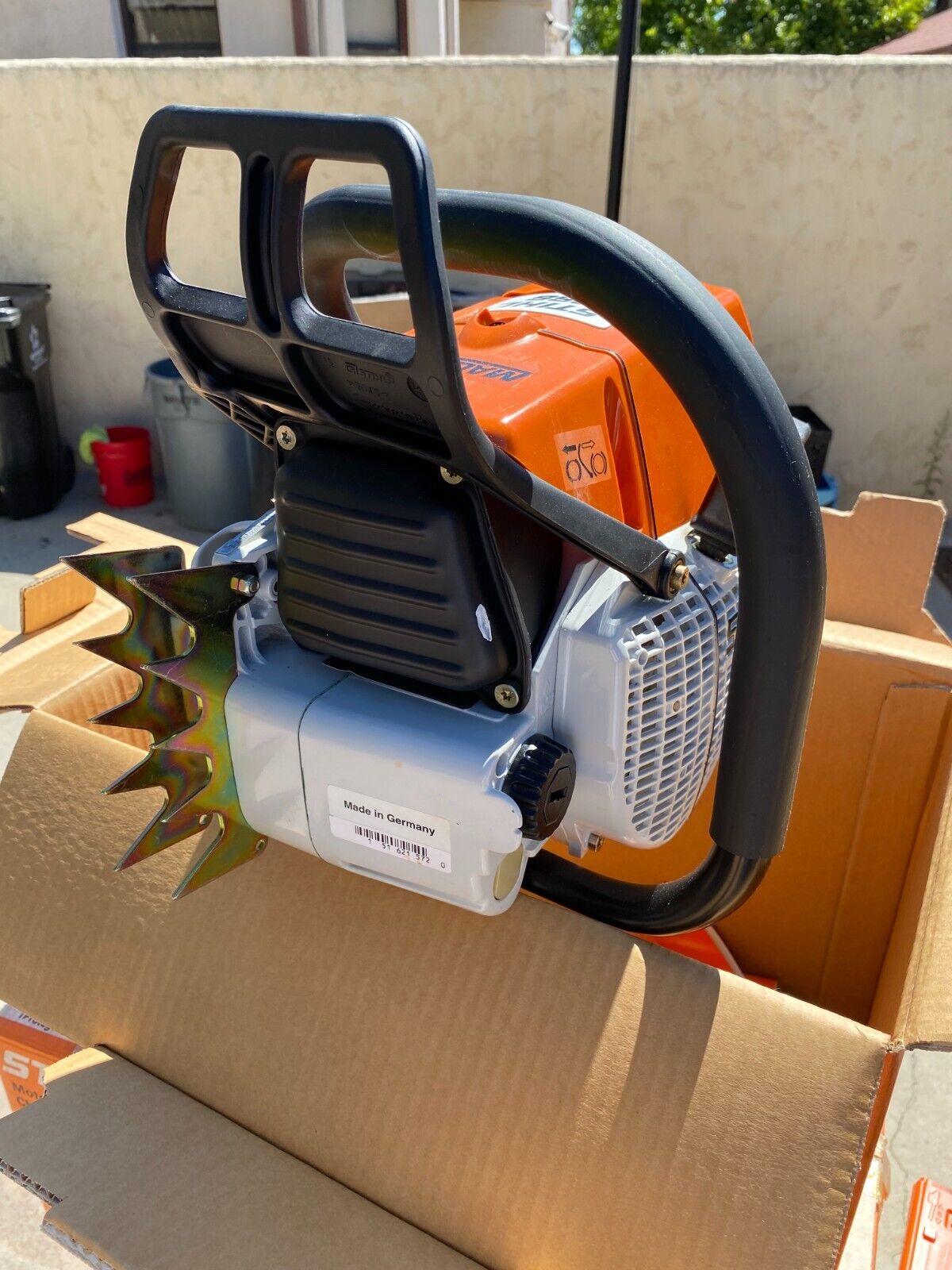 But all that's just for interest's sake!
Other examples on eBay:
An 066 "running great" for $1175
An 066 Red Light with 32″ bar for $1549.99
A well used 066 for $850
Used 066s generally sell for between $1000 and $1500. Because the 066 is so similar to the MS 660, parts are not a problem.
Tom said:
I don't think I'd sell my 066 redlight ever , but if I die my kids will sell it for $25 at a garage sale so check the obituaries
Stihl 066 Magnum Chainsaw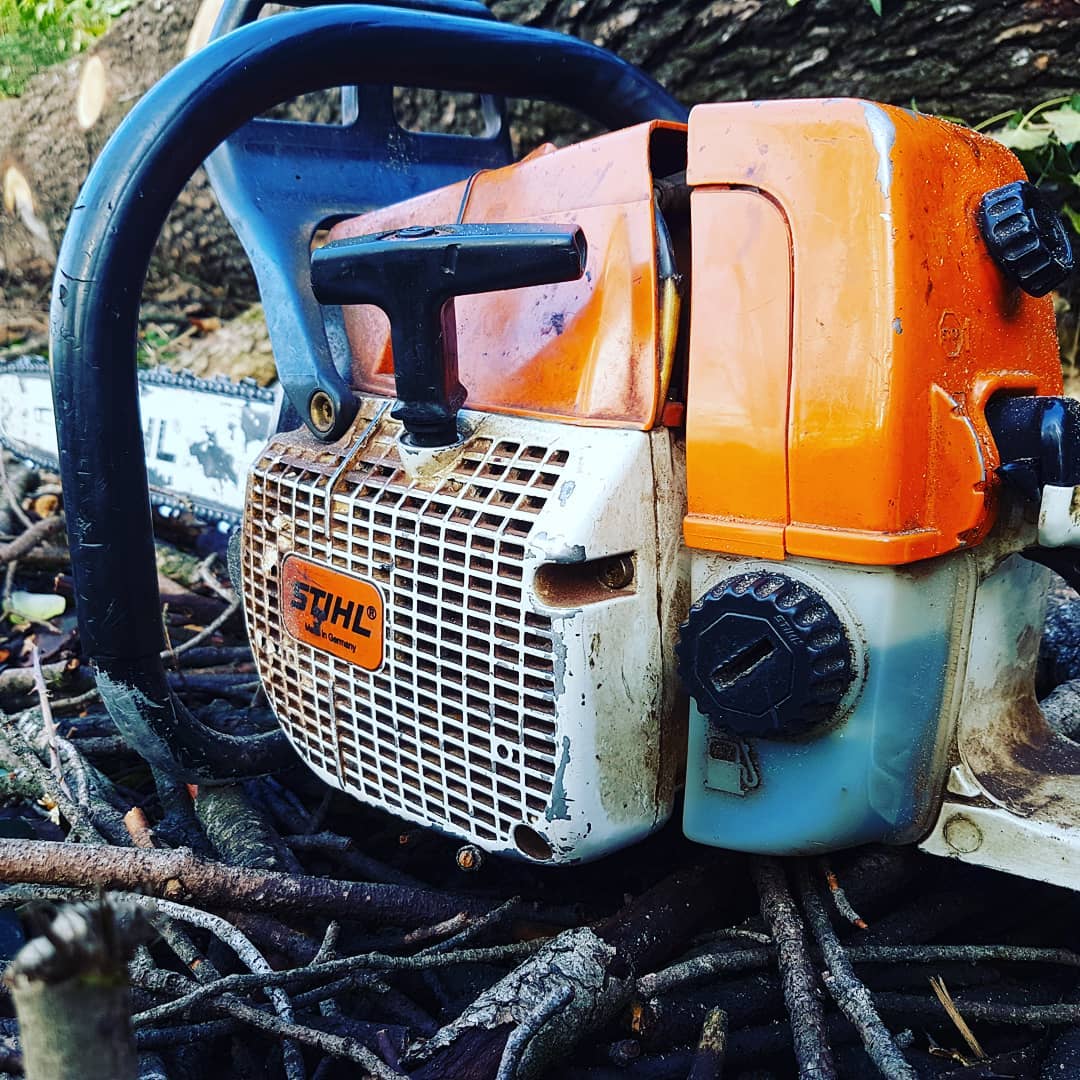 The STIHL 066 Magnum is one of the legendary chainsaws that many guys are on the look out for… it's one of those "bucket list" saws that they'd like to own and run before their time runs out.
The 066 is often preferred by many compared to the MS 660 or 661, especially the earlier versions. However, at the end of the day, they'll all great saws.
Let us know what you know about the 066 in the comment section below. What do you think of it? How does it compare to other Stihl chainsaws?