The Stihl MS271 Chainsaw is one of the Stihl Farm Boss chainsaws.
What's the meaning of Farm Boss?
It's a marketing term more than anything, but it's applied to Stihl saws that are at the top of the homeowner range. They are not pro-level saws, but they're still powerful and can be put to hard work. Another Farm Boss example is the MS391, though it's considered to be one of the worst!
The MS271 isn't ultra popular either, but it's a good chainsaw for the price. Here's what you need to know about it.
*Images from Ace Hardware's Stihl MS271 listing here.
Stihl MS271 Versions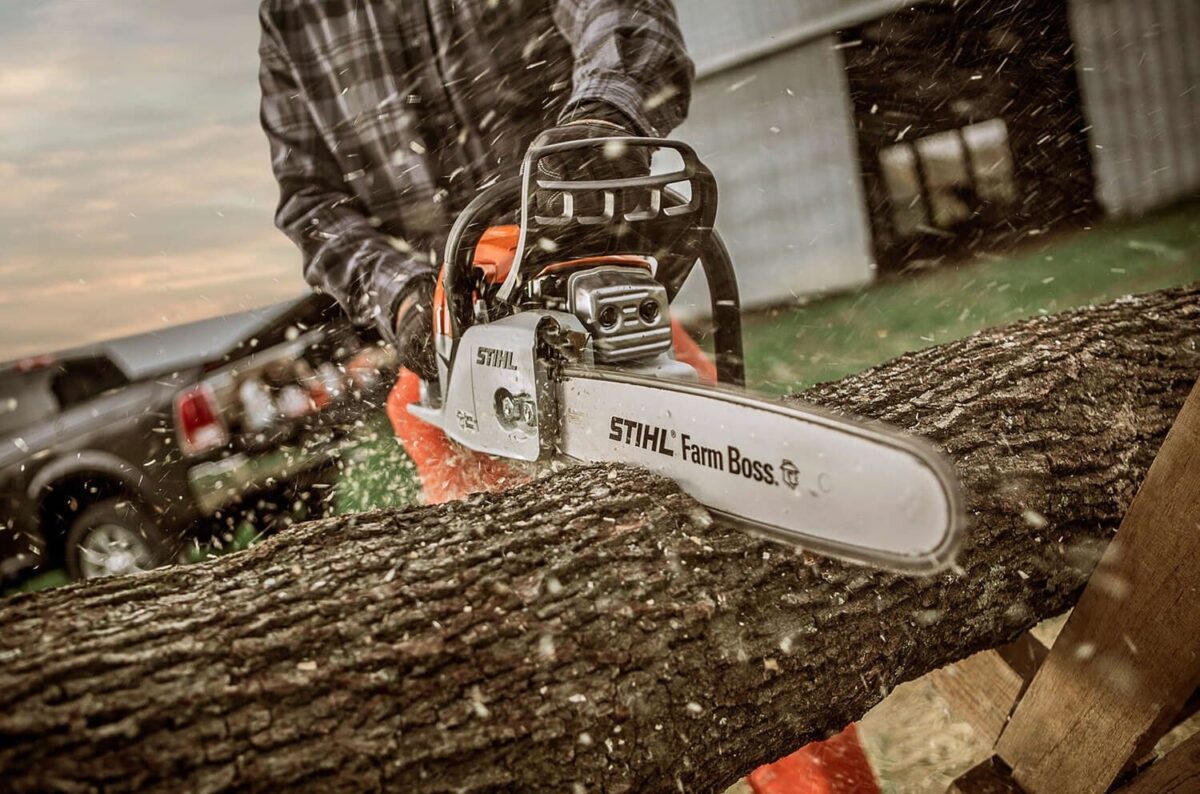 The MS271 is a 50.2 cc saw that's usually listed for under $500, making it cheap compared to pro-level saws.
There are two different versions of the 271:
Stihl MS291 – the base model
Stihl MS291 C-BE – with the additional features of Quick Chain Tensioning and ErgoStart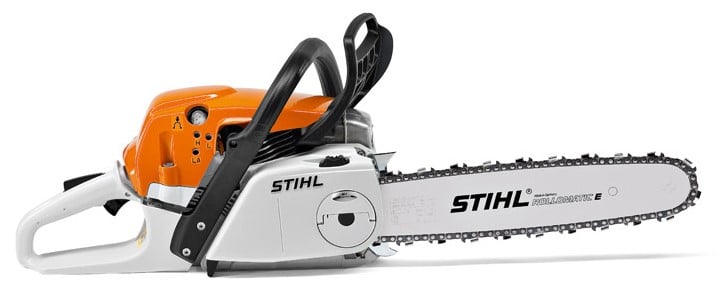 The C version of the saw has a Quick Chain Tensioner (B) which you can see in the above image. This differs from the regular bar nuts that the base model has for tightening/loosening the chain. Most people actually prefer bar nuts over a quick chain tensioner.
Stihl Ergo Start (E) is described as "A spring between the starter cord reel and crankshaft relieves the strain when starting, meaning that excessive pulling on the cord is no longer needed. The result is a convenient starting procedure with practically." But for most people, it doesn't make a huge difference.
If you were tossing up between the 271 and 271 C, I'd personally go with the base model. If you needed something that was a little bit easier to start, go with the C-BE version. Some people do prefer the chain tensioning system on the 271 C, but you have more control with bar nuts.
MS271 Vs MS261 Vs MS391
| | | | |
| --- | --- | --- | --- |
| STIHL | MS 261 | MS 271 | MS 391 |
| Displacement | 50.02 cc | 50.02 cc | 64.1 cc |
| Power | 3 kW / 4 hp | 2.6 kW / 3.5 hp | 3.3 kW / 4.4 hp |
| Weight | 10.6 lbs / 4.8 kgs | 12.3 lbs / 5.6 kgs | 14 lbs / 6.3 kgs |
| Bar | 16 – 20″ | 16 – 20″ | 20 – 25″ |
| Level | Professional | Homeowner | Homeowner |
| Price | $699 (check price) | $499 (check price) | $759 (check price) |
The 271 is most often compared with the Stihl MS261 which is also a 50cc saw. The big difference is that the 261 is a pro-level saw and is much better built. 99.9% of those who have used both saws would say get the 261 over the 271, it's far superior, but it does cost an extra $200.
The other saw it's often compared with is the unpopular MS391. It's another Farm Boss, as we've already stated, but it's more powerful than the 271 and can take a longer bar. The 271 vs the 291/391 is a tough call because again, most guys would say just get the 261, but if you need a saw running up to 25″ bar, the 391 would be better (or the 461/462 or 500i as pro-saws instead).
Which saw to go with out of these three all depends on your budget and plans. If you are needing a chainsaw for cutting a bit of firewood each year, the $500 MS271 would be fine. You don't need to splash out on a pro-saw if you aren't going to be using it much. Save your money and don't buy "too much saw".
However, if you want to use the saw frequently, a pro-level model is far superior. These saws give you fewer problems, have more power resulting in quicker cut times, and they perform better over the long term. They are built better and perform better.
MS271 Specs And Features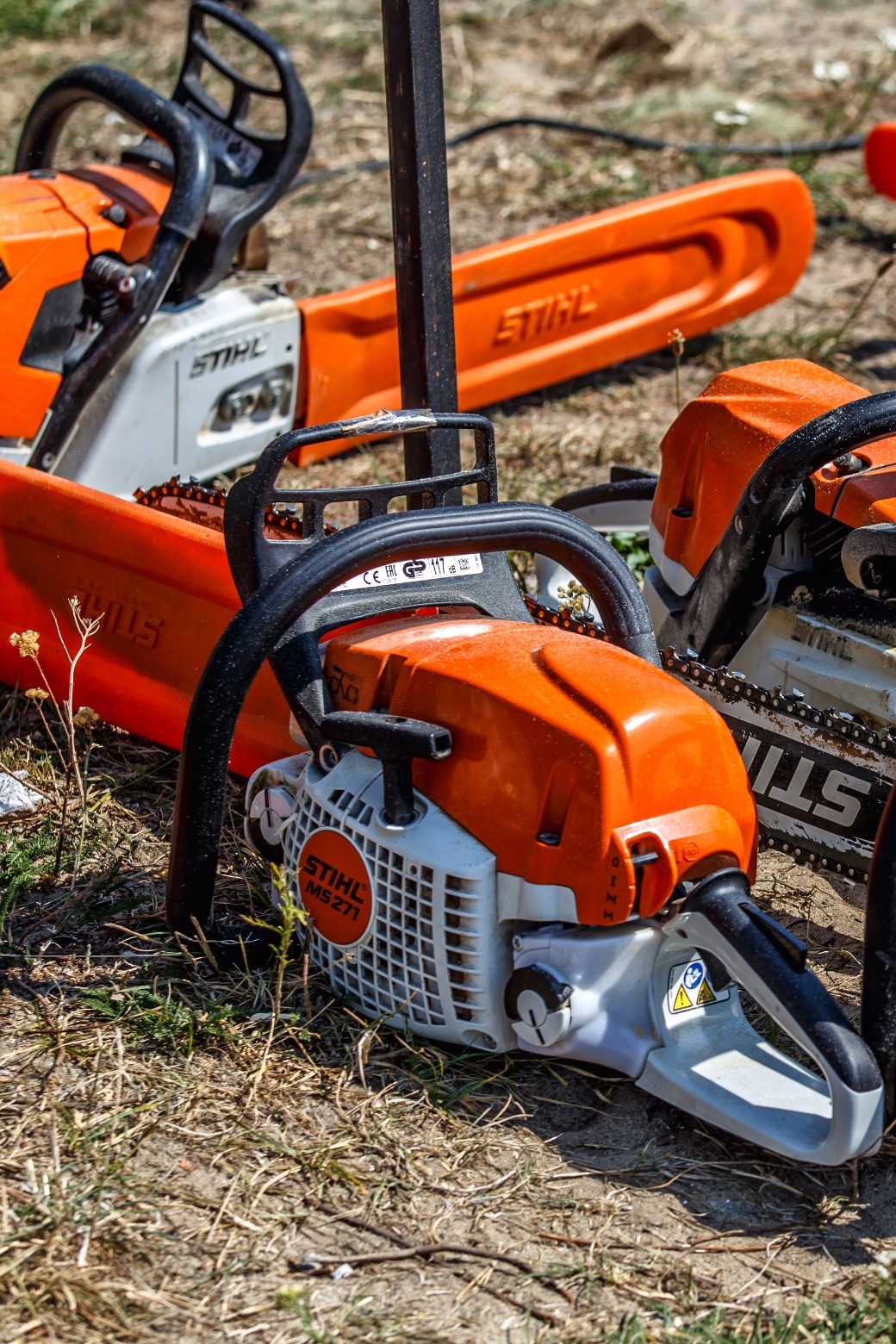 Here is a full list of the MS271's specs and features. Depending on the country and time of manufacturing there may be some differences between models/versions.
MS271 specifications:
Displacement: 50.02 cc (3.06 cu in)
Power @ 9500 rpm: 2.6 kW (3.5 hp)
Weight: 12.3 lbs (5.6 kgs) Powerhead only
Fuel capacity: 16.9 fl oz (0.50 l)
Oil tank capacity: 8.1 fl oz (0.24 l)
Piston stroke: 1.26 in (32 mm)
Cylinder bore: 1.85 in (47 mm)
Idle speed: 2500 rpm
Max speed: 13000 rpm
Ignition: Electronic magneto ignition
Spark plug: Bosch WSR 6 F or NGK BPMR 7 A
Electrode gap: 0.02 in (0.5 mm)
Bar lengths: 16, 18, 20 in (40, 45, 50 cm)
Chain: .325 pitch, 0.063 gauge
The product description on Ace Hardware states:
The MS 271 farm boss replaces the mighty MS 270 with a saw that's loaded with features and technology.

It starts with a highly efficient engine that delivers 20 percent longer run times between refuelings – while cutting exhaust emissions in half compared to the MS 270. There's also a pre-separation air filtration system that's so effective, that your air filter can last up to five times longer (now that's a high performance). All engineered into one compact, ergonomic design. This time-saving technology boosts the efficiency of the engines filter system, doubling the time between air filter cleanings.

The side-access chain tensioner [on the C-BE version] makes it much more convenient for the user to adjust the saw chain with a bar wrench as opposed to the typical location of the guide bar adjustment screw.

Zero to low exhaust emissions.
But otherwise, the MS271 has all the great features of a modern Stihl homeowner saw. This includes an Anti-vibration system, tool-free fuel caps, a single master control switch, a fuel-efficient engine, and so on.
More information is in the Stihl MS271 manual (instant download here).
MS271 Review
The Stihl MS271 is a good top-of-the-range homeowner chainsaw. At 50 ccs, it's suitable for felling small trees, bucking firewood for the home, pruning branches, storm clean-up, clearing trails, and construction, landscaping, or farm use.
If you are more familiar with the Husqvarna brand, the Stihl Farm Boss chainsaws are similar to the Husqvarna Rancher chainsaws like the 450, 455, and 460.
The Stihl dealer presenting the 271 in the video above says it's their number 1 selling chainsaw, so it can't be all that bad! The Stihl purists aren't huge fans of it because it's not a pro saw, and homeowner models are often looked down upon. Also, they may have some legitimate gripes! Here are some of them.
Morten said:
The 271 has a ridiculously low (worst in class) power-to-weight ratio of 3.49 bhp/12.3 lbs.

As a comparison, the MS261 has 4.1 bhp/10.8 lbs. 17% more power at 12% less weight – 35% higher power-to-weight ratio.

MORE weight and LESS power, totaling more than a third added dead-weight on the MS271. That is a lot, if you use a power tool for hours at a time, several days a week, for many years. I'm just stating facts here.

The additional cost [compared to a 261] is not a lot if you amortize it out over the hours you use the saw in its life time. It translates into wasted energy and/or lowered productivity.

To me that matters!
Greg said:
My dealer said for his money the 250 is hands down better than 271 because it doesn't have all that emissions stuff on it. I've also read a lot of reviews with 271 about piston scorching and not being warrantied but the only real bad I've seen with 250 is starting issues but ours starts just fine.
Angelo said:
Its a decent saw just cheaply constructed. I had one and it served me well for what i did with it. They are a really fast saw for the money. That being said you get twice the saw for the same money with an ECHO CS590. The CS590 is a magnesium case like a pro saw and just all around a better buy.
Jerad said:
Any plastic crankcase saw is a big turn off. Harder to work on these, less power to weight ratio. Cheaper construction all and all.
For a little bit more money you can get a much much better 261.
And Ted said:
Don't mess around with those toy saws buy a 462 or a 500 with a 32 and a 36 inch bar. They will cut 99 percent of anything on the planet. And will probably last you for the next 20 years.
These are some positive reviews of the 271 from owners and users:
Love my 271. Chews up everything I've thrown at it.
Man, I love mine I've cut four-foot trees with mine!! 20-inch bar and chain too!! I've had mine for 5/6 years now!
I have a 271 along with an 025 and it's a great saw, going on 5 years.
Mine was a solid machine. My only complaint was a non-adjustable oiler. Did fine with an 18" bar.
I have a 271 and I love it. I don't understand why it gets so much hate either.
The 271 is probably the best bang for the buck.
David said:
I've had my 271 for 6 years now haven't had any issues with her. When I take a chainsaw to the woods I want them to work.

A lot of people said go with the ms 261 – well, after looking at the two saws same cc but almost 300 bucks more, I decided 271. I also have my late dad's 290 Farm Boss and I've cut alot of wood with her too and no problems. But saws, like beer, trucks, and tools, it doesn't matter everyone hates them or everyone loves them.

Consider how much money you can afford to spend, size of wood, how much use you will be using her for, and go from there.
Owen said:
I have a 271 and it is hands down the best saw I've owned. Very powerful and is small enough to do little trees and limbing but big enough to handle large trees if need be. Tons of torque as well.
And Nigel said:
I've had a 271 for over 8 years, it's been bloody superb for what I use it for. Keep it sharp and give it decent fuel and oil, and it will last. We are not all professionals, but there are usually the haters as its not a PRO saw, as they love to say. I love mine, get it my friend.
Stihl MS271 Chainsaw
So should you get an MS271? Is the Stihl MS271 a good chainsaw?
As you'll see from reading these user reviews, it depends on who you talk to. In my opinion, it's a good homeowner saw, and of course, you can get better. You can always find something better if you want to spend more. But for the money, the MS271 is a really good chainsaw.
It has a poor power-to-weight ratio, but if you're not using it that often then it doesn't matter too much. She's a bit on the heavy side, but as someone said, is minus 2 pounds worth the extra $200 – $300? (though keep in mind you're getting more than just two lbs).
I wouldn't mind this saw at all for the 5 – 7 days a year I'm using one to cut up firewood, though I would go for the 261 anyway. It just has the best reputation at the end of the day.
If you wanted to confuse the matter even more, also consider the MS441 and MS251. Or, these Stihl saws available outside the USA (but not in it)!