The Husqvarna 372XP is the go-to chainsaw for thousands of users.
One user said:
The 372xp. Over 20 years of production. They tried to replace it with the 575, which failed. As well as the 576, which also failed. Such a reliable, powerful, and rugged saw that in 2011-12, they completely redesigned it into the X-Torq version to keep it EPA compatible.

The 572xp replaces it today, but I honestly don't think that Husqvarna will ever build another 70cc class saw that will hold up to the amount of abuse that the 365/372 can take. These saws are just flat out reliable in all aspects and any cutting situation. From firewood to logging.
Here's what you need to know about the Husqvarna 372 XP chainsaw (for sale on Acme Tools or Amazon).
Husqvarna 372 XP Versions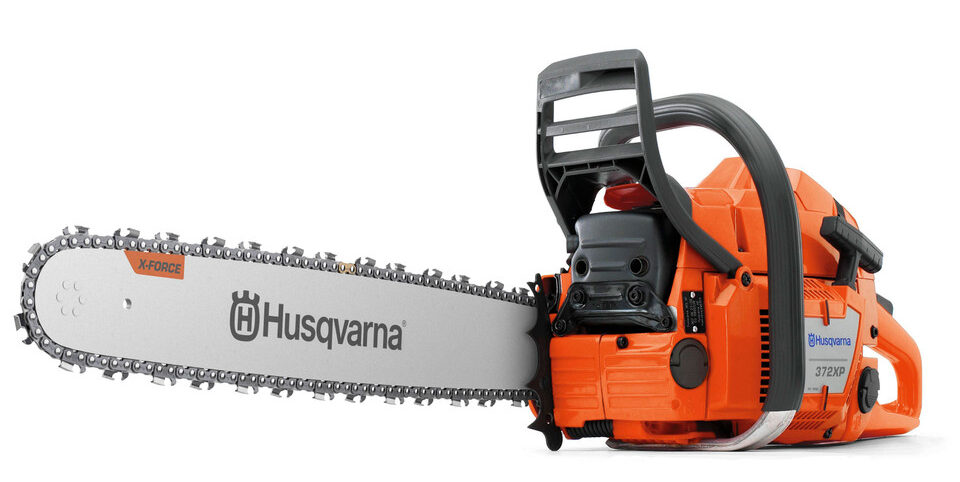 The Husqvarna 372 XP entered production in 1999 and is still being made today. In the USA and other countries with strict emissions laws, the earlier models are quite different from the current version. The original version is still manufactured and sold in countries like Malaysia and the Philippines where there are not the same environmental requirements.
How can you tell them apart?
The 372 XP X-Torq models are the EPA versions, whereas those not marked X-Torq are the OE 372 XP without the US/CA/UK/Euro/Aus/NZ emissions compatible adjustments. The non-XP 372 XPs are still being made in Sweden today for other markets and can be imported into the US for a price. Many guys do prefer the old non-X-Torq version and are happy to pay it.
| Specification | 372 XP | 372 XP X-Torq |
| --- | --- | --- |
| Cylinder displacement | 70.7 cm³ / 4.3 cu. in. | 70.7 cm³ / 4.3 cu. in. |
| Power output | 3.9 kW / 5.4 hp | 4.1 kW / 5.5 hp |
| Cylinder bore | 50 mm / 1.96″ | 50 mm / 1.96″ |
| Piston stroke | 36 mm / 1.42″ | 36 mm / 1.42″ |
| Vibrations, f/r handle | 3.1 m/s² / 4.6 m/s² | 5.7 m/s² / 8 m/s² |
| Dry weight | 6.1 kg / 13.4 lbs | 6.6 kg / 14.6 lbs |
| Fuel tank volume | 0.77 l / 1.62 US pint | 0.77 l / 1.62 US pint |
| Oil tank volume | 0.40 l / 0.84 US pint | 0.42 l / 0.89 US pint |
| Chain pitch | 3/8 inch | 3/8 inch |
| Recommended bar | 38-70 cm / 15-28 inch | 38-70 cm / 15-28 inch |
This summary of the differences comes from a member of the Husky Chainsaw group:
Xtorq has a strato design cylinder with a much taller piston and they are limited to 12,500 with the restricted coil to keep the rpm's down. The OE is a much longer lasting design because they don't have the heavier piston on that same size counter weighed crank beating up the bearings – it might get 15 years instead of 7-8 years… XT has some different intake ports that are intended to improve upon fuel efficiency and EPA regs.
The following comments come from guys who prefer the old version over the new X-Torq versions…
Christian said:
I prefer the older saws. Saws I where I can change how much oil they put out. Not like the new 400 series. Bought one and yeah… nothing but bad luck…
To which David replied:
Yeah man! The "real dang saws!" I'm cutting logs down and a computer is the last thing that I need or want on my saws! I'm a 'tools in the truck and I'll rebuild my saws on my truck tailgate if it's needed' kinda guy! I'm sure as hell not gonna have to drive to my dealer to read the computer to tell me what's going on with it! If you actually run some oil in your mixture you'll get a decade of hard-working life out of these saws. The new saw's stink IMHO!
If you want to know where and how to get an original 372 XP, visit the Husqvarna Chainsaws FB Group and search for Paveen Raj or Kevin Smith. Those are the guys bringing them into the US, and Paveen can potentially get them into other countries as well. The price for a 372 XP (non-X-Torq) is between US$900 – 1200 but is subject to change.
Other than the X-Torq/Non-X-Torq differences, there are other versions of the 372:
372 XP G – with heated handle
372 XP W – with a wrap handle
Models will differ depending on when and where they were made, and which country they were produced for. Overall, any version of the 372 is good, it all depends on your personal preferences as to whether you want an X-Torq engine or not.
Husqvarna 372 XP Review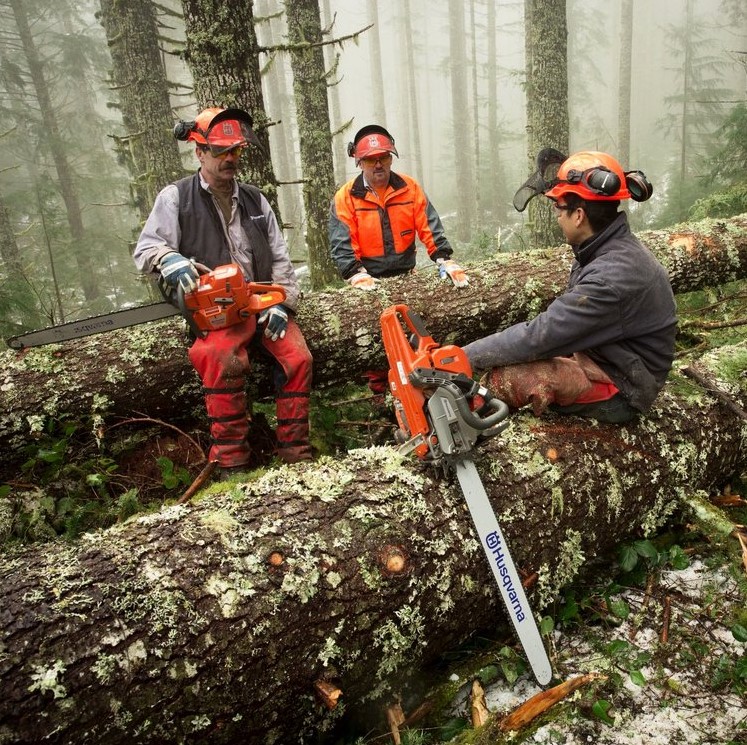 The 372XP one of the more popular Husqvarna chainsaw models with its 70cc, 5.5hp gas engine. Importantly, it's also part of the XP range of Husky saws.
XP stands for extra performance. Compared to non-XP chainsaws, these saws are designed with more horsepower, improved power-to-weight ratio, much quicker acceleration, higher all-around RPMs, and are constructed of stronger materials. They are better chainsaws for those who are regular users or who just want the best.
The Husqvarna 372XP specifications and features are excellent, and this chainsaw recently hits the top 3 list of a great many Husqvarna experts and enthusiasts. It does have a great power-to-weight ratio, is powerful enough for a wide range of professional chainsaw applications, and has been found reliable, durable, and likable.
As you can read in this Husqvarna 372XP review, even those who use chainsaws professionally put this saw in their best chainsaw lineup. These are some comments from 372 XP users.
I have three. Best saw ever made. Hands down. Worked ten years in the woods.
I'm a Stihl guy by default but I've always wanted an OE 372 to go along with my 395xp.
Always keep a fresh one in case they stop making them.
The Farmertec Clone G372XP doesn't have anything on the real thing.
The 372s are hard to beat. Very durable and powerful, it's a long-lasting saw!
Yup, 572 is GARBAGE compared to the 372.
The 372 replaced the even more reliable 272 but the 372 has better AV.
Aaron said:
The guy that helps me runs a 372 and I run the 562xp and we have this debate constantly in the woods. I'm newer school and I run a 450 for limbing a 562xp for most middle stuff and a 592xp for big stuff and bucking. The 372 is obviously better than the 562xp but not by a lot. I love the auto tune on the 562 with being in Vermont and having huge temp differences over a few hours. I've never had anything go wrong except the 562xp oil pump has to have winter bar oil when it's cold (burned up a pump with thick oil).
Stephen said:
I have my original 372xp bought new, pushing 20 years old now and still my go-to saw to for putting firewood in the truck.
And Jimm said:
I've owned probably 8 of them over the years. They were great saws. I still have one as a back up saw. It turned up and runs a pretty high rpm. I won't let my workers run it cause they want to run that it at the top of its rpm all day. If I use it I run a richer mix in it and run it about 3/4 off the top and it still revs higher then a stock saw.
Negative comments from the Husqvarna.com listing say:
Starts easily when cold, but the engine floods easily once it's been running and you're trying to restart it.
Trouble starting the 372XP.
Needed to have the carb adjusted frequently.
The new 372s are not as good as the older 372s.
A little bit heavy and could have a bar oil window.
Bad reviews are few and far between, and problems can sometimes be put down to user error or it could be a faulty product. It's the good track record in the Husqvarna community that really makes this a stand-out chainsaw.
It really is one of the most loved and mentioned husky chainsaws, and because of that, it holds its value better than other brands or lessor-powered chainsaws.
Specs And Features
| Specification | 372 XP X-Torq |
| --- | --- |
| Cylinder displacement | 70.7 cm³ / 4.3 cu. in. |
| Power output | 4.1 kW / 5.5 hp |
| Cylinder bore | 50 mm / 1.96″ |
| Piston stroke | 36 mm / 1.42″ |
| Vibrations, f/r handle | 5.7 m/s² / 8 m/s² |
| Dry weight | 6.6 kg / 14.6 lbs |
| Fuel tank volume | 0.77 l / 1.62 US pint |
| Oil tank volume | 0.42 l / 0.89 US pint |
| Chain pitch | 3/8 inch |
| Recommended bar | 38-70 cm / 15-28 inch |
| Adjustable oil pump | Yes |
| Magnesium crankcase | Yes |
| Smart Start | Yes |
| Quick Release air filter | Yes |
| Side mounted tensioner | Yes |
Who is the Husqvarna 372 XP Chainsaw best for?
This saw is used by those who work in forestry and logging, it's great for people processing and selling firewood, and it's used by farmers and others with large properties. The 372XP is great for clearing land and it can happily go all day. It's a big jump up from the Husqvarna Rancher series of chainsaws, which includes the 450, 455, 460, and 465.
It's listed as good for use as a professional bucking chainsaw through to use as a professional felling chainsaw and is comparable to the Husqvarna 560 XP or the 576 XP chainsaw in that regard. It's not designed for arborist climbing work as it's usually sold with anything from a 20-inch to a 28-inch bar, making a slightly too big for those types of applications.
Exact specs can vary depending on the date and place of manufacture, so double-check the SKU of the saw you're planning to buy. Above are the standard specs for the 2023 372 XP X-TORQ Chainsaw. Husqvarna recommends the 372 XP be used with anything from a 16 – 28-inch bar. You'll hear of people going with larger bars than that, but it's best to stick with the recommended length.
Here are some different opinions on bars for the 372 XP:
The 28″ is too much bar for 372 – it will do it but be slow and miserable. Unless you're in softwood.
The 372 honestly cuts just as fast w a 28 in bar as it does with a 24 in bar.
Takes a 28″ easily with out a doubt. My 2015 372xp and rebuilt 2012 372xp oil perfectly. 28″ and 24″ with no issues.
We run 20 inches on ours in the woods and I've put up to a 24 on mine at home. That's about all I'd put on it.
I run a 32″ on mine. 372xp meteor big bore polished, ported and muffler modded.
Pulls a 32 easy. Just run a 63 gauge to solve the oiling issue.
Run a 32in on them every day never an issue
372 XP Unboxing
Here is some more info from this Husqvarna 372 XP unboxing:
0.376 power-to-weight ratio
Not all models sold with the quick-release fuel caps
Quick-release air cover
Shows how to use the choke and start the chainsaw
Comes stock with felling spikes on the chain cover
Does not have captive bar nuts (which prevent you from losing them)
Side access chain tensioner for easy access
Smooth felling spikes (usually for those using the chainsaw on a mill)
The choke position is not ideal (newer saws like the 572 XP have auto-tune)
If you watched the video, you'll also have seen the 372XP in action. It rips!
Price And Parts
How much should you expect to pay for the Husqvarna 372 XP?
You can check the price right now here on Acme Tools. At the time of writing it is on sale for $903.99 and has a regular list price of $1,129.99.
This makes it one of the more expensive Husky chainsaws by far. And, for better or for worse, good second-hand models don't come all that much cheaper. The Husqvarna 372XP price on a used model can be as much as $750.
If you hold out, and keep your eye on various online marketplaces, you might be able to get a good one for $500 -$600, but you won't generally find them cheaper than that. Unless the seller doesn't know what they have, of course.
On eBay right now, you can find pre-owned 372s selling for $900 – basically what they cost new! However, there are also some really good-looking (even refurbished) models going for between $400 and $500.
Other places to look would be on Facebook Marketplace and other local buy/sell/exchange pages. I've even seen people post in local FB groups requesting to buy specific models of chainsaws if there are any out there for sale.
When it comes to buying 372XP parts, here are our recommended online stores:
Because there were tens of thousands (if not hundreds of thousands) of 372s made and sold, parts are still easy to find and not overly expensive. It's definitely one of the benefits of going with a popular chainsaw model like this one.
Husqvarna 372XP Chainsaw
Overall, the Husky 372XP is a great saw that is reviewed very well by users. If you're looking for a 70 cc saw, you can't really go wrong with it.
Look after it, treat it well, and it will look after you. It's known as one of the best Husqvarna models for a reason. Users call it an exceptional saw and regularly buy multiple in order to have spares in case they stop making them – that's how you know you've got a decent saw on your hands.
Let us know your experiences with the 372 XP in the comment section below, and feel free to ask any questions.