The Husqvarna 372XP is a go-to chainsaw for thousands.
It's one of the more popular and powerful Husqvarna chainsaw models with its 70cc, 5.5hp gas engine. Importantly, it's also part of the XP range of Husky saws.
XP stands for extra performance. Compared to the non-XP chainsaws, this means it's designed with more horsepower, improved weight-to-power ratio, much quicker acceleration, and higher all-around RPMs. They are just better chainsaws for those who are regular users or who just want the best.
Here's what you need to know about the Husqvarna 372 XP chainsaw (BUY NOW at Acme Tools here).
Husqvarna 372XP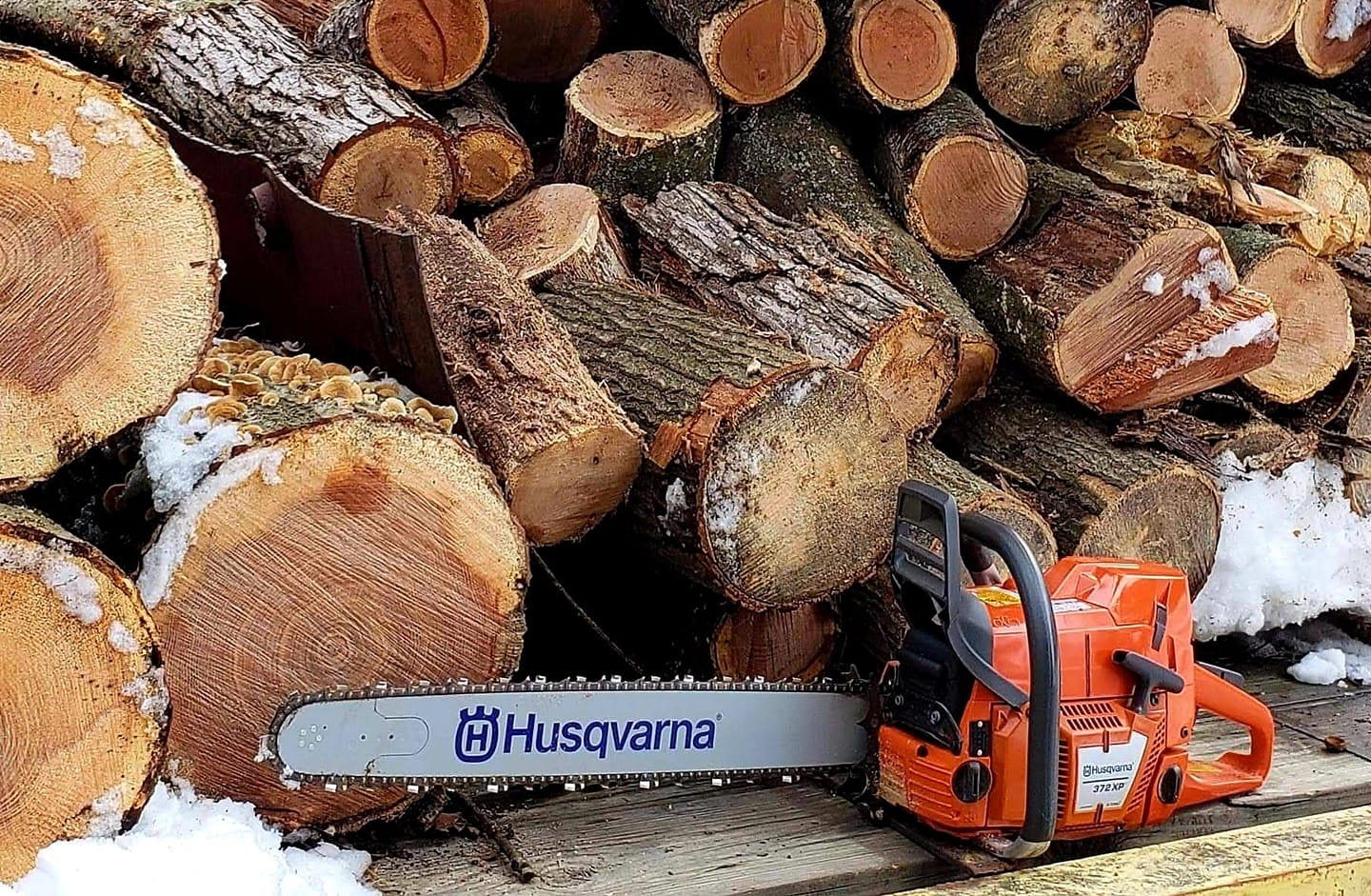 Who is the Husqvarna 372 XP Chainsaw best for?
And what type of work can you expect to do with it?
This saw is used by those who work in forestry and logging, it's great for people processing and selling firewood, it's used by farmers and others with large properties.
The 372XP is great for clearing land and it can happily go all day. It's a big jump up from the Husqvarna Rancher series of chainsaws, which includes the 450, 455, and 460.
Check out where the Husky 372XP falls among the other Husqvarna chainsaws in the following application guide (click to expand and zoom).
It's listed as good for use as a professional bucking chainsaw through to use as a professional felling chainsaw and is comparable to the Husqvarna 562 XP or the 576 XP chainsaw in that regard.
As already mentioned, it's a huge step up from the homeowner chainsaws like the Husqvarna 240, and the Farm and Ranch series, which are good, but not necessarily for use all the time.
It's not really designed for arborist tree care work as it's usually sold with anything from a 20-inch to a 28-inch bar, making a slightly too big for those types of applications.
It's also not a chainsaw for those pruning trees and doing the clean-up type of work. Don't get me wrong, it can do this, but it's really too powerful for this type of work.
Get a small chainsaw for the light work and use the 372 XP for the tough stuff.
Husqvarna 372XP Specs
Exact specs can vary depending on the date and place of manufacture, so double-check the SKU of the saw you're planning to buy.
These are the specs of the standards 372XP X-TORQ – the only thing that really changes between the different models is the size bar that comes with it, but again, double-check!
5.5 horsepower
70.7cc
10,200 max rpms
2700 idling rpms
Champion RCJ7Y, NGK BPMR7A spark plug
3/8″ chain
Weighs 14.6 pounds (without fuel and oil)
50:1 fuel oil mix
118 dB(A)
Husqvarna recommends the 372 XP be used with anything from a 16 – 28-inch bar. You'll hear of people going with larger bars than that, but it's best to stick with the recommended length.
Husqvarna 372 XP Features
Features of the Husky 372 XP:
Husky centrifugal air cleaning system
X-Torq engine with fewer emissions and more power
Adjustable oil pump which is good for different climates
Easy release filter cover and filter for quick maintenance
Magnesium crankcase – tougher than plastic!
Durable 3 piece crankshaft
Husqvarna LowVib reduces vibration levels
SmartStart – starts quickly with little effort
Great front handle ergonomics
Inertia activated chain brake
The Husqvarna 372xp X Torq is fitted with all of the Husky premium features that were around when manufactured.
It doesn't have the top-of-the-line features and specs of the new 592 XP chainsaw, but it's still right up there.
Husky 372 Unboxing
Here is some more info that we haven't already stated from the Husqvarna 372 XP unboxing:
0.376 power to weight ratio
Not all models sold with the quick release fuel caps
Quick-release air cover
Shows how to use the choke and start the chainsaw
Comes stock with felling spikes on the chain cover
Does not have captive bar nuts (which prevent you from losing them)
Side access chain tensioner for easy access
Smooth felling spikes (usually for those using the chainsaw on a mill)
Choke position not ideal (newer saws have auto tune)
If you watched the video, you'll also have seen the 372XP in action. It can really rip through the wood. And, I hope you enjoyed the System of a Down background music as much as I did!
Husqvarna 372XP Review
The Husqvarna 372XP specifications and features are excellent, and this chainsaw recently hits the top 3 list of a great many Husqvarna experts and enthusiasts.
It has great power to weight ratio, is powerful enough for a wide range of professional chainsaw applications, and has been found reliable, durable, and likable.
As you can read in this Husqvarna 372XP review, even those who regularly service chainsaws put this saw in their best chainsaw lineup. Or, as this man said, the 372 'took the market.'
The reviews on the 372 listing page on the Husqvarna website have it at a 4.7 stars out of 5.
The negative comments include the following:
Starts easily when cold, but the engine floods easily once it's been running and you're trying to restart it
Trouble starting the 372XP (this is unusual, and support reached out to help this person)
Needed to have the carb adjusted frequently
The new 372s are not as good as the older 372s
A little bit heavy and could have a bar oil window
The bad reviews are few and far between, and problems can sometimes be put down to user error or it could be a faulty product.
Husqvarna does have a rigorous quality control process so this sort of thing rarely happens with a chainsaw such as the 372.
Husqvarna 372XP Pros:
Wildly successful chainsaw model with a long positive track record
Can stand up to long hard days of use
Powerful chainsaw for felling trees and clearing dense woods
Great features for comfortable easy use
One of the most popular Husqvarna chainsaws
Husqvarna 372XP Cons:
Lacking the more recent Husky features (oil windows, etc)
No longer available new
It's the good track record in the Husqvarna community that really makes this a stand-out chainsaw.
It really is one of the most loved and mentioned husky chainsaws, and because of that, it holds its value better than other brands or lessor-powered chainsaws.
Husqvarna 372XP Price
How much should you expect to pay for the Husqvarna 372 XP?
You can check the price right now here on Acme Tools (at the time of writing it is $989.99).
This makes it one of the more expensive Husky chainsaws by far. And, for better or for worse, good second-hand models don't come all that much cheaper.
The Husqvarna 372XP price on a used model I saw listed today was $750. It had had a decent amount of use and wasn't in tip-top shape, but it was getting plenty of attention.
If you hold out, keep your eye on various online marketplaces, you might be able to get a good one for $500 -$600, but you won't generally find them cheaper than that. Unless the seller doesn't know what they have, of course!
Here on eBay right now, you can find pre-owned 372s selling for $900 – basically what they cost new! However, there are also some really good-looking (even refurbished) models going for between $400 and $500.
Other places to look would be on Facebook Marketplace and other local buy/sell/exchange pages. I've even seen people post in local FB groups requesting to buy specific models of chainsaws if there are any out there for sale.
Husky 372 XP Parts
When it comes to buying 372XP parts, here are our recommended online stores:
Because there were tens of thousands (if not hundreds of thousands) of 372s made and sold, parts are still easy to find and not overly expensive. It's definitely one of the benefits of going with a popular chainsaw model like this one.
The Husky 372 XP
Overall, the Husky 372XP is a great saw.
If you can pick it up in good condition and for a reasonable price, don't hesitate to add it to your collection. It will most likely hold its value (or increase in value with rising inflation) if you decide to sell it again in the future.
Look after it, treat it well, and it will look after you. It's one of the best Husqvarna models for a reason.