Compared to the more common or 'normal' rear handle chainsaw, a top handle chainsaw is shorter and more compact because it lacks a back handle.
The movement of the rear handle to the top makes the tool lighter and more maneuverable for easier use when climbing trees in a bucket lift for pruning.
As such, it is the ideal tool for arborists because they can cut branches safely using either one or both hands at the highest points on trees or in difficult-to-reach spots.
So, what is the best top handle chainsaw?
Best Arborist And Climbing Chainsaws
Those are our top 5 picks for the best top handle chainsaw – with a number of alternatives down below.
The Stihl MS 200T is also one of the very best climbing saws, but I decided not to add it to the list here as it's no longer in production and can be hard to find.
The best saw for you will depend on:
The exact task your using it for
How often you will be using the saw
Your budget
I use my top handle saws when going up a tree, for small light pruning, and sometimes for breaking up branches.
Battery-operated models are really easy to just pick up and use for a minute or two when needed, while the gas saws are great for use over longer periods.
Check out these other small pruning chainsaws if you want to go even lighter and smaller than the products I've listed here.
So while there isn't a single BEST climbing chainsaw for everyone, there is the best one for you!
1. Echo CS-271T-12 – Best Gas Top Handle Chainsaw
Chain Bar Length: 12 inches
Power Source: Gasoline (26.9cc, 2-stroke engine)
Weight: 11 pounds
If you are looking for the best gas climbing chain saw, the Echo CS-271T-12 will knock your socks off.
It features a 26.9cc, 2-stroke professional-grade gas engine that delivers outstanding cutting performance while maintaining high fuel efficiency.
A purge bulb ensures fresh fuel gets to the carburetor and eventually to the engine to maximize the power output. At the same time, a G-force engine air pre-cleaner holds dirt out of the airbox to minimize air filter maintenance and supply cleaner air to the engine.
When cutting, an anti-vibration handle gives you a firm, comfortable grip over the chainsaw, allowing you to chop the branches safely using one or both hands (I recommend using both hands).
There is a lanyard clip at the rear end for attaching to your belt to enable you to climb up/down the tree safely. On the side, there's also a conveniently placed chain tensioner that is easily accessible to make quick chain adjustments.
The only downside is the weight of the tool. Its dry weight is 6.6 pounds, but this rises to 11 pounds with the bar and chain attached.
The ECHO CS-2511T is another great ECHO top handle saw it's even lighter than the 271T!
Pros
Professional-grade engine
Good design and is well-made in Japan
Anti-vibration handle
Easily accessible chain tensioner
Lanyard clip and light for climbing
Cons
Relatively heavy
Small fuel and oil holes lead to spills
Not the most durable
---
2. Husqvarna T435 – Best Husqvarna top handle chainsaw
Chain Bar Length: 14 inches
Power Source: Gasoline (35.2cc, 2-stroke engine)
Weight: 7.5 pounds
Husqvarna is one of the best climbing chainsaw brands in the market, and the Husqvarna T435 is a top product in their lineup.
Despite having a relatively big 35.2cc gas engine, the tool stands out due to its eco-friendliness.
It meets the standards of the most stringent environmental regulations worldwide because the engine consumes less fuel and produces fewer exhaust emissions compared to others of the same size.
Otherwise, the tool is easy to maintain due to its snap-locked filter cover, making it easy to access the filter. A quick-release cover over the spark plug also gives quick accessibility to save time when changing or cleaning the part.
However, some users raised issues about quality and reliability, but the manufacturer is actively looking into them.
You can check out our complete Husqvarna T435 review for more info.
Pros
Powerful eco-friendly engine
Easy to maintain
Sturdy rope fastening point
Lightweight and well balanced
Cons
Might have quality and reliability issues
---
3. Makita XCU08Z – Best battery top handle chainsaw
Chain Bar Length: 14 inches
Power Source: Two 18V batteries (equivalent to a 30cc gas engine)
Weight: 10.84 pounds
With the advancements in battery technology today, battery-powered top handle saws are viable options because they are powerful enough to match their gas engine counterparts.
Makita's XCU08Z is the best one in this category as it delivers 25% faster cutting power than a 30cc engine.
Since it is electric, there are no emissions, pull starts, or engine noise, making it more comfortable to use.
The batteries run a highly efficient brushless motor, which then rotates the chain around the bar. A built-in lock lever keeps the chain from engaging accidentally and causing injury.
However, the saw requires two 18V batteries that you must buy separately. It comes as a tool only, so you have to buy the charger separately too.
Makita's other chainsaws are also worth investigating, though the XCU08Z is the only top handle model.
Pros
Fast cutting performance
Comfortable to use
Efficient brushless motor
Built-in lock lever
Cons
Battery and charger not inclusive
---
4. NEO-TEC Top Handle Saw – Best Cheap Saw
Chain Bar Length: 10 & 12 inches
Power Source: Gas (25.4 ccs, 3.5 hp, 2-stroke engine)
Weight: 10.68 pounds
NEO TEC's top handle saw is a cheap saw that offers reasonable value for money.
No, you're not going to be using this for serious work, and especially not for anything professional or commercial, but it's good for light homeowner use.
When it comes to performance, this saw does not disappoint and it's well-reviewed– it features a comfortable wrap-around handle, double nut chain bar fastening, and easy chain tensioning.
At only 10 pounds, this saw is easy to hold using one hand and offers easy maneuverability due to its ergonomic design. With these qualities, it is ideal for casual pruning and limbing.
Pros
Cheap for what you get
Quick start technology
Durable enough
Relatively lightweight
Cons
Some say it feels and runs cheap (it is)
Reports of faults after not much use
---
Chain Bar Length: 16 inches
Power Source: Gasoline (35.8cc, 2-stroke engine)
Weight: 10 pounds
The CS-355T is a beast compared to other saws.
It runs on a powerful, professional-grade 35.8cc gas engine and spins the chain around a long 16-inch chain bar. Combined, these enable you to cut trunks and thick branches hassle-free.
Compared to standard starters, this saw has a digital ignition system and an i-30 starter, which reduce the effort required to turn on the motor by 30%.
When on a tree, these features are crucial as they ensure you get right to the task in no time.
On matters of comfort, the handle has an ergonomic design that fits perfectly on the hand. Additionally, the angle of the handle provides a natural wrist-holding position when cutting, resulting in better balance.
There is a palm rest at the back of the handle to give leverage and support the hand, and it is replaceable with a smaller insert to accommodate larger hands or removable to leave more room.
While the tool is expensive, as many ECHO chainsaws are made in the USA, its premium features make it worth the price.
Pros
Powerful, professional gas engine
Long 16-inch chain bar
Quick starting system
Ergonomic handle
Cons
---
6. Husqvarna 120i – Good Limbing Chainsaw
Chain Bar Length: 14 inches
Power Source: 40V battery
Weight: 10.8 pounds
The 120i is technically not a Husqvarna climbing saw because it has a rear handle, but it works perfectly on trees.
It is battery-powered and comes with a highly compatible 40V battery that can fit in other 40V Husqvarna cordless tools.
A brushless motor provides the rotational power required to spin the chain, and it creates a high torque to weight ratio to maximize efficiency.
The tool packs several convenient and safety features, like an intuitive keypad for easy use and a tool-less chain tensioning system. When it comes to safety, the saw features an inertia-activated chain brake that automatically stops the chain when there is a kickback.
Unfortunately, this unit is relatively heavy and might cause fatigue quickly. The Husqvarna T540 XP is an alternative model with more power.
Overall, the Husqvarna 120i is well-reviewed and said to perform very well.
Pros
Highly compatible battery
Efficient brushless motor
Tool-less chain tensioning
Inertia-activated chain brake
Cons
---
7. Stihl MSA 161 T – Premium Climbing Chainsaw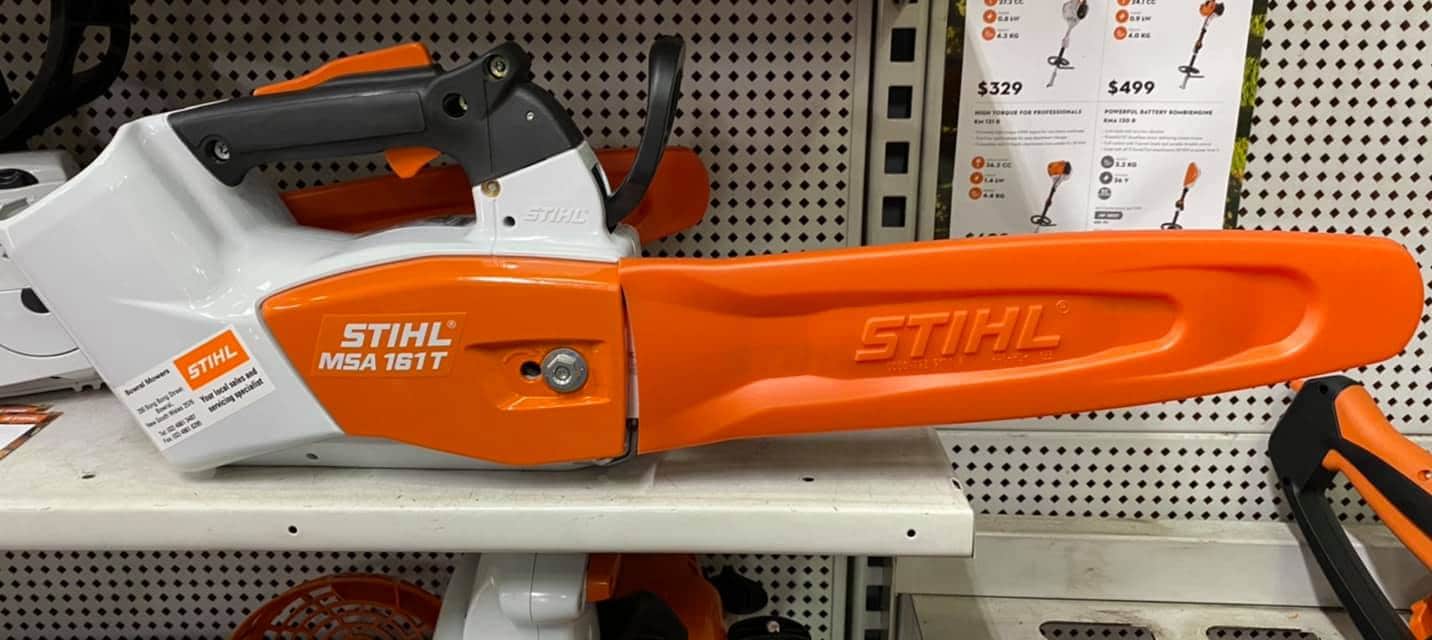 Chain Bar Length: 12 inches
Power Source: Battery
Weight: 4.6 pounds (without the bar and chain)
Due to its lightweight construction, quiet performance, and membership in the AP battery series, the MSA 161 T is perfect for professional arborists who do in-tree work.
Additionally, it features a 12-inch chain bar, which is ideal for pruning, cutting down small trees, and limbing.
The chain is 1/4 inches wide, and it delivers precise cutting performance to produce clean cuts when doing in-tree maintenance.
Since it is electric, the saw runs on a commercial-grade brushless motor, which delivers the ideal cutting speed with long runtimes. Instant start technology makes it easy to power on so that you can get to work in no time.
The Stihl MS200t (here on eBay) is another good Stihl limbing chain saw.
Pros
Lightweight construction
Delivers precise cutting performance
Efficient brushless motor
Instant start technology
Cons
Not ideal for cutting trunks or thick branches
---
What Are Top Handle Chainsaws Used For?
Due to their compact and lightweight design, top handle chainsaws are ideal for working off the ground (in trees).
This explains why they are also known as climbing saws or in tree chainsaws.
Because of this, they are perfect for:
Pruning
Limbing
Chopping down small trees
Furthermore, their design makes them easily maneuverable, which comes in handy when navigating through tree branches.
It can also be relatively easy to operate using one hand, but I don't recommend this due to how risky this is.
Gas Vs Battery Powered Climbing Chainsaws
Gas-powered chainsaws have the advantage of a consistent supply of power because the engine will deliver on-demand, so long as there is fuel. Therefore, they are ideal for home or commercial use, and they work well when handling many trees.
However, they are loud due to the engine noise, emit exhaust gases, and are heavier than the battery-powered type. They are also costlier and a bit messy to use because you have to mix gas and oil as their fuel.
On the other hand, battery-operated chainsaws are lighter, more compact, and run quietly with no emissions. As such, they maneuver better when doing in-tree maintenance.
What's more, since they don't have an engine, starting requires the push of a button, which is very convenient when you are up in the trees.
The main problem with batteries is that, as they run out, they deliver less power to the motor. As this happens, it makes them less capable of cutting thick branches or working on many trees.
Therefore, if you have a big project or want to cut thick branches, a gas-powered chainsaw like the CS-355T is your best bet.
However, for small tasks that involve cutting thin branches, go for battery-powered tools like Makita's XCU08Z.
Top Handle Chainsaw Bar Length
Chain bars can be as short as 12 inches to as long as 36 inches in length (or even longer).
However, limbing chain saws usually don't exceed 16 inches to maintain their compact design. The size of this chain bar plays a crucial role in determining the log thickness that you can cut.
The bar should be at least two inches longer than the wood thickness you'll be cutting, so 12 to 14-inch bars are ideal for pruning, cutting little trees, and limbing.
However, for thick branches, 14 to 18-inch bars are the best options. There is a tradeoff, though. The longer the bar, the heavier and more imbalanced the chainsaw is, which will make it tougher to work in trees.
Therefore, you have to pick a size based on the task at hand to avoid uncomfortable use.
Weight And Maneuverability
Holding a chainsaw for a long time when cutting will cause fatigue, and the heavier it is, the worse it will feel.
Even hoisting a heavy chainsaw up a tree is not an easy task, which is why I recommend a lightweight tool.
For instance, the lightweight Husqvarna T435 is perfect for in-tree work because it is easier to handle when you are up there.
The main advantage of top handle chainsaws is that they are easily maneuverable. That said, not all of them have the same level of maneuverability.
Factors like weight and design affect maneuverability, making a lightweight saw with an ergonomic handle easier to control. Such a tool is better for arborists working up the trees.
Engine/Motor And Starting Technology
There are gas and battery-powered chainsaws, but within each type, the mechanics are slightly different.
Gas engines vary in size, using cc (or displacement) as a measurement. The higher the cc, the stronger the engine and the higher its fuel consumption. With a long chain bar, such an engine is suitable for cutting thick branches.
With electric motors, the brushless types are more efficient than the brushed ones. They give better performance and longer runtime.
Quick start technology is crucial because it simplifies the engine ignition when you are up in the trees.
The goal is to get to work as soon as you get up there, so a slow starting system will keep you in the trees for longer.
Hoisting Clip And Handle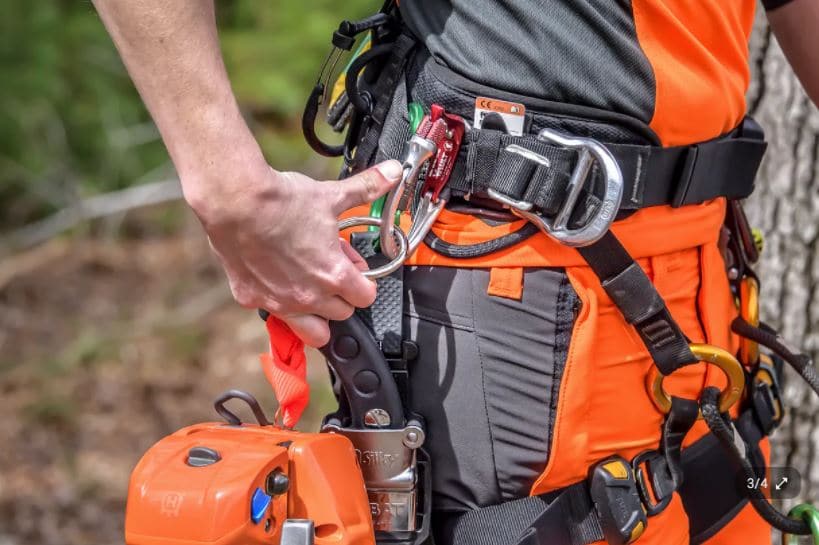 Once you are within the branches, you need a way to lift the chainsaw or hang it close by to free your hands.
Hoisting or lanyard clips come in handy at such a time because they help you attach the machine to a rope or your belt.
Ergonomics is the keyword here.
Look for an anti-vibration handle that fits comfortably in your hand if you want an easy time pruning above ground.
Chain Tensioner And Chain Brake
At times you need to adjust the chain to be tighter around the bar.
I recommend an easily accessible, tool-free chain tensioner for quick adjustments because you will be tied high above the ground.
The chain brake usually activates when triggered by a kickback. It stops the chain from spinning until you are safe to proceed.
Chain Catcher, Hand Guard, And Locks
Should the chain break or derail, the chain catcher keeps it from reaching your hands.
The handguard works hand-in-hand with the chain catcher to protect your hand if such a scenario occurs.
A lock lever keeps the chain from engaging by accident before you are ready to begin cutting.
The throttle lock keeps the throttle from advancing accidentally and increasing the speed of the chain.
Top Handle Chainsaw Reviews
When looking for the best top handle chainsaw, the Echo CS-271T-12 is the clear winner.
The Echo has a powerful yet efficient professional-grade gas engine and performs better than the electric type, delivering enough power for big and small tasks.
What's more, it has a comfortable anti-vibration handle, a lanyard clip, and a conveniently placed chain tensioner.
Holzfforma's top handle chain saw also has an efficient gas engine, but its price also makes it stand out. It is very affordable, despite coming with two chains and two guide bars.
Its lightweight construction also makes it easily maneuverable.
Hopefully, this helps you to make the right buying decision for you – see our list of the best chainsaws for more options (non-top handled).