What is the best bar and chain oil for chainsaws?
There are a ton of products on the market, from all-season and biodegradable bar and chain oil, to so-called premium, platinum, or even master bar and chain oil. While a lot of the different names are just marketing terms, some of them do actually mean something.
In this post, we'll unpack the different types of chain and bar oil, and make some recommendations on who should use which for what chainsaw.
We also have a post on alternative and substitute chainsaw bar oil if you would prefer to go down that route. That post discusses using products like used engine oil or canola oil in your chainsaw.
TIP: Just want the best bar and chain oil for the money? We recommend Oregon All Season Oil – for the price, there's nothing better.
Best Chainsaw Bar And Chain Oil
Oregon Bar Oil

Bestselling bar and chain oil
Can be used in all seasons - hot and cold
Extra tacky - for both gas and electric chainsaws

View On AmazonView On Tractor Supply

Husqvarna Bar Oil

Can be used in all chainsaws (not just Husky)
Premium oil that reduces heat and friction
Our alternative is Husqvarna X-Guard all season B&C oil

View On AmazonView On Acme Tools

STP Tools Bar Oil

Comes in 1 gallon bottles that'll keep you going
Formulated to reduce oil throw off
A cheaper alternative to better known brands

View On AmazonView On Home Depot
What type of bar and chain oil do I use in my chainsaws?
To be honest, I just go with one of the cheapest 1-gallon containers of all-season bar oil that I spot at the store or see on Amazon on the day. I've basically tried them all and there isn't a whole lot of difference between them. I don't necessarily only use Husqvarna chain oil for my Husky saws or Stihl chain oil for my Stihl saws.
Here are 3 of the best bar and chain oil brands, and they're all very good. The last one on the list is usually the cheapest for the volume you are getting, but compare prices and see which is best on the day.
These are all best-sellers on Amazon (see the rest here) with a ton of reviews and a good star rating. If you search for the brand of your chainsaw in the Q&As you're bound to find some information.
All three of these bar chain oil options are suitable for all chainsaws in most climates.
The Difference Between Bar And Chain Oil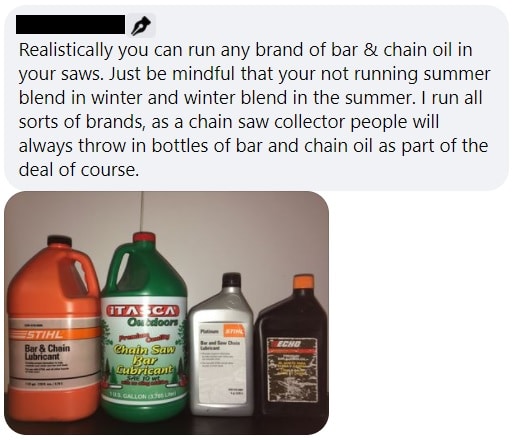 Before we get into our top 10 oils for chainsaw bars and chains, here are the differences to look out for:
Is it all-season or best under certain conditions? We've only listed all-season oils here.
Is it high tac/low sling? This means it's not going to fly off your bar right away – you'll chew through a lot of oil if it's too runny.
Can you extend your warranty by using brand-name products? Stihl and Husqvarna sometimes do this, for example.
Price per gallon? Work out how much you're paying by the gallon to find the best deal.
Is it well-reviewed? Read a few reviews to get a feel for the product before buying.
And without further ado, here's what you need to know about the premium bar and chain oils for chainsaws.
1. Oregon Bar And Chain Oil
Oregon Bar and Chain Oil is up there with the best-selling bar and chain oils online.
It's an all-season lubricant that can be used in both hot and cold climates, though it is best if you have a chainsaw with an adjustable oiler because the flow can vary depending on the temperature.
What else do you need to know?
Great level of tack so it doesn't all fly off your bar and chain
Allows your chainsaw's engine to work efficiently
Helps to protect chainsaws against rust and other damage
Can prevent the build-up of sawdust and other chips under your saw case
Reduces friction on chainsaw
Oregon bar oil is perfectly fine for all brands of chainsaw, not just Oregon chainsaws, and it's great for both gas and electric (or battery) powered. It flows easily and lubricates the bar and chain well. It doesn't run too fast and is a good viscosity for both lower and high-powered chainsaws.
I've used this bar and chain oil personally, and while I find it hard to differentiate between them, it seems to be very good. I've never had any issues with it whenever I use it. In my opinion and experience, all the premium chain and bar oils for chainsaws are really good and will do the job.
What are others saying about Oregon Lube in their reviews?
Great value and performance
Perfect chain oil for cordless chainsaws
It works better in cooler climates
It had great flavor (I'm not sure what this person was doing with it)
Fast delivery and a fair price
There are also some negative reviews like, 'this oil is as thin as water,' or 'it wasn't very sticky.' It could be that this oil isn't as good in very hot or tropical climates and that you would be better off getting a dedicated hot climate bar and chain oil like the Superior Oregon Chain Lubrication.
---
2. Husqvarna Bar And Chain Oil
Husqvarna Premium Bar and Chain Oil is another ultra-popular premium bar and chain oil.
It's great for use with Husqvarna chainsaws, and I've used it quite often with my Husky 450. You will also see the Husqvarna X-Guard bar and chain oil for sale.
What is the difference between the Premium and the X Guard? They are actually more or less the same product, however, the X-Guard has the newer branding. For this reason, the Premium is usually slightly cheaper.
It is recommended by Husky for you to use their oil in your chainsaw (of course), and in some cases, you can get an extended warranty on your chainsaw by only using Husqvarna brand products in your saw. This includes the oil for your fuel/oil mix as well. If you're interested in this deal, speak to your local Husky dealer when buying your saw.
Here are the features of the Husqvarna premium bar and chain oil:
Totally fine for use with all brands from gas-powered Stihls to electric Makita chainsaws
Reduces heat and friction between your bar and chain
A quality option that will adhere well to the chain and not fly off at the first chance
Flows out of the bottle smoothly and looks amazing
Made from a premium blend of base stocks
There are a lot of people who prefer to only use the brand of oil matching their chainsaw brand, which I totally understand. You can't go wrong using this in a Husky, obviously!
Here are some comments from others who have used it:
It costs more but it's better quality than the cheap stuff
Works really well under heavy use
The best chainsaw bar oil there is!
Worked well with my electric pole saw
It's worth the price
The only really negative reviews about Husky oil was to do with shipping and handling. Some people received damaged goods or found their product had already been opened. I think this is a pretty rare occurrence and not something to be worried about!
---
3. STP Tools Bar And Chain Oil
STP Tools Bar and Chain Oil is another 'premium' chain bar oil that has thousands of reviews.
As the bottle states, it's been formulated to reduce bar and chain wear, minimize resin build-up, and reduce high-speed throw-off.
This option is often a lot cheaper than the better-known brands but is just as well-reviewed by those who have tested it. I've frequently used a product very similar to this one and only have good things to say about it.
What else do you need to know?
It includes anti-wear additives like Zinc Dialkyl Dithiophosphate
Is very tacky
Is not biodegradable
Comes in 1-gallon or 1-quart containers
Can be used on both electric, battery, and gas chainsaws
Good for all seasons (though perhaps not in extreme climates)
It's just another decent oil for lubing up your chainsaws bar and chain that isn't going to cost you a whole lot.
Comments and reviews say:
Works great in Stihl chainsaws
Good value and great quality
Serious viscosity
Very cost-effective
For the most part, everyone is happy with this bar and chain oil. Most of the negative reviews are surrounding receiving a different size than they ordered. Some who ordered a gallon got a quart and vice versa. If you order, make sure you get the right size bottle!
---
4. Stihl Bar And Chain Oil
Stihl Bar and Chain Oil is very popular for users of Stihl chainsaws.
This bar and saw chain lubricant has been specially designed to be used on Stihl products but is perfectly fine to use with other brands as well. It is said to provide superior lubrication to help maintain your chain saw bar and saw chain.
While 1-quart of Stihl chain oil costs the same as a gallon of a cheaper brand, it is a better product. Especially when you are cutting through larger logs, this product will help keep your bar cooler and help prevent your chain from stretching.

As with Husqvarna, using the manufacturer's recommended chain oil can get you an extended warranty on your chainsaw as well. Stihl does the same thing in some places so it could be worth asking when you buy a new Stihl chainsaw.
Other comments and reviews of Stihl premium chain and bar oil include:
I use it to store my chainsaws but otherwise run a cheaper oil
Why go cheap?
I use nothing but Platinum, engineered by Stihl for a reason
Bar oil is bar oil – don't waste your money on a name
Get it when it's on sale
Most people with Stihl chainsaws don't tend to necessarily use Stihl bar oil – they're more pragmatic and go with whatever is cheap.
---
5. Makita Bar And Chain Oil
Makita Bar and Chain Oil comes in 1-gallon containers, and it's not a bad price either.
It's popular for use in both Makita gas and battery chainsaws and is designed for use in all seasons – though again, if you live in the Arctic or in the desert it might be best to get an oil formulated for those environments.
As with all bar oil, it's made to keep friction down on the bar and allow the chain to run smoothly without overheating. This product is very thick and sticky and doesn't fly off the end of your bar in mid-summer.
Varified purchasers have stated:
Works great in my SunJoe chainsaw
Thicker than Stihl chain oil which means it lasts longer
Good oil that clings to bar in the hot and cold
Just what I was looking for
Great bar and chain lube for the price
The main negative comment about this Makita bar oil (when bought on Amazon) is that people sometimes receive a product that is formulated for summer. If you really need and want an all-season bar and chain oil it might be best to go with another product to avoid this problem.
---
6. Poulan Pro Bar Chain Oil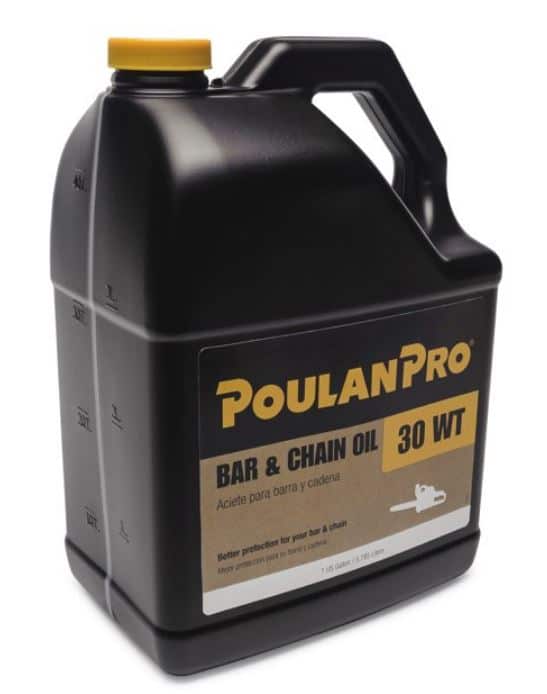 Poulan Pro Bar and Chain Oil is a popular product for those with Poulan chainsaws, but as with the other brands, it can be used in any brand of chainsaw.
You can pick it up in 1-gallon or 1-quart tubs – though I've never understood buying small quantities as it runs out far too quickly! Always best to buy at least a gallon in my opinion.
Poulan chainsaws is owned by Husqvarna so this oil has all of that behind it as well – you can trust that it's a decent product and will do that job it's made for.
Here are some more details:
It's a year-round chain oil
A petroleum-based product – non-biodegradable
Good consistency and flows freely
It's another good option to take a look at when comparing prices between chainsaw oils.
---
7. Mag 1 Chain And Bar Oil
Mag 1 Bar and Chain Oil is another cheap bar and chain oil that comes by the gallon and will not have any trouble getting the job done. This is the type I buy when I see it's half the price of anything else for more!
It can be used with all chainsaws – Stihl, Husqvarna, ECHO, and so on – without worry. However, some have said it's a bit thinner than other oils, so it might not be best for the middle of summer when oils can become a bit runnier.
It can be used with pole saws as well as chainsaws, and others also use it for bike chains and that sort of thing.
---
8. ECHO Bar And Chain Oil
ECHO bar and chain oil for all those with an ECHO chainsaw.
It's another oil sold by the gallon that has plenty of reviews and a good star rating. By this stage, a lot of these branded oils are basically the same. Bar oil is bar oil and they will do the job.
This isn't the cheapest or the most expensive, it's just a good mid-range bar and chainsaw that will protect your chainsaw bar, chain, and powerhead.
Those who have used ECHO bar oil have said the likes of 'I am pleased with the oil,' and 'Great chain bar oil at a good price.'
---
9. Renewable Lubricants Chain Oil
Renewable Lubricants biodegradable chain oil is more "environmentally responsible."
It breaks down a lot faster in the environment than the petrol-based products we've listed so far. The downsides are that it's a lot more expensive and doesn't always perform as well.
However, the pros might outweigh the cons. It's safe around kids and animals, breaks down quickly, and is sustainable. Another cool point about Renewable Lubes is that the company is American-owned and they make their products in the US.
It's said to have a high level of tackiness and antiwear, reducing sprocket wear, and can increase the life of your bar and chain.
People who have tested and tried this safe bar oil say:
It worked really well
Has a non-toxic smell
I love how it's eco-friendly and protects the environment
The price is what turns most people off. Hopefully, in the future, it becomes cheaper to manufacture biodegradable chain oils so that more of us can use them.
---
10. DGP Biodegradable Chain Oil
DGP Bar and Chain Oil is our final pick for chain oils, and it's another environmentally friendly option.
This one can be bought in 1 gal or 16 and 31-ounce bottles and is also made in America. It can be used in most climates and has a lower limit of -20 degrees.
The brand, DGP, is all about the environment. They describe themselves as 'Green, Eco-Friendly, Non-Toxic, Biodegradable, and BioPreferred' – my first time coming across that last term.
Other features include:
Can be used for professional/commercial applications
Has no petroleum or metal-based additives
Independently certified
96% bio-derived content
Cheaper than other alternative oils
It's a popular product that has been used by many to great success. I imagine some of the larger chainsaw companies like Stihl and Husqvarna will come out with their own line of biodegradable oils before too long.
---
Best Bar And Chain Oil
Right now I'm working my way through this bottle of Super S bar and chain oil which is from Walmart.
It was cheap on the day and there's nothing wrong with it.
I'm a big believer in getting the best deal, so when I see brand name bar and chain oils on sale I'll pick them up, but otherwise, I'm not going to spend twice the price. I don't mind running cheaper bar oils through my chainsaws – though I do prefer the quality oils for my fuel mix!
Sometimes it's just a good idea to buy a few small single quart bottles of chainsaw bar oils, whether it's:
And just see what you think. Find out for yourself whether or not there's a difference and if your saw runs better with one over another.
The difference you can look for is how hot your bar gets after working through larger logs, or whether or not your chain loosens with one over another. You can also keep track of how often you are topping up your bar oil to determine if one is flying off more than another.
If you run these bar and chain oil tests let us know the results down below in the comment section – we'd love to hear about it!