The Husqvarna 120i is the cheapest battery-powered Husky you can buy – and they 3 of them, all of which are 40-volt chainsaws.
The 120i is the only battery chainsaw from Husqvarna that is not an XP (extra-power) model, meaning it's not ideal for full-time use like the 536li XP. It's not the best arborist chainsaw or loggers chainsaw but is good for around the home.
The battery power length means it's good for shorter stints on the saw, rather than going all day. It's a great chainsaw for some, but not for all.
Husqvarna 120i Chainsaw
The 120i is Husqvarna's entry-level battery chainsaw.
It is designed for homeowner use but is also good to have handy for a range of other applications like work on orchards, vineyards, and farms.
It's very lightweight at 10.8 lbs, comes with a 14-inch bar, and includes a 40v battery. Battery run time depends on how you're using it, but it's designed to last between 1 and 3 hours.
This Husqvarna 120i promo video states this chainsaw has:
Outstanding power and run time without all the weight
Uses long-lasting interchangeable batteries
Push-button start
Brushless motor with Lithium-ion battery gives extended run times
Push-button power adjust down for light tasks and extended battery time
Strong constant power until it runs out
Lightweight battery
No emissions
Very quiet
Includes chain brake
Auto turn off when left for a period of time
So that's what they say about the Husqvarna 120i, but is it true?
You can see where the 120i falls among other Husqvarna chainsaws in this chart.
It's listed as being designed and suitable for 'light clean up' tasks.
It's listed here as being less powerful and capable than the Husqvarna 240, 135, and 435.
It really is a low-powered chainsaw that's good for pruning and limbing small branches. You can drop small trees with it, but it's not recommended.
You could also process thin logs/branches for firewood, but again, if that's what you want a chainsaw for, you'd be better going with something more powerful – you might even consider the DEWALT battery-powered chainsaws instead.
The Husqvarna 120i chainsaw is a popular chainsaw among those who are using it for light work, but for those wanting to do more, it will be a disappointment.
Husqvarna 120i Specs And Features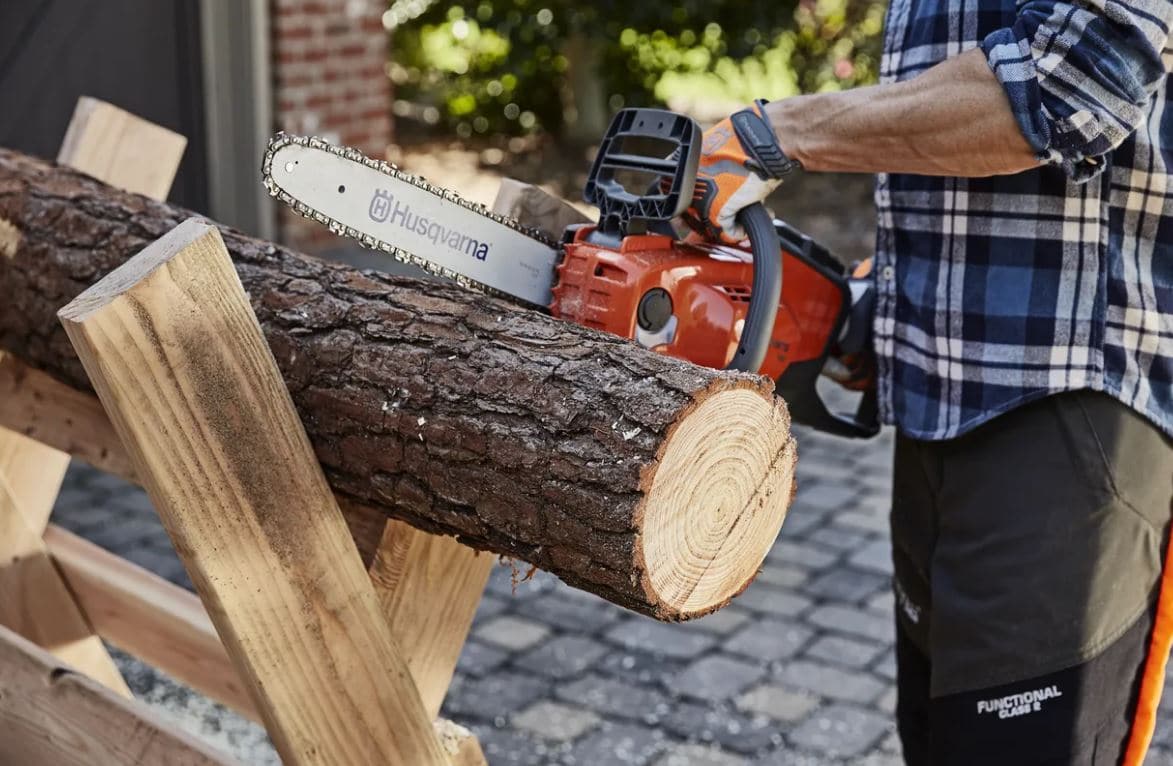 120i specs can vary slightly depending on where and when the chainsaw was manufactured.
Here are the specs on a NEW Husky 120i:
Brushless BLDC motor
Auto oil pump
36 volt Li-ion battery
Sold with a 14 inch bar
H38 chain (.o43″ gauge, 3/8″ pitch)
Weighs 6.5 lbs without bar, chain, fuel, oil
Features (some of which we've already mentioned):
SavE mode for increased runtime – a push-button switch between high and low power
The motor gives high torque to weight ratio
Easy tool-less chain tensioning (including bar assembly)
Flip-up fuel and oil tank caps
Cordless – a bit obvious by this point!
A see-through window on the chain brake
Easy to use keypad
Inertia activated chain brake for kickback protection
Quiet and fume free
Easy to wield and maneuver
It's a well-built machine that is more reliable and constructed of higher quality components and materials than cheaper battery-powered chainsaws.
Husqvarna 120i Battery
The Husqvarna batteries are quick to charge – takes between 2 and 3 hours – and they're easy to install.
The 12oi takes the battery BLi20, which is a 36V / 4Ah battery.
You can buy replacement batteries OR spare batteries for your Husqvarna electric chainsaw HERE on Acme Tools.
These are the battery numbers that are compatible with the 120i:
HUSQVARNA Battery BLi22
HUSQVARNA Battery BLi200
HUSQVARNA Battery BLi200X
HUSQVARNA BLi950X (backpack battery)
These batteries are different Ah and will run longer and harder than the battery that comes included with the 12oi.
Check out the entire range of batteries for the Husqvarna 120i here on Acme Tools – you'll also find Husqvarna battery chargers there as well.
Battery tip – take it out of the chainsaw when not in use.
Husqvarna 120i Chainsaw Review
The 120i can be used for a range of applications, including:
On the building site
Orchard, vineyard, or other tree business
Climbing to prune trees
Pruning small trees/branches
In the car for emergencies
On the tractor (check out SawHaul)
For all light limbing and trimming around the home
The Husky 120i is good for this type of work, but it's not a workhorse.
If you're using it for what it was made for it will serve you well – but just don't expect too much from it.
Here are some comments from those who have tested it out recently.
I've seen a number of men say it's the 'best chainsaw for the wife' – but then they take a liking to it.
And this chap bought the 12oi to use on his Christmas tree farm – interesting!
He also mentions the benefit of not needing to pull a starter cord '100 times a day.'
That is one of the big pros of buying an electric chainsaw – that push-button start is great for that.
Husqvarna 12i Pros:
Quick and easy to start
Different power levels
Very light and maneuverable
Affordable and accessible
Quiet and fume-free
Husqvarna 120i Cons
A bit of an ugly design
More limited run time than with a gas chainsaw
Only for light tasks
Am I the only one who thinks it's not the best-looking chainsaw?
Husqvarna 120i Price
You can find the 12oi for sale at these retailers:
Amazon – free delivery for Prime members
Acme Tools – free delivery with purchases over $199
Walmart – competitive pricing
Let us know in the comments below if you have any questions about the Husqvarna 120i. Also, share your experiences with this battery-powered Husqvarna chainsaw.
If you'd like to more about the range, see all the Husqvarna chainsaws currently for sale here.
There are plenty of them to choose from, whether you're into battery or gas-powered chainsaws – available in the homeowner, rancher, and pro series.